I've got tons to talk about today — the Triathalon and the Raffle — and a surprisingly small amount of time to write. Susan and I are going to be busy with doctors today. I'll explain tomorrow, when I know more.
For right now, let's talk about the results of the raffle. Because it's pretty incredibly exciting stuff.
Generosity
Just over a week ago, I announced that Ibis, in partnership with Shimano, was donating a dream bike: An Ibis Silk SL, complete with Dura-Ace components and Dura-Ace SL wheels. Like this, but with Dura-Ace Wheels:
Oh, mercy. That is one sexy bike.
Anyway, we raffled the Silk SL off at $5.00 a ticket, with all proceeds going directly to the Lance Armstrong Foundation.
And Fat Cyclist readers showed me exactly what generosity looks like.
In the course of nine days, here's what happened. 1234 different people donated money, from $5.00 all the way up to $500. And the raffle earned $37,500. Yes, you raised $37,500 toward fighting cancer.
That's about three times as much as I predicted we'd raise when I asked Ibis to donate this bike.
I Can't Believe that I Of All People Wound Up Winning the Bike
Like many of you, I put some money into the raffle. Of course, I never expected to win, since I rarely win anything, and have never before won a major prize in a raffle that I myself put on.
Until now, of course.
Imagine my surprise to find that I drew my own number when I did the raffle. "Well, that's unexpected," I said to myself. But I was sure my readers would understand and believe that I was being totally honest about the drawing and that it just kind of worked out that way.
I kid, I kid. I didn't win the bike. I wonder what I would have done if I had drawn my number, though.
OK, let's talk about who really won the Silk SL.
Meet Matt
Last Friday afternoon, Matt of Seattle, Washington, donated $100 in the raffle. He says, "I never expected to win anything, I just had some extra laying around and figured LAF could find a good way to use it. I know they do good things across the board."
A good attitude, to be sure. And since donating at that time got him tickets 7223 – 7242, his good attitude paid off in a huge way: the winning ticket number was #7232, smack dab in the middle of his set of tickets.
Here's a little from Matt's email, when he found out he had won.
Wow seriously? I really won the Ibis dream bike? Wow, super damn cool.
I live in Seattle and been a proud Fat Cyclist for the last 2 years (6′ 2, 185); I proudly wear '07 and '08 pink lemonade jerseys and have a good, but ever decreasing number of pink socks, the dryer eats them.
I rode the Tour de Blast (Mt. St. Helens) this weekend in my pink jersey, on the same day as your "Triathalon." A picture at the top with St Helens would have been included, but the camera is missing in the post camping mess. Here is one from this summer.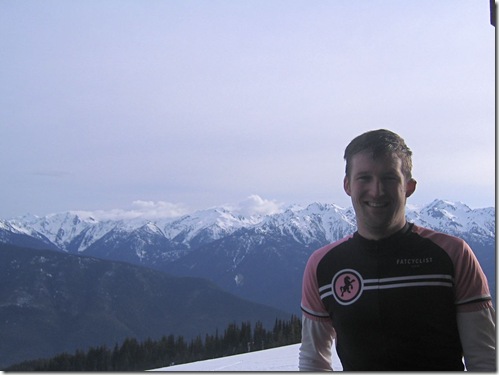 The Ibis will be an excellent weapon of choice for the Death Ride and RAMROD this year.
Every time I pull my fatcyclist jersey on for a group ride I get comments, be it a 'go fatty' often a 'win susan' one of my favorites being 'f___ cancer.' When I get these I have a friend I didn't know before. In a weird way you have introduced me to some really good people. Thank you.
WIN!
Matt seems like a great guy; I'm excited he's getting this bike.
Thank You
I'm the kind of person who starts feeling anxious if I'm not accomplishing something, and so cancer is an especially demoralizing disease, because a lot of the time there's simply nothing I can do to help Susan.
So, apart from the good this money will do for those either are fighting or will have to fight cancer, working with Ibis and Shimano and BikeMike and all of you to raise some money to fight cancer has been very good for me.
Thank you.
PS: Matt has a blog of his own and talks about winning the Ibis here.
PPS: Chuck Ibis has a post about the raffle in his not-a-blog here.
PPPS: Tomorrow I will talk about the Triathalon, but let me whet your appetite with this series of photos of BotchedExperiment and his six-year-old daughter, as they take the plunge at the sliding rock (photos courtesy of Sue Richardson Photography):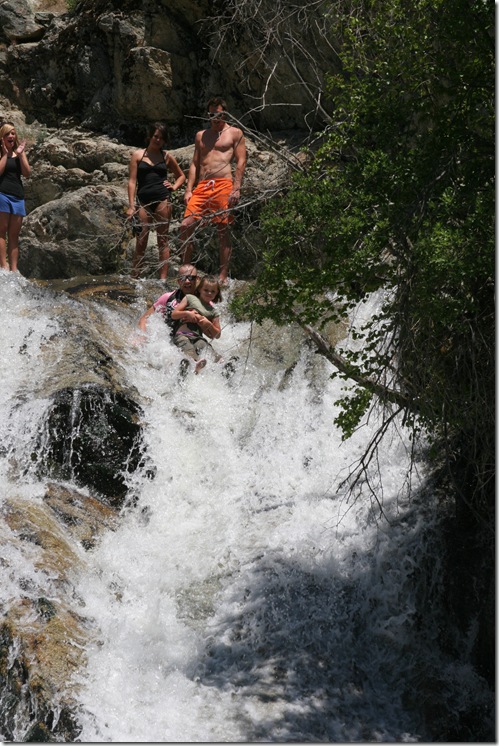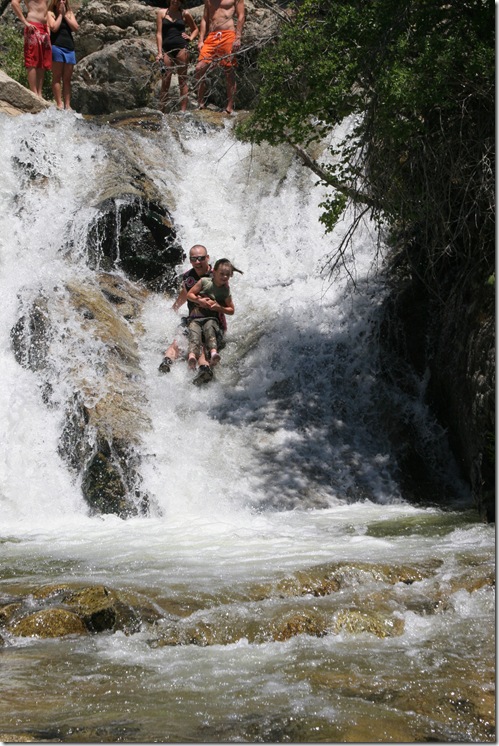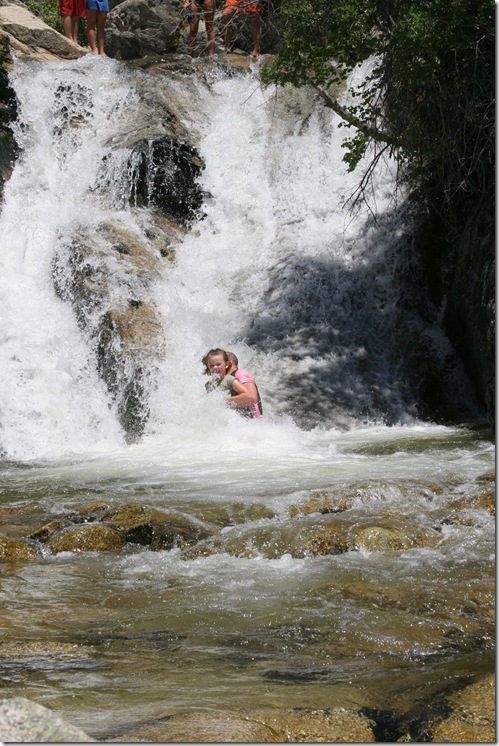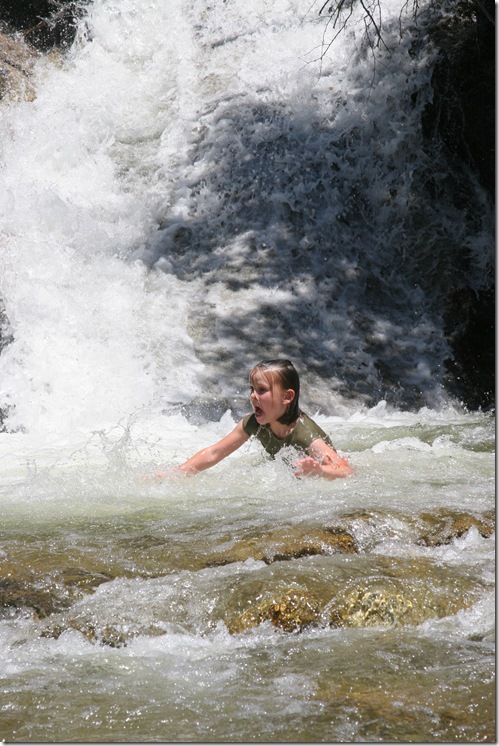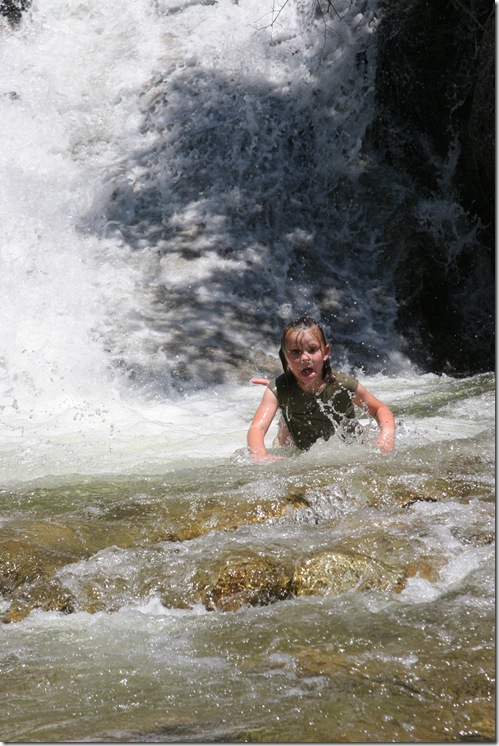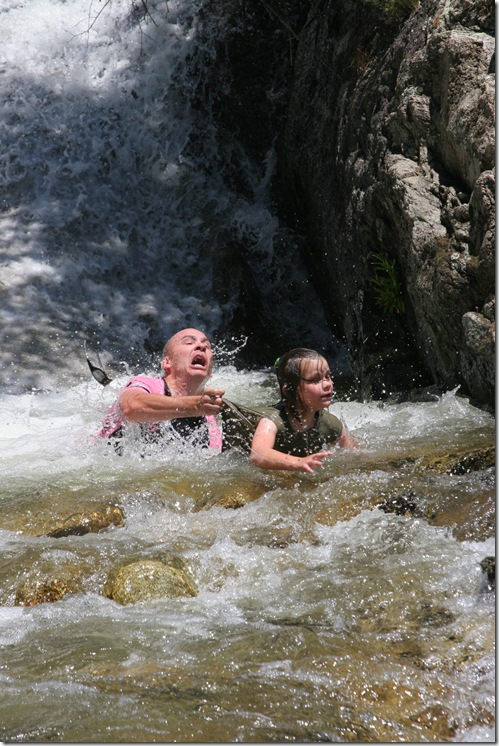 Look at Botched's glasses. Yeah, those are gone forever.
I just hope that little girl escaped from that scary man.