Last week's "Design Kenny's Tattoo" Photoshop contest turned out great. Of course, the original intent — to help Kenny find a tattoo that he'd really like to have — went almost entirely ignored, but what do you expect when you ask for peoples' opinions on a overweight cycling comedy blog?
So, here are some of my favorites.
Tyler: Helmet Tattoo
The award for best Photoshopping using MSPaint goes to Tyler, as does the award for most amazingly ridiculous idea. Tyler gets a tube of DZNuts as thanks for this inspired silliness.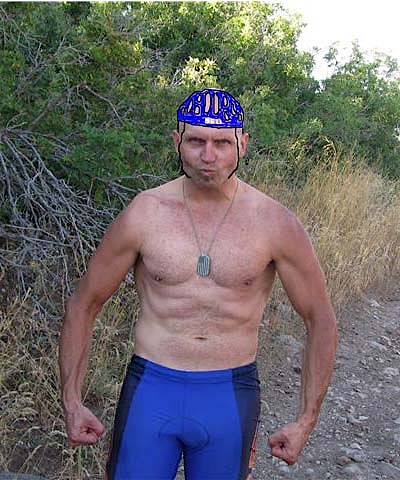 Spiff: Cleat Tattoo
Spiff either didn't have a photo editing program or just couldn't be bothered, but he still had a terrific idea:
How 'bout Kenny gets the bottom of his feet tattooed with the image of eggbeater/candy cleats?
This tattoo's great, because hardly anyone would ever see it. Which, now that I think of it, kind of defeats the whole purpose of getting a tattoo. I'm still gonna give Spiff a tube of DZNuts for his idea.
Kanyon Kris: Permanent Dog Tag
Kanyon Kris gets the award for most practical and useful idea, as well as for the nerdiest. Why not tattoo on your contact information, allergies, and other important medical info? 'Course, you've got to go get some new work done anytime you change your address or phone number, but that shouldn't be a problem. Kris, swing by my house and pick up your free box of Jelly Belly Sports Beans anytime (see how I just cleverly avoided having to pay postage on the heaviest prize in the list? I'm clever, aren't I?).
Bitter (formerly known as Lissee): Saggy Baggy Kenny With a Chainring
Bitter gets the prize for taking me very literally. I posited that it would be funny to have a Photoshop of Kenny as an overweight old guy, and Bitter delivered, tossing in the now-ovalized chainring tattoo as a bonus.
I think there's an important lesson to be learned here by any tattoo-getters: remember to account for droopage.
Bitter gets a DZNuts "Lube 'em Or Lose 'Em" t-shirt as his prize. You know, to cover up with.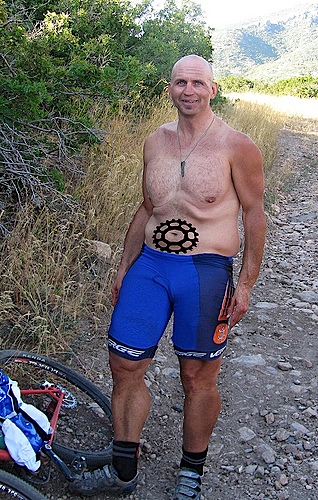 NCCyclist4Fun: This Space for Rent
I think the idea of using your tattoos as a billboard is pure genius, and I hereby offer $100 to the first person who actually gets the Fat Cyclist Clydesdale logo as a tattoo. Feel free to use the original orange, or I'll throw in an extra $50 if you go with pink.
Kudos to NCCyclist4Fun for thinking like a capitalist. You get a tube of DZNuts as your reward.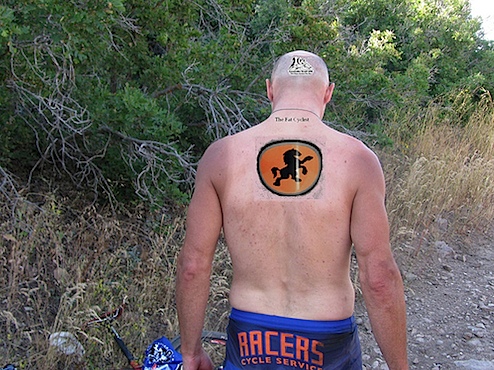 KeepYerBag: The Recumbent
As the undisputed winner of the "No way would Kenny ever actually get this tattoo, even at gunpoint" award, KeepYerBag gets the Men's White Stitch Flexit Cap. I only wish I had a bag I could offer him.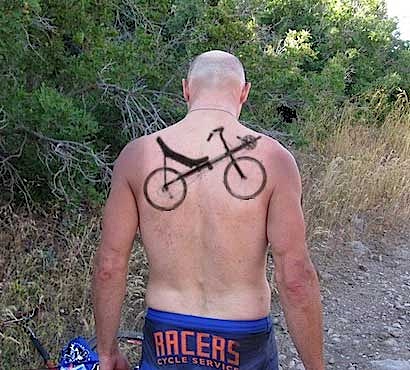 Clay: General Brilliance
So there we all were, happily trying to Photoshop rudimentary tattoos onto Kenny, and then Clay swaggered in and mopped the place up with us.
I hardly ever actually laugh out loud when I'm sitting at the computer. But I did when I saw Clay's "Bikini Sunburn Kenny" Photoshop work.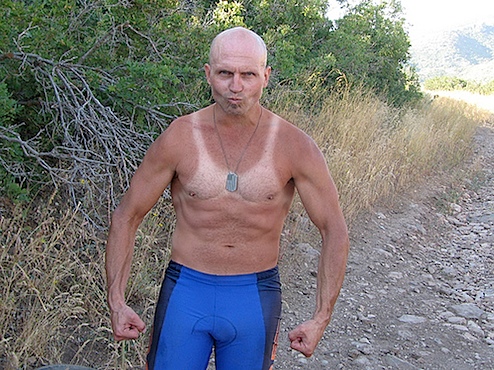 The whale tail is priceless.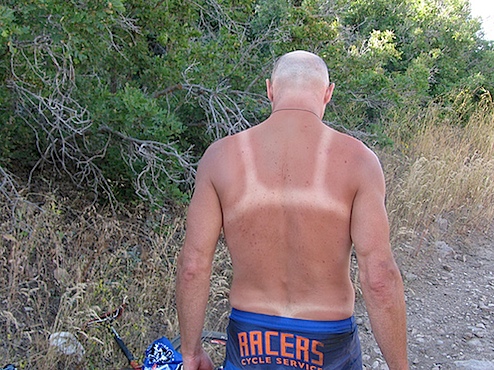 And then, showing a flare for in-jokes, Clay gave Kenny a nice new pair of bibshorts and a Rock Racing tattoo.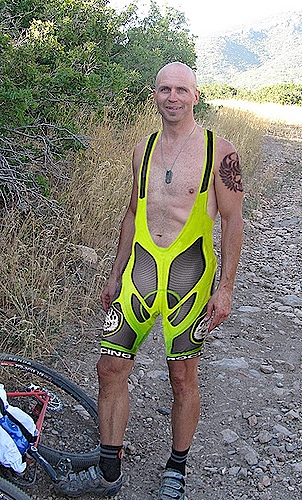 Clay gets both a tube of DZNuts and a Lube 'em or Lose 'Em t-shirt. I don't think anyone's going to dispute that he deserves them.
Winners: email me with your address, and I'll send your prizes out.
The Grand Prize: Unclaimed
Of course, Kenny was looking for a tattoo he would actually want, so nobody won the grand prize of $25 in photo processing and an autographed 8 x 10 glossy of Kenny sporting his tattoo.
I, however, came pretty darned close. I believe my entry was one of very few semi-serious ones entered.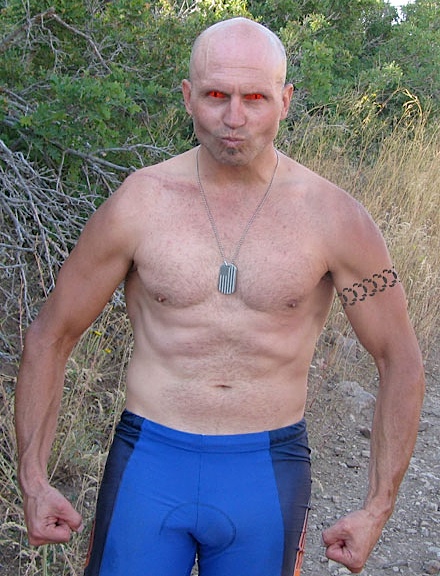 Kenny likes my idea of a tire tread tattoo, but is thinking of it going up the back of both arms. He submits the following mockup: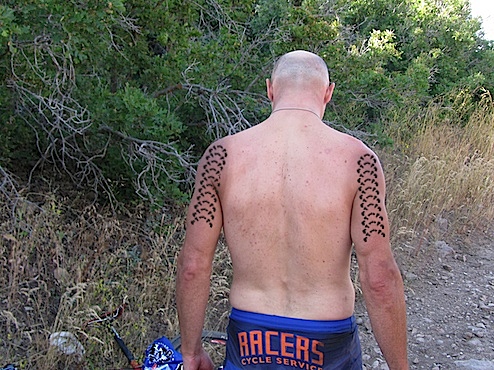 Kenny says that if someone wants to come up with a more "tribal" tire tread (the pattern Kenny and I used in our images is from a scan of an old Continental Pro 1) pattern he likes, the grand prize offer still stands.
Congrats to the winners, and a big thanks to DZNuts and Jelly Belly Sports Beans for providing the prizes!