A Note from Fatty: The Ibis Homepage has a hilarious Flash animation up now where you can shave Bob's head yourself. Go check it out!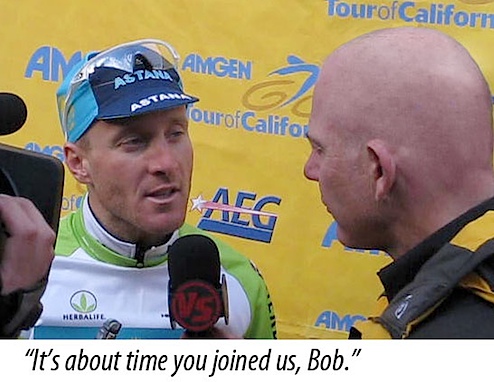 OK, OK, that's a Photoshop (thanks, Kenny!). But it's an accurate Photoshop of what the very-near future is going to look like.
Why?
Well, in yesterday's post, Scot Nicol (aka Chuck Ibis, founder of Ibis Cycles) and I issued Bob Roll a challenge: if we could get people to donate $5000 to Bob Roll's LiveStrong Challenge page by the end of the Tour of California, he'd get rid of that little tuft of hair (aka "the fin") on top of his head.
Well, almost exactly 24 hours later, the prospect of a bald Bobke has raised $5110 $5650 to fight cancer.
"Awesome" seems like kind of a weak word for how cool that is.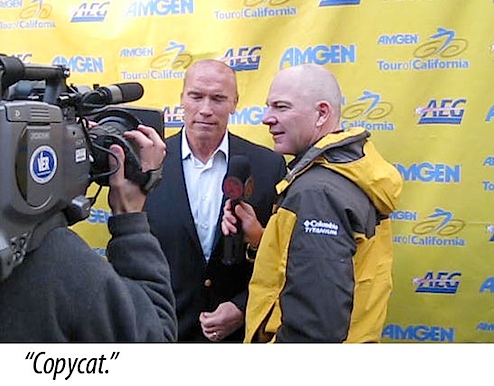 Check Back for More Head-Shaving and Prize-Winning Details
Chuck is now working hard to make sure he gets the head-shaving captured for posterity. He's also hard at work nailing down some really cool giveaways to thank folks who contributed.
Check back soon for details; I'll reveal them as soon as I can.
Some Interesting Stats
Like numbers? Here are a few you may be interested in.
194: The number of people, in 24 hours, who have donated money to Bob's LiveStrong page
230: The number of email messages Bob Roll had in his email box this morning regarding this challenge. "That's a lot, isn't it?" asked Bob Roll. Yes, Bob, it is.
7833: How many people came to fatcyclist.com last night and today as a result of Lance Armstrong's tweet about yesterday's blog post.