A Note from Fatty: Yesterday, I posted a review of Klunkerz: A Film About Mountain Bikes. Billy Savage, the director of the film, and Charlie Kelly, one of the subjects of the film, sent me responses (both in the comments section, which weirdly held them up for moderation). Their responses are meaningful enough that I want to show them as a post, not just comments.
Billy Savage, Director of Klunkerz, Responds
Oh Fatty,
I'm sorry you feel slighted. Surely an interview with you would have heightened the film's comedy quotient considerably, though CK and Russ Mahon do have a few good lines. I do thank you for taking the time to watch the film and comment on it, as I know you'd rather be out riding your bicycle or waxing poetic on the 'noblest of inventions'.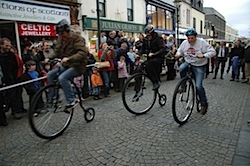 Your comments about the lack of actual conflict and resolution are exactly the reasons why I couldn't get the film funded and had to do so myself. Though I will never live to pay it off the production, I sincerely felt like there just might be a place in this world for one feel-good documentary in which the drama in the piece was derived from the participants accomplishments, and not their rivalries. If I wanted to build up the unpleasantness that may or may not have gone on, including the murder of one of the participants shortly after I interviewed him, I surely could have cashed in. Instead, I felt that I would spend four years of my life, and my children's college funds, making a statement about friendships, good ol' American Ingenuity, and an enterpenurial spirit that seems to have fled the country around the same time Nixon fled the White House.
"It feels, frankly, as if there was considerable negotiating about what would and would not be said in the film before the cameras rolled."
I can assure you that none of this went on. I did six months of research and then I shot nearly 100 hours of these pioneers over an 18 month period. I do have every one of them saying things that could be taken out of context and used in an unflattering light to heighten conflict. With all the knowledge I had acquired and all the footage I had shot, I surely could have edited any one them to be the 'black hat'. That wasn't the spirit of the piece I set out to create, though it probably would have been much easier in the editing room.
The simple truth is that doing this research and asking these questions healed a great many old wounds for many of those involved. Maybe Gary and Charlie weren't talking when I started shooting, but they were both with me in Fort William for the Scottish premiere, racing Penny Farthings for a bottle of Single Malt like the old friends they truly are. They were also with me in San Diego last weekend when I was awarded "2009 Cycling Film of the Year" at the 17th Annual Endurance Sports Awards at Sea World. They were both there, away from the spotlight, sitting in the crowd to support me. It was a very strange experience for me, and one that I will never forget.
Doing this film was nothing less than an honor and privilege. It was my first effort (and possibly my last) at producing and directing a film on my own. These folks trusted me and they gave me honest answers to some difficult questions, many of which are locked away in a film vault forever. Good or bad, I got to tell a story the way I wanted, with no interference from a corporate checkbook being held over my head. I think the most rewarding thing I'll end up taking away from the experience is that I made some very good friends along the way.
Thanks again for giving 'er a look. I really do appreciate your comments and insight. Maybe I'll see you out on the trails someday. I need to get out there, as all this time on computers has added a few inches to the waistline.
Ride on,
Billy
http://www.klunkerz.com
Charlie Kelly, One of the Main Subjects of the Film Klunkerz, Responds
I'd like to correct a false impression. Gary did not "fire" me, since he didn't have the authority to do so. We were losing tons of money and that has a way of creating tension. I was already publishing the first MTB magazine, and at the time it looked like there might be money in that.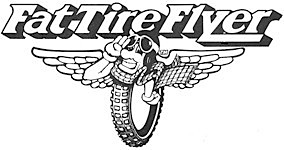 Yeah, I move pianos for a living. I also roadied for a rock band. I'm that kind of guy. The most fun I ever had at MountainBikes was when just Gary and I built the bikes by ourselves, but when it changed to having other people do the assembly and I had to do the un-fun parts, it lost some of its luster.
Billy's film has given me a chance to appreciate the adventure of a generation. Gary and I pulled off the biggest change in cycling of the 20th Century. It was accidental that it turned out to be so profound, but we knew what our dream was when we created it and the world responded. Without knowing it at the time, we shared something so overwhelming that all you can do thirty years later is look at each other in amazement.
It was the most amazing adventure ever, we were lucky to have it, and Gary was the guy I had it with because he was the only guy on the planet I COULD have had it with. I would be a complete jerk to think that the money was the important part or that our business was supposed to last forever in a volatile market.
I'm comfortable enough, but my life has been rich beyond measure, because money is not how I measure it.
Please have a look at my website.
http://sonic.net/~ckelly/Seekay/mtbwelcome.htm
A Few Final Thoughts from Fatty
Klunkerz just won the Cycling Film of the Year award at the Competitor Magazine Endurance Sports Awards. Congrats to Billy for that.
I really appreciate both Charlie and Billy taking the time to write thoughtful and interesting replies.
I suspect that people are going to start thinking twice before sending me stuff in the mail.