Today is the big LiveStrong Fundraiser over at Twin Six: half of everything they sell today will go toward the Lance Armstrong Foundation.
And, evidently, you people are taking advantage of the opportunity to get some great clothes while you fight cancer: so far today, they've sold $4800 $7700 $12,246 $16,530 worth of clothing, meaning $2400 $3850 $6123 $7500 $8,265 (!!!) goes to the Lance Armstrong Foundation.
Nice!
I'd like to highlight a few things you might want to look into over at Twin Six. First up, be sure to check out their "T-Shirt of the month."
Look at that: the wheels make a heart. Adorable!
Available in both women's and men's sizes, the Wheel Love T would make a splendid Valentine's gift. Or you could buy one for yourself to make people think someone else bought you a Valentine's gift.
Hey, you do what you gotta do.
Like all Twin Six T-Shirt's of the Month, the Wheel Love T is trictly limited to 100. They won't last through today. If you want one (or more), go order now.
Cool Stuff You Should Wear
Far be it from me to tell you what to wear on — or off — your bike, but Twin Six has got some pretty darn cool designs. Here's just a sampling.
Now, go browse Twin Six and buy whatever suits you. And think about the fact that half of whatever you spend is going toward the fight against cancer. Click any of the images below to go to that catalog page on the Twin Six site.
For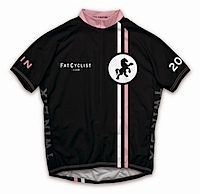 All You People Who Wondered When You Could Get a Fat Cyclist Jersey, The Answer Is NOW.
A couple times per day, I get email from folks asking when they can get a Fat Cyclist jersey. Well, the answer is: right this second. While doing inventory, Twin Six found one box of Men's Fat Cyclist jerseys. There aren't many, though, so I promise you these will not last through the day.
If you want one, better go get one. [UPDATE: Medium is sold out]
[UPDATE 2: Large is sold out.]
Also, there are a few Fat Cyclist jerseys in Women's Medium size. These won't last long, either. [UPDATE: These are sold out.]
And by the way, I love the fact that half of your Fat Cyclist jersey purchase will go toward Team Fatty's fight against cancer.
Everyone Loves the Fat Cyclist Wooly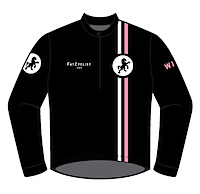 Want to know a little secret? When I took the photos of Susan's new jewelry, I used my new Fat Cyclist Long-Sleeved Wool jersey as the backdrop.
That's an unusual use case, but still.
The thing is, I love this jersey. It is the nicest-looking, best-feeling long-sleeve jersey I have ever owned. And judging from some of the unsolicited comments from yesterday's post, I'm not the only one who thinks this thing is a comfortable work of art.
Here's the thing, though. There were — as of this morning — only 25 of them. As of right now, you can still get one in most sizes , but I kind of doubt that will be the case for the whole day.
Sure, they're expensive — $150. But consider this: for your $150 you're getting a really excellent jersey, and making a $75 donation toward fighting cancer. That kicks butt.
G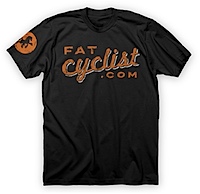 et A Fatty Misprinted T for Cheap…If You're The Right Size
A few 2008 Fat Cyclist T-shirts were printed with the cursive "Cyclist" in orange-with-white-shadow instead of the correct white-with-orange-shadow. There are only a few, and they're only in Men's Medium and XXXL.
I guess it's a good thing that the Twin Six guys — not me — do what they do, because I am pretty certain I would never have noticed the problem. Trust me folks, you don't want me doing quality control.
Someday, these will be worth thousands, but for right now, you can get one for $16.