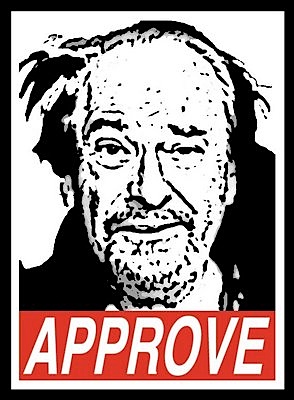 It occurs to me that before long, people are going to stop answering when I call. Why? I call people I have only met online or on the phone and ask them to do strange things in the name of helping Team Fatty fighting cancer.
One of these people whom I have never actually met in person — and I am given to understand that nobody else has either, for he wears a mask and a flowing velvet cape that conceals his appearance — is Bike Snob NYC, who is best described as my evil, more famous blog twin.
Anyways, not really knowing BSNYC at all, I asked a large favor of him.
"I know you value your privacy," I said. "So how about we run a contest where the winner gets to come over and totally violate that privacy. You know, hang out with you for a couple hours. Ride bikes with you. Stand too close to you and ask you personal questions you don't want to answer."
"Wouldn't that be awesome?" I concluded.
Not knowing that getting people to do stuff they don't want to do is my very most formidable superpower, BSNYC agreed.
And so, beginning right this moment, you can enter the contest to fly out to NYC and meet, talk with, make lots and lots of blog entry suggestions to, and otherwise hang out with Bike Snob NYC.
What You Get
So what fabulous prizes do you get with this contest? Read on.
First and foremost, you get to meet BSNYC. In person and for real. No hijinx or anything. You'll actually get to see what he looks like. Once you've met him, he gets to decide what you do next. Maybe you'll go on a bike ride. Maybe you'll go for lots of subway rides. Maybe he'll spontaneously embrace you. Maybe he'll hit you with a cudgel and take your money. As you know, New Yorkers are as volatile as they are unpredictable. I recommend bringing both chocolate and pepper spray. It's best to be prepared.
Second and Secondmost, you get a ticket to NY and back, with US Air. Yep, the Co-Captain of the Philly Team Fatty — Jen Yuan — has arranged for a plane ticket with US Air for any day this year. Of course, this means you have to get yourself to an airport that US Air or one of its affiliates services. So you BSNYC fans in Sri Lanka may be out of luck.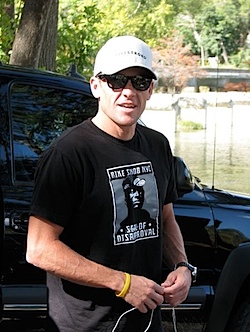 Third and Thirdmost, you get a Bike Snob Seal of Disapproval t-shirt, lovingly (?) hand-delivered by BSNYC himself. It may be in your size. It may not. Do not ask if you can exchange it. As you can see here, Lance got one that is three sizes too large, and he didn't ask for a different size. He's wearing / swimming in it, and is happy about it.
Finally and Lastmost: In addition to the grand prize of a plane ticket and meeting BSNYC, there will be 4 second-prize t-shirts given away to random winners. I have one of these and I never wear anything else. But in all honesty, that has more to do with my proclivity to always wear a given clothing item exclusively until catastrophic failure. But hey, this isn't about me. It's about the hard-to-find, can't-be-bought t-shirt you're going to parade in front of your friends.
What You Don't Get
Please note carefully that this is not an all-expenses-paid vacation. It is, frankly, much closer to a plane-ticket-and-nothing-else vacation. Meaning you're on your own for hotel. And food. And cab fare.
And everything else, actually.
And don't you go expecting BSNYC to foot the bill. In fact, maybe you should consider buying him lunch. Would it kill you, just once, to offer to buy?
How to Enter
To get a chance at being randomly chosen to get to meet BSNYC, donate $5.00 to the Lance Armstrong Foundation over at Jen Yuan's LiveStrong Challenge page (http://philly09.livestrong.org/phillyjen). If you donate more — in multiples of $5 — you get more chances in the drawing.
Yes, all the money in this contest goes directly to the Lance Armstrong Foundation, to help them fight cancer. It's that easy. Besides, we cannot be trusted with money.
This contest is open starting right now and will run through next Wednesday, April 22. The winner will be announced on Thursday, April 23.
General Rules and Restrictions
Here are some rules you must obey, so keep them in mind just in case you win this contest.
Timing: You need to do this on a day that works for BSNYC. He travels (to exotic and wonderful places you couldn't even possibly imagine) frequently, so the two of you will need to work together to figure out a date that works for the two of you.
Be cool: Seriously, BSNYC wants to keep private, which I don't understand at all but am trying to respect anyways. So: no photos of him, no smothering, and no poking. And keep what you learn about him to yourself.
Flight Restrictions: Here's what you need to know about the ticket:

Even though there are no blackout dates, there must be "X"-class seats available on a given flight in order for someone to use the voucher (kind of like frequent flier miles). As the voucher says, "Seats are limited and may not be available on every flight."
Also, the flight only needs to be *ticketed* by Dec 23, 2009. Travel can take place all the way up through late November 2010. Flights can be ticketed a maximum of 340 days in advance.
The voucher can be used for "open jaw" flights — fly into one city (say, NYC to meet Bike Snob) and out of another (say, Philly after cheering people at the Livestrong ride).
If the flight someone wants does not have an available "X" class seat, the voucher is good for $200 towards the total fare.
Good on US Airways, US Express, America West Airways, America West Express.
Frankly, that's a lot less draconian than it could have been. Although the term "open jaw flights" scares me very much.
But What If I Already Live on the East coast, the Way 90% of Americans Do?
Well, then you can go visit Bike Snob and then use the plane ticket to go somewhere else. See, this ticket is actually a round-trip ticket to anywhere in the US that US Air and its affiliates service.
So, for example, you could go hang out with BSNYC for a couple hours, then fly over to Salt Lake City, and I'd take you on a ride. Road or mountain, your choice. I'll take care of getting a bike for you. And then I'll grill brats or burgers, your choice.
Seriously, I'm throwing that in the ring. Which may or may not be an enhancement to the contest. You'll have to decide.
As it often happens, I wish I were eligible to enter this contest — from his blog and the several email conversations I've had with him, I can tell BSNYC is a very smart, funny, and good guy.
Good luck in this contest; I'm sure you'll win.