Let's start this batch of race reports with what I consider to be the holy grail of 100 Miles of Nowhere Rides: Doing it in a cul-de-sac.
Bull Schuck: Cul-de-Sac Division
I did finish today's 100 miles of nowhere today and I think I locked up the "cul-de-sac" division. Precisely it was on two cul-de-sacs. Check out the GPS map. You can even see where I took off after my dog ran out the front door.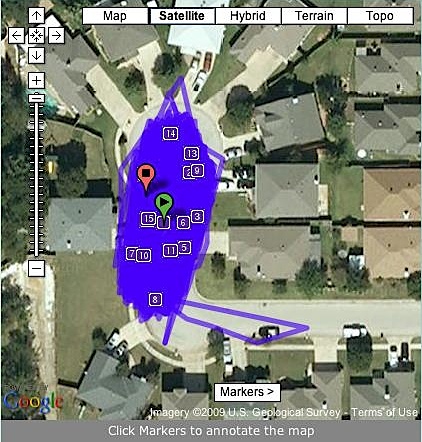 I get all my maps from www.bimactive.com, which uses the GPS in my phone so it's not as nice as a Garmin. It tries to smooth it to the road and it doesn't recognize the roundabout nature of a cul-de-sac. This image shows 15 miles but my odometer (I swear, I only used one magnet) showed 27.
I did about a mile and a half all in the one circle of the cul-de-sac. It finally got to be too much for me, but for the GPS smoothing algorithm (OK, sorry if that math-speak gives you tired-head) errr, the way the phone sees GPS, the circle was too small. It interpreted it all as noise. So I got one dot.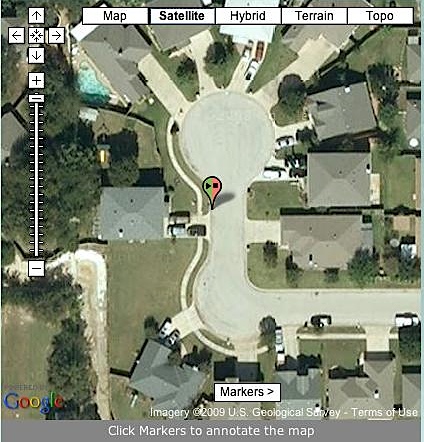 One solitary dot for all that work. Total ride to nowhere. Effort-but-no-achievement-goodness.
We also had a bake sale. The girls made apple bread muffins and sugar cookies. I think we made close to $50 and we still have some left.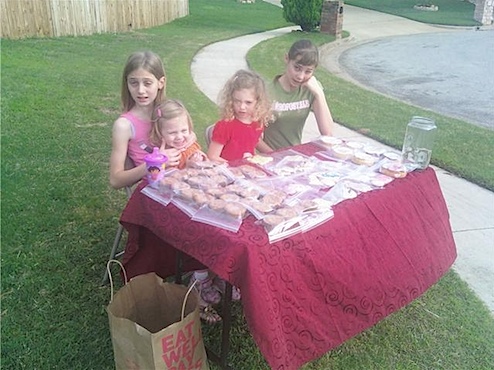 I'll also be riding another century next week with Will and his group out at the velodrome. I'll be on a trainer since I'm not track certified. Maybe I'll try out my son's rollers. Riding a century to fight cancer is like good food. If it's worth eating, it's worth getting seconds. So maybe I've locked up the "involving cute girl-children to sell overpriced carbs" division and am on the fast track to ace everyone else out in the "so fat he needs to do two centuries" division.
I ended up taking about 8 hours and 18 minutes because you just can't go fast when all you're doing is turning. My max speed was about 15 and change.
Someone told me on FB that I'm an animal for doing this as my 1st century ever. I told them, of course, a barnyard animal. And I ride like one, dumb and strong. I also climb like a mother. Well, more like a grandmother.
Gotta sleep. I'm officiating some real races tomorrow and I have to be there, in the shadow of the velodrome, at 7:15 tomorrow.
Leroy: How I Dominated the Brooklyn 100 Miles of Nowhere
The course: The three and a third mile loop around Prospect Park in Brooklyn, New York.
The strategy: My one chance for victory was to break away at the outset and stay in front for the entire ride.
The secret weapon: I chose the starting time and told no one.
I arrived early to study the course:
Being first to the rest areas more than made up for leaving lesser cyclists to draft each other: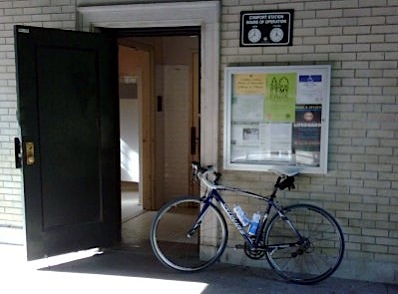 Next year, however, I will re-think my strategy of drinking all four bottles of Carbo-Rocket as a pre-race breakfast: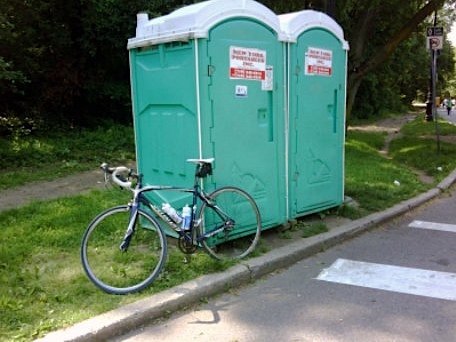 The feed zones along the course were well-stocked, even though valuable seconds were lost fumbling for correct change:

It takes serious bike handling skills to keep the mustard on a Brooklyn energy bar while maintaining a proper cadence: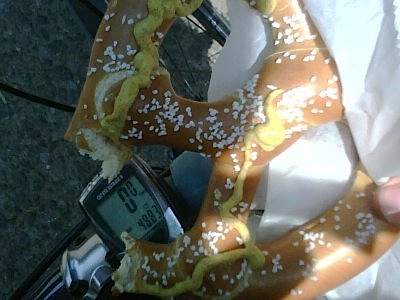 After dominating the field, the reception at the podium was a little anti-climatic:

I'm sure the crowd gathered by the time the rest of the riders arrived. But I had to leave to track down the barbecue I smelled on an earlier lap.

Philly Jen (Team Fatty Philly Co-Captain): 100 Miles of Junk Food
We rode in Dave's living room, through the following scenery:
36th Chamber of Shaolin, a 1978 martial arts classic with some of the best training sequences ever committed to film.
Monsters, Inc, the only Pixar film I had never seen
Still Crazy, an obscure 1998 British film about a reunited glam-rock band. The title was quite fitting for the later hours of Ride to Nowhere.
The (taped) second half of the Barcelona-Osasuna soccer match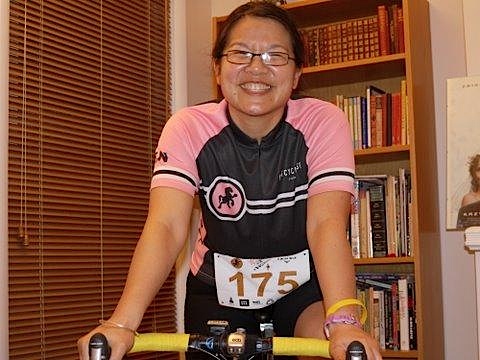 Then there was the mass of extra calories that several consecutive hours of cardio work leaves you at liberty to consume:
Jelly Belly jelly beans
Trader Joe's cheesy puffed corn, aka Pseudo (Pirate) Booty
Dark chocolate wafers
Freeze-dried bananas
Dried apricots
Chocolate soymilk
Ice cream bon-bons!
I swapped out my saddle sometime after the first couple of hours, and spent a little time riding on Dave's recumbent. Barcelona match + 'bent + trainer = BarcaLounger.
I also wore my special argyle socks so I would match the new water bottles (go Slipstream!).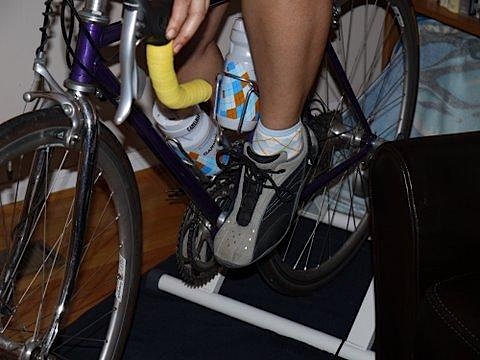 Doward H: Late Entry Division
I've been kicking myself for weeks that I missed signing up for the 100 Miles to Nowhere . . . and then I remembered that I almost never actually pre-register for any of the rides I do. As any chronic-registration-procrastinator knows: we just pay the fee and forego the schwag.
So I woke up this morning and decided that I would donate the 75-bucks to the Fatty Livestrong Challenge page and do the 100 Miles to Nowhere anyways. My chosen course was a 1/3 mile bike track located on the Rice University campus, but that track was closed, so I instead headed to the Braeswood Bayou trail, which is a roughly 28 mile loop and very flat except for a few ramps that descend/ascend to the upper/lower trails. My route, which was five feet wide, was shared by walkers, joggers, roller-bladers and the like. According the Italian media, a rider strike was organized by none other than Lance Armstrong over these crowded conditions (apparently one of those times he dropped back to get Levi water bottles, he dropped WAY back to Texas). The ride went on anyways.
Now, I realize that a 28 mile loop is a bit of a cheat, but rest assured I was punished. Around mile 70 it started raining (which was nice on a hot day), but around mile 80 the thunder and lightning began (which drove me to cover). I spent a couple of long rain delays hiding in bus booths . . .
The best part of the 100 Miles of Nowhere: lunch was at home where my wife fed me all my favorite foods and I got to use my own bathroom instead of a port-a-john or a gas station restroom.
This event was a brilliant idea. I'm glad I decided to take part even if I missed the actual "registration." I rode today thinking of my grandmother who died a month ago after complication from metastasized cancer and for Dr. Bill Wilson, my friend and mentor, who passed away in January after a very short fight with pancreatic cancer. I also, of course, thought of Susan and your family, as well. Thank you for giving me the opportunity to spend quite some time on the bike thinking of them (6 hours 6 minutes in fact – we weren't exactly pushing the pace!).
WIN SUSAN! and LiveStrong!
Lorie F: "Elvis is My Copilot" Division
Due to rain this morning in good old Missouri, my solo ride (with Elvis of course) was changed slightly as my husband joined me on the trainer to ride. I'm sure it was the lure of the Elvis movie ("Viva Las Vegas"!!) and not just that his ride was cancelled. We decided to do this ride as a team, each being sure to ride their 33.3333333 miles.
Elvis started out early this morning, getting his miles done first thing. Notice that he's even color coordinated with my bike.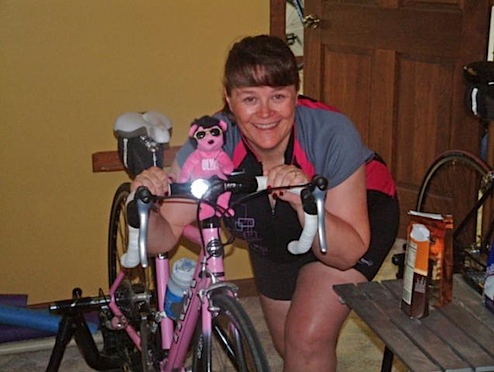 I then hopped on and rode throughout "Viva", with Elvis on the handlebars/stem in aero position. I think he really just wanted a good view of the big screen tv and himself, of course, in all his glory. He also wanted to claim a metric because, well, he's the King!

The ride was completed by my husband John who, after having some stomach issues (could it be the Elvis movie or the fact that he had some chocolate while on the bike??), finished strong.

All in all, I know that John and I rode each rode around 2 hours, not sure what Elvis did…….

Thanks for a great idea! It's the most fun I've had in a long time and all for a great cause!