When I heard that Jill Homer — the hardcore endurance cyclist of Up in Alaska fame — was going to be in town, I naturally pestered her to please please please come on a ride with me, so I could find out how I stack up as a cyclist against someone who has raced the Iditarod, ridden the Kokopelli and White Rim self-supported and back to back, and is prepping to go race the Great Divide.
What a huge mistake that was.
What nobody realizes, from reading Jill's blog, is how incredibly imposing she is. And I'm not just talking about her incredibly overbearing, outrageous, obnoxiously loud personality, either.
What you can never tell, from her photos in her own blog, is how incredibly big she is.
Check out this photo I took of her and Kenny during the ride: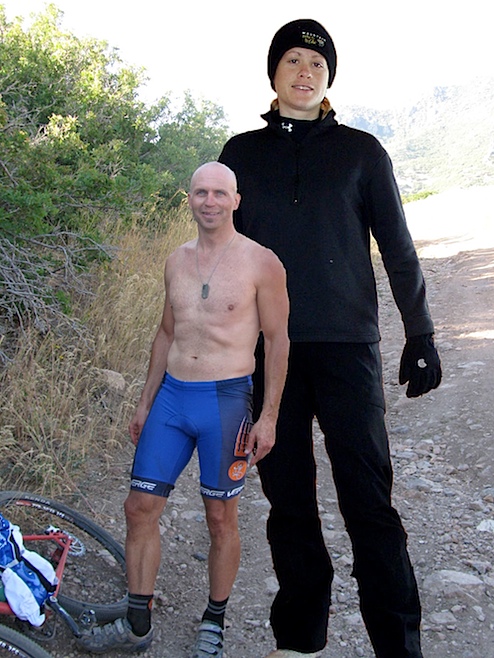 Seriously, she must be 8′11″ tall.
Of course, that's not the only odd thing this photo reveals, either about Kenny or Jill. For one thing, I wish Kenny would stop always taking off his shirt whenever I try to get a photo of him. More importantly, though, it was about 78 degrees (Fahrenheit) outside, and Jill was still outfitted like she was heading out snowcaving or something.
"I'm not comfortable unless I'm wearing six or more layers," said Jill.
The next thing you probably don't know about Jill is that she's incredibly mean. I mean, about halfway through the ride Brad was starting to drop off the pace Jill had set (and I'd be lying if I said I wasn't about to barf myself).
"Pick it up, Keyes," said Jill, tersely. Jill calls everyone by their last name.
"I can't. I'm totally maxed," whined Brad.
Neither Brad, Dug, nor I would have ever expected what came next from Jill: a blindingly fast spin-kick to Brad's larynx, crushing it and sending him writhing to the ground.
Dug rushed to give first aid. "Don't," said Jill, in a voice that brooked no dissent. "He wanted to whine; now he's got something to whine about. Let's roll."
It's possible that Brad's still on the trail. I hope he's OK.
My Strategy
Knowing that I had no chance of surviving the ride without using dirty tricks, I came up with a brilliant strategy right at the parking lot: I would loan Jill one of my bikes.
This is more brilliant than it sounds, believe me.
Here are the handicaps the loan of the bike provided:
Cleats: Jill's used to riding flat pedals. But the bike I loaned her is a singlespeed, and it's very nice to have an upstroke on sustained climbs when you're riding a singlespeed. So I loaned Jill shoes, too. All of this was new to her.
Fully Rigid: The bike has no suspension, at all. And we were headed to ride Jacob's Ladder, a trail famous for protruding rock and nasty little drops.
Singlespeed: As mentioned earlier, I loaned Jill — a high-cadence devotee — a singlespeed. It was the first time she has ever ridden one. For a technical trail. 5000 feet higher than she's used to. With a group of three guys who never ride anything but singlespeeds.
Exoticness: What I have not revealed up to this point is that I loaned Jill the Superfly Singlespeed, which she knows is a crazily exotic bike, thereby causing her untold intrepidation. Nobody drives so slowly and overcautiously as in a borrowed Ferrari.
And yet, Jill rode fine. She fell a few times but — unlike Brad — never made a peep. In fact, I think she smiled biggest whenever she hit the ground. In other words, for her first singlespeed / clipped-in ride ever, she rode up Clark's, up Jacob's, down upper and lower Jacob's, then down Ghost. Without particular difficulty and without breaking a sweat.
Then after the rest of us — exhausted — went home, she went on another ride, climbing a mountain pass.
Something's wrong with that girl.
Evidence
As proof of everything I have disclosed here, I present the following video:
See what I mean?
PS: Don't believe anything Jill says about the ride. Especially the picture she has of the two of us. That's totally Photoshopped.
PPS: Song credit for the video: "Rough Boys," by Pete Townshend, from the album Empty Glass.