I am often asked by people who know less than I, "How can I look back when riding my bike?"
Well, as an extremely fast, fit, and award-winning cyclist, I personally never have any need to look back when riding my bike. Once I have passed something, there is no possibility that it will ever pose a threat again. And frankly, whatever I have passed disappears into a point on the horizon so quickly that there's really no value in looking back, anyway.
However, I am sympathetic to your plight.
Why You Would Want to Look Behind You
Before explaining how to look behind you, we need to consider why you might want to look behind you. As an average cyclist, there are three excellent reasons:
To see the vehicle that is bearing down on you. Actually, I was only joking. This really isn't a good reason for looking behind you. If a vehicle is bearing down on you, it will either miss you or it won't. And it doesn't help to try to quickly memorize the license plate, either. My experience shows that if the vehicle hits you, you won't remember the moments before the accident anyway.
To see the vehicle that is honking at you. I'm joking again, of course! If a vehicle is honking at you, that's because it's full of teenagers, and they're playing a hilarious practical joke on you. Ho ho! If you look back, you are validating their wittiness, but not to the full extent they are hoping for. Ideally — for them — you will swerve and fall. Or, if you choose to be non-compiant with their joke, you can instead acknowledge them with a gesture of your choosing (such as a big "thumbs-up" and a smile, as if you were both in a Mentos commercial).
To assess whether another cyclist is catching up to you. This, naturally, is the real reason you might want to look behind you.
The Problems
Sadly, looking behind you is not as simple as craning your neck around and taking a gander (especially if you're over 40 and you can no longer turn your head more than thirty degrees in either direction).
For one thing, as you have likely noticed, when you twist your body and turn your head to see what's behind you, you stop being a cyclist…and become a drunken menace to all and sundry, swerving sharply in the direction you are turning your head as if a U-turn is absolutely imperative right this very second.
More importantly, however, is the fact that by turning your body and head to look behind you, you have tipped your hand. You have just alerted the people behind you that you are worried about them catching up. That you even admit the conceivability of the notion of the theoretical possibility that they might catch up.
And in short, you have shown weakness. "I am about to crack," is the message you have just telegraphed. "Attack now."
This will not do.
You need to learn to look back correctly. And I am about to tell you how.
The Basics
When you are first learning how to look back, you should stick to the essentials: finding out how close behind you your opponents riding buddies are, without killing all of you by swerving into traffic or a curb. Worry about being stealthy later.
The trick is simple, and so I'm tempted to make it a little more complicated than it actually is, so as to impress you with my knowledge of the arcane. But I won't. Because I care about you.
[Note: I am generally reluctant to give actual useful advice, but am making an exception here]
As you turn your head and body to look back, also lift your arm so it's pointing in the direction you want to look, and you won't swerve.
That's it. That's the whole thing.
However, you may want to jazz it up by making your hand into the pistol shape and doing the "shooting" action with your thumb while winking to the people behind you, as if you were — instead of checking to see if you will be overtaken soon — are giving them a jaunty and perhaps mildly creepy greeting.
Advanced Techniques
Most expert cyclists will not be fooled by this tactic (Chris Horner is a notable exception; he falls for the "point and shoot" gambit every time). To check behind you with more stealth, you need to become with more arcane techniques.
The most effective and desirable way to check to see if anyone is behind you is to check your shadow. Provided the sun is behind you and low in the sky, you can simply look down. Then use this handy guide to tell whether you are about to be overtaken:
If you see 1 shadow, of course you will naturally panic, thinking that you are about to be overtaken. Relax! That shadow is yours. You are doing just fine.
If you see 2 shadows, then you are in fact about to be overtaken. Stand up and sprint as if your life depended on it.
If you see 2 shadows and one of them is 14 feet tall and six feet wide, then you are about to be overtaken by the chupacabra. Stand up and sprint as if your life depended on it. Because it does.
[Note: My legal counsel advises that it is also possible that if you see a 14-feet tall, six-feet-wide shadow, it may be a car in the late afternoon. In which case I still advise sprinting as if your life depended on it, because the chupacabra may be inside the car.]
The second-best way to check behind you is to glance as you go around a switchback. This gives you an excellent opportunity to see how far behind you your mortal enemies friends are. I am personally very partial to this technique, and so will only ride — road or mountain — where there are plentiful switchbacks.
Sadly, the switchback technique and the shadow technique are not very effective when used in combination, primarily because switchbacks have the unfortunate effect of reversing your direction every so often. This makes it devilishly difficult to keep the sun at your back.
For this reason, the third technique — the spit-glance – has been developed. To do the spit-glance, turn your head far to the left (or, in Australia, to the right) and spit down. As you do this, wrench your eyeballs as far back as you can, stealing a glance behind you. You have no more than a tenth of a second to take in your rear view before being detected, so don't dawdle.
As a bonus, if you use this technique often enough, people will become quite wary of riding behind you and will think long and hard before passing (Hi, Dug!).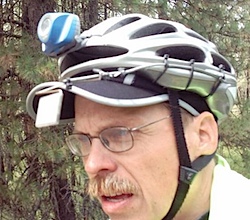 Things to Avoid
Really, I only have one thing to avoid, but the heading "Thing to Avoid" seemed awkward. So: the thing to avoid as you develop your surreptitious looking-back skills is: purchasing a mirror.
Yes, I know. Those mirrors work. They work great in fact. But don't use them.
"Are you talking about helmet- or handlebar-mounted mirrors?" is the question I expect you are about to ask.
The answer is, "Yes."
"But why not?" is your question.
"Please refer to the photograph," is my answer (Hi, Kent!).
[Note: The "Things to Avoid" section (see above) does not apply to recumbent riders. In fact, I believe that recumbents are required by law -- or at least by whatever mad impulse it is that drives a person to recumbents -- to have both a helmet mirror and a handlebar mirror. ]
Yes, the art of looking back on a bicycle is a complex, multifaceted technique, requiring no small amount of determination. Once you have invested the necessary years of practice, however, I guarantee you will always know who is about to pass you.
I wish you luck.