I'll be liveblogging as Travis Ott describes the bikes we'll be riding today. I will also try to get pictures of me with as many important and handsome bike celebrities as possible.
But first, breakfast.
The liveblog starts at 9:00am-ish (Mountain Time, naturally, since I'm on a mountain). Come back then and start refreshing the heck out of this page.
'Til then, I recommend reading the following recent posts, as refresher material:
Liveblog starts soon!
9:04 I am surrounded by very much bike porn.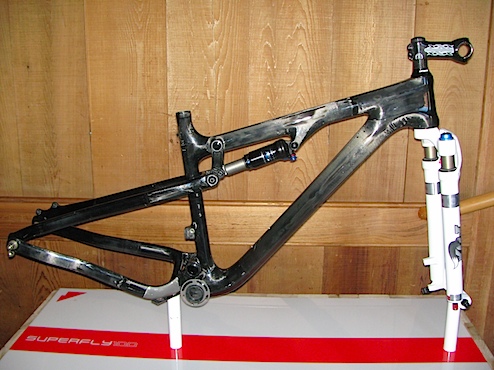 JHK, Travis Brown, and Gary Fisher are all sitting to my right. It occurs to me, I am the only person here who is not being paid. Also, it occurs to me that I am the only person who does not deserve to be paid.
9:08: Gary has taken the stage and is talking about the history of 29″ wheeled bikes.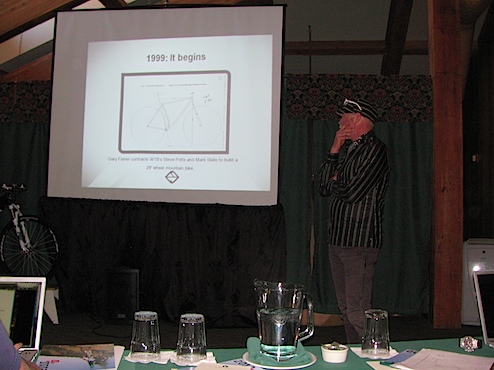 I'm pretty sure he's talking about technical stuff. My mind wanders.
9:13: Gary's talking about how in 1999 he'd ride the first prototype 29er one day, then a regular 26″ bike the next.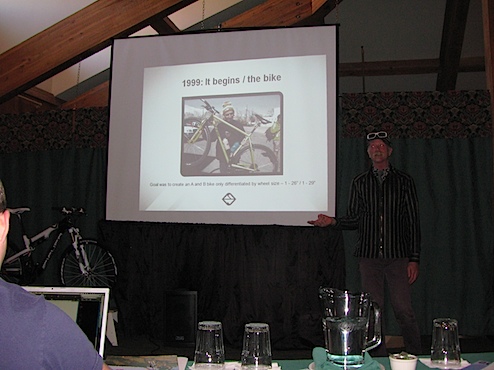 That's Zapata Espinoza on the slide. I used to idolize that guy. Anyone know where he is now?
9:17: Gary's (we're on a first name basis after all) talking about geometry issues they had at first, as well as the difficulty in getting a fork that would work with such a large wheel. Back then, a lot of the prototypes were outsourced. Now, says Gary, "Only Shimano has a larger R&D Dept than we do."
9:19: Gary's acknowledging that Gary Fisher wasn't the first 29er out there. I notice that Gary has skinny legs.
9:24: Dirt Rag is to my left. Bike is to my right. Neither of them has written more than two sentences since I've been here. In their defense, there hasn't been a lot of news so far. This has all been "our story so far…" stuff.
9:27: NEWS FLASH: GARY FISHER ANNOUNCES THAT 29″-WHEELED BIKES ARE PRONE TO EXPLODING: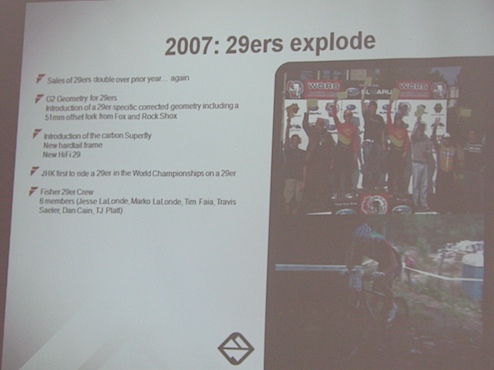 Oh, OK. I know. But still, it's a funny headline for a slide.
9:31 JHK and Heather take the stage.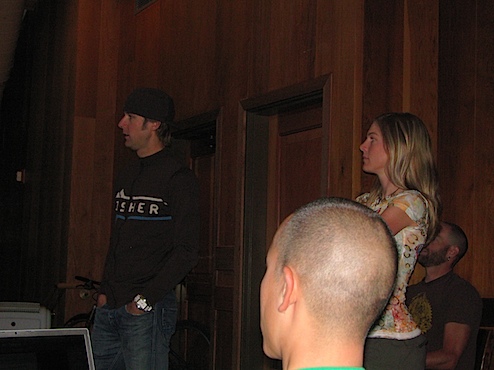 Alas, James Huang's (of CyclingNews) head dominates the photo.
9:32: JHK (personal friend of mine) talks about how his first 29″ bike was a Rig. As the bikes became more refined, he slowly transitioned from sometimes riding 29″ to where he is now: "I honestly believe there is no course on which a 26″ bike is faster." A bold statement, and one with which I happen to agree.
9:36: Heather talks a bit about how at first she didn't like the 29″ bikes, Felt like she was "on top of a gigantic machine."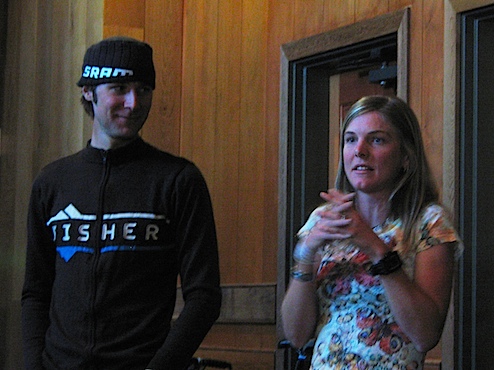 Then she built up a Medium. At 5′4″ she's totally comfortable on it and says she "no longer knows where [her] 26″ bike is."
9:41: I'm pretty sure I'm the only one liveblogging this, which means FatCyclist.com is where you can go to get the news first.
Also, this makes me think: If you've got questions for me to ask during the Q&A part of this thing, post them in the comments.
9:45: And now, at long last, we arrive at the present. 2009 v. 2010.
Travis Brown says this is the most refined 29″ bike line ever. He's been racing these things. Gary jumps in and reminds us that we're now 10 years into 29″ bikes. These are no longer just a bleeding edge technology. They're mature now, says the man in matching shirt and cycling cap with Elvis sunglasses.
9:50: Here's the lineup: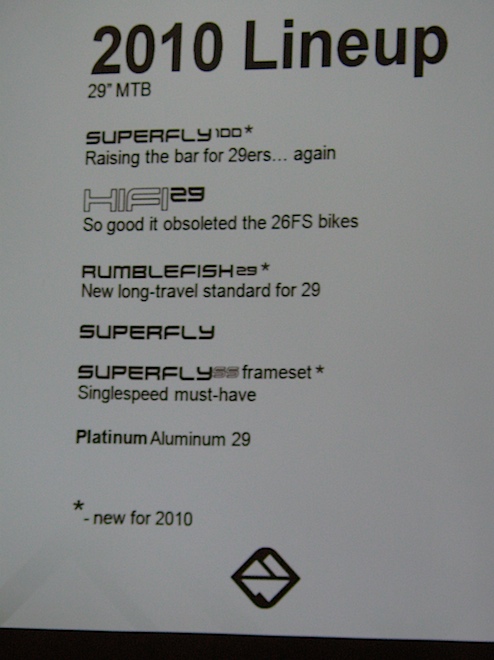 Rumblefish is for "enhancing rider confidence," fun trail riding. Superfly is for "getting from point A to B as fast as possible."
9:54: Biggest change is the decreased wheelbase: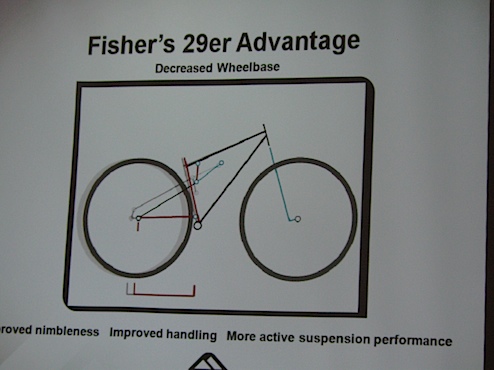 Annnd and "Active Braking Pivot." It's too bad I can't talk to the guys sitting on either side of me, because they'd probably understand what the heck that means.
Suspension tweaked, integrated bottom bracket, E2 top tube. Wubba wubba wubba.
10:00 Oh this is cool: new size! XXL debuts.
10:05: And now we start on the Superfly 100 — the bike I think most people are going to be most interested in. JHK says he went into trying this bike without an open mind. He's "been a hardcore hardtail advocate my whole career."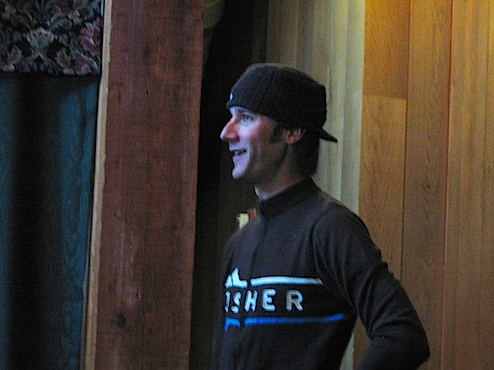 He says that now he believes this bike is as efficient as the Superfly hardtail in the climbs, and descends "bonkers."
10:05: OCLV carbon, G2 geometry, E2 headtube, and the very very important active braking pivot, which I still do not understand. Frame, shock, hardware come in at 2100 grams.
The HiFi is the aluminum version of the same bike. Also, they claim that it will be 20% less sexy. Wow, that's harsh. Don't remove sexiness, guys. The world needs more sexiness, not less.
10:10: They're drilling down on this chart: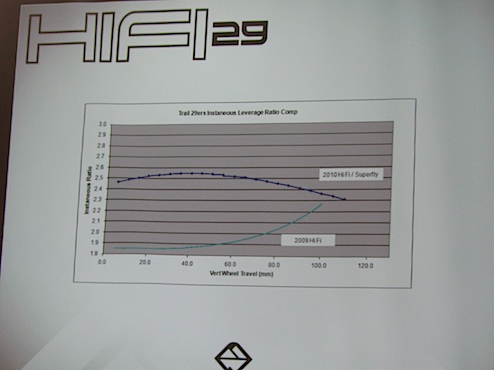 I have no idea what it means.
10:12: And now for the Rumblefish — the 29″ trail bike, and the "girls (and boys) just wanna have fun" bike in the lineup.
Suspension design (DRCV for Dual Rate Control Valve I think) is "two stage air spring with small bump sensitivity of a single air canister with big hit control available through second air canister." Sounds like they're trying to tell me something, but I'm not sure what it is. Perhaps, "The suspension works more when you hit bigger stuff?"
10:16: Travis Brown is back. May I just say that Travis, besides obviously knowing his stuff and being one of the strongest riders around, is very cool, as evidenced by his Twin Six t-shirt?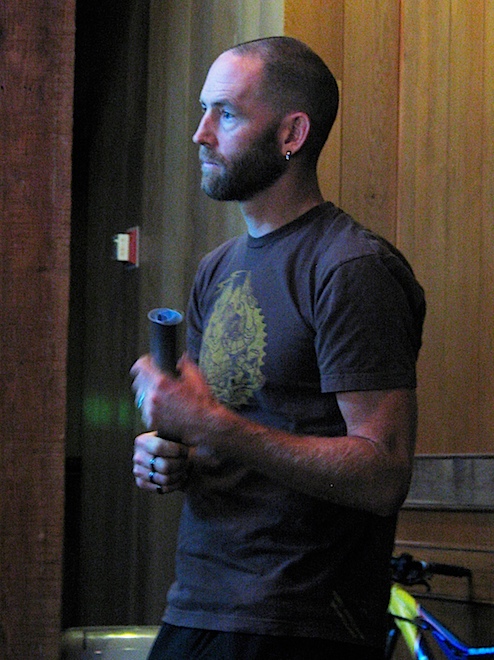 Note: Including mine, I believe this makes 3 Twin Six t-shirts in evidence today.
10:20: And now, the Superfly SS. YAAAY. Really, the only thing they're talking about is the pivoting dropout: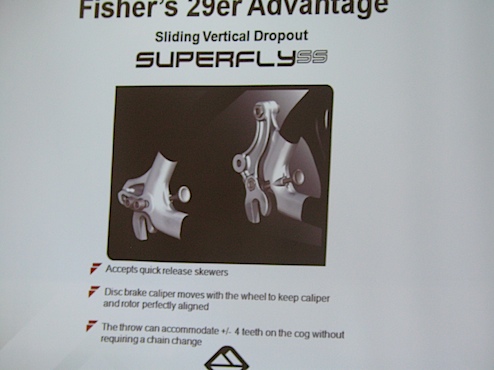 Nice thing with that dropout is that there should be considerably less chatter and squeal under hard braking.
10:24: Looks like there won't be a Q&A session, but I'll do what I can to grab some people and answer some of the questions you posted. I pulled Travis Brown aside and asked him some things from your questions:
XXL Sizing: If you're 6′3″ or above you might want to take a look at this size. Travis says his test rider was 6′6″.
"Shorter wheelbase equals twitchier ride:" Travis Brown says that's a reductionist view of the geometry. You need to look at the full recipe of the bike: the front-center (bb to front axle), effective chainstay, trail figure, and other subtleties they've factored in. You won't feel like this bike is twitchy.