A Note from Fatty: The "Win any Ibis, Take it Anywhere You Want, And Ride it With Andy Hampsten, Chuck Ibis, and Fatty" contest is in full swing. Details are here, and you can go enter the contest by clicking here.
I've asked Scot Nicol — AKA Chuck Ibis — to describe which bikes he'd take to what places. This will take the form of a mini-series, titled….
The Great Bike and Trail Pairing Mini Series
The winner of this fantastic contest will have a legitimate shot at creating one of the great pairings in history. Done right, it could a be more talked about match than John and Yoko and Bacall and Bogey combined.
It could replace all those fond (and to some, kinky) memories of Uncle Ben and Aunt Jemima, not to mention Lucy and Ricky.
Could it be a strong enough choice to permanently erase Cheese Whiz and Crackers from one's cranium?
What we're talking about of course is which Ibis the winner chooses, and what place the winner decides to go ride said bike.
Today we begin a 4 part dissection of what could be…should our winner be up to the task.
Big Wood and a Tranny
Up in the wilds of Idaho there's a thing called the Big Wood River. It winds through the town of Ketchum, a place most people generically call "Sun Valley." I've had the great fortune to live in this Wood River Valley, and learned a lot about the trails up there.
An astute winner would seriously consider Sun Valley as the chosen spot for our rendezvous, and a doubly astute reader would take possession of a Tranny, perhaps even of the single speed variety.
They say you can access nearly one thousand miles of singletrack from the greater Sun Valley area. That's enough for at least two or three days of exploring. On top of that, much of it is smooth like buttah.
Depending on one's mood or level of fitness, there are rides consisting of easy middle ring climbs, or you could choose high altitude lung-busters.
Consider the White Clouds, up in the Stanley basin above Sun Valley. Our intrepid Tranny Single Speeder Seanny Boy rode his rig up to Castle Peak in the White Clouds recently and filed this photo: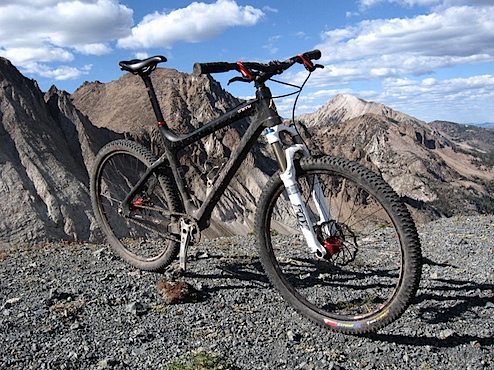 Along with the photo he filed following report: "Chillin' at 10,000'."
Brief and too the point, Sean, thank you, we like your style. This same bike is up in Bend Oregon this weekend, doing the Big Fat Tour. You could certainly add Bend to your list, but I don't think it carries the weight of an Antony and Cleopatra type of pairing.
Here are a few more shots to whet your appetite for some time in the Wood River Valley.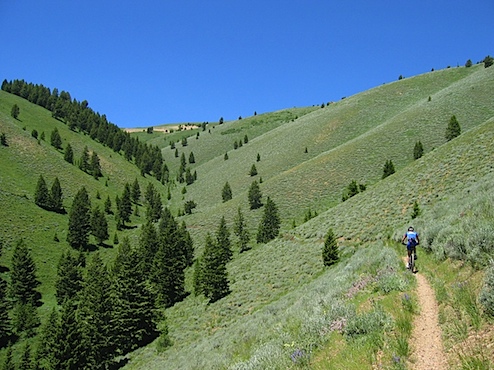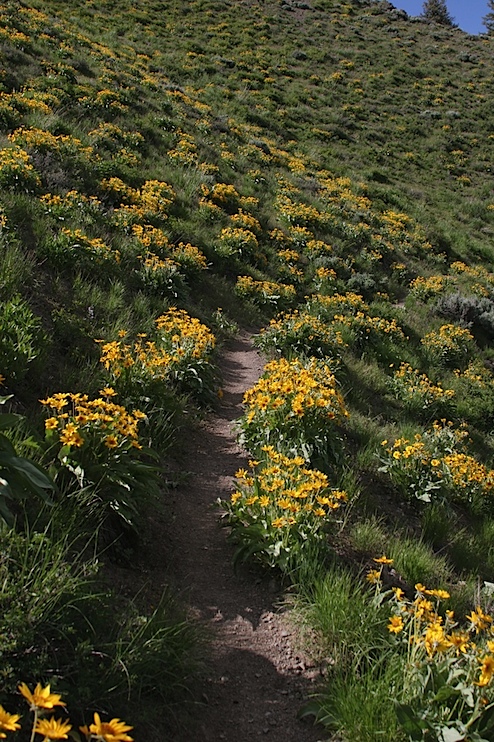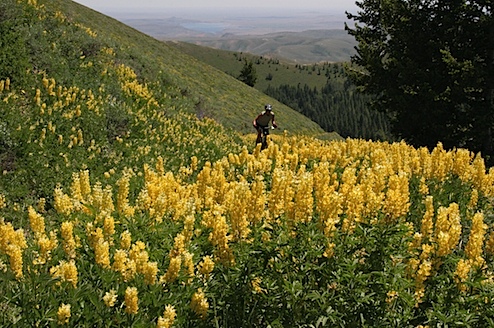 There's just one problem. You can't win this bike or go on this ride with Andy Hampsten, Fatty and me unless you enter the contest. Which you should do. Right now. Click here, already.
And now, back to our regularly-scheduled blog post….
Wherein I Try Running Again, In Spite of My Better Judgement
Usually, I don't write on Fridays, because Friday is the day I dedicate to eating pie, and I don't like anything else to interfere with that activity.
But I knew that people would be interested in my experience with running. Or at least I like to imagine that you're interested. In fact, I like to imagine that you're so interested in my run that to tell the truth you had a rough time thinking about anything else. It made conversation difficult and infiltrated your dreams.
So here's how it went.
Wherein I Negotiate a Major Concession
My problems with the run started well before the run itself, and manifested themselves in the form of a paucity of correct clothing. This is a weird situation for me, because I can ride every day for three weeks without washing a single item of clothing. Although the neighbors begin to complain when I do this.
Anyway, it turns out that my running shoes are about four years old. It took a while to find them, since I haven't used them since moving into this house. I found some shorts — you know you're a cyclist when shorts without a chamois feel wrong — and used a Melanzana Power Dry Shortsleeve as my running shirt. Somehow, wearing something made and purchased in Leadville was comforting.
We'd be running on trail — thank goodness — so I showed up at this runner's house, expecting we'd drive the mile and a half to the trailhead and begin there.
But she planned to run there.
"You need to understand," I said, without even a trace of petulance in my voice, "that if we start here and run to the trailhead, I may be finished for the day when we get there."
I am confident she did not roll her eyes. Though it may have looked that way.
So we drove. I passively-aggressively played Meat Puppets ("Open Wide" and "Another Moon," both from Forbidden Places, both of which I love and both of which I'm pretty sure nobody else in the world loves) on the stereo, and did not make eye contact.
This Is Not So Bad
I got out of the BikeMobile, which I imagine was feeling very confused to be at a trailhead parking lot without a single bike in the bed.
I expected there would be stretching and warming up, and began to formulate my plan as to how I would pretend like I knew how to stretch and warm up. But then she just started running.
I knew I needed to either feign an injury right then or follow. Panicking, I couldn't think of a suitable injury, so I ran.
Or, more accurately, I sort of did a fast shuffle-walk, while moving my arms as if I were a speed walker. On me, this looks very athletic and graceful.
The trail was briefly level, during which time I could tell I was in serious trouble as the runner became a speck on the horizon.
But then, something unexpected and good happened: the trail turned up.
And I like climbing.
For whatever reason, running uphill felt like I was using my cycling legs, at least to a degree. Maybe the smaller steps you take when you're going uphill, combined with the quad-focused effort of moving your body up the hill uses close enough to the same motion as cycling that I was able to get into a reasonable facsimile of a climbing groove.
So within a minute or so, I caught up.
It's possible this occurred merely because she let me.
Regardless, a weird thing had happened: I had begun to enjoy myself. I'm going to come right out and say it: I like running uphill, on dirt.
Tactical Error
And then, I did a foolish thing: I opened my mouth. "This isn't so bad," I said.
"You want to go faster?" she replied.
In my head, I answered, "No, I want to lay down and start planning out what kinds of pie I'll be eating tomorrow."
Out loud, I said, "Up to you. I'm maybe at 30% right now." WHICH WAS A JOKE.
"You're at 30%?" she replied.
"Maybe 28%, but I figured I'd round up for your benefit," I (very very stupidly) answered.
And so she turned it on. Which, when I think about it, was the only possible response.
And it left me with a choice. Chase? Or start walking?
I chased.
New Cease Fire Terms
Something that the last season of cycling has taught me is exactly where my breaking point is. I am now very well acquainted with when my body is right at the edge of what it can do, and when it's going to crack.
So I went up to that edge and did my level best to keep up, and more or less managed to do so.
"Do I need to say 'uncle' or something?" I whined.
"You just need to say, 'Alpha female, please please please slow down,'" she replied, not sounding particularly winded.
Now, I may not have mentioned this before, but I have a certain amount of pride. And just a hint of stubbornness. So I quoted Westley from Princess Bride.
"Death first."
Which, as the run continued, increasingly seemed like a legitimate possibility.
Capitulation
It will always be a source of pride to me that I managed to keep the runner in sight as we ran this trail. Enough of a source of pride, in fact, that I never ever ever intend to find out if I managed this because I could, or because she let me.
Cuz it would kind of kill the drama of the event to find out that she had simply gone from one level of not trying to another level of not trying, except now perhaps not trying a little bit less.
Anyway, the trail emptied out onto a paved downhill road.
At which point, it took all of ten seconds for me to loudly beg, "Alpha female, please please please slow down."
On pavement, downhill, I felt incredibly ungainly. There was no rhythm whatsoever to my steps. I felt like I was landing flat on my feet, with the impact going clear up into my skull.
Grace has never been my strong suit. Here, however, I was a thrashing, flailing, bumbling wreck.
"I feel like I'm pedaling squares," I said.
"You shouldn't feel like you're pedaling at all," she replied, not unreasonably.
Eventually, the pavement turned onto a dirt road that goes along a canal and back toward our starting point.
I must have looked on the pathetic side of pathetic, because several times she said, "If you need to walk, just say."
"Death first," I said again, but this time it wasn't so much a proclamation of defiance as an actual statement of intent.
My "running" wasn't much faster than walking, anyway. If any.
Eventually, we got close to the start point. She picked up the pace. I responded by failing to pick up the pace. She sprinted. I had no sprint.
She finished strong. I finished, full stop.
Sometimes, that's enough.
PS: Today, I hurt. Quads and shins, mostly. But not as badly as I expected to. And I do intend to start running a couple times per week. For bone density, and because I simply cannot stand the thought of another winter riding the rollers, Every. Single. Day.