Please allow me to gross you out for a moment: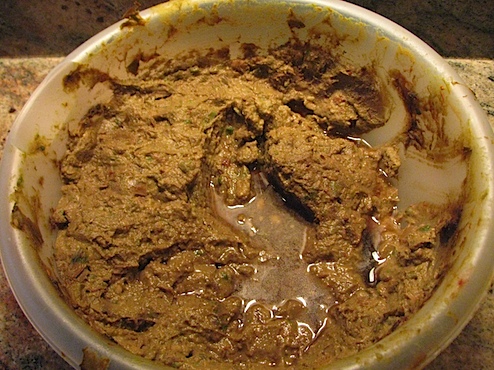 Pretty nasty, eh? Of course, you're not getting the full effect without the odor, which is…pungent.
What is the substance in this photo? Well, it's a symbol of both a tragedy, and a victory.
The tragedy is that I made ten avocados-worth of guacamole for a cul de sac party I had last Friday night, the agenda of which was:
Eat bratwurst, cabbage salad, and chips with guacamole
Play Rock Band
Now the party wasn't tragic. The party was fun. Though I'm a little bit confused as to why everyone goes out of their way to not let me do vocals. I sound great.
The tragedy is that after the party, there was still a lot of guacamole left over. And now it's Wednesday, and that guacamole has gone bad. Not just a little off. Bad. As in I'm pretty sure it's started robbing convenience stores and has tattooed "HATE" on the knuckles of its left hand. On its right hand, it's tattooed "HATE" again, to emphasize the point.
That's bad.
In short, any time guacamole goes uneaten and is eventually discarded, the world has become a slightly sadder place. That's the tragedy.
The victory, on the other hand, lies in the fact that I am the only one in my family who loves avocados and guacamole, so if this guacamole had been consumed, it would have been all by me.
But I didn't. I didn't sit on a couch with a bag of blue corn tortilla chips (my current favorite) and demonstrate my superpower to that enormous bowl of guacamole. Even though it's November, the month I traditionally reserve for doing nothing but eating and sleeping.
That's a victory. A big one.
PS: Today's weight: 158, up only four pounds since my lightest in September. (And down three pounds since I bumped into the 160s, which I'm doing my best to avoid this winter.)