If you're like me — and for your sake, I hope you are, because it's really awesome being me — you wear a t-shirt every day. Which is fantastic, because when you wake up in the morning, the ancient question of "What to Wear Today" is quickly solved.
The internal dialogue goes like this:
Me: "Hmm. I wonder what I ought to wear today."
Other Me: "How about a t-shirt?"
Me: "That's a fantastic idea. Thanks! But what should I wear for the bottom?"
Other Me: "I recommend wearing the same jeans you wore yesterday, because they're nice and stretched out now, and will fit more comfortably than a freshly-washed pair of jeans."
Me: "You're exactly right. Thanks, voice inside my head!"
Other Me: "You're welcome."
Sadly, however, the choice to wear a t-shirt every day does come with a minor downside: laundry. Due to the absolute certainty that you will at some point spill food or wipe chain grease on your shirt (plus cumulative body odor and general grossness), you need to wear a clean shirt every day.
I am here to help. Specifically, I'm here to help you stave off doing laundry by one more day by presenting the new, 2011, Fat Cyclist T-Shirt Collection.
Check it out: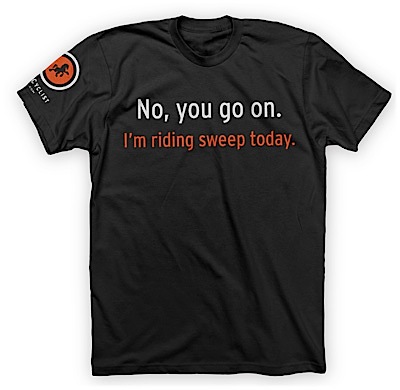 This shirt is now available now (yes NOW!) at Twin Six, in both men's and women's cuts.
Just in case you're wondering where the "No, you go on" quote comes from, by the way, it's from "How to Be Last," and it's a very good quote to have top-of-mind, as well as front-of-chest.
"But wait a moment, Fatty," I hear you say. "What did you mean by '2011 Fat Cyclist T-Shirt Collection?' Doesn't a 'collection' generally mean that there is more than one thing to collect?"
To that I admiringly reply, "You are so astute." Here's the other new Fat Cyclist 2011 T-shirt: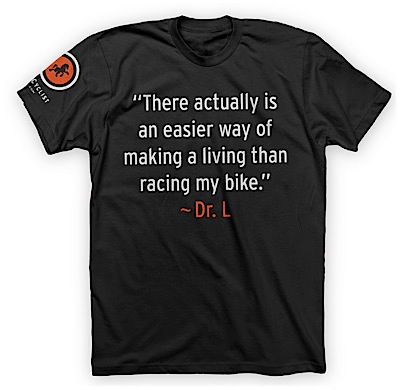 This quote, of course, comes from The Wit and Wisdom of Dr. Michael Lämmler, and this shirt is available now in men's and women's cuts.
These shirts have many fine qualities, including:
They're 100% cotton. Except the tags. I'm pretty sure the tags aren't cotton.
They're super-soft. We had considered going with merely "soft," but then I pounded my fist on the table and yelled, "Soft won't do! These are my readers! They demand and deserve super-soft!" And the Twin Six guys totally caved. Pushovers.
Made in the USA. And you can bet that's got China pretty upset.
Black, so you can wipe chain grease on them with total impunity
Guaranteed to push laundry day forward another day. Or two, if you buy both shirts.
Both shirt designs have a blank back, like this:
I daresay if you order these shirts immediately you'll get them before Christmas. But you'd better order two (of each), because otherwise, you'll get them and love them so much that you will keep them for yourself instead of giving them as gifts, as you originally intended. And then someone's feelings are going to be hurt on Christmas.
And that would be very sad indeed.
Fat Cyclist Hoodies and Trainers 30% Off Today Only
Today is the last day of Twin Six's awesome "6 Days of Christmas" promotion, and today they're taking 30% off the price of all bags, wool trainers, wool jerseys, long-sleeve t-shirts, thermals, and hoodies.
And that, my friends, includes Fat Cyclist gear. So may I recommend that today is the absolute best day for you to pick yourself up a Fat Cyclist Wool Trainer: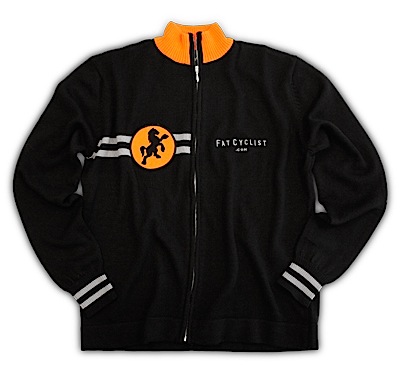 I love mine — it's a comfortable, classy-looking trainer, feels like a really nice, warm, totally non-itchy sweater. I'm wearing it right now. They usually cost $190, but today they're much more affordable at $133. Click here to get yourself one. And then you — like The Runner and I — can look like Buddy Holly and do the Trainer Dance.
Or, if you're looking for something more casual, maybe you should get yourself a Fat Cyclist Hoodie: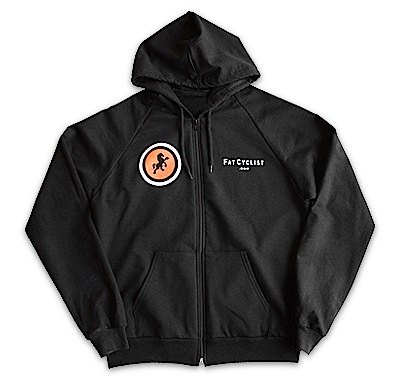 And here's the back: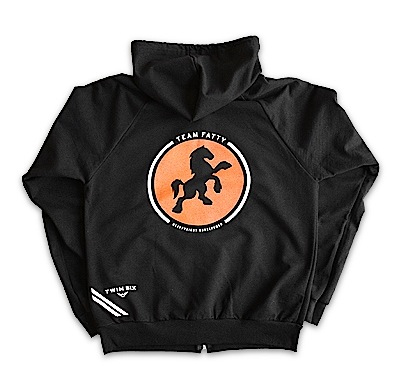 These things are so comfortable they border on the indecent; I wear mine (over a Fat Cyclist T-Shirt, of course) about three days a week.
The hoodies are already a screaming deal at their normal price of $40, but today they're $28, which is approaching ridiculously inexpensive. My guess is these will sell out quickly today, so if you're going to get one (for you or for someone else or both), you might want to do it now.
The hoodies come in men's-specific and women's-specific fits. The Runner tells me that the women's -specific ones fit a little small, so you may want to go up a size.
And, in closing, may I recommend you check out the rest of the Fat Cyclist gear as you do your Christmas shopping, not to mention all the other awesome goodness Twin Six has on sale today.
Thank you for your attention to this matter.