A Note from Fatty: Guess who's going to be on Fat Cyclist for a LIVE web chat a week from today? JOHAN BRUYNEEL, that's who. Yes, that's right. Johan Bruyneel — the Director of Team RadioShack and the man Phil Liggett told me is arguably the best team director of all time — is going to be right here, where you can ask him questions directly.
To make sure you're here for this live event, be sure to mark your calendar: Wednesday, March 23 at 5:30PM (ET) / 4:30PM (CT) / 3:30PM (MT) / 2:30PM (PT).
This is pretty freaking huge, if you ask me.

Another Note from Fatty: One of the great things about the fact that this blog is mine is that I can put whatever I want on it. For example, last weekend my nine-year-old twins decided to write and illustrate their own book. It was so awesome that I wanted to share it with the world. So today's guest post is Captin Stews Petes New Crew.
Note that you can see a larger version of each page by clicking the image.
The twins will be reading comments today.
Enjoy the book!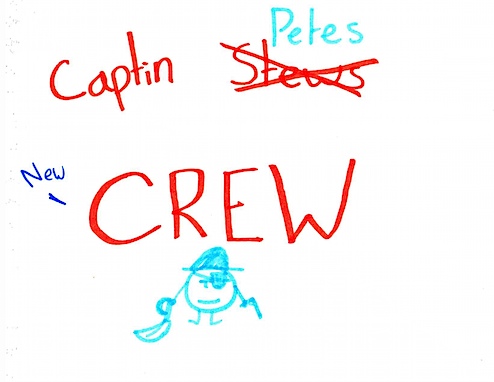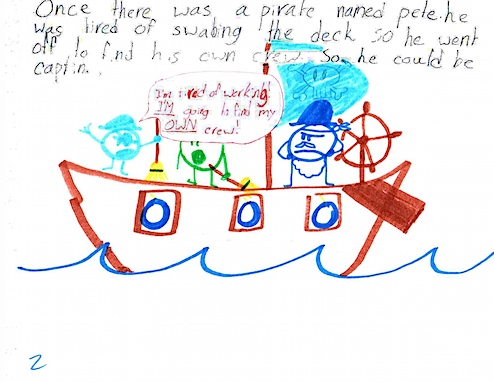 Once there was a pirate named Pete. He was tired of swabbing the deck. So he went off to find his own crew, so he could be captain.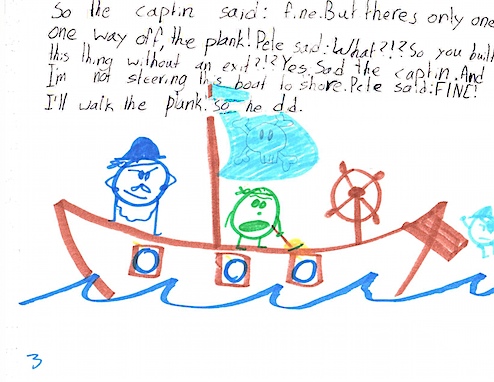 So the captain said: fine. But there's only one way off, the plank!
Pete said: What?!? So you built this thing without an exit?!?
Yes, said the captain. And I'm not steering this boat to shore.
Pete said: FINE! I'll walk the plank! So he did.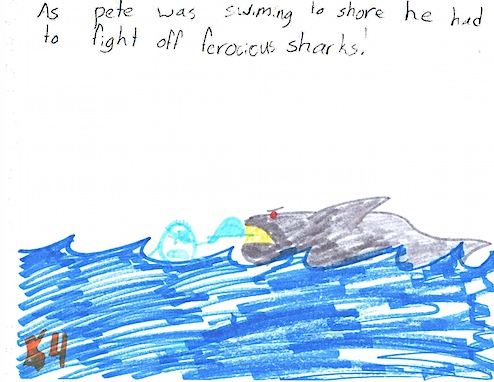 As Pete was swimming to shore he had to fight off ferocious sharks!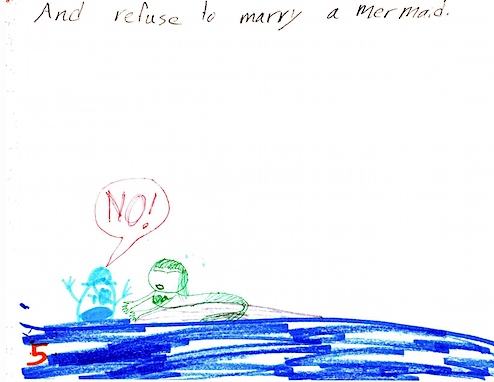 And refuse to marry a mermaid.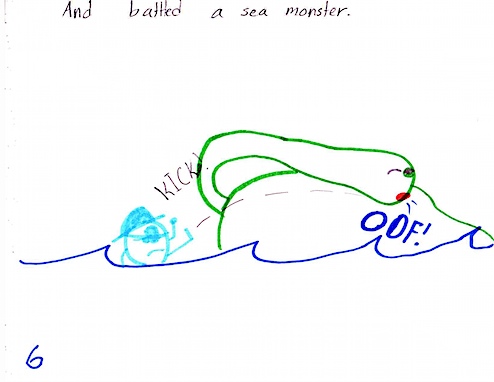 And battled a sea monster.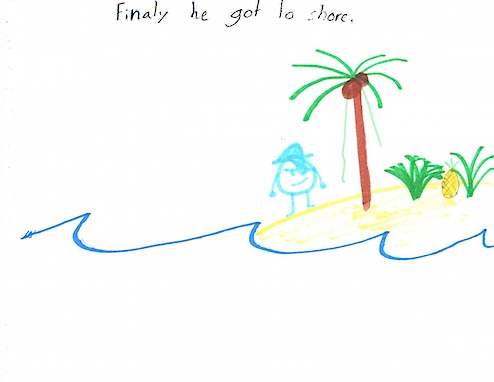 Finally he got to shore.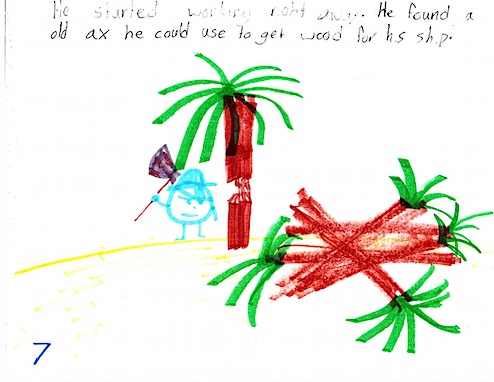 He started working right away. He found an old axe he could use to get wood for his ship.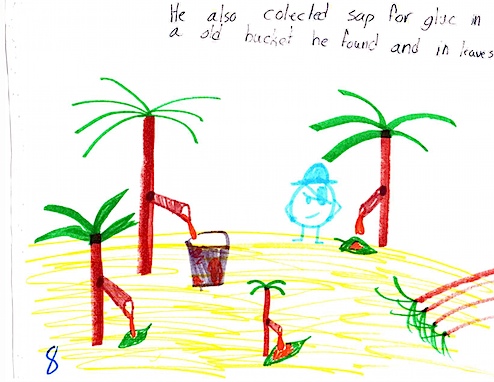 He also collected sap for glue in an old bucket he found, and in leaves.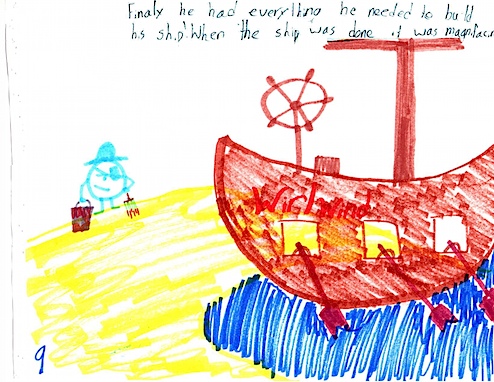 Finally he had everything he needed to build his ship! When the ship was done it was magnificent.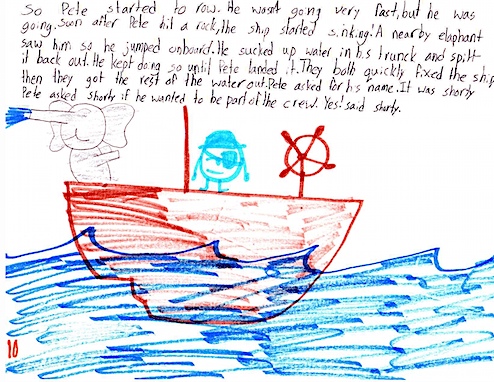 So Pete started to row. He wasn't going very fast, but he was going.
Soon after Pete hit a rock, the ship started sinking! A nearby elephant saw him so he jumped onboard. He sucked up water in his trunk and pit it back out. He kept doing so until Pete Landed it.
They both quickly fixed the ship then they got the rest of the water out. Pete asked for his name. It was Shorty.
Pete asked Shorty if he wanted to be part of the crew. Yes! said Shorty.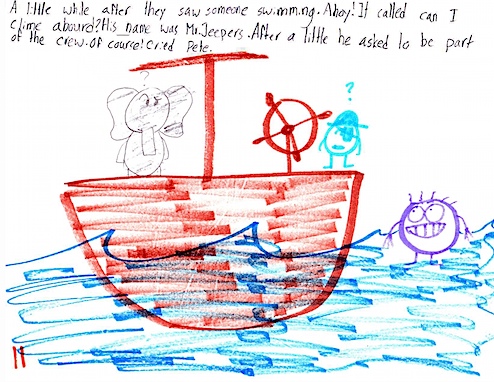 A little while after, they saw someone swimming. Ahoy! it called. Can I climb aboard? His name was Mr. Jeepers. After a little, he asked to be part of the crew.
Of course! cried Pete.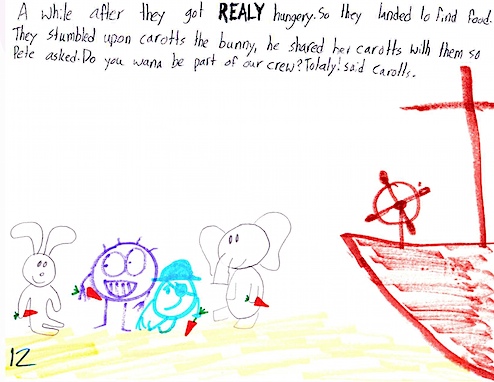 A while after they got REALLY hungry. So they landed to find food. They stumbled upon Carrots the Bunny. She shared her carrots with them so Pete asked, Do you want to be part of our crew?
Totally! Said Carrots.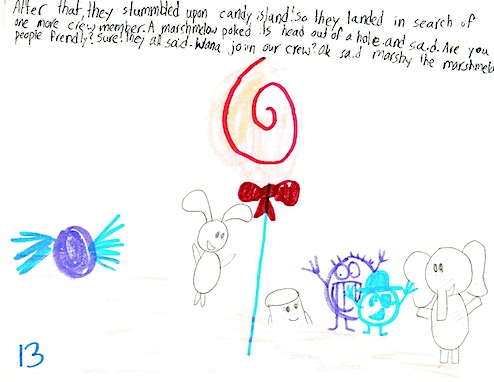 After that they stumbled upon Candy Island! So they landed in search of one more crew member. A marshmallow poked its head out of a hole and said, Are you people friendly?
Sure! They all said. WAnna join our crew?
OK, said Marshy the marshmallow.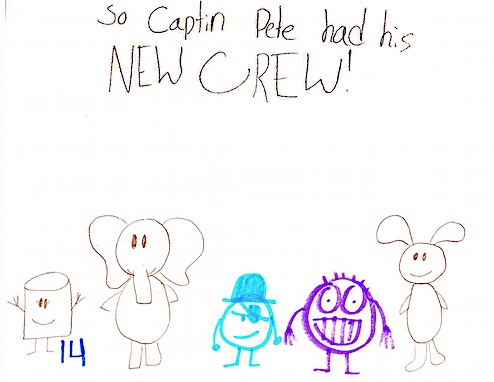 So Captain Pete had his NEW CREW!