I am a sensitive person, and do not like to be the cause of sadness, distress, disappointment, or even melancholy. And so I feel it is my duty to tell you, up front, that while this post is about a product that I really, really like, the post ends on a sad note. So if you don't like sad things, you should stop now.
If on the other hand, you are into sad things, I should probably point out that on the sadness scale of 0 to Edward Scissorhands , this is probably a 2.
In short, this post ends sadly. But not very. And in the meantime, you'll learn about something I love: my Pearl Izumi glove / mittens.
[UPDATE: Okay, the sad part is no longer all that sad. So as soon as you're done being sad, you can be immediately happy again. This blog is a huge emotional rollercoaster today.]
They're Gloves. No, They're Mittens
The Winter months are difficult for cyclists in cold places. The likelihood of the temperature and weather being the same for the duration of your ride is, well, nil. So you layer up, or at least have layers ready, for when the temperature drops.
As you warm up, you strip down a little. When you get to the top of a climb, you layer back up. If you change direction — so your tailwind becomes a headwind — get ready for everything facing the front to get much colder all of a sudden.
I'm pretty good at this layering business. But what to wear on my hands in cool-to-cold weather has always been a problem. Sure, I can start with a pair of light gloves under heavier gloves, but peeling layers of gloves is not easy.
And re-layering is even harder, especially if you don't want to pull over and put a foot down.
So I love the solution Pearl Izumi came up with.
[Full Disclosure: I bought these gloves at a bike store and got no special discount on them. Same thing goes for The Runner.]
Here's the palm view: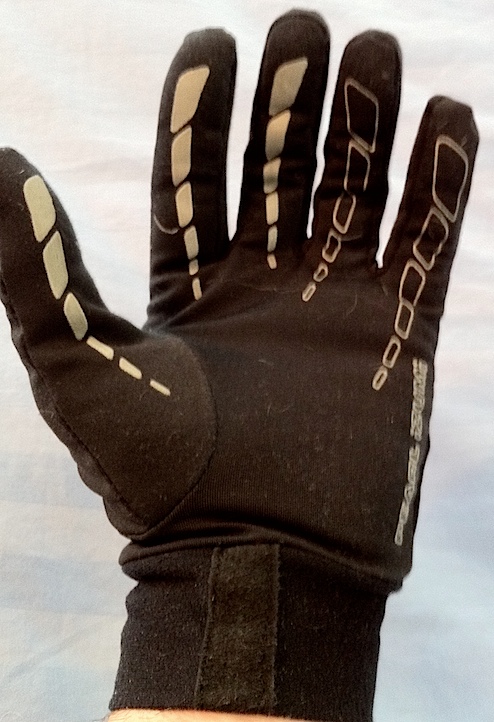 And here's the back-of-hand view: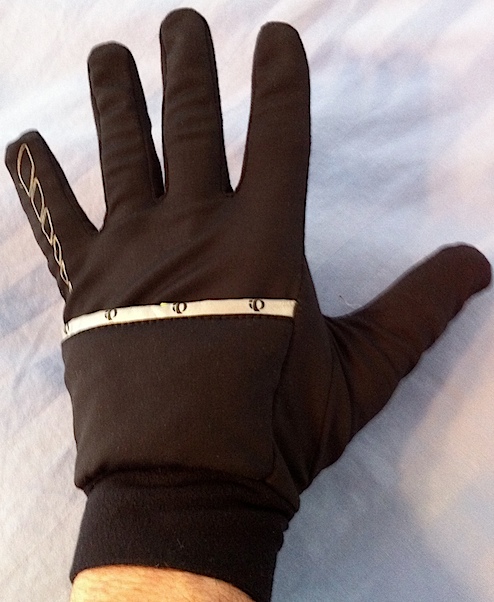 It's a nice, lightweight glove with good tacky grip on the palms and lightweight insulation on the back.
So, what's so special about these?
Well, that reflective stripe on the back of the glove is actually a pouch, containing an attached (so it can't be separated or dropped) lightweight nylon pocket that slides over your fingers, changing the gloves into mittens in less than two seconds: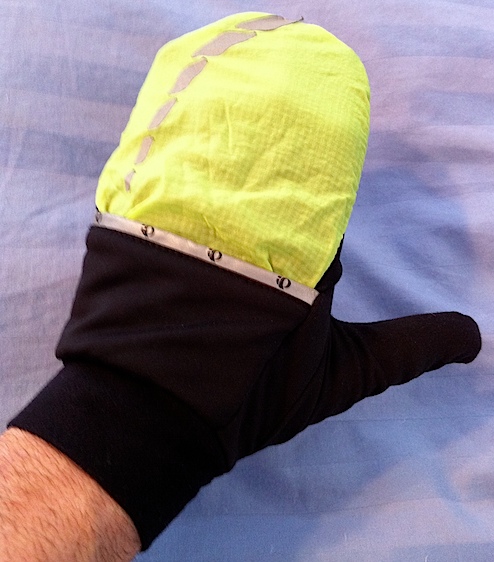 And here's what this looks like from the palm view: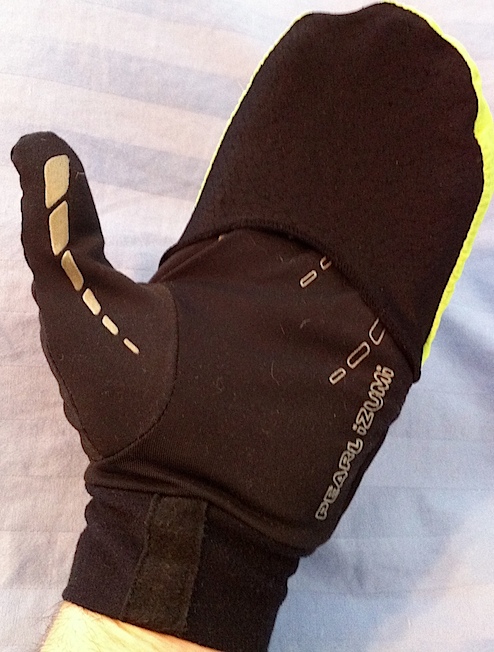 And they can be converted back into mittens just as easily and instantly. Here's how the glove looks with the mitten part stuffed partway back in the pouch on the back of the glove, so you can see where the mitten pocket goes: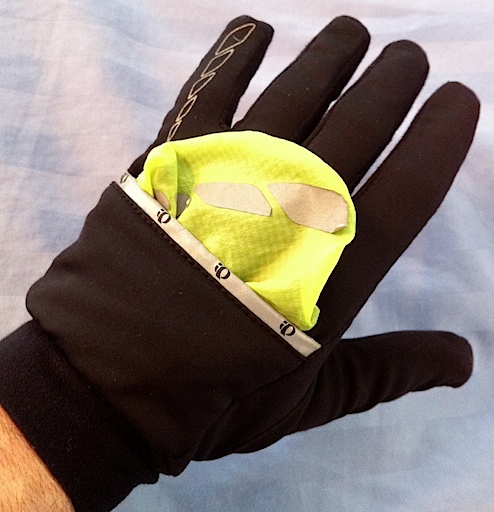 The Gimmick is Not Gimmicky
You might think that a thin little nylon mitten stretched over your glove wouldn't make much of a difference, but you'd be wrong. That thing serves as a terrific windbreaker for your hand and makes a huge difference when you're riding into a headwind.
It also does a great job of retaining heat, and is good for keeping your fingers at least a few degrees warmer than they otherwise would be.
And since that shell stuffs away into the glove, you can easily swap it on and off — while riding — as often during the ride (or, in The Runner's case, during the run) as you like.
These gloves / mittens are, in short, an elegant and effective layering solution that have made my winter riding (and — I confess — running) hugely more pleasant. These are my go-to Fall/Winter gloves, and having used them frequently for about five months now (I bought them at Mellow Johnny's during the Austin LiveStrong Challenge and have been using them at least twice a week since), I can wholeheartedly say I love these gloves.
And The Runner feels just the same way about hers.
And Now for the Sad Part
As part of the extensive research I did for this post, I went to the Pearl Izumi site, so I could link to these gloves.
But they aren't there. They used to be, but they aren't anymore.
So I left a voicemail with Pearl Izumi asking them to call me back and tell me if I'm not looking in the right place.
Heck, I even tweeted, asking if anyone knew where to find these gloves. Nobody has replied.
But honestly, as soon as I searched the Pearl Izumi site and came up empty-handed, I knew what had happened: these gloves I love have been discontinued.
I would express my surprise, if it weren't for the fact that I'm not even remotely surprised.
It's a simple manifestation of what I shall hereby dub the "Discontinuance Principle:" I.e., the likelihood of a product being removed from the market is in direct proportion to how much you like that product.
This has happened to me countless times, with products ranging from breakfast cereals to magazines to soft drinks.
And now, of course, to a pair of very useful gloves.
But you know, I wouldn't even mind so much except that now that I know these gloves are no longer for sale, another principle will come into play: "The Irreplaceability Effect." Specifically, the likelihood of an item being destroyed or lost is in inverse proportion to the ease with which that item can be replaced."
Too bad, too. I really love these gloves.
And Now for the Happy (And Kinda Embarrassing) Part that Follows the Sad Part
Almost the very instant I posted today's entry, Lana commented with the name of the gloves. They're called "Shine Wind Mitt Gloves," evidently. Which is a mouthful, but that's not the point. The point is that armed with that knowledge, it took all of three seconds to find that these gloves are in fact still available from Pearl Izumi, right here at this here web page.
Trying to figure out how I possibly missed seeing these gloves, I tried to reconstruct my problem. My problem, as it turns out, is that I went to the top-ranked promoted site Pearl Izumi advertises (shop.pearlizumi.com), which does not have the gloves. However, their more current, updated site does of course have these gloves.
In short, if you want a pair of these gloves I like so much, go here, or just search for "Pearl Izumi Shine Wind Mitt" at your favorite retailer.
Thank you. I am now going to go take a nap.
PS: Be sure to check out the new header photo today, sent in by StuckInMyPedals — a photo of her and her brother Pete. Photo courtesy of Chris Flentye.