A Note from Fatty: This is Part IV of a long series about the 2011 Moab to St. George: Rockwell Relay race. Here's what you'll find in each installment:
Bring On The Night
It was about 11:00pm when I finished the Boulder Mountain Pass leg of the race and handed the slap-bracelet to The Hammer, so she could begin her night leg — 57 miles of riding, through the darkest part of night.
The temperature had dropped to freezing or near freezing. Once again, it was the women who would take on the most uncomfortable race legs.
Chivalry is dead, I guess. If it were ever alive, I mean.
Jerry, a cyclist from Team Give, started out from the Exchange point at the same time as The Hammer, and they immediately agreed to work together through the leg.
I think I might have made a bad impression on Jerry the first time our van pulled up alongside them. At the time, The Hammer was pulling, so I yelled out at Jerry (using what is known among my children as "Dad's Angry Voice"), "Hey, you! No passengers! Take your turn pulling!"
Of course I was joking; I had seen him taking a pull mere moments ago.
The problem was, nobody else could tell I was kidding.
The Hammer turned and looked at me with a "What are you saying?!" look. Heather, who was driving, turned and looked at me in stunned disbelief.
Jerry assured me that he had really been taking his turns pulling. And that he had recently started reading my blog and even liked it. And that, honestly, he'd take a pull again in just a minute.
Kenny didn't say anything.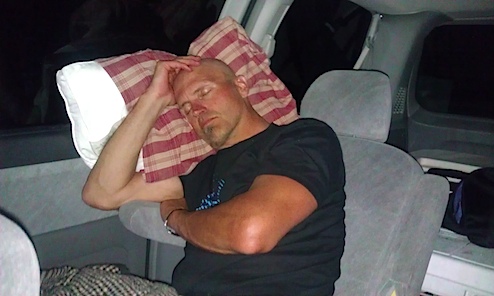 Realizing that I had done a much more convincing job of sounding like an angry, confrontational dude than I would have ever thought I was capable, I promised Jerry that I had just seen him taking a pull and that I was just being silly.
Then I made a mental note to myself to drop "confrontational comedy" from my quiver of allegedly hilarious party conversational techniques.
The Hammer and Jerry worked together for a vast majority of their cold night lap. This worked out ideally for both teams, with Jerry's support vehicle swinging by them every couple of miles, and then our van swinging by on alternate miles.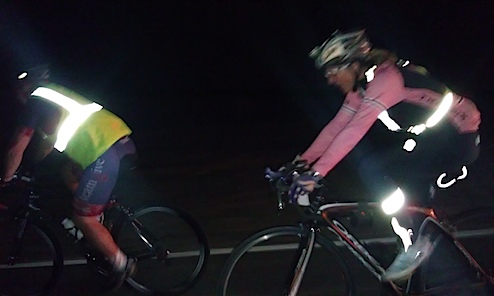 It was cool to see the natural and easy way folks can take work together.
For the rest of the race, any time The Hammer saw Jerry, she'd go give him a hug. And apologize for my behavior.
Evolution of Support
By now we had been racing for sixteen hours or more, and we were starting to feel like old hands at the support game. No longer did we actually get out of the car to support our rider. Instead, we'd pull alongside, ask what the rider needed, and then either pull over or drop behind to dig out whatever the rider needed. Then we'd just pull back alongside and do a through-the-window handoff.
Part of this was for efficiency's sake. A much larger part, however, was due to the fact that it was cold outside; those of us who were riding didn't want to leave the comfort of the warm van.
The second part of the evolution of our support strategy can be simply summed up as: Honey Stinger Waffles. Sure, we had gels and bars and everything, but once everyone had tasted the Waffles, that was pretty much all they wanted. "Water and Waffle" became the most common thing a rider was likely to say.
So huge kudos to the Honey Stinger guys. As near as I can tell, they've got a huge hit on their hands. I know the four of us on Team Fatty were big fans during this race.
The Goofy Hours
As it got to be around 1:30pm, we began observing strange behavior amongst ourselves. For example, when The Hammer and Jerry caught another rider and had him join their paceline, The Hammer looked over and yelled out to us, "Hey, look! I've got myself some domestiques!"
We giggled for about twenty minutes over this. I wonder if The Hammer's domestiques thought it was as funny as we did.
As for me, I decided it was late enough that I wanted to wear my jammies. Superman jammies, no less.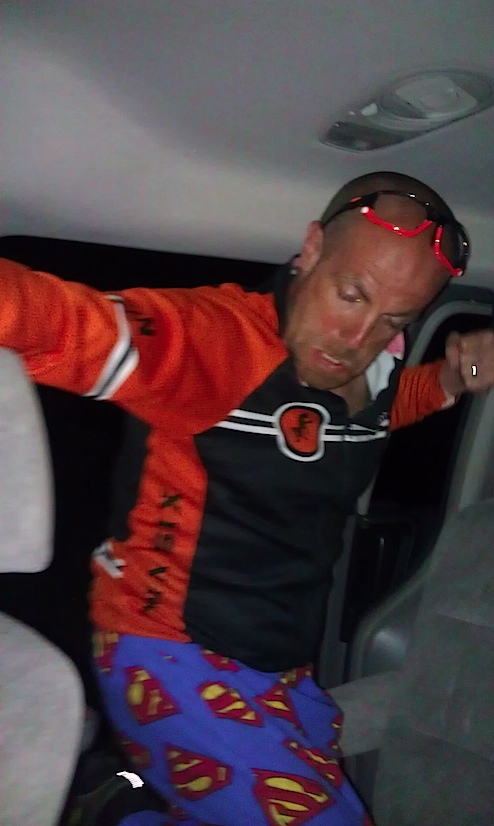 That's me doing a Superman pose. Hard to tell, I know.
So…Tired…Mustn't…Sleep
The Hammer finished her leg of the race and Heather started leg 8 beginning at 2:36am– the coldest leg, in the most awful time of the night (day?) to ride, as anyone who has ever done a 24-hour event will agree.
I was driving. Kenny was crewing. The Hammer was trying to catch a little sleep.
I adopted a new driving technique, trying to cope with the sleepiness I was battling:
Drive 5 minutes.
Park.
Fall asleep for a few seconds (minutes?).
Wake up when Kenny told me Heather had gone by.
Pass Heather and get her whatever she needed (Water. Waffle.").
Repeat forever and ever and ever and ever.
It was around this time that I lost the ability to do even basic math. I'd look at the odometer, ask Kenny to look at the Race Bible and seee how many miles the leg was supposed to be, and then try to do the math to figure out how far Heather had left to ride.
But I'd just churn and churn. Two-digit subtraction baffled me. I couldn't figure it out.
Another Miss
Heather did an awesome job with her second leg of the race, keeping all other teams at bay.
Unfortunately, when she arrived at the Exchange to hand the slap-bracelet off to Kenny, her crew (i.e., us) was nowhere to be found.
This is because an RV had parked in front of the Exchange sign, obscuring it. So when we left Heather to go ahead and get Kenny ready for the exchange, we drove right past the exchange point, and kept on going…right out of town.
After searching out in the outskirts of Panguitch for five or ten minutes, we came to the conclusion we had somehow missed the sign and came back.
By then, of course, the rider Kenny would have been starting six minutes in front of had gotten a good start on him.
And Heather was sitting in another team's RV, warming up and wondering why we had abandoned her.
Kenny hopped out of the van and was gone at 5:00am, riding his single speed up the steepest, longest climb of the race: Panguitch to Cedar Breaks Mountain.

We had a contingency plan: if the vertical was too much to deal with on his single, he'd swap out on to my bike. It'd be an easy change since he uses the same kind of pedals I do; just raise the saddle about an inch.
It wouldn't matter much where the seat was anyway, since he'd be doing pretty much nothing but standing climbing, regardless of what bike he was on.
We never put that plan into effect, though. Kenny's a proud man. He didn't want to have to concede that, in fact, a geared bike might make sense in some circumstances.
As the sun came up, we saw that somehow during the night, we had transitioned from sandstone desert to high alpine forests and meadows. When we got to the next exchange point, near the top of Cedar Breaks Mountain, we waited for Kenny. Me ready to ride my final leg of the race. Everyone else bundling up as best as they could.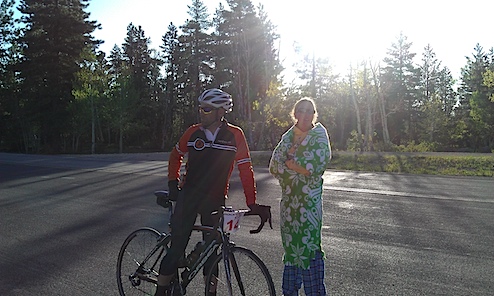 Kenny finished his final leg of the race, conceding hardly any time at all to the racer in front of him, and handed off the slap-bracelet to me for the last time.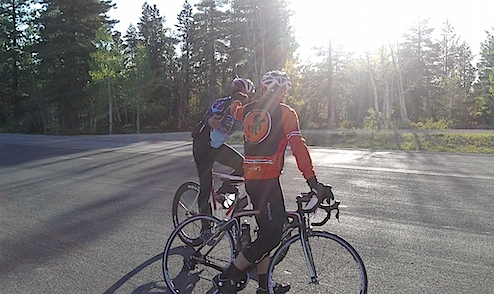 He was cooked.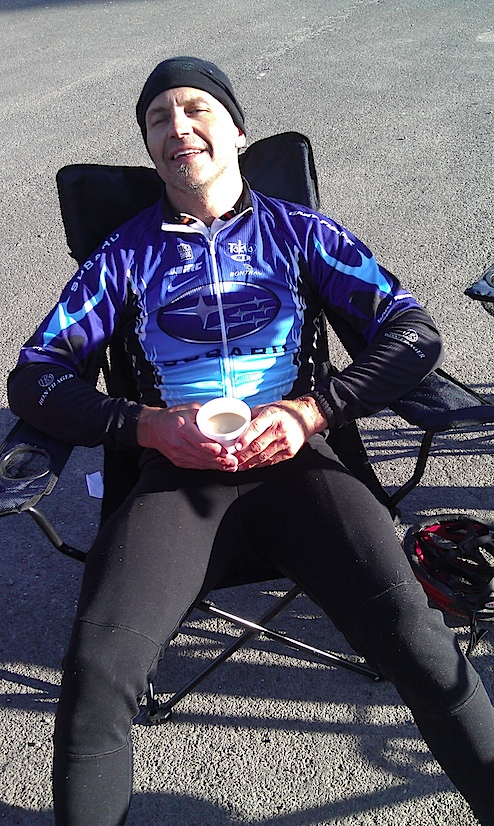 As anyone who does this kind of race should be.
Continue to Part V (the final part, finally!)