A Note About Team Fatty on the +3 Network: When I posted Monday, I honestly hoped that I'd get 100 people to sign up for Team Fatty on the +3 Network, thinking that together it would be possible for us to raise enough money for World Bicycle Relief to buy 500 bikes in a year. But as of this moment, 354 of us have signed up, and we've already recorded $3906-worth of biking / running / walking / weight-lifting, and so forth.
That's 32 bikes already. In two days. This is awesome.
The +3 Network guys are working on a widet-y thing to include in my blog showing our current stats. Meanwhile, expect me to remind everyone once a week or so to remember to post your data.
I think that, with as many of us as there are, it's possible for us to raise enough money to buy more than 1000 bikes this year (that would be $120,000.00).
That's just under a dollar's-worth of working out, per Team Fatty member, per day.
That's do-able.
In fact, let's make that our goal.
And then let's make a secondary goal of crushing that initial goal.
100MoN Race Report #15: Team Fatty at the NYC "Velodrone"
by Jenni Laurita
Team Fatty NYC edition met up last Sunday for our official 100 MoN. Our meeting place was the Kissena Velodrone. I will not amend my typo here or throughout this post because quite frankly I think someone's initially naming of a velodrome was a typo.
We gathered early, some earlier than others because some of us were in my car driving in circles trying to find the location. Good thing I decided to turn my bike computer on then so I was able to keep mileage with people actually already riding. It was the easiest 6 miles I'd ever done going nowhere.
As we assembled at the velodrone, one theme became constant our embracing the "nowhere" spirit of the event.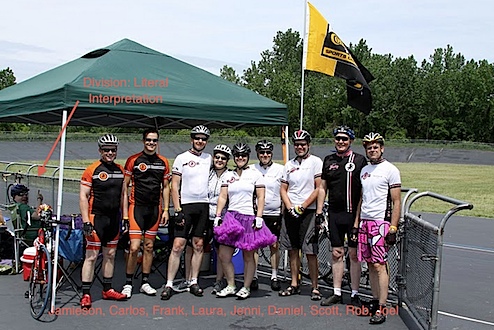 We had many different divisions present to compete: there was Carlos in the youngest member division, Joel's most upstate division, Laura's homeless youth division, and my mathmathically-challenged short-term memory-impaired division, to name a few. Oh, and Wil's Literal Interpretation division.
I'll save you the suspense now and reveal we all won our divisions. At least I think we did.
And we all had variations of Team Fatty kits. There was of course, several versions of official past jerseys and color schemes, Joel's amazing shorts (shown further down), there was tutu flair (modeled here by Scott in his delirium in his last 10 laps)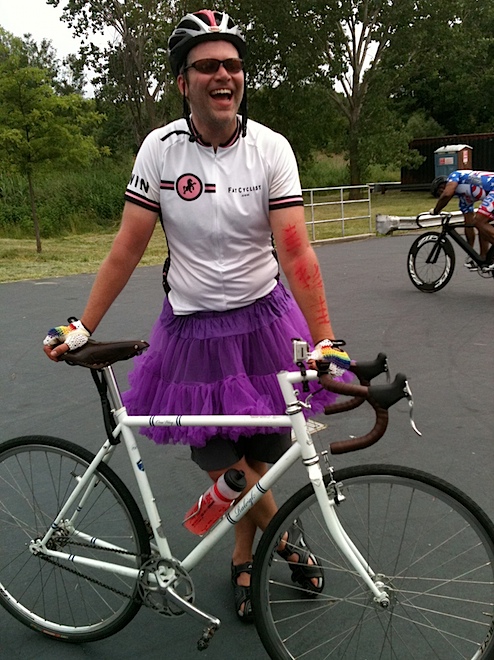 And Jamieson's "my-bike-seat-needs-a-bikini-wax" flair: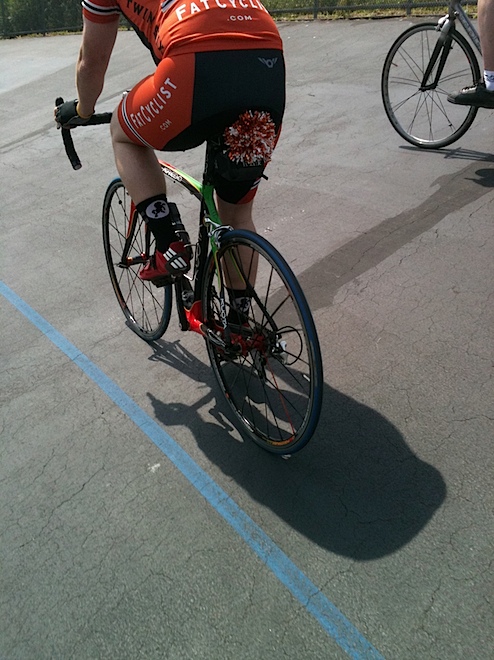 So, around and around we rode. The track was .25 mile around and my friends assure me through their new math that this equalled 400 laps. So, we rode.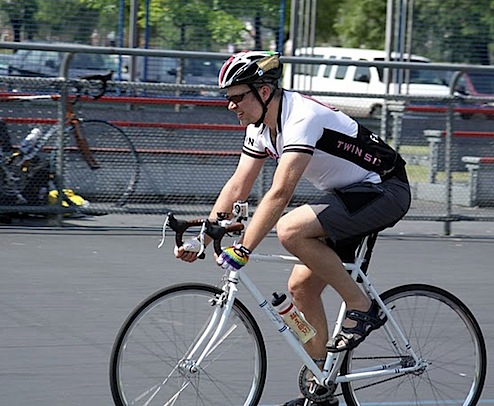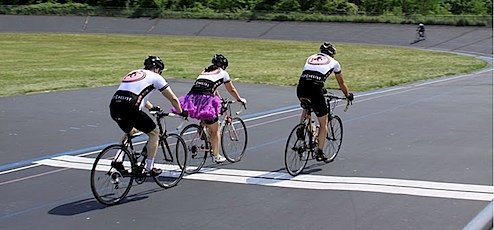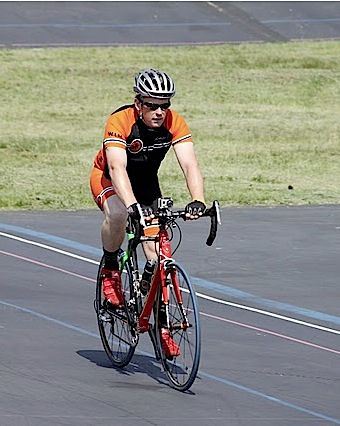 And we embraced the spirit of Team Fatty in every possible way.
Other team members did the velodrone thing. They had an impressive showing of a sub four-hour century using a motorcycle to pace them. Psh! Amateurs! Team Fatty arranged for a far more appropriate pace vehicle.
And here's a first-person POV: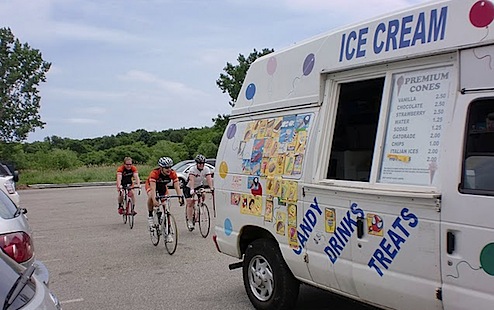 With our legs warmed up, we kept steadfast to our mission to 100 laps of Nowhere. Or was it 100 km of Nowhere. Or was it 100 minutes of conversation while watching Joel go nowhere?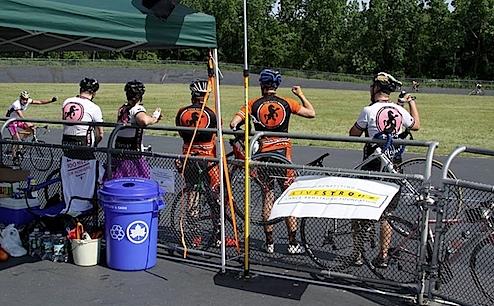 We supported each other deftly throughout the day. I managed to keep true to the spirit of the day by figuring out if I held onto Daniel's jersey while he rode, I could work towards going nowhere while actually doing nothing. I believe my division awards special prizes for this accomplishment.
We had our own styles and our own ways of accomplishing our goals this day. Some of us used computers on our bikes, some of us used no computers, some of us employed a far more sophisticated system of mileage documentation.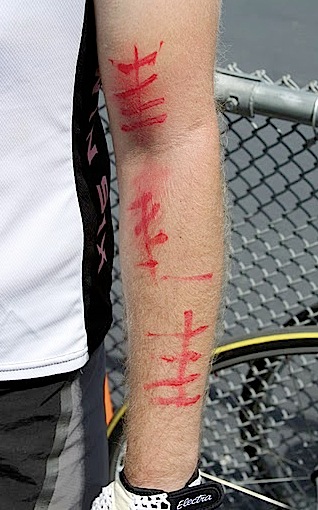 Either Scott has finished 160 laps, or he is part of the Yakuza.
Still we rode on. Really we rode. Immediately before and immediately after all 100 pictures I have of us like this. Because riding on a velodrone is really that much fun, it was hard to force ourselves to take breaks, somehow we managed. En masse. To take breaks. Lots of them.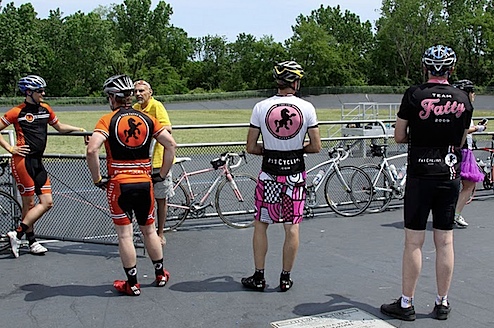 (Serious aside: that's Joel sporting board shorts in memory of our beloved team member, Ryan)
Through the day, one division I think had the strongest showing.
Wil's division was fiercely contested by some non-team member stretching midfield for I think 3 hours. But with true warrior spirit, Wil persevered.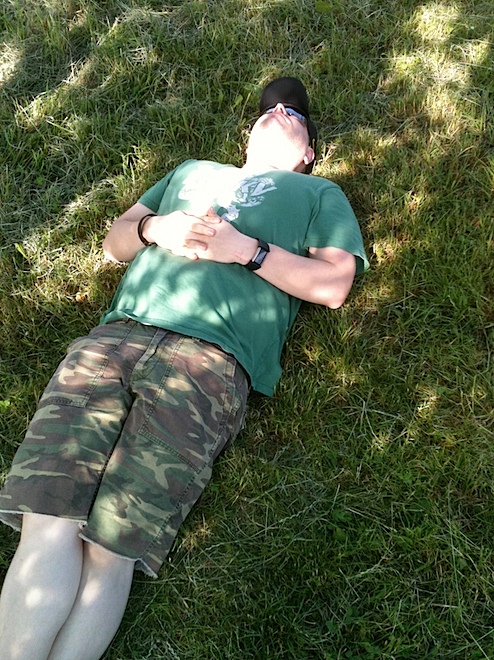 By the end of day, Team Fatty had finally found our stride. We gelled. We learned the subtle nuances of each other's riding styles enough deftly execute the mother of all 100 MoN pacelines.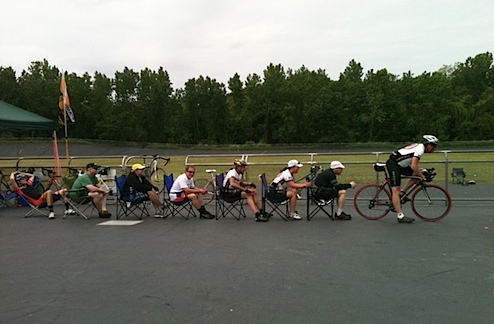 Highlights:
Laughing hysterically with great people
Convincing the ice cream truck guy to pace us
Pacelining inches behind the fixie-riding Scott at 19 mph
Pacelining with the non-team members we shared the track with
Seeing Scott actually achieve his true 100 MoN, while the rest of us applied a looser definition
Lowlights:
No bathroom in close proximity
Fierce winds and crushing ennui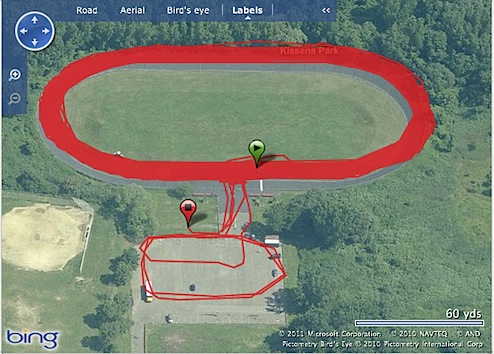 It was amazing to ride with you all, thank you everyone (including Carlos' girlfriend Amy!) for all the support and fun. Let's do it again soon.
Except not at the velodrone.
Anyone wanting to help offset the fee Carlos paid for us to ride, can contribute to his donation page here. Thanks Carlos!