Prior to today's ride my longest training ride was just under 40 miles, so I went into the day with a lot of apprehension. I knew once I got on my bike that I wasn't going to stop until I reached 100 miles, I just wasn't sure if I would be stopping the same day I started or what kind of shape I would be in. I am fairly new to biking and I didn't have a tire gauge, so while doing that 40 mile ride I was on tires that were basically flat and 3 pinch flats later I stopped at the local LBS and they informed me of my error. So while my longest ride wasn't even half of my goal for the day I had a feeling that I would finish. To give me the best chance of success I carbo loaded, boy did I carbo load and I loved every minute of it. I gained 4 pounds in the two days before the ride.
For the ride I invited a few people to ride with me and posted on the bike-pgh.org message board that anyone is welcome even if they didn't want to do the whole ride they could come out for a few laps so when the ride started it was my intern, his girlfriend, and I setting out to do 8, 10 mile laps of Pittsburgh's South Side trail with a 20 or so mile detour the would cross the Hot Metal Bridge (which was recently named one of the World's Most Spectacular Pedestrian Bridges here).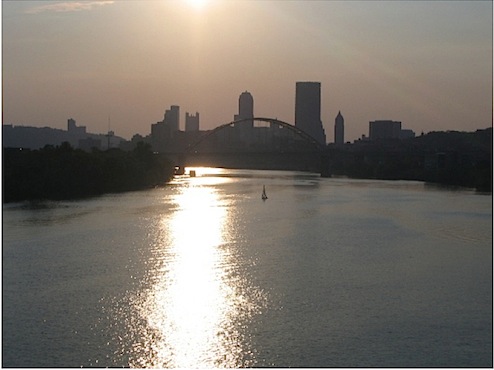 The view from the Hot Metal Bridge

Through Point State Park and up and down the Ohio River passing PNC Park, Heinz Field, and a Casino, which are all less than 1 mile apart.
Once I got started on the bike with my tires fully inflated I knew I would make the 100 miles it's amazing the difference in effort it requires to move a bike with fully inflated tires compared to essentially flat tires. While I was flying along on my road bike with a full assortment of gears things weren't going as easily for The Intern and The Intern's Girlfriend on their mountain bikes. While the intern was able to keep up with me with a little more effort after about 2 miles I couldn't help it and we dropped her. After a little while we saw her again while she was sitting on a park bench stewing in anger. At this point she asked for the keys to the car and was going to go shopping. The Intern learned a valuable lesson always wait for your girlfriend don't listen to your machismo friend trying to show off for no one in particular. After this The Intern and I did another lap and next thing I know the Intern's Girlfriend is back riding with us. Apparently the issue was she wasn't familiar with gearing and she was in the small front and rear cogs so she was pedaling as quick as she could but still couldn't keep up. We did another lap with The Intern in front pulling, The Intern's Girlfriend next, and me behind her this time to make sure we don't drop her again. She even took a couple of turns pulling and when she was out front the pace picked up. After that lap we had a change of plans as we saw a charity walk for Arthritis starting and moved our detour up two laps to not get caught up in the walk.
There are plenty of interesting sights along the Ohio River lots of boat docks, a correctional facility that looks like some old castle, and strangely a fire truck pumping water from the river through the truck and back into the river.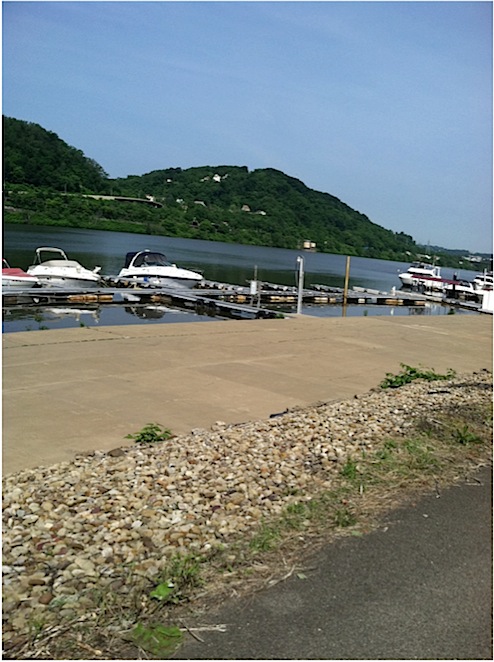 Boat Docks on the Ohio River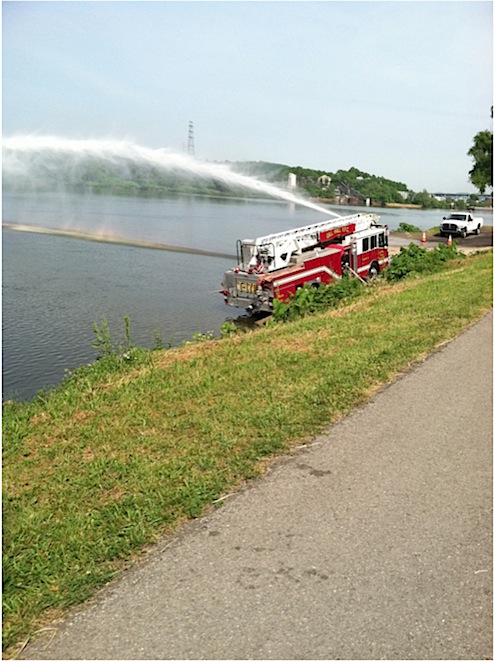 Fire Truck Putting Out River Fire without Flames?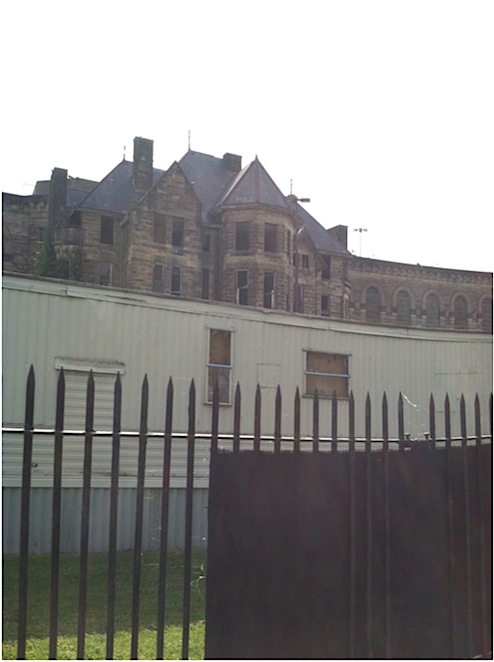 Correctional Facility
On the way back there was a charity walk for autism that we had to weave through. At one point I was pretty sure I was going to end up in the river as there were 100's of people in a very small area.
Most people were friendly and moved out of the way when you would announce "on your left," but there were a few people who just didn't want to move out of the way and they were the ones I envisioned turning and pushing me into the river…which wouldn't have necessarily been a bad thing as it was starting to get pretty warm out.
On the way back once we got back to a point where The Intern and The Intern's Girlfriend knew the route back, so I decided to open up the throttle an meet them at the car for our half way lunch. I got back to the car and ate my lunch, refilled my Camleback with water and water bottle with Gatorade, ate another banana, and used the porta potty and they still weren't there.
So I turned back and went looking for them.
As soon as I did there they were slowly coming down the trail. The intern had bonked and was taking it pretty slowly after I dropped them and stopped at REI to get some serious energy. When I saw him he said he felt a lot better and after lunch he finally started looking better so we took off again, sans the girlfriend; she needed a break. We're now on the backside of the ride with only 47 miles to go.
Early in this lap someone riding by us on a bike looks at me, and screams, "Hey are you doing the century? Hold on I'll swing around."
This was John. He read my post on the bike-pgh.org message board and he swung around and we pick up the speed. John came out at a great time because our pace was slowing down significantly. With John on board our pace picked up and we were riding along at a pretty good clip.
We outpaced The Intern by quite a bit but anytime we came to an intersection we would loop back around and ride back to the intersection with him. We did one more lap to put us around 63 miles then my wife met us with some more food and we had a turkey sandwich, took a picture, and took off.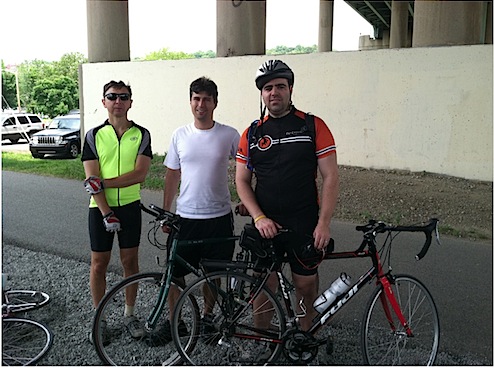 Mile 63 or so Photo. Not sure what's up with my helmet. Left to right John, The Intern (Anthony), and Me (Dave)
John led us on a new detour we followed the trail down through Station Square back up to East Carson street past the Duquesne Incline across the Fort Duquesne Bridge and we came out at Point State Park again and went up and down the Ohio River after the Ohio river we rode through town back to the "Jail Trail."
Before we got on the Jail Trail John looked at me and said, "I don't know about you but I think a century should have some cobbles." With that we rode through the Market District.
I've never ridden on cobbles before and that gave me a new appreciation for how the big boys handle those at such a high speed.
I ride through town everyday on my commute to work and it was pretty nice to ride through town without all of the traffic. You can really take in the different styles of the buildings and architecture downtown. Once we get back to the trail The Intern's Girlfriend joins us again and we take another lap and John heads home and I thank him for showing up and especially for setting the pace.
With that I pull my phone that I was using for a GPS out of my pocket and I think I have two and a half laps left so I set off on finishing those two plus laps, but in the back of my mind I realize that the math isn't adding up so I finish the two laps and look at my GPS and it shows that I still have 2 laps left.
So I look at it and realize that it lost me a few times during the day as there are long straight lines on the map to some places where obviously isn't possible because I didn't remember riding through the river at all today.
I was tired but I don't think I was that tired. So I go through the math in my head and realize that I actually did 110 miles. So with that I very anti climatically but incredibly satisfyingly finish my first century by actually completing 110 miles.
I appreciate the help that everyone gave me during my ride. First my wife for allowing me to spend ridiculous amounts of time on my bike, The Intern and The Intern's Girlfriend for sticking with me, John, and even the pedestrians that gave me something to think about besides how much longer I have to ride.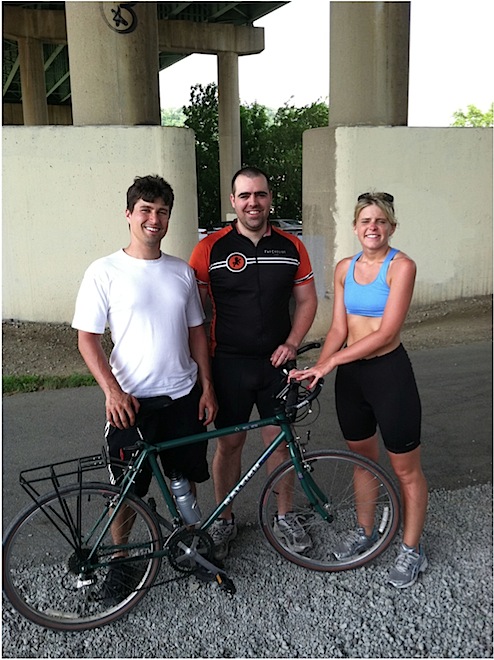 The Intern, Me, and The Intern's Girlfriend (Amanda)
At the end of the day I could have gone faster, but this ride wasn't about time it was about finishing and spending time with my friends. I surprisingly feel good after the ride. The only thing sore is my throat from saying "On your left. Thank you" all day.
The only thing I would have done differently would be to remember the DZ Nuts. I've never used Chamois Cream before but I'm pretty sure it would have helped.
I can't wait to do it again next year!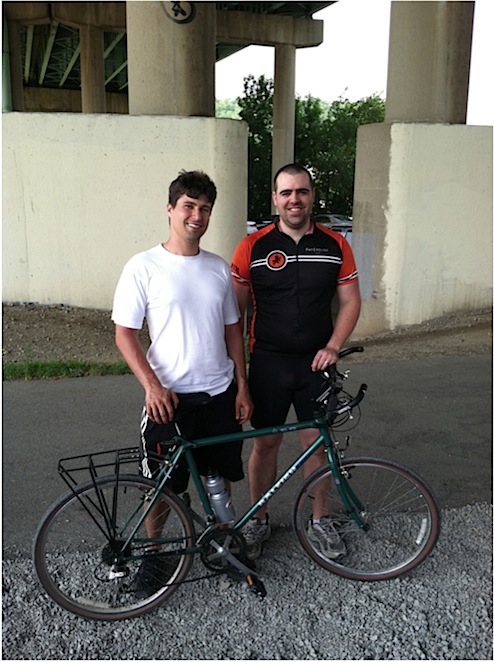 Post Ride Photo