One of my favorite parts of writing this blog is that every year, I get to work with the guys at Twin Six to design the annual FatCyclist.com / Team Fatty gear. Here's an idea of how it works:
They ask me if I have any ideas about general direction for the design.
I say things like, "Well, I think it should look really good, and there should be orange. Oh, and also stripes!"
They send me over several designs based on my very lucid and cogent feedback.
I look at all the designs and start feeling very sad that I can't just use all of them.
I forward the designs off to the core team and ask their opinions.
I discard the design the core team selects as their favorite, because the core team has no design sense at all.
I tell Twin Six things like, "I like option A, with this part from option B, and that part from option C."
Twin Six starts weeping softly, because the stuff I like wouldn't work together in a jersey, at all.
Twin Six sends me a revised version of one of the designs, making changes that are not what I asked for, but somehow capture what I really wanted.
I weep with joy, because once again Twin Six has created the most awesome jersey design I could ever hope for.
And so, after this rigorous and highly-scientific process, I'm happy to show you what the 2012 Fat Cyclist / Team Fatty jersey will look like.
Here's the front: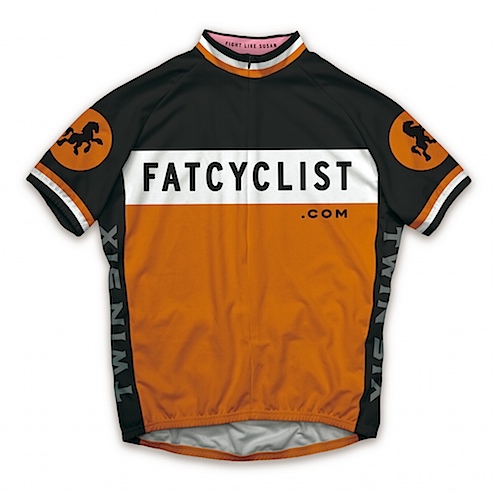 And here's the back: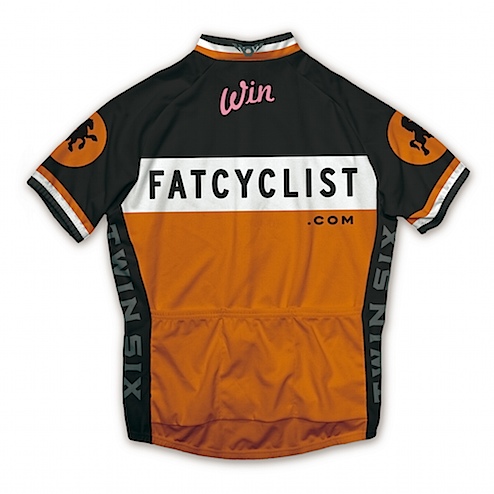 What I Love About This Jersey
Every year, I love the Fat Cyclist jersey Twin Six comes up with; they somehow manage to turn my incoherent hand-waving into exactly what I want. In this case, what I really wanted was a very clean, old-school, classic design.
I also wanted a design that didn't have different colors for men and women. I wanted the pink "Fight Like Susan" collar band, and the "Win" symbol to be in pink on everyone's jersey.
So this year, while there will be both women's and men's cuts for the Fat Cyclist jersey, we're all going to be wearing the same colors. That makes me happy.
And more than anything else, what I love about this jersey is that it raises a bunch of money for the fight against cancer. Specifically, 50% of all profits from this jersey go to the fight against cancer. (The other 50% gets split between keeping Twin Six in business and sending my oldest son to college.)
There's More Coming Soon
Of course, Fat Cyclist gear is more than just jerseys. To go with the jersey, there's going to be:
Bib Shorts (mens / womens)
Long Sleeve Jersey(mens / womens)
Wind jacket (unisex)
Wind vest (unisex)
Socks (unisex)
Hoodies (mens / womens)
Track jacket (unisex)
Tech T (unisex)
Bottles (unisex – ha!)
I'll be showing you the designs for all these other items this Tuesday.
When You Can Order And When You'll Get Your Stuff
As with every year, I'd like you to pre-order any gear you want. That way I don't have to be smart about how much of everything (and how much of each gender and size for each item) to order.
The pre-order starts this Tuesday, July 12 at Midnight (CT), and will go through Tuesday, July 19 at 5:00pm (CT). [Update: originally I said "January where I should have said "July." My brain is old.]
I'll have lots of details in Tuesday's post with links and stuff.
Team Fatty is Doing Some Cool New Stuff in 2012
I know it seems like I live by the seat of my pants, but I'm actually talking with some folks about some very interesting and exciting new things Team Fatty can do next year. So this might be an extra-good year to buy a jersey. Nudge nudge, say no more, say no more.
OK, I gotta go pack. The Hammer and I fly to Davis for the LiveStrong Challenge in one hour. Yikes.