This Grand Slam for Zambia project is getting out of control, in the best way possible.
First of all, we crossed the 750-Bike mark (our 3/4 mark) today. What does that mean? Well, it means that Trek Travel is going to send some lucky donor to the 2012 Tour de France, to witness the final stage on the Champs-Elysées.
Seriously, that' s amazing.
But you know what? There's even more awesomeness I get to tell you about today. And that awesomeness comes courtesy of National Champion Ben King, who has a prize he's going to add to the pot.
Here, he'll tell you about it himself:
And check out the jersey: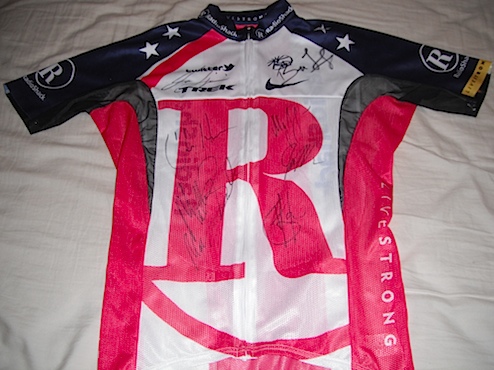 Want to own Ben's National Champion jersey, signed by the team? Well, head on over to the donation page.
Of course, you're not just getting a chance at Ben's jersey, you're also getting a shot at dozens of other very nice prizes. For example:
I have never had such a prize list. Ever ever ever.
And with — as of this moment — enough money to buy 764 bikes raised we're a mere $31.5K away from hitting our goal of $134,000.
At which point we'll be able to give away the grand prize — a trip to Africa to see what World Bicycle Relief has been doing — as well as to put Grand Slam for Zambia stickers on a whole lotta bikes!
But time is running out. The last day you have to donate is August 28. So don't put i off. Click here to learn the rules, and then click here to donate.
Why This Matters
Johan Bruyneel, the Sports Director for Team RadioShack, recently sent out an email to his subscribers. It explains how buying a bike — a $134 donation — affects the child you buy the bike for.
It's worth taking a look at.