My first century and my first time entering the 100 miles of nowhere, ended up being the 106 miles of nowhere, went surprisingly well. I have been riding for 20 years, 11 years as a mountain biker and 9 years ago got into the road side of cycling. I use my road bike for commuting to and from work most days and ride my mountain bike on the weekends for fun. The longest ride I had ever done was 64 miles and that was a few years ago. I regularly ride 40 to 45 miles a day for my commute to work so I knew I should be okay as long as I ate well. My plan was to ride a 3 mile loop around our neighborhood then once the kids were up and going I'd ride a .4 mile loop around the park near our house with them. The 3 mile loop has about 50 feet of climbing per lap, and I planned on an easy, all day pace.
I woke up at 5am to get a head start on this ride and woke to the sound of rain. Here in SE Washington we don't get a lot of rain. Only when you plan a large outdoor event will a rain storm come through. At least it was warm at 62 degrees. Being a bike commuter I have fenders (SKS Raceblades, highly recommended) I put on my road bike whenever it rains and some Pearl Izumi barrier lite shoe covers to keep my feet dry. It was early and my face showed much enthusiasm.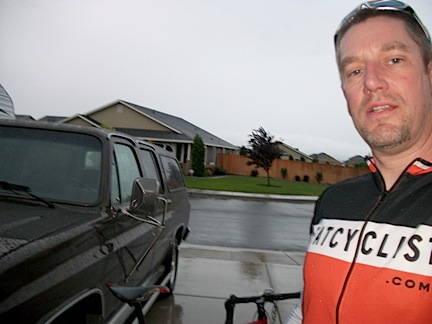 Not my happy face
So off I went at about 5:40 am and started riding. The first 30 miles were fairly uneventful until I got a flat tire. So I turned around headed to the garage to fix the flat, make a pit stop, and eat a snack. By this time the rain had let off, the wind was picking up and the roads were starting to dry out. I took the fenders off, hosed the grit off my bike, and rode another 20 miles.
The sun came out and was pushing 75 degrees by 9:15 and I went home to change clothes, pick up the kids and my wife, and eat again. It took about 30 minutes to get them ready.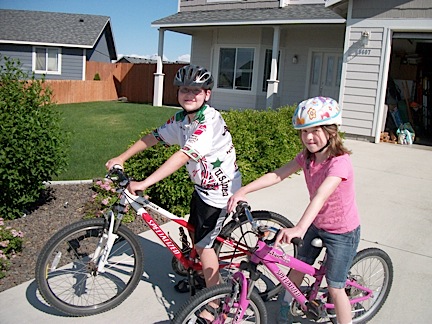 My wife joined us in our .4 mile loop a few minutes later and escaped photo proof of her riding but she was there. I had also switched to my mountain bike so I could have some help. My 5 year old son was all too willing to push me along.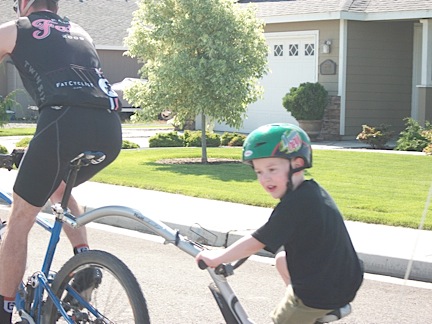 We spent about an hour and half goofing off riding around the park, through a monster puddle the rain left behind and logged about 6 1/2 miles. The family went in to eat lunch about 11:15, I went and jumped on my road bike for more of my 3 mile loop.
About 30 minutes later my phone rings and my wife made me lunch so I went home and ate the best sandwich, like, ever. And I went back out. Since I brought up food, I had been eating a Double Chocolate Crisp Harvest Bar or a Honey Stinger Waffle and a Vanilla Power Gel about every hour or so. After receiving my 100 MoN care package I fell in love with Honey Stinger Waffles. I ordered two cases one in honey and one vanilla. I ate 4 of them during the day, 2 of each flavor, 4 Harvest bars and about 4 Power Gels. I also had 6 bottles of water ready in the fridge so I could just grab some fresh ones whenever I came in for a pit stop.
So, back out on the road, I still had 31 miles to go to hit 100 and I was feeling pretty good but it was getting hot and the wind was blowing harder. The loop I was riding has a small rise into a headwind but the back side is a gentle downhill with a tailwind. I could cruise the back stretch at 20-22 mph then with a little effort I could maintain 18-19 mph into the wind. I kept checking my computer and saw that with some effort I could hit an average speed of 18 mph for the ride. From mile 83 on up I was determined to keep my speed above 19 mph. I watched my average go from 17.5 at mile 50 to 17.8 at mile 83. Time to start cranking, and eat anther HS Waffle. I hit mile 94, technically 100 miles between both bikes, but still at 17.9 mph, and I really wanted to see 100 on my odometer. I went back out and just drilled it for two more laps and finally hit the 18.0 mph mark and finished the ride with a lap around the park. So I rode 100 miles on the road bike and 6 with the kids.
I felt pretty good afterwards. I showered, ate a monster chicken burrito, and laid down for a bit. I would like thank my family for letting me spend all day riding my bike, and thank you Elden for a great charity event. I can't wait for next one.