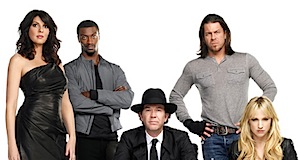 A Note from Fatty: The important part of today's poem is that I will be on Leverage this Sunday. By all means, please check your listings to see what time, and then do your best to open read along as I liveblog seeing it at 8:00pm ET / 6:00pm MT this Sunday.
My head will not quiet
My thoughts are
Too many
Too much
Is it any wonder
I did not sleep?
Tomorrow I race
A race I have done
fifteen times before
Or perhaps 14.2
Would be
More accurate
In any case
A lot
So why am I anxious?
Why does my head churn?
Why do I find myself
betimes bolting
For the nearest bathroom?
It's a stupid question
(For really, the above are all the same question,
Differently phrased.)
Because I don't know
How fit I am
How fast I am
How prepared I am
Or what I have forgotten
Which is completely
Utterly
Totally
Necessary
And that's just for starters
I am in pain
And not just the anxious
Hand-wringing kind
My pain isn't just metaphorical
To wit
Several days ago
My right calf became majorly bruised
And it still hurts
And yesterday
When innocently lifting a suitcase
Something went "spung" in my back
This has not happened before!
And now my back hurts
A lot
Which could be a problem
When riding my singlespeed
And standing
And climbing
And basically using my back
To race one hundred miles
Tomorrow
My brain roils
My stomach queases
(For now, let us treat "quease" as the verbal form of "queasy.")
And then!
After this race
Tomorrow
I start another race
The Breck Epic
Which goes for six days
That is
By my count
Seven straight days
Of mountain biking
Which is quite a bit
My stomach churns
And is that all?
No!
No it is not all
For Sunday
This very Sunday
I will be on television
I will be playing a (very) bit role
In the hit television series
Leverage
On TNT
So check your listings
And if you're watching it
when it plays 6pm Mountain Time
Which is 8pm Eastern Time
Maybe read my blog
While you watch this show
For I intend to Liveblog it
And now I must dash
For the restroom
Yet again
Thank you.