It started with a little bit of shame. And some contrition. 
No, wait. It actually started with thirteen hours of driving. The shame and contrition would follow shortly.
The Hammer and I had been invited — thanks to a generous hook-up by Rebecca Rusch — to join an IMBA team for the 24 Hours in the Old Pueblo, which is at least semi-near Tucson, AZ.
Which is around a thirteen-hour drive from Alpine, UT. 
During this drive, The Hammer and I had plenty of time to talk about our major concerns for this race:
We weren't in any kind of shape for an endurance race.
As members of a five-person team, we weren't likely to get enough riding in to justify the enormous amount of driving we were doing.
What would we eat? 
How would I avoid gaining weight during this weekend?
Add to this our concern about the fact that concerns 1 and 2 (see above) directly contradict one another, and you have a very concerned couple. 
The "what to eat" question was mostly solved by buying four Subway Club sandwiches, each cut into four sections. That's our standard operating procedure for big, long races. It ain't gourmet, but it's carbs, protein, and easy.
As for how to avoid gaining weight, I just did my best to eat very little of anything in general. Like if we ate at Wendy's, I'd order the grilled chicken sandwich but wouldn't eat the top half of the bun. If we ate at Denny's, I'd order from the build your own Grand Slam menu, and would get six egg whites and a bowl of fresh fruit.
Even if I really wanted this: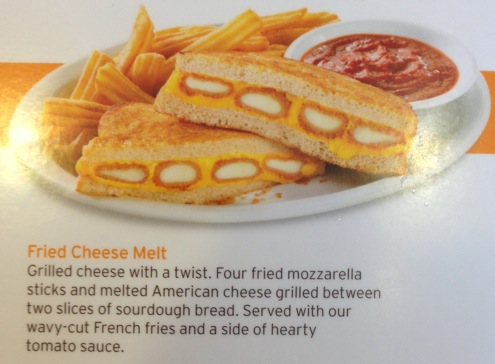 Shame and Contrition
The Hammer and I set up our giant tent in the very last large, flat area available for miles around. And by "large and flat area" I mean an area large enough for a 10-person tent, which would include our giant queen-size self-inflating bed. We also brought our own table, stove, heater, and pretty much everything else one can bring and still not say one has simply brought over an RV.
Hey, we're in our forties. Roughing it is not even remotely interesting to either of us.
We had hoped to arrive early enough to get in a quick pre-ride of the course (which we had not, to that point, ever seen before) with Paul Guyot's brother, Jay. But by the time we were set up, the sun had gone down and it was time to go to a celebratory dinner for IMBA. 
As soon as we got there, I ran into Jack Black — I was really impressed with how he's slimmed down — and had to get a picture with him.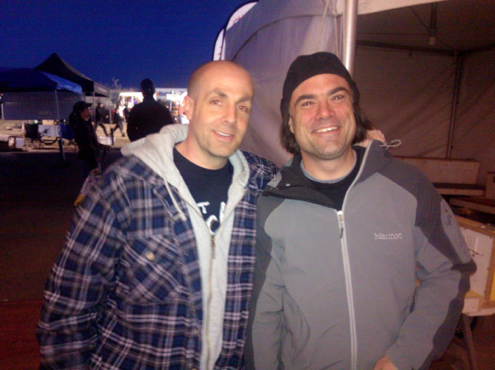 He told me loved my portrayal of Dill, the wacky dad in Easy A. 
You can tell I'm stalling, trying to put off the moment I tell about my moment of shame, can't you? 
OK, here it goes.
After the dinner (a delicious taco bar where I pretty much ignored my diet and ate everything in sight), Rebecca got up and told a terrific story about how when she found her beloved hometown trail network was threatened because no MTBers were making their voice heard (they were too busy out riding and having fun), she  made a difference by starting a local IMBA chapter herself.
Rebecca is awesome.
Next, Bob Winston — a honcho at IMBA and my team captain — got up to give his speech. He began with, "Who here is an IMBA member?"
Practically every hand in the room went up. Except mine. 
Yep, I was there to race with Team IMBA and I wasn't even a member of the organization that works tirelessly to construct great trails and advocate for keeping them open — basically, I wasn't a member of the organization that does me and people like me a huge amount of good.
What a dork.
So, by way of a first step toward correcting what has been egregious neglect on my part for the past plenty-six years, I'd like to show proof here that I am now an IMBA member in good standing: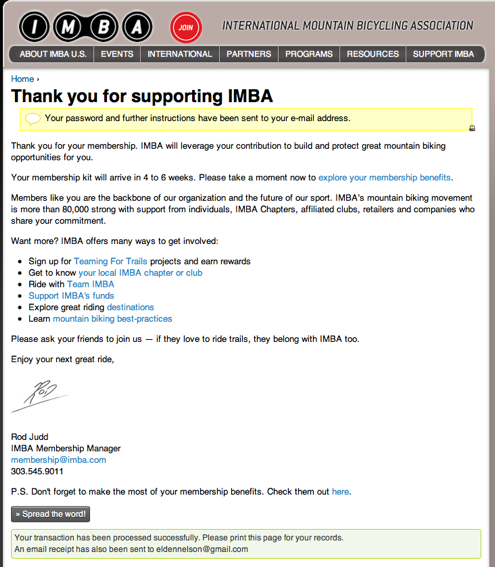 The fact is, while I do a lot of fundraising for causes against things I hate (cancer, poverty), I haven't done much at all for the thing that occupies about two-thirds of my waking thoughts: biking for fun.
So this trip, more than anything else, served as a good wake-up call. What can I do to actually advance the cause of cycling? There are some easy answers — like fundraising — but I don't think that in this case just going out and finding a few more dollars is where I can be most useful. 
Which is not to say that I do have a great answer yet. Just that I'm (finally!) thinking about it.
3AM Visitor
After the meeting, we went to bed, using an Ambien to help us get a solid night's sleep; we knew we wouldn't get much (any?) sleep the next night.
Then, around 3:00AM, I heard someone shouting. "Hello? Anyone? Help! Hello? Hello?!"
Concerned, I climbed out of my sleeping bag, put on some shoes, a headlamp and a coat, and went outside.
And there was an extremely drunk man, completely lost, unable to find his friends, and very (very) loud. 
He asked where the main tent is; I pointed it out to him. He asked me if he could buy my flashlight and offered me all his money for it (he said he was carrying around $1000). I told him he could just have the light and to bring it back the next day (he didn't). 
He told me he hated Hollywood and was never going back. I was wiser than to ask him what had gone wrong, because I'm pretty sure he would have told me — at great length. 
He told me other things, too, but I admit my interest waned and I was focusing on how to extricate myself from this conversation and get back to bed. As I was thus pondering — and this man was thus talking — a guy who had probably once been sleeping in his camper van opened a window and said, "Hey, could you guys take that conversation elsewhere?"
I have never ever been so happy to have had a conversation interrupted.
"Good luck," I told the man, and went back to bed.
Foreshadowing
The next morning, The Hammer and I got some great advice on the course from Jay, and then went out and pre-rode the course. We figured this was a good idea for a couple reasons. First, because we were the last two people of our five-person team and so we had plenty of time to recover afterward — and this would at least partially alleviate the anticipated not-enough-ride-time problem we foresaw.
"What do you think?" I asked afterward.
"It's a pretty easy course," replied The Hammer. "Not very technical. Lots and lots of cactus, though."
Which was an understatement. 
"Did you see that tree about halfway through the course?" I asked. "The one where people have hung mini liquor bottles and hair picks like Christmas ornaments?"
"Yeah," The Hammer replied. "Strange."
I offer the preceding snippet of conversation by way of foreshadowing of an event that will take place in tomorrow's installment of this story.
Strange Coincidence
The order of racers in our team — Team IMBA Featuring the Fat Tire 5 — was as follows: 
Austin
Stan
Bob
The Hammer
Fatty
You know how you can tell — just by looking at them — that certain people are going to be really fast? Austin is one of those guys, and hence our first guy — someone who could get to his bike fast (after the longish Lemans-style running start) and get in front of the pack. 
Which he did. Admirably.
But when Austin threw a leg over his bike, he discovered something horrible: that someone in the RV he was sharing wore the same kind of bike shoes, in the same size, as he did.
But with different kinds of cleats. SPDs instead of Eggbeaters.
Which meant that Austin had a choice: come back and get his own shoes, or pedal the course with his feet precariously perched — but never clipped in — on his tiny little pedals.
He went with the second option. Which — to Austin's great credit — he made work fine, for almost the entire lap.
The key word here is "almost." 
With only a few hundred yards to go, Austin hit a rock, his feet flew off the pedals, and Austin crashed hard, injuring his knee. Somehow, he made it to the finish line, but that was the end for him. He could hardly walk, much less ride.
Suddenly, we were a team of four. And our concern about not getting enough riding in during this race evaporated.
Which is where I'll pick up in my next post.