OK, so technically, Saturday wasn't our wedding anniversary; it was May 29th. Close enough, considering Fatty's ride this year – a week early, pretty big Nowhere loops, nudge, nudge. We had already registered for the 100 MoN before the tandem inspiration hit me, so I decided to risk that 30 years of wedded bliss by talking her into it. Our individual paces and styles are so different that one of us always seems to be somewhat uncomfortable with the rides we do together, so I figured this might be a good way to actually ride the 100 miles together. And, she could either rub my back or hit me in the kidneys depending on how well she thought I was doing. I even offered to let her be the captain, but that freaked her out (whew, I thought she might actually take me up on that, then I'd be freaked out).
I picked up the ride – a Cannondale road tandem rental, at a bike shop in Seattle, brought it home and gave it a solo try on Friday evening. Whoa! – it was like driving a bus after the Corvette-style ride on my racing bike! Didn't take long, however, to get the feel and know what the limitations were. Now to put my bride, Ann, on the back and see what happens tomorrow.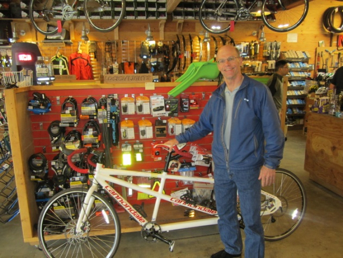 First time I'd ever even touched a tandem.
Saturday arrived and we were out the door by 7:15 am. Our 0.77 mile loop was around a neighborhood near the local elementary school. We considered for about two seconds making the school parking lot the loop, but decided this was going to be hard enough without constant turning.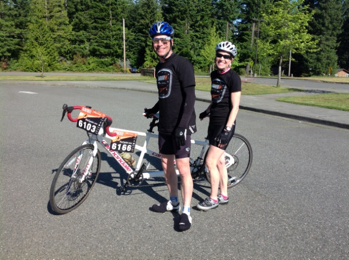 Mark and Ann, all decked out and ready to roll!
So, I put 50 M&Ms in a Dixie cup taped to the head tube as a lap counter and got ready to go. That would be our first stop – total laps would be 130. By 8 am we had figured out how to mount and start rolling. By the second lap Ann had stopped scream…, er, talking in my ear and trying to steer. We had made a couple of slow warm up laps when we noticed all the yard sale signs going up. Uh-oh, that means lots of slow moving cars, parking at random along the streets. I hadn't considered that, but we sure weren't going anywhere else at this point.
We got into a rhythm and found the least bumpy line around the loop. Now it was just keep going, eat an M&M (or toss it aside, burp) every lap and watch out for grannies seeking hidden treasures in other people's junk. We did have a "cheering" section of three little girls doing their own yard sale. Every lap (3 minutes per lap) they'd urge us to buy something, or offer flowers. It got comical – they never did figure out we weren't going to stop! But, bless their hearts, they weren't getting much business and still hung in there for a few hours.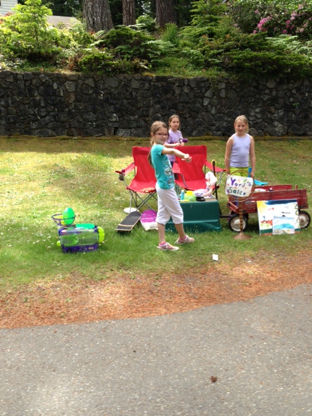 Want a flower? These kids didn't give up.
At our third rest stop at 70 miles, Ann put in her iPod and was groovin' to the tunes. She had gotten so comfortable on the bike (and with me, I guess) that she'd ride no hands, pumping her arms and swinging her head to the music. I kindly suggested that with the bike lurching around, it was making it a lot more work, so she calmed down. It wasn't long, however, until we were in the "I'm ready for this to be over" mode and just hunkered down to finish it off.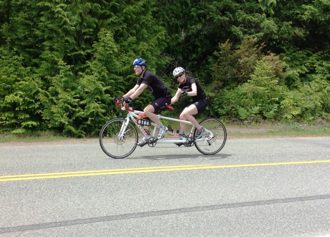 Well into it by now.
When the monitor said 100 miles (6 hours, 18 minutes riding time), I still had about 10 M&Ms in my counter. Did I forget to eat one on that many laps? We'll never know, but we weren't about to ride that many more laps; the monitor rules! I can report that we were tired, but not suffering too much, and there are no divorce lawyers in our future (but I don't see a tandem in there either). A great day for a great cause – tell the twins to have fun at camp this year!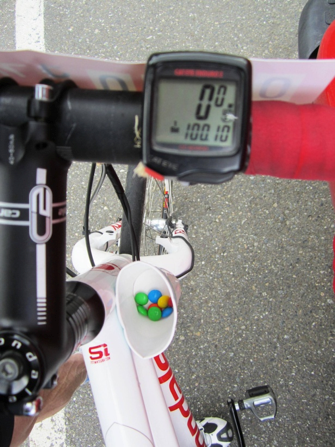 Lap counter not quite at zero. Monitor says "we're done"!