I was competing in the 100 Miles of Nowhere Las Vegas Block edition. As I posted here, I signed up for this for the first time this year back in mid-April. I figured I would have lots of time to train, get my stamina up and be ready to go. While i had the time, things didn't quite work out as well as I had hoped in that regard. My longest ride leading up to this event was only 20 miles.
My swag showed up 2 weeks ago. Great swag from all of the sponsors. Here is my race plate.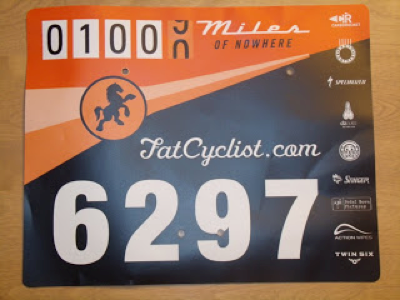 As I planned my event I decided to use laps around my block as my course for the event. From training and testing ride I determined that it was approximately .47 miles around the block. Doing the math that meant I would need to do 213 laps to hit 100 miles.
One concern I had was with the forecasted temperatures for June 1st. !0 days out the forecasted high was 101 degrees Fahrenheit. Way too hot to ride in all day. Since a lot of my training is done before work when it is nice and cool, I decided to start my ride nice and early in order to try and beat the heat. So my plan was to get up and be on the bike by 4:00 AM.
As I posted here, I had just changed my seat and did a quick shakedown ride to check the position. Friday night I washed my cycling attire, laid out all my supplies for before and during the ride, set my alarm for 3:30 AM and went to bed early for my at 9:00 PM.
The alarm went off, what seemed like way too soon and it was time to get up and get going. I got dressed, headed downstairs and had a banana and some Oreo vanilla cookies washed down with a bottle of Starbucks Vanilla Frappacino. I then aired up the tires and opened the garage. I was relieved to feel the cool air come in as it was only about 65 degrees. I turned on my Garmin and my lights and off I went.
The first lap wasn't too bad except for the 10 to 15 mph wind from the west. This meant that I was pushing into the wind on the uphill prat of the lap. Not bad, but I started thinking that it might prove to be a problem later on. One lap down and a whole bunch more to go.
Very few people were out so early so i basically had the streets to myself It was relatively peaceful and quiet.
I got into a pretty good rhythm and the laps started going by. I kept a count of laps in my head and the goal was to complete at least 45 or 50 laps before I took my first rest. As I rode along I noticed that the sky to the east was getting lighter and eventually at 40 laps I noticed the sun on the mountains o the west. A few more laps and I actually saw the sun over the houses to the east.
As the laps were adding up, my saddle area was getting a little tender. Let's face it, I just didn't have enough saddle time leading up to this ride.
I hit 53 laps, which was 25 miles and decided it was time for a rest. I checked my Garmin when I went in and noticed that I had completed the 25 miles in 1:55 which equated o an average speed of 13.0 mph. I was right on the pace that I had envisioned before the ride. I knew I needed to get hydrated and eat some calories or I would be in trouble.
So, some powerade, more Oreos, a couple of fig newtons and I was back on my way. As I rode the next laps, the neighborhood started waking up. People were walking their dogs, backing out of their driveways and starting to do some work round their houses.
As the laps progressed I was thankful for the Garmin as I lost count and had no idea how any laps I completed. fortunately I had my distance traveled on the Garmin.
One thing to note is that during this stage I actually had a dog chase. On the opposite of our block a woman was putting her 3 dogs into the car as I rode by. I was almost by when the largest of the 3 dogs spotted me and all 3 took off after me barking. The woman called after them and within a house or two they decided to listen and turned around.
At approximately 12 miles I passed the house and my wife was there cheering me on! Thank you dear! I completed the next lap to make 12 1/2 miles in just under an hour and it was time for my next break. I had just under 3 hours seat time and a total of 37 1/2 miles so far. My saddle area was also quite sore.
A banana, a powerade, some pringles and a couple of fig newtons and I was back on my way.
My wife took a picture of me during the ride: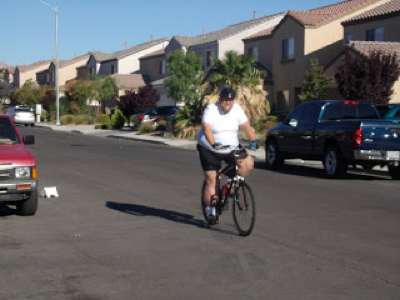 Not much to remark on for this segment of the ride. I did a bunch of laps, the sun was out and warming things up and surprisingly my legs didn't feel much worse for wear. My saddle season was another matter, though. I was getting quite sore.
Just after the 50 mile mark it was time for another break. Still maintaining about the same pace as these miles took just under an hour as well. Here I was at 50 miles and 4 hours into my ride.
More powerade, a Honey Stinger Blueberry Buzz bar, a few more pringles and some oreos and I was on my way again.
I noticed that I was slightly slower and this was due to shifting my position on the saddle looking for some relief. It wasn't to be found, though. I toughed it out to 62.5 miles and decided that was it for this event. I had completed the 100 Miles Of Nowhere Las Vegas Metric Century around the block edition. I was pleased to have made it that far since this was 3 times the farthest ride I had taken in the last 3 years.
Now for a nap, some sushi and Cold Stone Creamery.