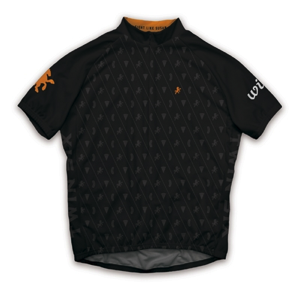 A Note from Fatty: The 2014 Team Fatty Gear pre-order is in full swing. Check out all the goods over at Twin Six, and then buy until it hurts. Please. I'm so hungry.
I have some good news (for me), and some bad news (for me). Let's start with the good news, shall we? Here goes:
I am the fittest I have ever been.
That's a bold claim, but I'm willing to stand behind it. I am light. I am strong. I have excellent speed. I have fantastic endurance. I am uninjured. 
And while I am certainly be beaten by some of the fastest riders in the area, and while it's never even been a remote possibility that I'll ever succeed in any kind of mainstream racing — much less in a mainstream sport — the fact is I have posted times that put me in the top twenty of many of the iconic local climbs (like the Alpine Loop climb, or the North Suncrest climb, or Squaw Peak, or the Little Cottonwood Canyon climb)
Somehow, at age 47, I have become a better athlete than I ever have been at any other point in my life.
Which leads me to the bad news, which is that I'm almost certainly experiencing a Peak Fitness Event.
Peak Fitness Event, Defined
"What is a Peak Fitness Event?" you might quite reasonably ask, since I'm pretty sure i just made the term up (at least for what I mean by it).
Well, your Peak Fitness Event is the point in your life where you are the fittest you have ever been, and — this is the bad news part — more fit than you ever will be again. In other words, your Peak Fitness Event is the moment when you are literally in the best shape of your life.
For most jocks, the Peak Fitness Event (PFE for short) occurs sometime in high school, or possibly college. They participate in team sports while they're young and get in shape easily and no matter what they eat they don't gain weight. 
Then they get jobs, have surgery on their knees, adjust their priorities, and supplant their participation in sports in the real world with the viewing of sports on television.
As a person who lettered in debate in high school, I did not peak quite so early. In fact, apart from a brief stint as a pole vaulter in junior high (due to Bruce Jenner worship), the occasional racquetball game was pretty much the extent of my exercise until I hit my mid twenties. Then it was endurance rollerblading for a few years (yes, I can admit it), and then — finally — cycling.
A Very Helpful Chart
All of which leads us to now, and to my premise: I am currently experiencing a PFE. Which is to say, I am — possibly for the first time in my life — pretty much about as fit as I can be.
The problem is the whole "forty-seven-ness" of my fitness. Meaning that I managed to hit my ceiling of potential fitness a few years after that ceiling started its ominous and inexorable descent, the final result of which is certain to be me crushed like a bug, kind of like that trash compactor scene in Star Wars, but rotated ninety degrees. 
In other words, my maximum possible fitness has started a downward slope, which has collided rather nastily against my actual fitness, for the first time ever. Here, let me show you, using a very scientific and accurate chart, which I created using sophisticated software and copious quantities of well-vetted data: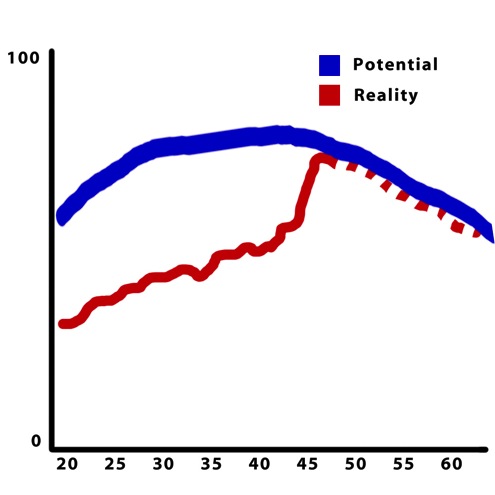 Here, the blue line represents how fit I could be, in an ideal world. The red line shows how fit I actually have been at various ages (the dotted red line is my very optimistic projection for my future fitness).
You see what's happened here? Just about the time I finally get this whole exercise and food and cycling thing nailed, my body has the gall — the unmitigated gall  – to go and start betraying me. For example, I took four ibuprofen tablets when I woke up this morning just out of habit.
The New Aspirations
Still, I remain optimistic. For one thing, there's the possibility that I'm not quite at my PFE yet. Like, maybe I can get a little faster this year, and maybe even a little faster next year. But you know…I kind of doubt it. I mean, Kenny — who is a mere two years older than I am — suddenly started being vulnerable in races pretty much two years ago. 
In case you have trouble with math, I think this means that Kenny — my archetype for fast riding — hit his PFE about two years ago (perhaps a year early due to an adulthood of excessive beer consumption).
So no. the potential of having one more year before my PFE really happens is not my real reason for being optimistic.
Rather, it's the possibility — rapidly becoming a probability — of being the Grizzled Veteran Racer (GVR). The GVR is the guy who, in spite of being in his sixties or seventies (and sometimes, awesomely, eighties), shows up at races, lines up, and gets it done. 
He isn't the fastest guy on the course. He doesn't need to be. The fact that he's out there, still training, still racing. His mere presence is inspiring — he's the guy who all the racers in their forties look to and say, "I hope I'm that guy in twenty years."
You know the guy.
Well, I figure I'm roughly thirteen years away from being that guy. I look forward to regaling you with stories of my glory days.
Meanwhile, I am busy. Very busy indeed, in fact. You see, now that I've realized I'm hitting (or will shortly hit) my PFE and am headed for the Long Taper (which is my new euphemism for old age), I have come to an important epiphany:
I need to get as many KOMs on Strava as I possibly can, as soon as I possibly can.
Before it's too late.