A Note from Fatty About Today's Giveaway and the Contest in General: Today's giveaway from TheFeed.com is awesome: a THREE-month subscription at the $19.99 level, which means that every month for three months, you're going to get a box of food good for 10-12 rides. Like this: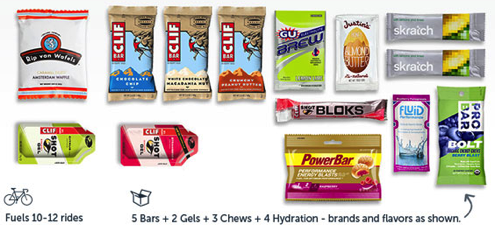 In addition to this, the winner is going to get a 1-pound bag of Skratch Labs Hydration Mix, which is worth another $19.50. 
In other words, your on-bike food needs are going to be pretty much taken care of for the rest of the riding season. Nice!
And remember, you're also entered to win the Trek Project One Series 7 Madone with ENVE wheels and cockpit, along with SRAM RED drivetrain. Wow.
So how do you enter and be eligible to win this prize from TheFeed.com, the ones after that (there will be six more!) and the bike? Just donate here, in increments of $10.00. It's that easy.
See this entry for details, and click here for rules and restrictions. Also note that Trek's matching program has a ceiling of $90,000. 
News Flash: Local Cyclist to Participate in Most Important Bike Race in the World
Alpine, UT (Fat Cyclist Not Especially Fake News Service) – Elden Nelson, longtime resident of Alpine, Utah, announced today that within a few short weeks, he intends to take part in the most important bike race in the world.
"The Leadville 100 is the most important bike race in the whole world," said Nelson of the mountain bike race in Leadville, Colorado, which approximately 99.999999999987% of the US population has never heard of.
"And I don't mean that this race is the most important race every year. I mean that this race, this year, is the most important race in the history of the world," continued Nelson, with no hint of irony at all in his voice. "No race has ever been this important before, and no race will ever be this important again."
Asked why this race is so important, Nelson was quick to reply. "It's self-evident that this race is the most important race in the world because it is the race I am currently thinking about, essentially to the exclusion of everything else. It's still weeks away, but I'm constantly checking weather reports, mulling over gear ratios, planning out my food, and agonizing over which pair of socks to wear."
"In short," noted Nelson, "I'm acting like this is not merely the most important race in the world, but that it may in fact be the most important thing in the world." 
Nelson then paused for a moment to reflect, then asked, "If it weren't truly important, I wouldn't be treating it as if my life depended on it, would I?"
Witness to Many Important Events
This is not the first time Mr. Nelson has been involved in races of such extreme importance. In fact, experts agree that every race Nelson has ever done has been the single most important thing happening in the universe at the moment it happened, as well as for the several days prior to the race itself.
According to Kenneth Jones, a noted current events researcher, "Elden Nelson has an uncanny ability to register for and then participate in races that — for reasons which are not perfectly clear at this time — become increasingly important as time progresses. By the time Nelson actually lines up and begins the race, there is quite literally nothing in the world so important as the race in which he is participating."
Jones summarized, "People could be ten feet away, falling in love, crashing cars, levitating off the ground, curing MS, murdering one another, figuring out the final digit of Pi, whatever. If Nelson is racing, everything else is less important."
"By the way," concluded Jones, "The final digit of Pi is a 4, which seems like kind of letdown."
Implications
Top physicists are currently trying to understand and explain how it is possible that whatever race Nelson chooses to do suddenly becomes so important.
"And it's not just the 'how' that intrigues us," says Dr. Robert Raleigh, a physicist with an impressive goatee that somehow conveys both breadth of intelligence and depth of wisdom. "It's the 'why.' Why does a race in which Nelson has no chance of winning matter so much? Or suppose we take a monstrous leap of faith and imagine that he did win? The question remains: why does it matter so incredibly much? Why do we all care?"
"One thing is certain, however," mused Dr. Raleigh. "And that is that any race in which Nelson participates does matter. It matters very deeply indeed."
What the Future Holds
Shortly after Nelson completes the most important race in the history of the universe, he intends to race the Salt To Saint, a 420-mile race, as a solo time trial. "I have a feeling about that race," says Nelson. "I think it's going to be really, really important."