A 100 Miles of Nowhere Registration Update from Fatty: I'm really excited to be raising money for Camp Kesem, one of my favorite charities — they provide free, weeklong camps for kids affected by a parent's cancer. My twins have been every year since Susan passed away and it's the highlight of their summer. 
If you haven't registered yet, please do. Just click here for details, and then click here to register. 
In addition to all profits being donated to Camp Kesem, your $39.95 gets you an awesome event t-shirt, in your choice of colors — like this red one (which is the color The Hammer and I chose):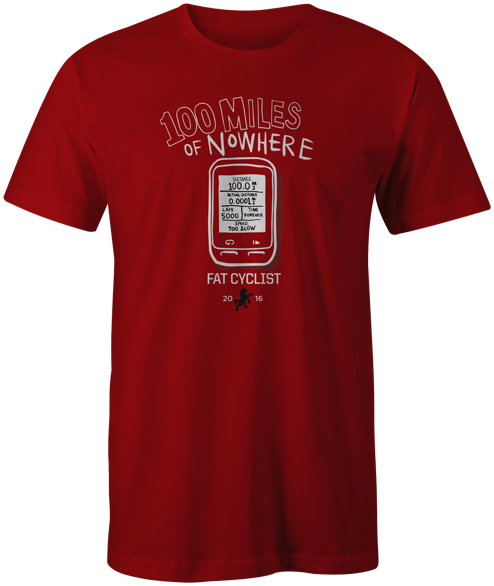 And it also gets you an awesome race plate, like this one: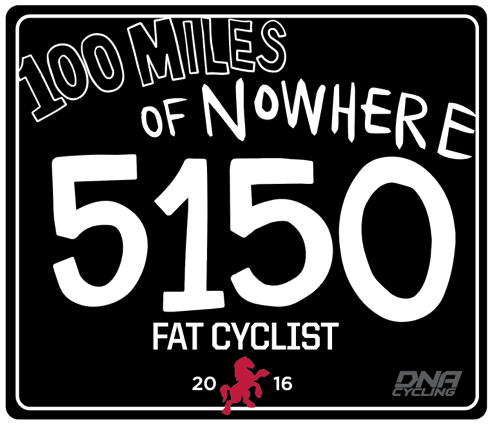 Yes, 5150 is the number everyone gets this year. It seems fitting.
Of course, I've been curious how many people have signed up, and what color t-shirts they've chosen. So far (and I'm going to be honest and admit disappointment here) 163 people have registered. Here's a colorful pie chart to illustrate how many people have chosen specific t-shirt colors. In this chart, each color represents the color of a t-shirt. The number represents the number of t-shirts chosen with that color. The pie represents the fact that I like pie.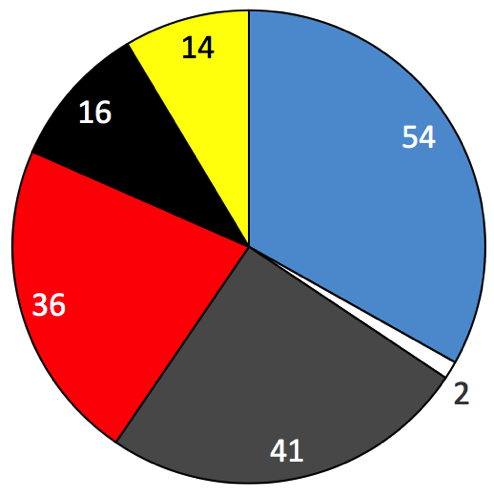 I find it interesting that white is almost entirely shut out.
Also interesting: the percentages of men and women who have signed up: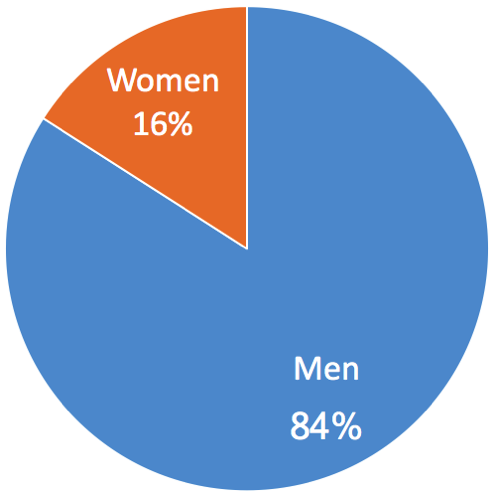 What does this mean? Maybe one or both of the following:
More men than women read my blog
More men than women can identify with the idea of  riding around in circles or otherwise expending a lot of effort without getting anywhere
Gloves Fatty Loves
Gloves get short shrift in cycling, even though they're one of your three riding contact points (feet, butt, hands). Maybe that's because when gloves are bad, they're less obviously bad than shoes or shorts. Like, if your shoes don't fit right, that can be ride-ending. If your shorts or saddle or chamois are no good, you can wind up so sore that you'll be off the bike (and everything else) for days.
But if your gloves don't fit, you just take them off for the rest of the ride, or deal with the mild discomfort for a couple hours.
The thing is, though, while bad gloves won't necessarily ruin a ride, a good pair of gloves can really improve all your rides. 
I've ridden with a lot of gloves, and have settled on three pair that take care of practically everything for me.
Hey, maybe you'll like them, too.
But first, here's some actual practical and useful glove tips I've gathered over they years.
A Quick Tip About Using Your Phone With Long-Fingered Gloves
I have mentioned before that all my gloves are long-fingered gloves. Indeed, it's possible I have gone on about this fact at great length and with more intensity than perhaps I actually needed to. I'm not going to re-litigate that issue, but it's probably worth mentiong this fact for those of you who might wonder why all the gloves I love are long-fingered. I just don't own a pair of fingerless gloves. 
"But how do you work your phone with long-fingered gloves?"  I hear you ask. Well, here's a little tip, which I revealed in a recent episode of The Paceline (listen to it!) but will recount here: 
If you lick the tip of a gloved finger, you can then use that finger with your touch screen phone. 
It's true. Try it. Sure, it leaves your phone screen a saliva-smeared mess, but people are a lot less likely to borrow it that way.
Another Tip for Keeping Your Gloves Together in the Wash
Most gloves have a velcro closure strap. That's a nice thing, but it can cause problems. Specifically, when you throw your gloves in the wash, the velcro grabs on to some other clothing item (usually the inside of a jersey, in my experience). It then disappears, effectively hidden by attachment to something else. 
I don't even know how many times The Hammer, The Monster, and I have temporarily had gloves get orphaned this way.
But then I figured out this clever trick: keep gloves together — and off of everything else — by velcroing them together.
Like this: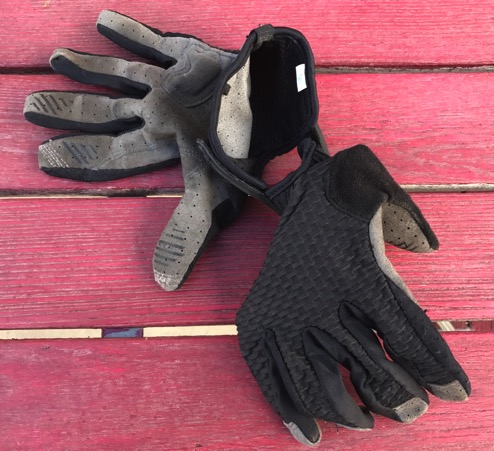 Now the gloves stay with each other, instead of attaching themselves to stuff they have no business being attached to.
Our glove orphanage rate has gone way down since we've adopted (ha!) this technique.
Bonus Tip: You can attach gloves together like this to keep them together when stored in a drawer, in your luggage for traveling, or whereever else you move and store them. It's a lot less easy to lose a pair of attached gloves than a single glove.  
OK, now on to the gloves I love.
These are the gloves I love and wear more often than any other glove. I go through, in general, about two pairs per season, just due to constant use.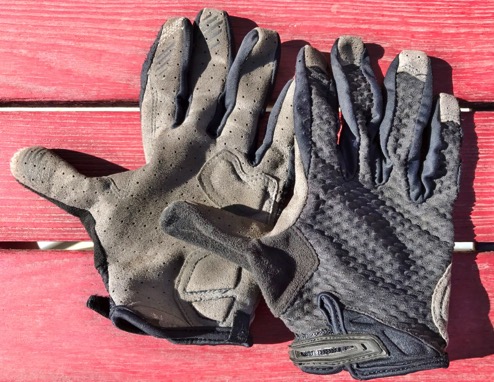 The padding is perfect for short rides, long rides, and general road and mountain bike use.
And the latest iteration of these gloves is their best yet. The back material is substantial, but wicks perfectly. The grip is padded exactly the right amount and in the right places. The velcro straps are easy to grab and peel off.
They're comfortable for about 80% of the range of weather I'm willing to ride in, from about 50F on up.
I put them on and don't ever think about them again for the rest of the ride, which is exactly how much you should have to think about a glove.
When I ride a singlespeed, I use my upper body a lot. I stand for about 90% of my climbing, which means I'm putting a lot of energy through my core into my arms, which eventually translates into rowing my handlebars.
That's a lot of effort going through my hands. And to be honest, padding in my gloves just gets in the way, folding and pinching in uncomfortable places on my palms.
I've learned that a good set of unpadded gloves is really nice to have for my SS riding.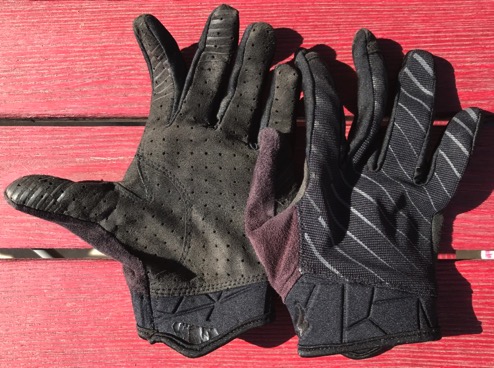 And the Specialized LoDown are definitely a good set of unpadded gloves. They just pull on (elastic wrist instead of velcro closure) and stay on, fitting like the Ridge, but without any padding (and with a bit thicker, heavier of a backing material.  
I don't really know if singlespeeding was the intended purpose for these gloves, but for me, they're just right for this kind of riding. 
Plus, they're cheap, costing closer to $20 for a pair than the $40 or so you can expect to pay for most gloves.
I don't ride a lot in the serious cold. When it gets ugly out, I prefer to just head down in the basement and do a TrainerRoad session. 
But for coldish rides, the Giro Pivot is just wonderful.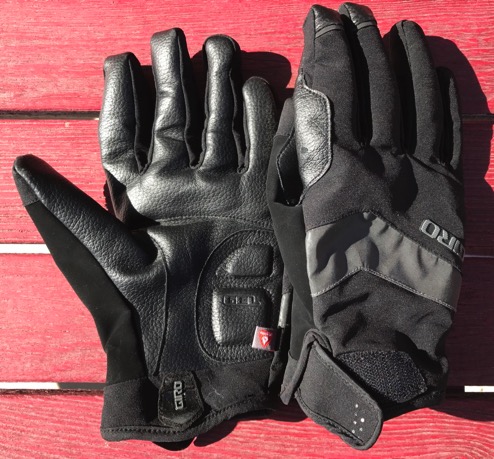 For one thing, they are warm, thanks to the fact that they do an incredible job of keeping the precip out. They're well insulated, but not so thick and heavy-feeling that you can't feel your brakes or shifter triggers. I can even still reach a hand into a jersey pocket with these on, grab a gel, open and eat it, and put it back in the jersey — all without taking these gloves off.
Giro's done a remarkable job with these gloves of striking a balance between making their gloves warm enough, without making them too bulky to ride with.
I don't claim to have a lock on knowledge of best gloves in the market, and I'm curious about what other riders use and love. So if you've found a kind of glove you think is great — whether in general or for a specific kind of riding or time of year — let me know in the comments.