A Note About World Bicycle Relief: Someone noted in the comments yesterday that World Bicycle Relief is currently doing dollar-for-dollar matching, through the end of the year. I wanted to point out that there will in fact be a "Grand Slam 3" fundraiser for WBR that will run from the beginning through the end of December, and that this fundraiser will be taking advantage of the dollar-for-dollar matching. And — as always — the scope of prizes is going to be just unbelievable. I don't want to give away too much, but just let me say that if you like bikes — any kind of bikes — you're going to want to be ready to donate.
A Note About Yesterday's Post: You might have wondered what my cryptic post yesterday was about. Well, I was wrestling with pulling the trigger on an important decision: to leave my day job. I'm going to focus like a madman for the next month and finish writing Fight Like Susan, so count on shortish posts as I get that done. (Will it be available before the end of the year? I hope so, at least the e-book version).
After that, there are two other Best of FatCyclist.com books I'd like to compile, edit, and annotate: a second volume of my best funny stuff (Comedian Mastermind 2?), and a book containing the best of my "big ride" stories.
And then there's Caregiver's Companion. That book never leaves my mind. 
Finally, my original career trajectory was in editorial (I'm not an editor—at least, not a really good one—but I am not half-bad at content strategy and planning), and while I enjoyed my seven-year detour into being a product manager and analyst, I feel like I have unfinished business elsewhere. 
So. Yesterday I told my employer I'm leaving.
And now it's time to start writing. 
25 Hours in Frog Hollow, Part III: I Just Shouldn't Say Anything at All. Ever.
I both love and hate the morning before a race begins. I love the excitement of the unknown—the fact that this race, this thing I've been obsessing over endlessly for days or weeks or sometimes even months, is about to move from the "will happen" column into the "happening now" column.
I love the energy. I love the focus—that for the immediate future, all I have is one thing to do or think about, and that's racing. I don't get many moments in my day-to-day life with that kind of simplicity or clarity.
But I hate the anxiety. And the way my stomach feels, which comes from the anxiety. And the pressure I put on myself, which I think may in fact be just a rephrasing of "anxiety." 
But based on the way everyone else in the camp was looking, I was the only one who was even a little bit freaked out. 
Brooks and Zach, resplendent in their puffy jackets, looked like they didn't have a care in the world.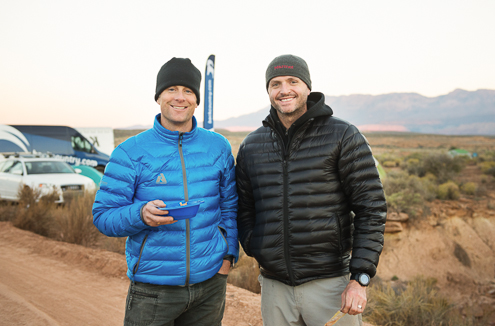 Trisha took most of the pictures in today's post. Be sure to check out her photo site, crookedpinkie.com.
Kenny and The Hammer looked relaxed.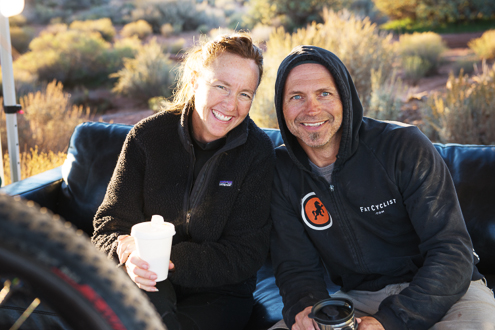 Trisha was ready, giant camera in hand.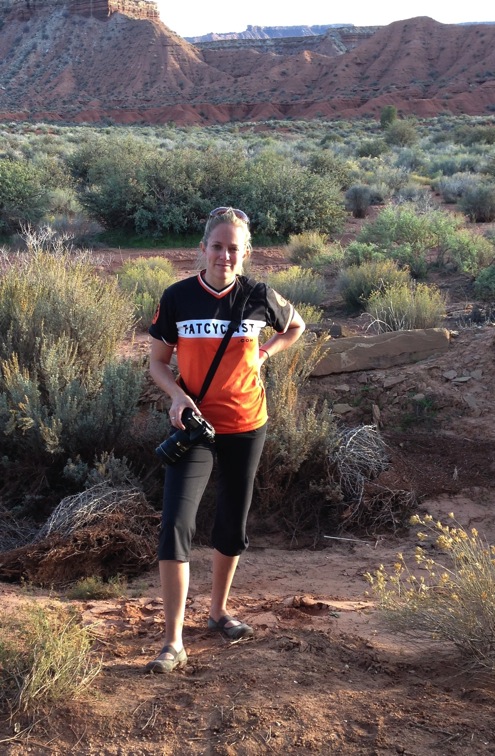 Even this passing dog looked casual.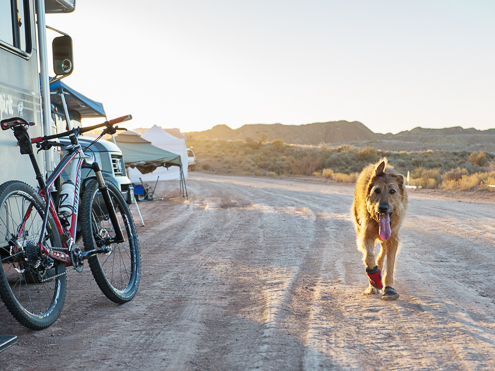 But I was a bundle of nerves. I had never ridden a mountain bike this far, nor for this long. I hadn't been training. I didn't know if I had brought the right kind of food. I didn't have a good riding strategy. In fact, I didn't have a riding strategy at all. 
My head just kept on going through the list. Blah blah blah blah blah.
But eventually, we were at the line. Just standing there, because of the Le Mans-style start. With five minutes to go, The Hammer and I were scoping out her competition. We didn't have to scope mine out, because Kenny was standing right beside us. Plus, he looked about as fit and fast as I've ever seen him. I was no threat.
The air horn went off and we began running the short distance (maybe a quarter mile?) to our bikes. The Hammer and I went at a slow jog, hanging toward the back. We were in no hurry.
Kenny, on the other hand, was flying. Yes, Kenny was running like a bat out of hell. (Except bats don't run. But you know what I mean, right?) Kenny distanced us—The Hammer and I stared and laughed at the sight of Kenny running at all—then did a running mount onto his bike and was gone.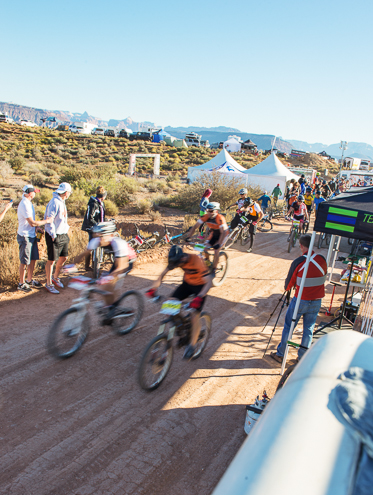 The Hammer got to her bike, and I got to mine, climbed aboard, and rode together for a minute, then I began to pull away, inevitably succumbing to race mode. "I'll see you in about eight hours," The Hammer called after me.
"How's that?" I called back.
"That's when you should lap me for the first time."
Lap her. Yeah, I guess that was a possibility. Weird.
Not Funny
The Frog Hollow loop starts with a five mile climb, then a five mile descent, then a short climb, then a short descent, like this:

The first mile or so of this climb is on a wide dirt road, which gave everyone a chance to talk. Looking around, I was amazed at how many riders were racing solo—as indicated by the bright ribbon tied to the saddle. I was even more amazed at how many of us would be racing solo singlespeed.
One racer pulled up beside me and made it clear he was an old pro at this kind of thing. "Yeah, here we go again. I sometimes wonder why I keep doing these races solo." I let him know this was my first time racing solo like this. Immediately taking the mentor role upon himself, he gave me some good advice on how to ride steady, stay strong, and keep going. 
(Before the sun went down, I began noticing that this guy's bike was—more often than not—sitting in his crew area. Which gave me a peculiar sense of pleasure, for some reason.)
We turned onto the first section of singletrack—still climbing—and I closed in on Kenny; there was one bike between us. I was happy to stay right there in that position and just hung out.
Our little train reeled in a slower rider, we fell into formation behind him, waiting for a place where we could pass. No rush.
Then Kenny saw a spot where the trail widened and he made his move…but while he was right beside this rider, the trail closed up again, forcing Kenny and this rider together. 
I'm pretty sure I saw Kenny's elbow go into the other guy's ribs, though I would not swear to it. In any case, Kenny went ahead, and the other guy put a foot down and let the other two of us by.
"Thanks," I said, as rode past him. 
Then, teasing Kenny about his aggressive pass, I yelled, "Sheesh, what a jerk!"
Except I used a different word than "jerk."
The problem was, the guy I had just ridden by thought I talking about him, and yelled out "What?!" in protest and confusion. What had he done to earn such a rebuke?
The answer is, of course, nothing. And once again I learned that things I think are funny on the bike are likely to not be funny at all.
I need to remember to keep my mouth shut. 
Meanwhile, Kenny accelerated, and built a gap.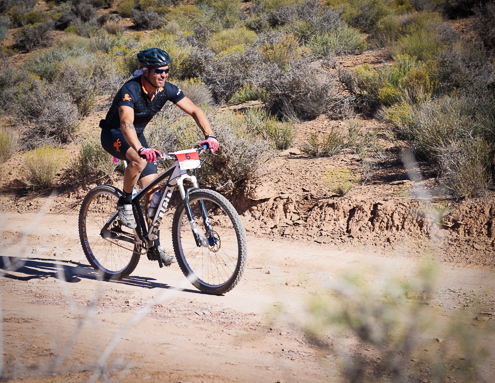 I knew I would never catch him, not with him riding strong like that. So I resolved—there and then—that I would be Kenny's biggest fan during the race. I would, in fact, do my best to help him, if I could.
And in the next lap, I would get exactly that opportunity.
Which is where we'll pick up Monday.