The Hammer and I were in Southern Utah last weekend.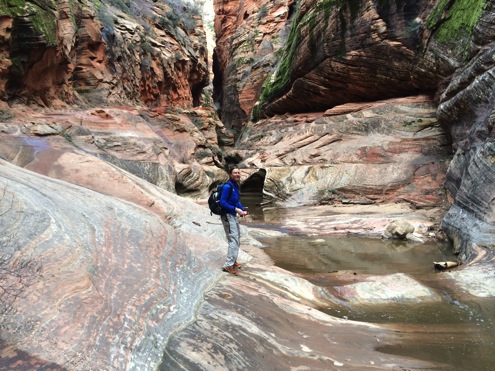 Hiking. 
Biking.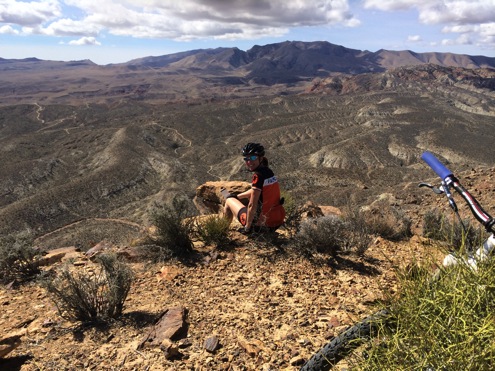 And in general just having a great time. 
As we rode and hiked, however, I constantly noticed something: my gut. I've managed to put back on a bunch of the weight I dropped last year (which is why all the pictures I'm showing above are of The Hammer, not of me). And it seems that, in the absence of an imminent race or a reason to keep my feet to the fire, I haven't dropped much of it at all since the beginning of the year. (And what little I had dropped, I've put back on during our anniversary trip).
I've got a sneaking suspicion I'm not the only one who's put on a few pounds during the winter months. And I suspect I'm not the only one who hasn't done that fantastic of a job with keeping the weight off, and who would like to lighten up before summer gets into full swing.
So: time for a weight loss contest.
Fair warning, though: this is not something you will want to join unless you are committed now, and plan to stay committed for the next few months (at least). Because this is a contest with some teeth. 
The Short Version
I've partnered up with my friends at Beeminder to create a weight-loss contest. It's not about how much you lose, and it's not about how fast you lose it. It's about setting a goal, then staying committed to the goal and being accountable when you slip up. 
Between now and Summer Solstice (June 21), you're going to need to weigh and report in every day. As long as you stay on track (or better than on track), you earn points that will keep you up on the leaderboard. At the end of which, either the outright winner or a person randomly drawn from all the tied winners (because that's possible and even likely) will win a pair of Rapha bibshorts (worth $235), which I am going to pay for myself. 
So, that's the carrot. But there's also a stick. 
Every time you go off-track, it will — very literally — cost you. And the more times you go off track, the more it's going to cost. 
It's a tough program. And if you're serious about losing some weight, maybe a program tough enough to hurt when you cheat might be what you need, too.
And I'm stoked to get started.
The Details
So here's how it works. 
First, you go to the sign-up page at beeminder.com/fatcyclist. Toward the bottom of the page, you'll have the options to sign up for Beeminder and set your current and target weight (i.e., the weight you want to be at on June 21).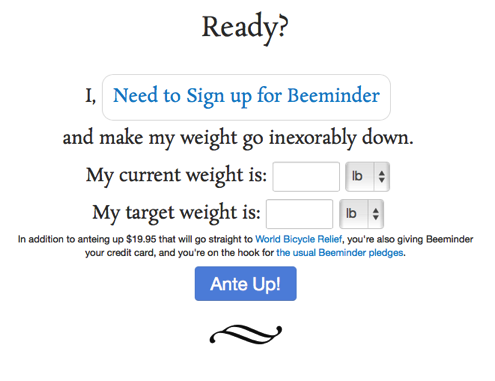 The first thing you need to do is click the "Need to Sign up for Beeminder" link, which will let you sign in using your Twitter or FB account, or just signing up with Beeminder itself.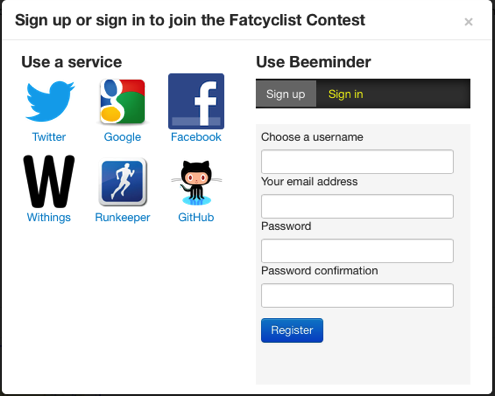 Once you've registered, you can set your current weight and your target weight: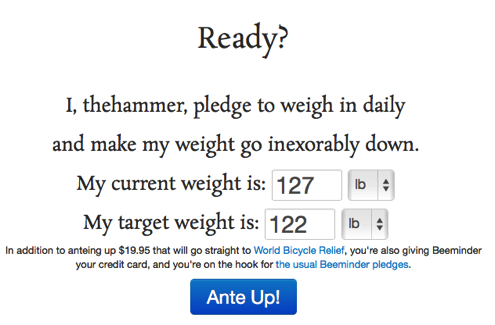 And then you've got to have your credit card ready, because in order to sign up for this contest, you've got to ante up with the $19.95 entry fee. Why a $19.95 entry fee? Three reasons:
I don't want people signing up who don't intend to play for reals. Consider this $19.95 an "are you serious" test. 
To raise money for a good cause. Your $19.95 is completely in support of The Hammer's fundraising efforts as a new ambassador for World Bicycle Relief. As in, all of your ante goes to WBR. 
Because $19.95 is a bargain. Hey, it's less than $20.00! (Isn't it clever how I used psychological tactics to make what is essentially a $20 purchase feel like less than $20? I'm the first person to do that, ever.)
Once you've paid your $19.95 (via credit card), you're all set to go and are taken to your own personal page. You should bookmark this page and come back every day to report your weight (Beeminder also has options where you can text and email your weight in, keeping it all pretty darned convenient). 
Recording And Understanding Your Data
As you record your weight each day, Beeminder builds you a graph, giving you a good sense of how you're progressing toward your goal. Here's a look at mine, from last year's weight loss effort: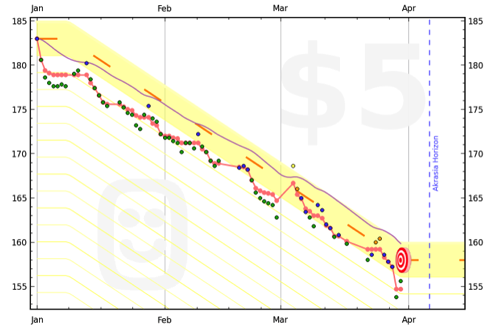 There's a lot going on there, and it will take a little time for you to be able to read it at a glance, but you can grasp the basics easily:
The Yellow Band: The yellow band going down the chart is called "the yellow brick road" and is the range of weight you want to be at to hit your goal. If you can keep your weight somewhere on the road, you're doing OK. 
The Dotted Orange Center Line: If you can keep your weight below the dotted orange center line, you're doing awesome. 
The Dot Colors: Each dot is a weigh-in data point. A green dot means you're actually below the good side of the road. A blue dot means you're on the "good" side of the road, below the dotted center line. An orange dot means you're in danger: you're still on the road, but in danger of moving off it. And a red dot means you've moved off the wrong side of the road — you've derailed — and you're going to have to pay up.
Of course, your chart won't look like the one above for a while. Here's my new one: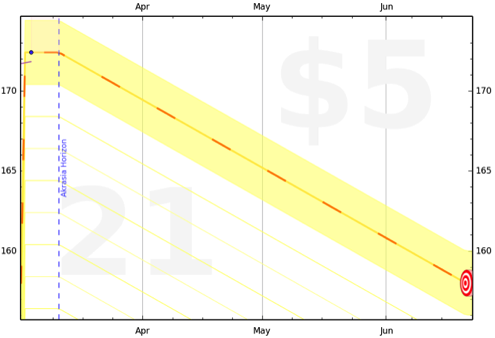 From here, I can see my yellow brick road for getting from where I am now (172.4) to 158, by June 21. And I'm determined to stay on (or really really close to) the "good side" of that yellow brick road for the duration of the contest. Watch me fill this graph up with data as time progresses. Darn it, there's gonna be lots and lots of blue dots.
Of Points and Prizes and Data
For the duration of this contest, you can earn points. Here's how:
3 points: Every day you're on the right side of the yellow brick road (a blue dot), you get three points.
2 points: You get 2 points every day you outperform the yellow brick road (a green dot). Yes, you get fewer points for losing weight too fast. This isn't a contest about crash dieting; it's a contest about being slow and steady.
1 point: Every day you're on the wrong side of the yellow brick road (orange dot), you get one point.
0 points: If you go off the yellow brick road or don't report your weight for the day, you get 0 points. 
During the registration period (now until midnight, March 11), points are for practice. On March 12, everyone's points reset to 0 and the contest begins in earnest. Whoever has the most points on June 21 wins a pair of what have become my favorite cycling luxury item — Rapha Classic Bib Shorts (or the women's equivalent thereof). If there's a tie for first place, I'll draw from the winners randomly. If I win, I'll buy the shorts for myself.
Why an expensive pair of bib shorts? Because these are really good shorts. I love mine. I have two pair (one that Rapha comped me, and one that I told The Hammer I wanted for Christmas because then I can pretty much wear them for every ride).
The Stick
So, what happens when you derail and go off the bad side of the yellow brick road? 
Well, the first time, you get a warning. It doesn't cost you anything. The second time, it costs you $5, which is charged to the credit card you give when you start this contest. The next time, it costs $10. Then $30. Then $90. Then $270. And so forth. 
So yeah. You don't want to derail more than three times. Or four at the most. Because that's going to hurt.
So, once again: you shouldn't sign up unless you're really, truly committed to making a change and sticking to your program 'til at least June 21. 
By the way, half of your "derail" money goes to WBR, and the other half goes to the folks at Beeminder, who deserve to make at least a little money off this project.
But What If You're Freaked Out by the Derailment Escalation?
If you want to join but simply cannot deal with the hardcore escalation of Beeminder, you can change that from your personal page by clicking the Settings link (it looks like a gear), then deselecting the "Increase pledge" checkbox:

Be sure to save your changes (the site will warn you if you try to leave without saving, by the way). 
Sign Up Now
Okay, enough jibber-jabber. It's time to sign up. Weigh in and get out your credit card. And then start posting your weigh-in info every day — and watch to see how others are doing over at the leaderboard.
You stand to win a pair of very nice shorts, and you stand to lose whatever weight you've been wanting to get rid of forever, but haven't been quite motivated enough to really step up your game. 
Sign up now. And I'll see you on the leaderboard. 
PS: The Beeminder folks have promised to watch this site and answer your questions as you sign up and configure your goals.