Yesterday afternoon I got a highly-coveted email. It looks like this: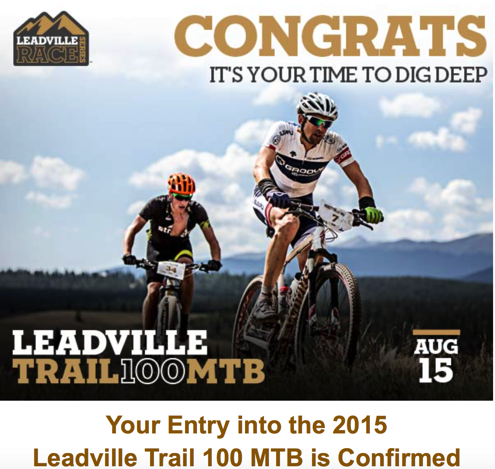 Yep, I'm in for my eighteenth Leadville. Nineteenth, if you count 2009, the year I crashed out of the race. By the way, you should not count that one. Nor should you count 2015, until late in the afternoon this August 15th, when—provided everything goes well that day—I'll have actually finished my eighteenth Leadville 100. 
In other words, while it's really tempting for me to talk about this as my nineteenth Leadville Trail 100, the reality is I've finished it only seventeen times. 
Still, that's more finishes than most people. And it's quite a few stories.
For those of you who want to start getting worked up about the Leadville 100 or are interested in what eighteen years of stories about the same race (yes, eighteen, because I definitely have a story for the year I didn't complete), here's a handy list: all of my Leadville 100 write-ups, linked from one place. 
I hope you didn't have any other plans for the weekend.
1997, 10:35:54 – Finish 1: My first racing of the Leadville 100 is worth reading primarily because it's such a normal first-time story. If you're planning on racing the Leadville 100 and are wondering if it's weird that you're already thinking about it all the time, read this. 
Nowadays I read this installment both with fondness and with astonishment at how little I knew about racing.
1998, 11:27:05 – Finish 2: I like this story more because it's a telling of how two of my best friends—Dug and Bob—and I did the race, from each of our points of view. It has a great ending.
1999, 9:13:09 – Finish 3: For a long time, my third attempt was my fastest. Just thirteen minutes shy of that big buckle. Far from it being an accomplishment of which I was proud, though, I remember getting away from the finish line as fast as I could, making my way to my car, and just sobbing for about five minutes. I had come so close to hitting my objective, which hurt a lot more than if I'd have missed it by an hour, somehow. 
Unfortunately, I either did not write this story up, or can't find it. Regardless, it's gone now.
2000, 9:30:29 – Finish 4: I came to Leadville this year with the intention of getting that sub-9-hour finish, and then it rained. Hard. This is the year everyone talks about when they describe how difficult Leadville can be. I wrote my story for Active.com, so you'll find it here. 
As a bonus, this was the year The Hammer raced Leadville 100 for the first time. It just about killed her, and her story is definitely worth reading. 
2001, 9:17:02 – Finish 5: This year starts establishing my pattern of not quite hitting my goal of finishing in under nine hours. This is back before I had a blog where I wrote everything that happens to me, and thus…I have no individual memory of this race. 
2002, 10:20:37 – Finish 6: I learned the "non-contributing weight" axiom of the Leadville 100: Every non-contributing pound you carry costs you five minutes. I was riding a full suspension bike, had gained some weight, and had not trained like I should. I am going to cut my past self some slack, however, because I was the father of infant twins.
Oh, also, I took a 20 minute nap at the final aid station. Refreshing! (And no, I don't have a story writeup for this year.)
2003, 9:20:04 – Finish 7: I learned that one can drink only so much Gatorade. About 3/4 of the way through the race I got nauseous and started barfing anytime I tried to eat or drink anything. I blame the Gatorade, probably without reason. If I hadn't gotten sick toward the end of the race, this might've been the year I got that sub-9 I'd wanted so badly. No write-up on this year. 
2004, 10:56:33 – Finish 8: I learned that just finishing can be a victory. This was while my life was pretty much completely insane and I had not trained at all. So I went to Leadville just to have fun and see my friends. And you know what? It was a great ride/race. I talked with a lot of people who — like me — just wanted to finish. The support and cameraderie at the back of the pack is much stronger than at the front. These racers are the heart of mountain biking.
2005, 9:41:20 – Finish 9: I had just begun doing some freelancing for Cyclingnews.com, so asked them if they'd be interested in a story where I interview folks as I rode alongside them on the course. This turned out to be a great idea; I had a terrific race. My story is here, and you can find the two-part story I wrote for CyclingNews here: Part 1, and Part 2.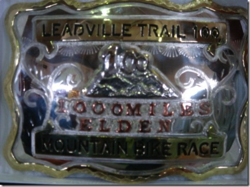 2006, 10:06:45 – Finish 10: This was my tenth year racing the Leadville 100. I had a grand plan to finish it in under nine hours. Wouldn't that be dramatic, to hit my goal the same year I got my coveted 1000-mile buckle?
Yes, it would have been dramatic. Unfortunately, I finished this race in over ten hours. 
This is a telling of how you can delude yourself into thinking you're really fast…only to find out the reality at game time.
2007, 9:14:13 – Finish 11: I call this story, "Sort of Close, but No Cigar." By the time I raced in 2007 I was doing almost everything right. But not quite everything. This year also marks the year I started getting really verbose with my race stories and writing them as multi-parters. So:
2008, 10:06:42 (singlespeed) – Finish 12: 2008 was the first year I tried racing on a singlespeed. Since I knew I wasn't going to finish in under nine hours on a single, I was released from the stress of a goal that seemed—at the time—unattainable, and was able to just enjoy the race. 
This was also the year I nearly got crashed out of the race ten seconds into it.
2009, DNF (singlespeed): Susan had died just before this race. My head wasn't in the race. I was riding angry and stupid. The fast downhill pavement turned; I didn't. Honestly, I do not understand how I managed to not be seriously injured.
2010, 9:17:27 (singlespeed) - Finish 13: With a 9:17 on a singlespeed, this was the year where it occurred to me that the sub-nine-hour finish might not be an impossible dream for me after all. This is the year I appeared (starred, really) in Race Across The Sky, by the way. I was brilliant, by all accounts.
2011, 8:18:19 – Finish 14: To date, this is my high-water mark for racing the Leadville 100. This is the year I kind of figured everything out: the training, the right kind of bike, how much (and whe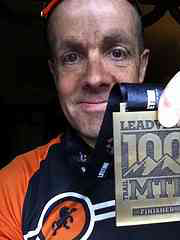 n) to eat, how long of breaks to take…everything. I finished well under my goal of nine hours, and Specialized rewarded me by letting me keep what had been, up to that point, a long-term test bike. Wow.
2012, 8:49:47 (singlespeed, first place) – Finish 15: If you train really hard and all the right people fail to show up, it's possible to win the men's singlespeed division at Leadville with a time of 8:49. The fact is, though, I'm really proud of this finish time, because following this race (literally the next day) I was racing The Breck Epic for six days.
2013, 8:23:54 (singlespeed) – Finish 16: I took a different tack in this report. Instead of talking about my race (my fastest singlespeed finish, but not fast enough to get me on the podium), I talked about why I love this race.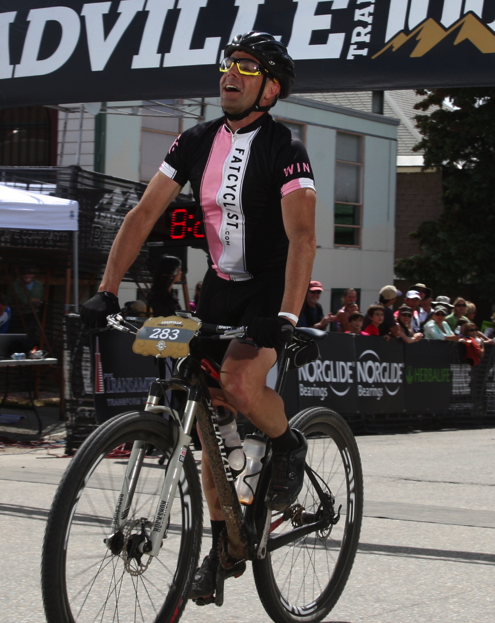 2014, 8:39:38 (singlespeed) - Finish 17:  My race report from last year is worth reading, but the real star of 2014 is The Hammer and her adventure racing with MTB Legend Rebecca Rusch. Here are the links to both stories.
My Story
The Hammer's Story: Racing with The Queen of Pain
Now I guess we'll see what 2015 brings! 
PS: So this is a weird idea, but would it be interesting to have these stories available as a podcast series? Something to listen to as you're driving to work or putting time in on the rollers?