A Note from Fatty: Sometimes I have so much fun joking around as I set up my fundraisers that I tend to push the causes — the reason I'm raising money at all — into the background.
Let's fix that right now.
Today's guest post comes from Odessa Gunn (Levi Leipheimer is her husband), a highly-involved, unpaid volunteer at the Forget Me Not Farm, which is the charity benefitting from the "Race with Fatty and Levi at Boggs" fundraiser I'm doing right now (read parts one, two and three if you don't know what I'm talking about). 
Read what Odessa has to say, then go donate. You might win an extraordinary trip, and you'll for sure change some kids' and animals' lives.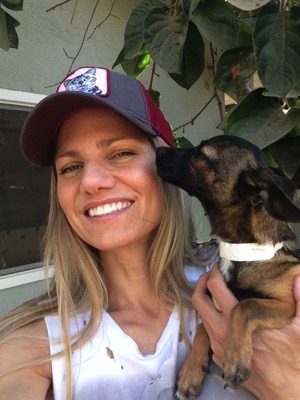 I found the Forget Me Not Farm almost seven years ago, when a friend read an article about it in the local paper. I went to the Farm to volunteer, because I had recently adopted two horses of my own and I was interested in learning more about farm animals.
I wasn't really aware that it was a therapy farm for at-risk kids and, to be honest, I was pretty nervous to work with kids. 
Meeting the Animals…And Kids
The kids come to the farm as wards of the state, participating as part of their state-sponsored therapy program.  Many of them had never seen a farm animal, much less been charged with the care of one.
In my first week, I spent hours feeding animals, cleaning stalls, and assisting the kids with meeting and learning about all the animals — from chickens to llamas, goats to horses and cows.
I was able to see the children slowly relax their guard as they began to understand that this animal would depend on them for food, shelter, and health. I saw them connect emotionally with these animals in a way that they couldn't connect to people.
The children who come to Forget Men Not Farm have unstable lives, to put it mildly. Many of the kids are victims of abuse and neglect; to see them allow themselves come to love and to be loved by these animals, was extraordinary.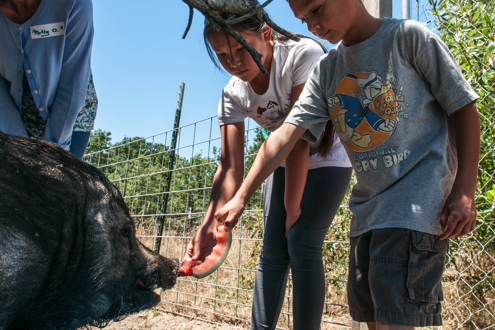 I was hooked and have been volunteering there once per week ever since, including joining their board just under six years ago.
Veggies, Too 
Since then, we've started a garden program that matches the scale of our animal care efforts. The kids' therapy now includes ongoing responsibility for growing their own produce; they take it back to the group homes where they live.
The food is fresh, organic, and includes all the benefits that come of sourcing nourishment locally. That's a lot different from the food normally found in these group homes, which is typically institutional; it makes us feel good to know they are getting fresh organic fruits and vegetables. Just last week, we picked enough food from the garden for them to make salsa in our new outdoor kitchen.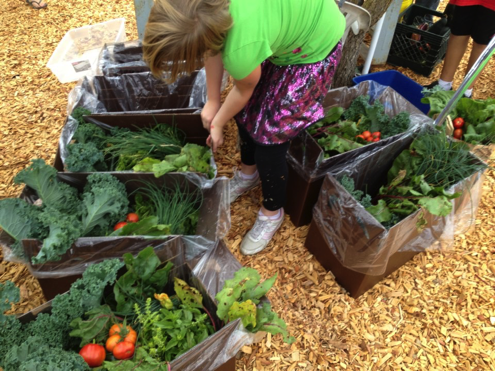 Mentoring Program
Recently, the Farm has developed a mentoring program to better serve the more complex needs of the older kids who come to the Farm. This is one-on-one time with long-term, vetted, dedicated volunteers with whom these kids can develop a relationship. It's the extra piece that really builds on the connections with animals and growing their own foods that the kids made while younger.
This is where they can really acquire more emotional skills that will enable them to come out of State care and into the communities where they choose to live. 
Where the Money Comes From
It's important to know that the Farm doesn't charge the various State and County agencies for the services it provides. It also doesn't receive any state or federal program (although there have been occasional capacity-building grants for specific, non-service projects).
About 70% of the Farm's funding is from individual donors and the remaining 30% is from family and foundation grants. The support from the GranFondo since 2009 has allowed us to develop the gardening program, hire a full time farmer-educator, and build an outdoor kitchen.
More importantly, that money's been used to fulfill the mission of the Farm by allowing us to host far more kids and rescue many more farm animals.
The Staff and Volunteers
Becoming a part of the Farm family, from the two-person staff, the other 70 or so volunteers, and all the kids and animals was life-changing for me. We teach children how to love and respect animals, nature and each other. Most of the adults in their lives are authority figures, but we get to listen, teach, and spend time with these kids simply because we choose to.
Anyone who volunteers at the Farm has to make a one-year commitment (though many stay far longer) so that they can be a real presence in the lives of these kids. Their existence is so unstable and they spend most of their lives shuttling between various social service offices. Having a place that can be a consistent part of their lives, with people and animals that they can return to again and again is a vital part of the work we do.
I'm so lucky to be able to help these kids build a life they may not have had without the comfort, security, and responsibility of the Farm. I've got to assume that I've been helpful to them in my seven years as a volunteer there.
But I can say for certain they've helped me.
PS From Fatty: Click here to donate. I recommend donating in increments of $5.00, each of which gets you a chance at riding with Levi and me at Boggs.