For more than twenty years, I've come to Leadville each summer. But this is the first time I've ever gone mostly as a vacation — as opposed to going to race the Leadville 100.
Oh sure, I was still in Leadville to race (the Leadville Silver Rush 50), but it wasn't a race I was stressed about. It was more of an "as long as we're in town" kind of race.
The Copper Triangle, Leadvillified
Not coincidentally, this was also the first time The Hammer and I had brought our road bikes with us. I thought it might be fun to ride them around town or something.
The Hammer had other plans. Specifically, she planned to have us ride the famous Copper Triangle route, although we'd be doing it ourselves instead as part of an event, and we'd be starting and ending at the Leadville point in the triangle.
And also, if you ask me, it doesn't even look like a triangle anyway.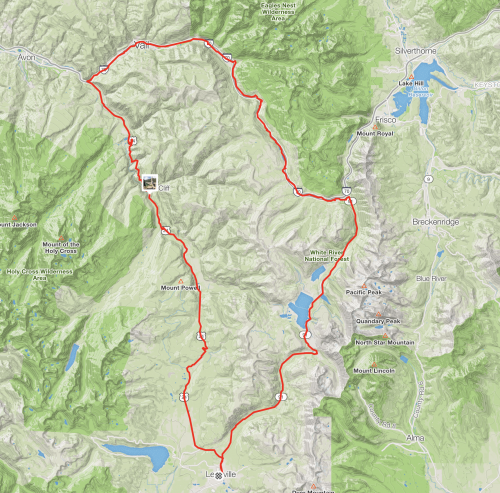 It looks more like the mirror image of California. Which, granted, would be a less-awesome name for the route.
Anyway, on day 2 of our Leadville vacation, The Hammer and I rode this triangle, once I had moved my mountain bike pedals onto my road bike (I forgot to bring my road shoes on this trip, because I am feeble-minded).
It was a gorgeous ride. Perfect weather, perfect temperatures, not much traffic, a good solid workout (we were totally ignoring the notion of tapering for races since we didn't really care how we did at this race).
And a great opportunity for high mountain selfies: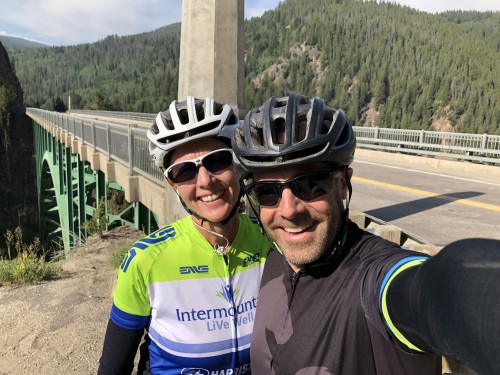 All told, this is about an eighty-mile ride, with about 6000 feet of climbing. The website for the Copper Triangle calls this "three challenging climbs that exemplify cycling in the Colorado Rockies." In Utah, we call it a "cute little ride."
Sincerely, though, it was a beautiful, fun, relaxing and just nice day on the bike. Except for the final two miles, when we suddenly got hit by torrential rain and nickel-sized balls of hail. And even that was just amusement-level drenching (though it wouldn't have been if we'd had to endure it for half the day instead of for ten minutes).
Fish Story
On day 3, The Hammer and I took Blake (aka The IT Guy) on a ride up St. Kevens. He's recently had a foot injury, so the fact that he was able to ride to the top of the St. Kevens climb was a big deal. We're hoping he continues to heal fast so he can still do the LT100 in a month. (Yikes! A month!)
Then we took the twins on one of our favorite hikes: a nature trail starting and ending at the Leadville Fish Hatchery.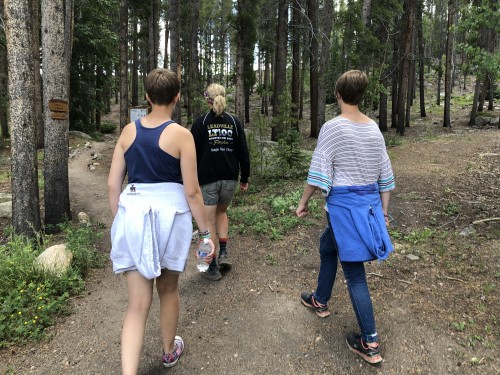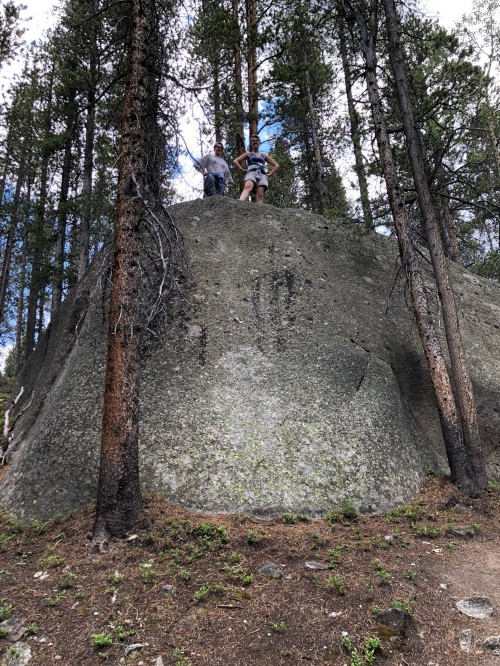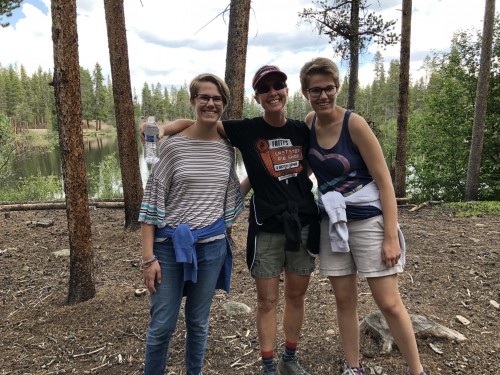 It's fun the way some things — like this hike — start becoming traditions. And then, after the hike, the tradition continues because we always buy some fish food and toss it to the trout being raised in the Fish Hatchery troughs (pretty sure that's the wrong word so hope you'll take the time to google it for me and give me the correct term in the comments).
While we were doing this, The Hammer had an idea. "Why don't you stick your finger into the water?" she said. "See if the fish think it's food."
I confess: I found the idea both repulsive (fish are gross) and intriguing. Would fish that are used to food landing in the water constantly think a finger is food, or would they scatter? (I strongly sided on the "scatter" possibility.) And if they did try to bite my finger, would having a tiny (about 5-6″) trout bite my finger hurt even a little bit? (I figured not.)
So I knelt down and tentatively poked the tip of my right index finger into the water.
The fish rushed my finger and at least one nibbled at it.
It did not hurt even a little bit.
It did, however, make me reflexively jerk my hand back out of the water.
Which was too bad for The Hammer because she was close by at my right, filming the whole thing with her phone.
You know what's coming, right?
As I jerked back, I knocked the phone out of The Hammer's hand…and into the water. Which is about five feet deep, and full of fish.
Rescue Attempt
It took a few seconds for everything to sink in, at least for me. And then we had things to consider: was it worth even going after the phone? It wasn't just wet; it was submerged, five feet deep, and was going to be that way for a while.
"Well, the iPhone 8 is supposed to be water resistant," I said.
So I went in search of someone who works at the Fish Hatchery to help us get the thing out. Dead or alive.
I couldn't find anyone.
Meanwhile, The Hammer found a toolshed on the premises and got out a flat-headed shovel, which she used to get the phone up against the edge of the square-edged concrete trough, but couldn't get the phone up the wall.
I then went back to the shed, where I found…a hoe.
A hoe! In my mind's eye, I realized it may well be the most perfect retrieve-a-phone-from-the-floor-of-a-flat-five-foot-trough tool ever. I brought it over, and between The Hammer operating the flat-head shovel to position the phone at the wall and tip it over on to the hoe, and then me lifting it up, we felt pretty darned smart. Especially when we didn't think about the fact that it was pretty silly that the phone was at the bottom of a trough like that in the first place.
To our amazement, the phone — having been underwater for about fifteen minutes — was still on. (I'm not sure why it hadn't locked while underwater for that long, but it hadn't.)
And furthermore, it had taken a couple of pictures sometime during its underwater adventure (maybe when The Hammer was prodding the phone with the shovel?), including this one: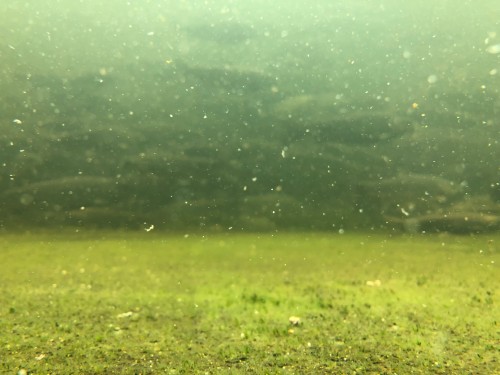 That's just an awesome shot, even moreso since the phone continues to be just fine.
And in short, the iPhone 8: highly recommended for people who take photos near water and clumsy husbands.
Next up: the actual race.