A Note from Fatty: Yesterday I posted a podcast and blog post about Madeline Bemis and her dream of getting to race the 2016 World 24-Hour Solo MTB Championship, in Rotorua, New Zealand.
Madeline needed to get to $6,000…and within a few hours after I posted, she had hit (and has now exceeded!) that goal. 
That is just amazing. Incredible, really. 
As an unexpected — and really cool — thank you, Madeline and her team posted this "thank you" video. Check it out: 
I for one cannot wait to hear how her race goes.
A Note About Today's 100 Miles of Nowhere Race Report: Today's 100 Miles of Nowhere race report comes to you from Lyle  B, of Denver, PA. I found Lyle's story both hilarious and inspirational; I love the way he's doing something bigger than he's ever done before, and that he's putting up with a lot for a good cause.
Enjoy! 
100 Miles of Nowhere: Left-Handed 40yo On Combine Test Track Division
I've been wanting to do the 100 Miles of Nowhere for a few years now, but never could think of a good place to do it. But this year I found one. I work for CNH Industrial, a major manufacturer of agricultural and construction equipment, and at the R&D center where I work, there is a half-mile test track, normally used for testing combines and other equipment.
The advantage to this is that it's flat. Dead flat.
And I don't mean "I live in North Dakota prairie" flat. I mean "surveyed & graded to be perfect" flat. In the 27 miles that I recorded while Strava was working properly, I gained zero feet of altitude. Zero.
This was nice, since it meant no climbing. Unfortunately, it also meant no descending.
Since this would be my first century, I knew that proper training would be required. I looked up a few articles on training for your first century, committed them to memory, and resolved to do my best to prepare.
And then I rode my bike exactly once in October.
Let's Go
I decided to do the ride on October 31, due to some family obligations on November 7. I got started around 8am, while temps were still in the mid 30's.
I had asked several coworkers to join me at various times today, and Mark joined me just a few minutes after I started. We chatted as we rode the first hour at a nice easy 15.5mph pace, then decided to pick up the pace and I tucked in behind Mark to draft for the next hour, where we averaged almost 18mph for the hour. I was fortunate to have a good engine to hide behind!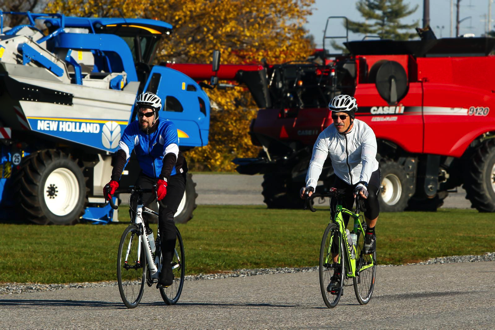 I'm in the blue jacket, Mark in the white. Two of our company's products in the background. Photo credit: Brent Smith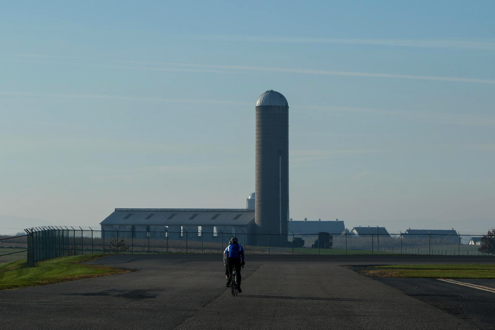 Photo Credit: Brent Smith
The Pain Begins
About 25 miles into the ride, my left knee started hurting. At mile 37, Mark had to leave, and I took a small break. I decided to put a shim between my left pedal and crank, as the fit expert at my LBS had done with my right. In the hardware drawers in the shop, I could only find one washer that would work: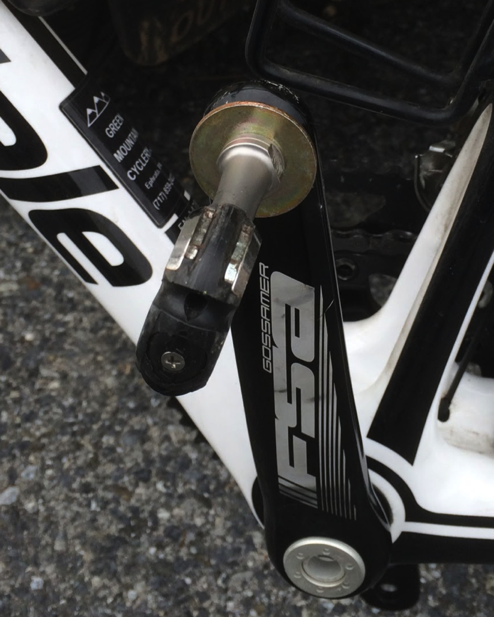 Think that's big enough?
As I was working on this, Jon & Kevin showed up, and we set off at a really nice pace, about 17mph, and with two other people to draft behind this felt great. Two other colleagues joined us for a short time as well.
Early on in this leg, my right knee decided it didn't want to be left out, and started hurting as well. It was around the 50 mile mark that I started having serious doubts about my ability to ride the whole 100 miles, especially since soon our average speed starting dropping steadily, hovering about the 15mph mark.
At the 60 mile mark, my wife and kids stopped by to say hi, and at the same time, Kevin had to leave. Another rider joined us for a few miles, but couldn't stay long.
Too Much 
At 70 miles, I knew I wasn't going to make it. We were doing just under 15 mph, and I just could not contemplate two more hours with the pain I was experiencing in both knees. I had already surpassed my previous highest mileage for one day on the bike. I told Jon I would gut it out to 75 miles and call it a day.
So after 4 hours 53 minutes, I hit 75 mile mark and headed to the car.
I was disappointed that I couldn't make it to a century, but was glad I had tried, and helped raise money for a good cause. I was very thankful for the coworkers that helped make it possible.
Maybe next year I can actually train for it & do the whole thing…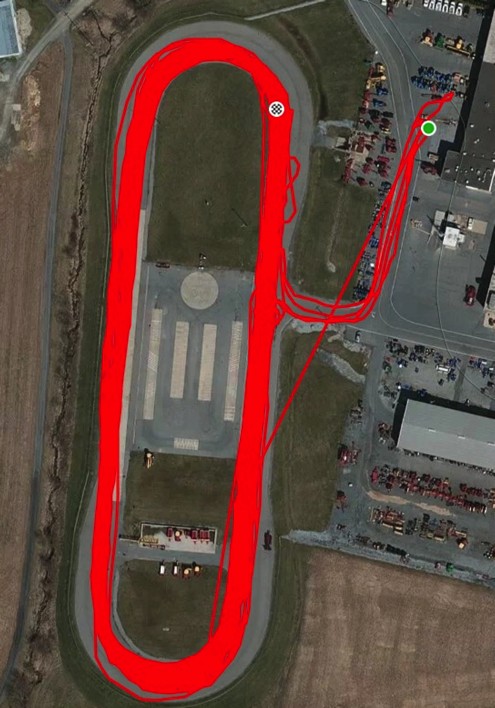 My Strava track for the first 27 miles.