Previously in this Story: 
Each installment of this race report has had a lot of pictures. This episode, sadly, has only one: a selfie Lynette and The Hammer took shortly before The Hammer's second turn on the bike: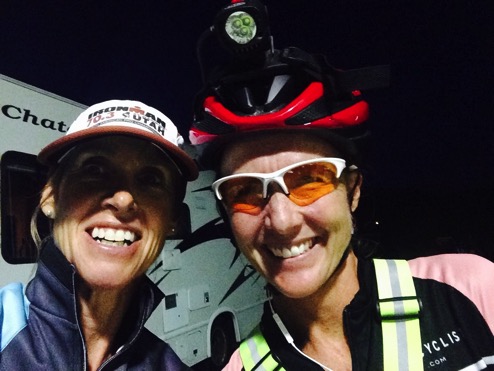 That's Lisa, right before she discovered that the battery on her headlamp…had not held a charge. Luckily, it was no problem; I had brought a spare battery for The Hammer's light, which Cory had found and plugged in.
Good thing we had brought that spare.
Ode to Boulder
Leg 6, Torrey – Boulder, is about forty miles long, and has the simplest elevation profile of any leg in the race: 

Twenty-five miles up (about 4000 feet total climbing), then rocket fifteen miles down. Back when I did a pre-race video chat with other racers about The Rockwell Relay, we spent a disproportionate amount of time talking about this particular leg of the race, because it looms large in the memory of anyone who's ridden it.
It's dark. You're in the mountains. You're climbing for what feels like forever. And then you're flying down the other side (still in the dark, obviously), feeling like you're on a sub-arctic rollercoaster.
To be clear, I mean all of this in a good way. In fact, after riding it the first time (in my first racing of the Rockwell Relay), I described it as "the single best ride I have ever had on a bike."
In short, this ride sticks with you.
Marci is Fast
In addition to everything I've already said about the Boulder Mountain leg, this year it was the site of the KOM/QOM challenge: a timing mat at the top of the climb would give results for the fastest man and woman in the 25-ish mile climb.
I had no idea who the KOM winner would be, but I was pretty much certain of who the QOM winner would be: Marci, on team Infinite Stamina. 
[Speculation Alert] In fact, I suspect that it was with an eye toward this twenty-five mile climbing challenge that she had taken on the role of racer two on the team, instead of racer one. Why else would a climbing specialist like Marci opt out of the racer slot with by far the most climbing (racer one does 10,233 feet of climbing over all three legs; racer two does 6,346 over all three legs)? [/Speculation Alert]
The Hammer and I are well-acquainted with Marci's climbing prowess. The Hammer's job at this year's Rockwell Relay was to limit damage; not prevent it.
"I have ten thousand dollars on Marci beating you to the top of Boulder," Troy said to The Hammer as she waited for me at the exchange. "Don't prove me wrong."
Troy was looking for banter, but it wasn't a good time for it. I know she's a faster climber than I am, you don't need to rub it in, The Hammer thought to herself. 
Aloud, The Hammer said, "I'm just going to ride and listen to my music." Disturbed. Three Days Grace. Metallica. Lots and lots of Metallica. Some people are a little surprised at The Hammer's music tastes. (When we first started dating, I know I was.)
I came in to the exchange, bellowing "Lisa! Lisa!" I knew that would be the only way she'd be able to know it was me, with my very bright headlamp (the incredible NiteRider Pro 1800 Race) making it impossible to see anything but the light as I approached.
We exchanged "I love yous" as Cory (or was it Lynette? I can't remember) swapped the timing anklet to Lisa, and then she was gone.
The Hammer went as hard as she could, telling herself she would hold off the Infinite teams as long as she could.
And she did an amazing job, taking the 1:11 I had given her and using it to keep in front of the duo of Marci and Billy for a full seventeen minutes.
Then, Marci slingshotted around Lisa and Billy, flying ahead, as Billy said to Lisa, "Well, I've caught Marci up to you; my job is done."
Billy then sat on Lisa's wheel for a few moments, presumably catching his breath, and then attacked, racing to catch up with Marci.
The Hammer pulled back, finding her climbing groove.
Marci put on a climbing clinic for the rest of Boulder Mountain; she'd easily win the QOM challenge with a time of 1:50:20. Billy would finish just a little behind her with a very solid 1:52:36, nearly earning a coveted spot in the KOM Challenge top 10. (Earlier, I incorrectly thought Billy had taken eleventh place in the KOM challenge, due to looking at the "rank" column instead of the "gender place" column in the challenge results – FC)
Zombies!
And what was The Hammer's time? She took third second in the QOM challenge, with a 2:01:37. For what it's worth, two or three minutes of that time was when she stopped about a half mile before the timing mat and we bundled her up. Insulated tights. Jacket. Heavy gloves. (Earlier, I listed The Hammer as having taken third in the challenge, due to an error in the results which put a man's time as second in the QOM contest. This has since been corrected. – FC)
The Hammer did not want a repeat of last year's freezefest descent. 
We then shot ahead of her, doing our best to stay far enough ahead that we wouldn't be a hazard or a drafting violation to her, but close enough that if a deer jumped out onto the road, it would hit the van, not her. 
Vans are easier to repair.
We didn't see any deer as The Hammer descended. Not this year.
But…we did see zombies.
You may think I am kidding, but I am absolutely positively not kidding. 
As we got about halfway down Boulder Mountain, we saw the first one: one man, on the left side of the road, walking in the same direction we were going.
OK, "walking" isn't the right word. More like, "stiffly shambling down the road, arms hanging limply at his side."
Dressed in tan and grey. 
He did not turn and look at us as we approached. He did not react to us in any way at all.
I took very little notice of him.
But in another couple hundred feet, I saw another person. Dressed similarly (but not identically): muted colors. Also walking like a zombie. Also utterly ignoring our car.
And then there was another. And another and another. Every fifty to 200 feet: a solitary (or, occasionally, a pair) figure in tan and gray, slowly walking down the road. 
And get this: it was almost exactly midnight when we saw them.
Zombies. I swear. Maybe twenty or thirty of them, all told. It was unsettling.
Later, after the race, I asked everyone who had been there if they saw them. Yes, they had. Did they seem really weird? Yes, they did.
Zombies? Without question.
I know that quite a few of the folks reading these posts also raced the Rockwell Relay. I'm calling on all of you to confirm that I am telling the truth and not exaggerating even a tiny bit. (And also, if you know what was going on, I'm curious to know, although I think whatever the real explanation is will be a disappointment, compared to: ZOMBIES!)
Comfy Slippers, Part 1
After the terror of the zombies had (sort of) worn off, we stepped on the gas, leaving The Hammer to descend Boulder Mountain (and survive the post-apocalyptic horror of shambling undead humans) on her own. 
Getting to and getting ready for the Boulder exchange is always tricky. Your cyclist is coming down the mountain practically as fast as your vehicle can (sometimes faster); you don't have a lot of time to unload the bike and get in position for the exchange.
So Cory changed clothes while Lynette expertly drove down the mountain. We found a parking place, then I hopped out of the car and unloaded Cory's bike while he found a place to take a quick leak.
I walked down with Cory to where the timing mat was. 
I noticed he was still wearing his comfy slipper-shoes, not his bike shoes.
"What's up with those?" I asked.
"I'll change into my bike shoes once we get to the mat," Cory explained. 
Except The Hammer arrived at the mat even as he said that, hollering Cory's name. 
We hustled the last twenty feet to the timing mat and I swapped the timing chip onto Cory's leg as he…put on his shoes. The Hammer gave me the "What's this all about?" look. I returned her look with the "I have no idea" shrug. 
As it turns out, The Hammer had gotten to the mat even faster than we had expected because another speedy woman (sorry, I don't know who — she isn't on The Hammer's Strava Flyby of the leg) had caught her on the descent, and The Hammer had used her as a guiding light to get down in incredibly fast time. In fact, The Hammer recovered two minutes on the Infinite duo in that descent.
We sent Cory off into the dead of night — it was nineteen minutes after midnight as he left — and then walked back to the van to load The Hammer into the car. 
With The Hammer just having finished a ride, with Cory on a ride, and with Lynette up next to ride, I was now the guy whose job it was to handle crewing duties.
Trouble
So as I loaded The Hammer's bike into the van, I asked Lynette, "Are you all set for your race in a couple hours?"
As it turns out, she wasn't all set. 
As it turns out, Lynette had no lights. Because, it turns out, Cory had given Lynette's lights to Danny, against whom Lynette would soon be racing. And The Hammer's spare battery…had become her primary battery when it turned out that her primary battery hadn't held a charge.
This, along with the barely-squishy rear tire on Lynette's bike, meant that I'd be busy, and would need to make some creative judgement calls between the hours of midnight and 3:00am…not generally my best thinking time.
Which is where we'll pick up in the next installment of this report.