A lot of stuff comes to me in the mail. I'm not complaining; I'm happy to try things out. But as I've mentioned before (and mention anytime someone emails me, asking if they can send me product to review), I don't wind up writing about a majority of the things that come my way. I write only about things I love and think are really worth sharing (or, much more occasionally, things I hate so badly that I feel like I need to warn the world about them).
Today, there are three things different companies have sent me, all three of which I've been using, all three of which I love, and all three of which I think the world needs to hear more about.
Bike of the Moment
Before I talk about these cool products, though, I'd like to introduce you to a little feature I'm going to be including from time to time in my blog during this next couple weeks: "Bike of the Moment."
You see, my fundraiser where you can buy FatCyclist gear or make a donation to WBR in order to win the ultimate dream bike and vacation is still going on (get details here, buy FatCyclist gear here, and make donations here). 
And it occurs to me that it might be interesting for me to propose, from time to time, what insanely nice bike you might actually build.
I thought I'd start with the bike I intended to build for myself, before I had an attack of conscience and decided I'd make it a fundraising prize instead.
And that bike would be a Specialized S-Works Crux Disc. This is such an incredibly versatile, strong and light bike, you could (and should) use it both on-road and off. For racing cyclocross (or the Crusher in the Tushars) or for touring.
I would start with the amazing S-Works Crux Disc Frameset (valued at $3500):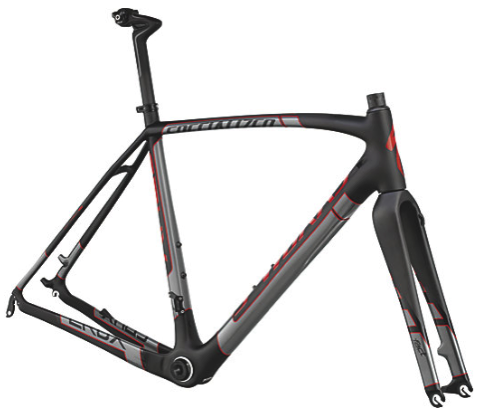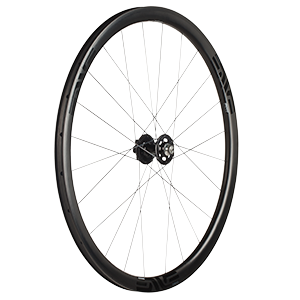 And then I would add the incredibly light and strong ENVE SES 3.4 Disc Clinchers. These wheels are aero and light enough to be road wheels, but plenty strong enough for offroad use. And these disc-specific rims are lighter than the rim brake version. 
A complete wheelset retails for $2900 – $3050, depending on your choice of hubs (I'd go with DT 240, but that's just me).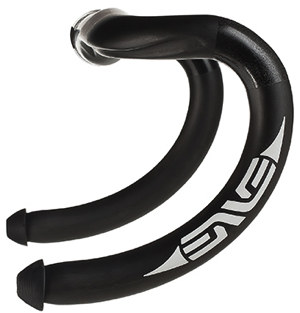 Between this frame and these wheels, you seriously have the foundation of a bike you could take on pavement, on dirt roads, or CX races. 
The ENVE awesomeness wouldn't stop with wheels, though. I'd add the ENVE Compact Road Bar and Stem. And in fact, I have exactly these on my own road bike, and they are perfect.
Then I'd go on to SRAM for the drivetrain. As someone who has completely fallen in love with SRAM's 1×11 drivetrain philosophy on mountain bikes (The Hammer and I are both riding with XX1 drivetrains), Force CX1 is the perfect choice. 
I'd love to build this bike. Have it for myself. But instead, you get a chance to win it — or any other combination of Specialized S-Works level frameset, ENVE wheels and components, and SRAM drivetrain and components.
You just need to buy gear or make a donation for a chance to win (get details here, buy FatCyclist gear here, and make donations here).
Oh, and don't forget: besides getting this outrageous bike, you get a trip to get it fit for you and then go riding it.
Are you beginning to see the possibilities?

Stuff Fatty Loves #1: The BackBottle
I've been riding (and loving) the Cannondale Scalpel this season. There's just one (seriously, just one) problem with this bike — and a lot of other full-suspension bikes — though: 
There's space on the frame for only one bottle.
For long races like the True Grit Epic, I've worn a Camelbak. But I don't really like wearing those, especially for medium-length rides, where I need more than one bottle, but don't want to feel like I'm going out on an expedition.
So sometimes, I'd been riding with a bottle in my jersey pocket. Which basically sucks. In the center jersey pocket, the bottle presses against your spine, bouncing around and being annoying in general. And it's not easy to reach back and put it back in, either.
My solution to this problem has been, thus far, to whine about it from time to time.
Brian Davis, the guy who invented Fix-It-Sticks, had a different solution: the BackBottle. [Full Disclosure: he sent me one, unsolicited, at no charge.]
I was a little skeptical, but went ahead and used it on the six-hour mountain bike ride I wrote about yesterday.
And it is wonderful. Seriously, it is amazing. The flat back of the bottle, with the two ridges, sits securely in my middle jersey pocket, never banging against my spine. The arrow-like bottom of the bottle makes it incredibly easy to push the bottle back down into my jersey pocket, one-handed.
Except for when I needed it, I forgot it was even there. And that includes when I was doing standing climbing. And it includes when I was bumping along downhill. It just disappears.
Honestly, it's a brilliant solution to an irritating problem I've lived with on lots of long road rides and mountain bike rides — when I've wanted to bring three bottles instead of two — not just when I've had a single-cage bike.
I have one concern with this bottle, and that is with the cap: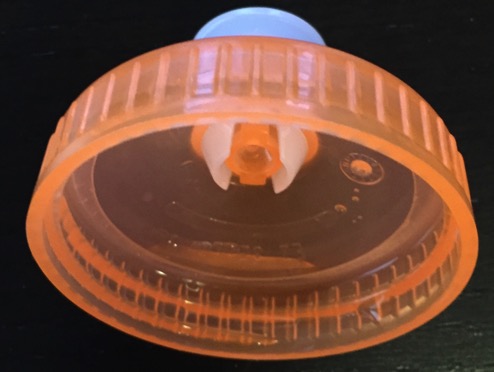 The valve is of the cheap, plastic-on-plastic variety — the kind that starts dribbling after a few uses. Also, the cap is a lightweight rigid plastic, and caps like this usually start warping after being through the dishwasher a few times.
It's also a narrower cap than others I have, meaning I can't mix and match bottles and caps. If this cap is lost or breaks, the bottle becomes garbage.
Now, none of this has happened yet (and maybe it won't), but I would be really surprised if this cap doesn't prove to be the weak link with the BackBottle. So the only item I'd put on my wish list for this great bottle idea would be a premium cap. I'd gladly pay more for a bottle like this with a cap like the Specialized Hydroflo (or better yet: I'd love it if the BackBottle had a mouth size / thread match for the Hydroflo.)
Still, this isn't going to be a bottle you use every ride; it's going to be your special-purpose bottle, and as such you probably won't wear it out as quickly.
And it's only $12, so definitely worth getting, which you can do at BackBottle.com. 
Stuff Fatty Loves #2: Native Hardtop Glasses
For years, I've been riding with Oakley Jawbones for my glasses. And I like them a lot. They're comfortable, it's easy to swap out lenses, and they vent well.
But their lenses…well, I wonder if anyone has ever pointed out to Oakley that their (very expensive) lenses seem to get scratched simply by being in contact with air.
So when Native Eyewear asked me to try out a pair of their glasses, I said, "Sure." When they asked me what I wanted, I said, "Surprise me."
They sent me a pair of their Hardtop Ultras, which I've been wearing on both road and mountain bike rides for the past two months or so.
And they have surprised me.
For one thing, they've surprised me by being incredibly light and comfortable. What they call the "Flex Metal" nose piece turns out to be incredibly adjustable, making these glasses stay on better than just about any I've ever had. 
They're polarized; long days in the saddle in bright sun (such as when I raced the True Grit Epic) didn't leave my eyes aching.
Best of all, the lenses don't scratch anywhere near as easily as my Oakleys. I've been riding with them for two months now and the lenses have no obvious marks on them; this has never been the case with any pair of Oakley lenses I've had (and I've had a lot).
Here's The Hammer and me from last weekend; I'm wearing my Hardtops: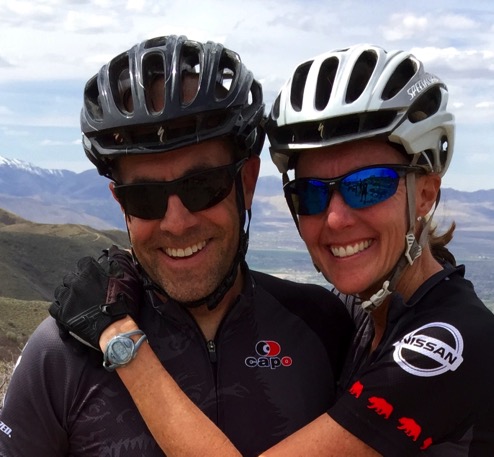 The Native Hardtops aren't especially flashy glasses; they don't call attention to themselves. You can decide for yourself whether this is a plus or minus. For me, it's a plus.
They're light, they're comfortable, they're durable, they work. And the price is good at $129. 
I have a lot of sunglasses, but lately I find that I'm reaching for the Native Hardtop Ultras for every single ride.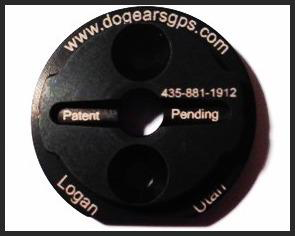 Stuff Fatty Loves #3: Dog Ears
I love Garmin GPSs and how easy they are to mount on your bike. But I've had a couple of those mounting tabs — little plastic "ears" that secure the GPS onto your mount — snap off, just from use. 
And the day after the True Grit Epic, while The Hammer and I were out riding with a group, The Swimmer crashed into The Hammer…snapping both the tabs off her Garmin 510 in the process.
Which I was very excited about, because a few weeks earlier, a little startup in Utah — called Dog Ears — had sent me a DIY repair kit for Garmin mounts. 
These aluminum mounting plates ($19.95) go over the broken mounting tabs. 
And while I'm generally a little bit nervous about fixing anything myself, I decided to give it a try. Further, I did it on camera (originally I broadcast this live on Periscope, which is why the video is in a portrait instead of landscape orientation). 
Here it is:
After the video, I put in the screws and let the thing dry overnight…and The Hammer's GPS has been just fine ever since.
If you've got busted tabs on your Garmin GPS, Dog Ears is a fast, easy, cheap solution. And since the new tabs are aluminum instead of plastic, I'm hoping they'll be a lot less likely to ever break off again.
I love that I was able to fix something, and I love that this fix was easy and did the trick.