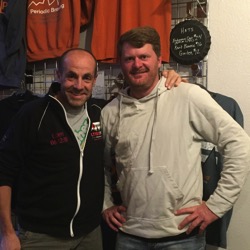 A Podcasty Note from Fatty: As I mentioned in part 0 of this story, I met Floyd Landis while I was in Leadville.
And then CyclingTips US Editor Neal Rogers and I got together with Floyd at Floyd's of Leadville HQ for what turned out to be an incredibly thoughtful and interesting conversation. 
We talk about Floyd's new venture: what it is, why, and where it's going. We talk about apologies: both those given and received, and even talk a little bit about cycling…or more specifically, why Floyd doesn't ride anymore. This is a can't-miss conversation with a name every cyclist recognizes, but few cyclists know. 
You can get it from iTunes, download it directly, or just play it here: 
More details can be found in the Show Notes at CyclingTips.
Seriously, you do not want to miss this episode. 
2016 Leadville 100 Race Report Part 3: The Jerk
There's something very important you need to know before you read today's installment of my 2016 Leadville 100 race report: there is a jerk in this story. A real kneebiter.
And also: That jerk is me.
But also too: There's a guy in this story who cheerfully puts up with something unfortunate that happens to him due to another racer's mistake. He doesn't get upset or freak out about losing time or anything. He's a good guy, someone other racers should emulate.
Still also: That guy is me.
So be warned: cognitive dissonance ahead.
The Setup
The Hammer and I had made it to the base of St. Kevin's, the first  climb of the Leadville 100. And we were scared, because—as I mentioned in my previous post—we had attacked this climb at full speed earlier in the week, and had found ourselves wanting. 
What if, now that we were in the race itself, we discovered that we just…well…sucked? If we found out that we just didn't have what it takes to climb this one little one-mile climb, and that we had no business on this course? 
As it turns out, this would not be a problem. Which is not to say that we would not have a problem. Just that this wouldn't be it.
Our problem, as it continues to have turned out, would be rather the opposite. 
See, back in the beginning of the race, we were slated to start in the green corral. But it was jam-packed when we got there, and so we had to stand outside the corral, hoping to filter in when the barriers went down.
But when the barriers went down, I was all alone with two bikes, and a lot of people flowed ahead of me, even as I slowly walked forward, scanning the crowd for The Hammer.
So that had moved us back a bit, relative to many riders.
And then, since we were on singlespeed and trying to stay together, we had been passed quite a few times (roughly ten thousand, I estimate) on the way down the pavement.
And in short, we were pretty far back in the field when we got to the base of the climb. And back there, the bottleneck effect was in full…effect.
Which is to say: our problem was not that we couldn't keep up. It was more that on singlespeeds at this near-glacial pace, we were in danger of not being able to keep upright.
Which, during a bike race, is a problem.
The Jerk
I was in a conundrum. On one hand, I could see that no matter what I did, I was not going to exactly be rocketing forward for the foreseeable future.
On the other hand, if I didn't move faster than this, I was going to have to get off my bike and walk for this perfectly rideable stretch of the race. 
On the third hand, my whole purpose in being in this spot—just in front of my wife—in this race was to enable her to finish as fast as possible. In under 9:50 (her previous singlespeed finish time and women's course record) if at all possible. And I had told her how good I am at moving through the field on this climb, and how if she stuck on my wheel we wouldn't get jammed up.
Well, two out of three metaphorical hands seemed to indicate that I should try to find a way forward. And as I looked ahead, I sorta kinda saw a path we could squeeze through, as long as we didn't mind riding through the rough stuff. And grazing our handlebars against some branches. And making some courteous requests of our fellow racers.
They'd understand. Of course they'd understand.
"Hey there, racer, How's it going? I'm going to squeeze by on your right, K?"
There was some grumbling. We pushed through.
"I'm on your right, don't worry about moving, just keep your line. Two of us," I said. 
More grumbling. And then, "Dude, where you going to go? Look up the mountain, we're all in this line."
I was, clearly, the jerk. The guy who cut in line. And I realized it as soon as this racer voiced his frustration.
Sure, I had my reasons; I just listed them above, even. 
"We're singlespeeding," I thought. "If you had our setup, you'd understand why we have to weave through the crowd."
"I'm working for one of the top women racers in the field," I thought. "Every second we're behind you is a second that hurts her chances at a new course record."
"You guys didn't seem to have a problem squeezing by me at the starting line," I thought. "I'm just returning the favor."
But I didn't say any of these things. No point, and there was too little oxygen for an argument anyway.
So I just said, "Gotta go." And I went.
What a jerk I was. For the first of at least a couple times during the race, I'm afraid.
The Nice Guy
In my defense, I wasn't being a jerk consistently. At one point during this climb, for example, a racer spun out, stalled, and fell over to his left…which is where I happened to be. 
My bike handling skills, alas, are not good enough to allow me to stay upright when a full-grown man falls on top of me. (Imagine my self-disappointment. If you can.)
The racer scrambled up, apologizing and apologizing.
I laughed. Not with malice, nor in a menacing, villainous way. Imagine a  Snidely Whiplash laugh, but benign. That's how my laugh sounded.
"Don't worry about it, I said. "This isn't going to affect either of our finish times."
And then I started hiking up the hill, watching The Hammer ride away from me. There was no way I was going to be able to restart, not on a singlespeed. Not on this grade.
Math Problems
We hit the sharp left turn that signals the end of the hardest part of the St. Kevin's climb. Right at the half-hour mark, which meant it was time for the first GU Roctane gel of the day. One down (Chocolate Coconut), eighteen (or so to go). 
I measure my races not in hours or miles, but in GU packets and bottles of CR333.
The Hammer and I rode along, for the first time not swamped by people. It's always incredibly surprising how the race thins out so dramatically after that sharp left turn a mile into the climb.
I was riding hard, racing with and for this incredibly strong woman: my wife. I was the happiest domestique in the world. 
"This is going to be a great day," I said.
"I think so too," The Hammer said. 
"So how soon do you think The Monster will catch us?" I asked.
I wasn't being pessimistic about our chances to stay ahead of The Monster. Both The Hammer and I basically regarded it as a certainty that The Monster would catch us sometime before we got to the first aid station. The climbs were short, and the Powerline descent definitely favored The Monster's abilities.
"I'm surprised she hasn't passed us already," The Hammer said. "What if she catches us and stays ahead the whole rest of the day?"
"That," I said, "would be pretty impressive."
Honestly, I figured we wouldn't see The Monster for a while. She would, I assumed, pass us sometime on the Powerline descent. Then, I expected, she'd stay ahead of us 'til partway up the Columbine climb.
my prediction was, as it turns out, entirely wrong. Which I would find out sooner rather than later.
And that's a good place for us to pick up in the next episode.