Dear Co-Workers of Every Cyclist in the World,
On behalf of all of us — your cycling co-workers — I'd like to express our appreciation for you. You are, by and large, really good about looking the other way when we park our bikes in our cubicles, and when we bring food into meetings that looks like it's designed to be consumed by astronauts. And you cheerfully put up with our goofy post-ride endorphin rushes.
That's wonderful of you. It really is.
Also, I'd like to acknowledge and apologize for our weirdness and shortcomings. We know that we tend to talk about things that make no sense whatsoever to you. We know that our freshly-shaved legs creep you out. 
We know that we can be a self-righteous, indignant lot, screaming about cars and exhaust and close calls and non-existent road shoulders and bike lanes. Don't take it personally; we're just a little bit amped up because we just stared death in the face for a moment. We'll be calm again as soon as our "fight or flight" reaction runs its course.
So, again, thank you.
With all that said, we have a few requests we'd like to make in how you interact with us from this point forward, in order to ensure a happy, productive work environment for all of us.
1. Do not schedule meetings just before we go on rides. If you want to get our full attention during a meeting, please do not schedule that meeting so it ends right when we have a ride scheduled to begin.
Right from the beginning of that meeting, we'll be fretting about whether this meeting is going to end on time, and that fidgety staring at the clock will only increase as the minutes go by. 
We'll be thinking about how we can get our gear ready as fast as possible, whether our bikes are ready to go, whether it would be considered acceptable to eat something during the meeting so we won't be depleted at the beginning of the ride. 
We'll be thinking about the route: either planning one out if we didn't already have a specific ride plan, or tracing the route in our minds if we do already have a plan.
We will not be thinking about the meeting. This much I can guarantee.
As you get closer to the designated time for the meeting to end, our fidgeting and distractedness will only increase. 
If your meeting goes long, we will either claim that we have a conflicting meeting that requires us to be present (which is technically true, since we cannot be on a bike ride unless we're actually on our bikes), or we'll just stare daggers at you until you feel so uncomfortable that you end your meeting.
2. Do not schedule meetings just after we've been on rides. Look, we do our very best to have our rides end when we say they're going to, but events beyond our control can occur. For example:
We might get a flat tire
We might get lost
We might decide that it's too nice a day to come back to work just yet
Also, once we do get back from our rides, we're going to need a little time to adjust. We're so full of endorphins and the general sense of well-being that comes with riding that it's not easy to drop back into the hell that is the modern conference room.
Plus, it takes a few minutes — or possibly three-quarters of an hour — for our bodies to realize that it is now time to stop sweating profusely.
It's best for us to be alone during that time.
3. Do not schedule meetings that conflict with the best time of day for a ride. Hey, we're happy to work as much as it takes for us to get our jobs done. Don't go thinking that we're slackers. But the fact is, we can work at any time during the day (or even during the night), but there are only a few hours per day that are perfect for riding. Hours when it is not too cold, nor too hot. When it's not too dark. When (for those of us who ride on the road) there isn't a ton of traffic.
Do not schedule meetings during those times. Those times are sacred. Those times are when we want to be on a bicycle.
Oh, and by the way, those times shift constantly as seasons progress and change, and as days become longer and shorter.
Also, some days we like riding in the cold (or hot, or rain, or snow, or dark), so what constitutes the best time of day for a ride might be a little bit difficult for you to pin down.
Just don't schedule a meeting during that time, OK?
4. Do not schedule meetings that conflict with a window of good weather. Sometimes it rains. Sometimes it snows. By and large, we — your cycling co-workers — don't really want to ride during these times (unless we have fatbikes, or we ride CX). 
And then, sometime during the day, a window of good weather will open. Just long enough for a little ride.
Don't go scheduling meetings during these windows. They're precious, precious windows, and if we're in a conference room as they open and shut, our souls will wither and die. 
Honest. They really will.
Oh, also: if you've scheduled a meeting before it becomes clear that your meeting time conflicts with the only good weather of the day, we'd really appreciate it if you'd reschedule the meeting. We're not fussy about the reason. Thanks.
5. Do not schedule meetings that are just far enough apart that we could almost — but not quite — go for a ride between them. Don't tease us with 90-minute gaps between meetings. Between the time it takes us to get ready for a ride, go on the ride, and then get back into work clothes, ninety minutes just isn't enough.
Schedule us back-to-back, or schedule us with at least 2.5 hour gaps. 
That's reasonable, isn't it?
6. Do not schedule big deadlines during Spring. Or Summer. Or early autumn. It may not seem that way to the rest of you, but we cyclists are absolutely committed to our jobs. But we are also big believers in work-life balance. And we'd like you to respect that. So after a long winter, it's important to us to get out and get some riding in; surely whatever projects you have in mind for us can wait a little bit while we get back in the saddle.
Similarly, Summer is kind of when we do the bulk of our training, not to mention when most of our big races are. So try to keep things light, job-wise, during that season if at all possible (and we all know that it is possible).
And finally, Autumn is really the best time of year for riding. We just want to get in a little more saddle time before the snow flies and the off-season begins, OK?
But we're totally yours during the Winter. Really, we are. Unless we have CX or fatbikes, I mean.
7. Don't expect us to come to your offsites, your after-work get-togethers, or your team-building exercises. We have other plans.
Please observe these simple, easy-to-follow rules and we'll get along famously.
We look forward to working with you.  
Kind Regards,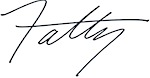 The Fat Cyclist