Once in a while, I do something that is absolutely, completely, positively right. I'll get to what that was in just a moment. 
First, though, you need to understand how the first eight or so hours of the race went.
By the time I had finished the first two laps of the race, I had absolutely no idea where I stood in terms of ranking for the solo singlespeed men, but I was pretty sure that I was in fifth or sixth place. Far enough back that I was not a factor in the race, and unlikely to see the podium.
Meanwhile, however, Kenny was having a banner day; he and Jamon were neck and neck, duking it out. Every time I pulled in to our pit, I asked Zach and Brooks how Kenny was doing. "He is going so hard," they'd say. "He's in, he grabs something to eat, and he's gone."
"And how is The Hammer doing?" I wanted to know. "Is she happy and having fun, or is she silent and riding with her game face on?"
"She's having a blast," they'd reply. "Chatting and laughing every time she pulls in." 
"Am I putting time on her, or is she catching up with me?" I wondered, as I pulled in after the third lap. 
"Neither, really," they replied. "Your times are all over the place, while she's clocking a very consistent 1:10 lap. She's about half a lap behind you."
As I went around the fourth lap, I started picturing The Hammer and me, doing the same race, but on opposite sides of the course. If the course were a clock face, I'd be at 12, and she'd be at 6. I'd be at 3, she'd be at 9. 
I was on Denver time; she was on Beijing. (No, I didn't [and still don't] know whether Beijing time is really 12 hours different than Denver time. It was [and still is] a metaphor, OK?)
"This is stupid," I thought, and resolved to speed up and catch her, then ride the rest of the race with her.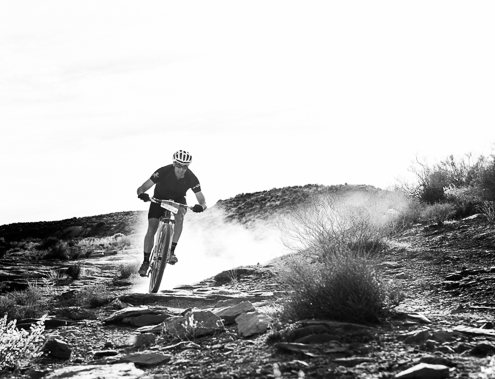 Testy
So I started riding harder. And on the climbs, that worked. I've got good legs and enough power to motor up any climb the course can present.
But on the descents, my good intentions fell apart. My wrists have become increasingly sore lately. Even on short mountain bike rides they hurt. So with each lap on this rocky, technical descent, my wrists hurt more. 
My arms would ache, my hands would go numb. I couldn't help it; I was slowing down on the descents. Whenever I noticed someone approaching, I wouldn't even wait for them to ask for a yield; I'd just pull over and put a foot down for a second.
Still, though, I tried. And occasionally, I'd catch someone. And—similar to me—they'd almost always move over without even being asked. The politeness was beautiful.
Except once. 
I had caught a racer on the smooth desert portion of the descent (it wasn't all rocks and ledges). She didn't yield—"She probably doesn't know I'm here," I thought—so I settled in behind her and waited for a good spot to ask her to move over. 
As we got close to a spot where I knew the singletrack crossed a dirt road, I called out, "Please let me by when we get to the intersection." She nodded that she heard me, and we kept going.
Then we got to the intersection and–instead of slowing, pulling over and letting me by—she just flew through and kept going. Without her cooperation, there was no way I could pass in that space…not if I didn't want to force her off the trail.
She called over her shoulder, "Well, I'm not going to slow for you!" 
I thought about what she had said for a second; rolled it over in my mind to see if there was any way I could have misunderstood her. Nope. 
So I called back, "I've slowed for you for the last three minutes."
At which point, she moved over and let me by, as I marveled at how grumpy I can be sometimes.
Beijing and Denver, Still
I got through the next lap and asked how The Hammer was doing. "Awesome!" Zach and Brooks called out. "Riding like clockwork."
And was I any closer to catching her? "No, doesn't look like it."
And that's how it went, lap after lap, 'til, as I did my dusk lap, I started thinking. "What if The Hammer were to wait for me at the pit, for me to lap her and then we could continue riding together."
No, that wouldn't work. Because if I were to lap The Hammer, she'd be thinking that I was in full-on race mode, contending with Kenny. It wouldn't make sense for her to wait for me to come around when I'd just be riding away from her.
But what if, when I finished this next lap, I waited for her? Then she would know I wanted to ride with her, and we wouldn't have this stupid situation where we were half a lap apart for the entirety of a 25 hour race.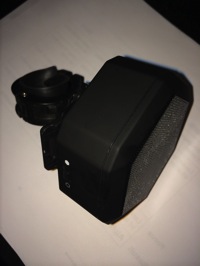 So when I pulled into the pit after my eighth lap, I had a nice little rest, and set up my bike with a surprise: a Boombotix Bluetooth speaker.
We'd have some rock and roll on our night laps. 
Oh The Blood
The half hour went quick. I sat by the fire, greeting Kenny as he pulled in, having officially lapped me. He was suffering; going so hard makes it hard to eat. He didn't know if he could keep this pace up. 
I had Zach tape up my wrists, hoping that the support would make riding a little less painful.
And I had a big plate of spaghetti. 
I tell you, there is nothing in the world quite so luxurious and indolent-feeling as sitting around and eating when you know you should be out on your bike, racing. 
And then, in came The Hammer.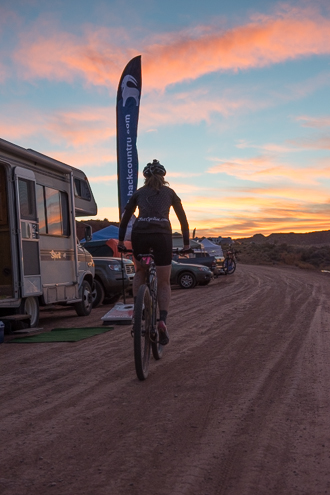 She didn't see me for a minute, which was cool, because I got to see how she acts when she isn't around me. 
With a big smile on her face, she said, "I just had a great lap!" And then she held out her hand, showing that there was blood running all the way down her arm. 
"Also, I crashed, and I think I tore off the tip of a finger."
You know, sometimes it's especially wonderful to have a hand doctor as your crew chief.
As Zach cleaned and bandaged The Hammer up, she noticed me. "Hi honey!" she called out, happily. "What are you doing here?"
"I wanted to ride with you," I said. "But are you OK?"
"Oh, I'm fine," said The Hammer, so chirpily that I thought she must still be in shock. "You really waited for me so we could ride together? I was worried we weren't ever going to see each other or ride together the whole race. You are the sweetest husband who has ever lived."
Like I said, once in a while, I do something that is absolutely, completely, positively right.
And even more occasionally, I do two things that are absolutely completely positively right, because the next thing I said was, "And I've got my bike set up with a Boombot Rex speaker, too. I'll let you pick the artist for the first lap." 
Which doesn't sound all that smart until you consider that I had just mentally rejected saying, "You know, you wouldn't have gotten your finger torn up like that if you'd have been wearing full-fingered gloves."
See what I mean? Brilliant.