Hey there. I had hoped to finish my race report today. I really really did. No really, I did.
But I haven't, because I just discovered that I have a day job and it pays the bills and right now I'm doing a few things I need to in order to keep my life from descending into utter chaos, until such time when this blog makes me rich beyond my wildest dreams (should be any day now).
So, here's what's going to happen right now in this very short blog post:
I'm going to write an introduction explaining why I'm not writing the conclusion to my race.
I'm going to begin a numbered list.
I'm going to create an extraordinarily self-referential third item in aforementioned list.
I'm going to remind you to go buy a 2015 Fat Cyclist jersey before the pre-order ends.
I'm going to tell you about something really great that happened last weekend.
I think this is a good plan…possibly one that I can succesfully execute during my lunch break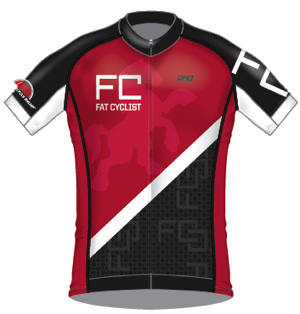 Hey, Buy a Jersey Already
The 2015 Fat Cyclist gear is available for pre-order now. It will be — and this is not hyperbole — the best-made, most-comfortable gear I have ever made available. I recommend getting the Race Fit jersey if you want the best warm-weather jersey you've ever owned. Buy it a size up if you don't want it to be skin-tight.
Also, for the love of all that's good in the world, get yourself a pair of the bib shorts. See, up until recently I have been wearing Rapha bibs because they're so great. Now I'm wearing these, because they're every bit as comfortable, with just as good a chamois, but cost half as much.
Finally, if you should get yourself the long-sleeve jersey. Why? Because this is an incredibly nice jersey at a crazy-good price. I have this jersey, and it is the best long sleeved jersey I have ever owned. If you ride in cool weather, you should get it.
There. Three things you should get. Not just because the design this year is great (it is). Not just because the proceeds are going to World Bicycle Relief. But because I am giving you a screaming deal on top-quality gear.
Shop for all my stuff here: http://www.dnacycling.biz/fatcyclist/
Coolest Thing That Has Ever Happened On A Ride
Last Saturday, The Hammer and I went  on a long training ride with my niece Lindsey and her boyfriend, Ben.
About a third of the way through the ride, he proposed to her.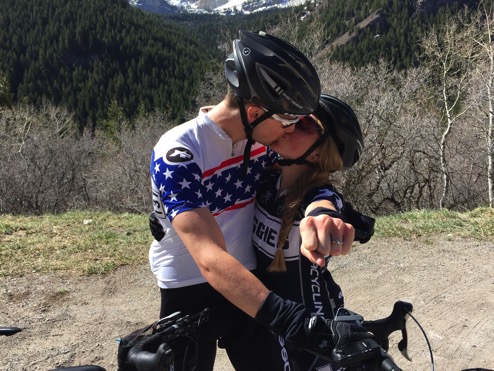 She said yes.