This was the fifth year I've raced in the Rockwell Relllzzzzzzzzz 
Oh I'm sorry, I seem to have fallen asleep. Let me try that again.
Once you've done an event five timezzzzzzzzzzzzz
Hmmm. I'm having a rough time staying awake for some reason. Almost as if I've been knocking myself out doing a 525 mile / 27,600' climbing relay race and am still a little bit sleep deprizzzzzzzz
Hm? Grmph. Sorry about that. I'm just going to go and take a quick nap, then I'll start again. I'm sure I'll be more lucid thzzzzzzzzzzz
(Twelve hours elapses.)
OK, I feel better now. I'm ready to tell this story. And let me tell you something, by way of hooking you in for what is sure to be a monster multi-parter: I was 100% correct in identifying Team Infinite Stamina as our chief coed competition. 
I'm going to tell you a story with a ton of drama, fierce competition, cramped calves, surprising twists, and a nail-biter of a conclusion. It's the story of what was quite possibly the most intense and hard-fought race I've ever taken part in. And this story I'm going to tell, well, all of it will be true — at least to the best of my memory (and that's an important caveat when you are racing without sleep for more than a 24-hour period). 
But that's not the story I will tell today. That starts tomorrow.
Today, I'm going to tell you about bratwurst. And generosity.
The Best Part of the Rockwell Relay
The best part about The Rockwell Relay happens before the gun goes off. Before you get in line, with your heart ramping up, with tight clothes on your body, and with a million questions in your mind.
The best part of The Rockwell happens the day before the race, during packet pickup. 
Because that's when I set up a tent and grill 500 beer-boiled bratwurst (generously donated by Colosimo's) for racers. They in turn toss a couple of bucks into a box (100% of that money goes to World Bicycle Relief) and I talk with them about the race.
I answer questions. I talk about my love for bratwurst. I get to hang out with other people who love bikes and racing and…bratwurst.
This year, I had more fun doing this than ever before, because I didn't do any of the actual work. 
Instead, I had my teammates — The Hammer, Cory, and Lynette — do all the prep, while Friend of Fatty team "What Were We Thinking, Part Trois" built the grills. Here's Yann and Chris (with help from one of the Rockwell guy's kids) competing to see who finishes first: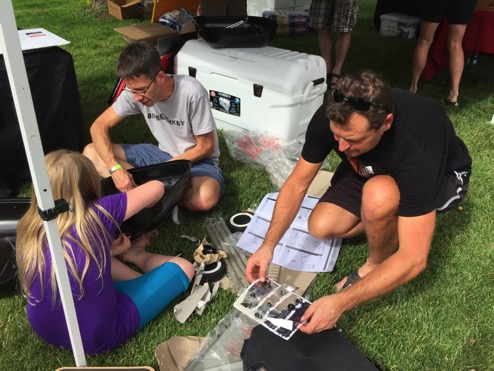 Then it was time to start grilling…except I had forgotten to bring matches. And as it turns out, you can have 150 cyclists in a park, and not have a single one of them be a smoker. 
We sent someone off on an emergency errand to buy a lighter, and asked everyone to be patient. Which they were. 
Once the fire was ignited and the charcoal had turned white, Dave settled in and began grilling on one of the grills: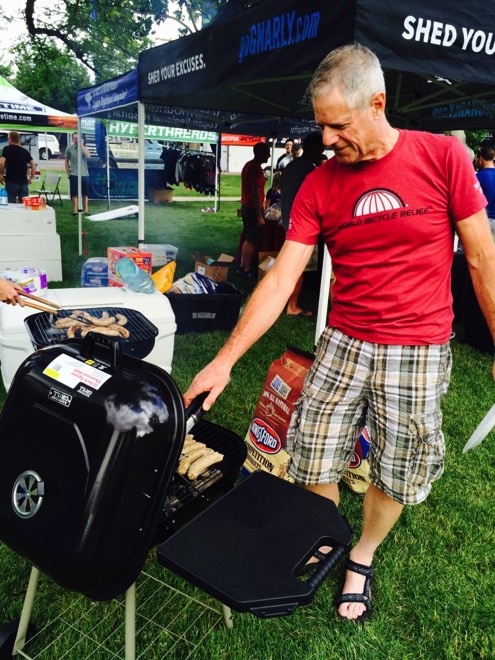 The Hammer and Cory worked another: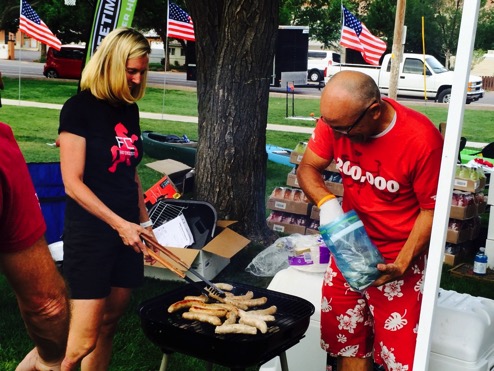 And I just stood around and talked with people. Chatting with them about what they could expect the next day, thanking them for their donations, telling them about WBR.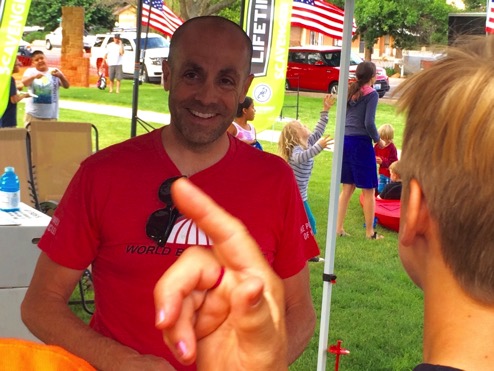 On request, The Hammer would sometimes join me. Because I'm pretty sure most people were a lot more interested in talking with her than with me.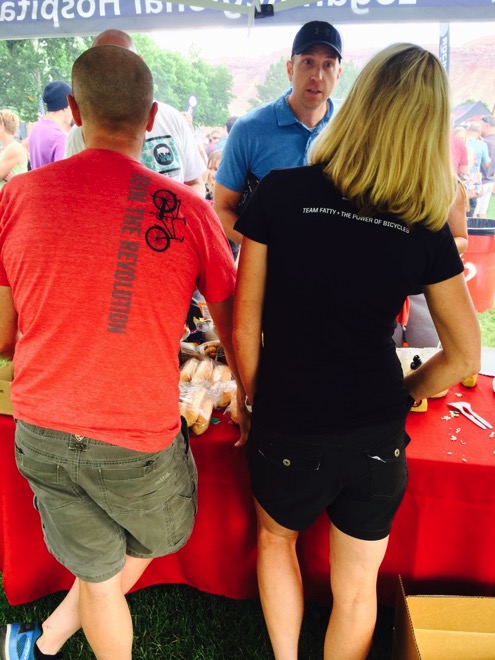 Word got out that we were giving away bratwurst (and taking donations), and before long about 70% of the people in line were either just in the area or found out about us while they were at the nearby farmers' market.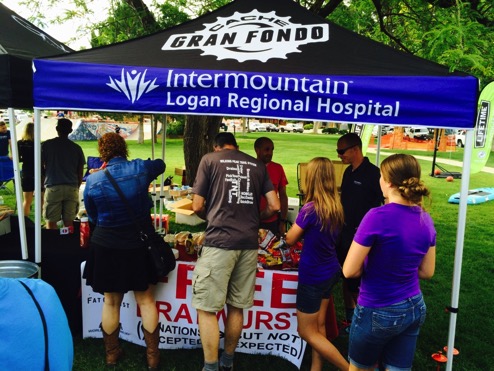 We didn't mind. We had plenty of bratwurst and people were donating generously.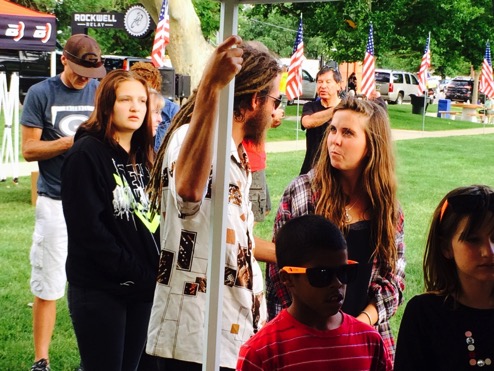 All told, we raised around $400 for World Bicycle Relief: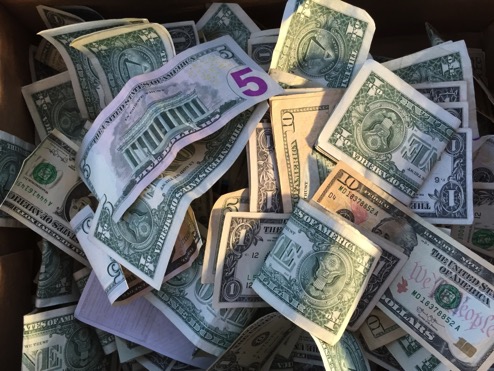 People were streaming by more or less continuously, but we kept up…and had time to have a bratwurst or two or three ourselves.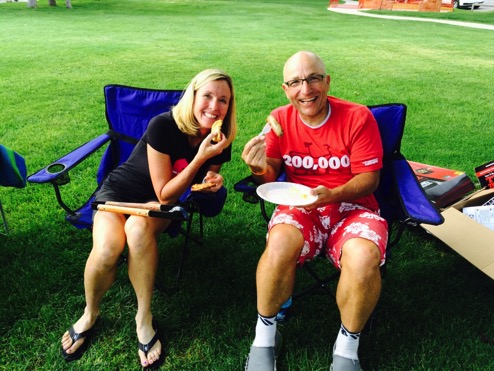 And we had plenty of time to talk with — and get photos with — other teams, including Team TRG – Texas, which had made a pretty long journey to do this race: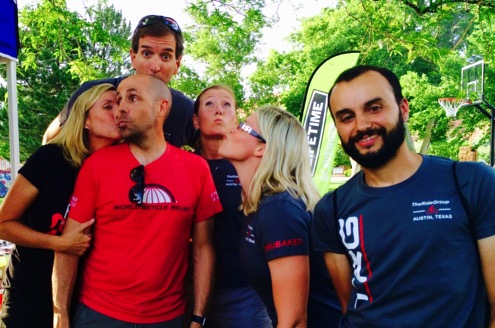 Obviously, we were in a very serious mood. 
Facing the Competition
Troy — yes, the Troy from the Infinite Stamina team I had identified as our primary competition — came by. "Have you read my blog today?" I asked Troy.
"No," he replied.
"Oh, I think you'll enjoy it," I said. Then I continued, "Have some bratwurst." 
Troy looked at me warily.
"Is this a trick to give me food poisoning?" he asked.
"No, it's delicious bratwurst, made, boiled, and grilled locally and lovingly by bratwurst artisans," I explained. "I've had two so far, and everyone on my team has had at least one. Cory has had seven."
(It's possible I made up the bit about Cory having eaten seven, but Cory does in fact lead a carb-free existence, so maybe he had eaten seven.)
"I think I'll pass," Troy said.
"Oh, come on," I persisted. "We're going to try to demolish your team tomorrow, but not by sabotage."
"Thanks anyway," Troy replied.
"Fine, eat this plain bun then," I said.
Which, to my amazement, Troy ate.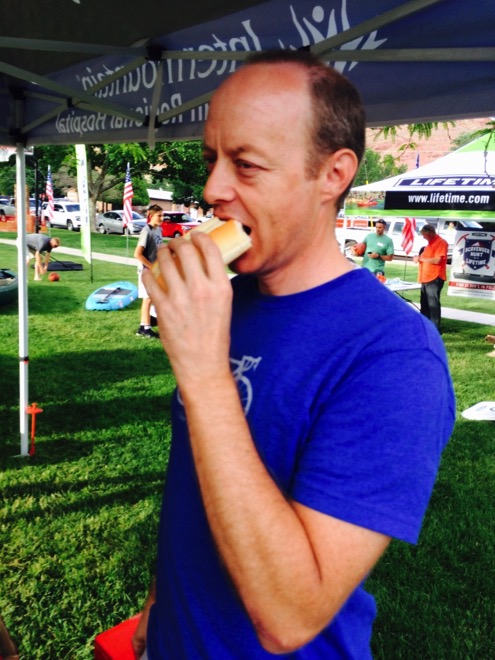 Now that the race is behind us, I just want to assure Troy: there really was nothing wrong with the bratwurst; they were in fact double-cooked (boiled in beer for forty minutes, then grilled over charcoal) to make absolutely sure they were both safe and delicious.
The buns on the other hand, had been injected with flesh-eating bacteria.
Just kidding! (Or am I?) 
The Best Part After the Best Part
While I strongly encourage everyone to enjoy a brat or two before the race, I hope nobody actually thinks that this should be their evening meal. It's a treat. Protein and fat-loading.
Every year, we buy our actual dinner at Paradox Pizza, having a margarita pizza and caprese pizza delivered to the park, with the plan to eat some that night, then store the rest for eating cold on the road the next day.
But we got kind of busy about the time the pizza arrived and the pizza got cold. Luckily, reheating later was no problem at all: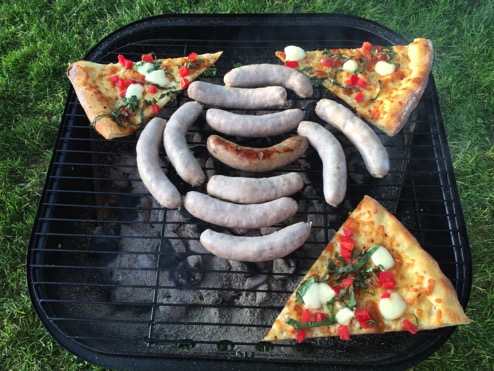 In fact, I'll go so far as to say that heating pizza over a charcoal grill makes it better than it was in the first place.  
Lynette and The Hammer seemed to agree.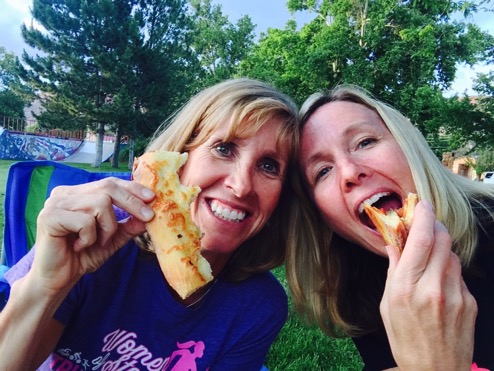 By the time we were finished, we — my team (SBR-WBR) and Team What What Were We Thinking Part Trois (aka Team Friends of Fatty) — had worked for about 3.5 hours. The day before a race. A race which would go on, non-stop, for way more than a day.
Everyone had worked hard, and worked happy.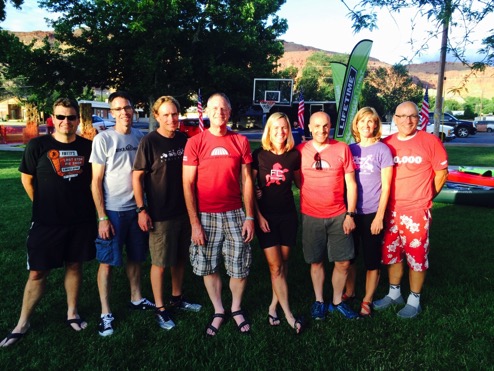 I love these guys. Love 'em to death. 
The Best Part Right Before The Best Part
We stopped by the Subway Sandwich place to have 3 foot-longs made, went to the hotel, and were in bed and asleep by 9pm. It was important to get a lot of sleep that night; it'd be a while before we slept again. 
The next morning, we had our traditional pre-race breakfast — scrambled eggs and pancakes at Denny's — and then met at the starting line.
I was to be riding the first leg, so was the only one in the team kitted up. I was wearing — for the first time, by anyone as far as I know — the 2015 Fat Cyclist Kit: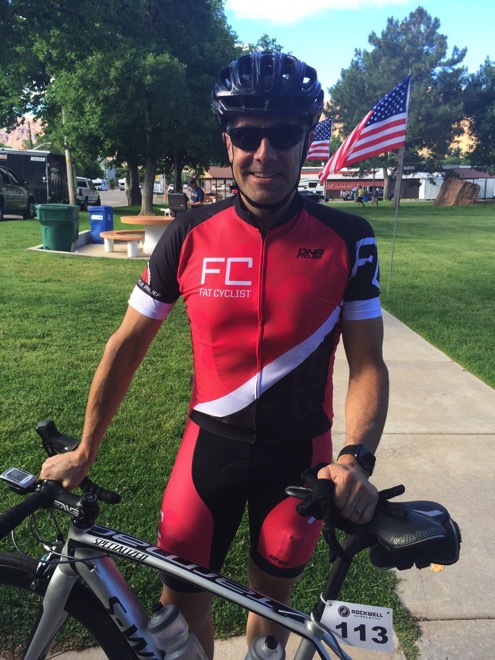 Actually, that's a Root Beer Gu under my pant leg, but I'm also happy to see you.
Naturally, we also got a team jump-shot photo: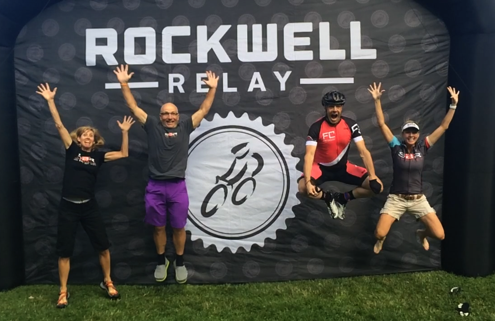 That's as high off the ground Lynette ever got. Which I'm not even sure is off the ground at all. She's going to need to work on that.
And then, as I was walking my bike to the starting corral, The Hammer said to me, "Did Cory tell you he gave away his lights to Team Infinite Stamina?"
My head spun around. Twice.
"What?" I said. "He gave away his lights to our arch-rival team?"
"Yeah," The Hammer said. "One of the racers in the Infinite Stamina team apparently forgot to bring lights." 
"Doesn't Cory know that part of winning a race is being prepared for the race?" I said. My personality at race time is way different from my personality at pretty much any other time.
"Tell me about it," The Hammer said.
"And it's not like we have more support than they do," I continued. "They have eight racers, four of which have the sole responsibility of acting as domestiques to the coed team, to make it easier to beat us! And they have drivers and help! All we have is…us. 
"Cory's lights were our only backup lights setup. Now if one of our lights fail, what do we do?" I fumed.
I was, at this moment, engaging in just a little bit of hyperbole, and a whole lot of drama…without any particular real concern. Cory's lights were in fact one of my backup light systems. With Cory's setup, we had brought enough lights and batteries to power a team of eight. Now, instead of being able to cope with four light/battery failures without problem, we could cope with three before I had to get creative.
For events like this, I'm kind of a belt-and-suspenders kind of guy. 
"Well, at least now when they beat us, we'll be able to claim that they couldn't have done it without us," The Hammer said. 
I liked that thought. Liked it a lot. Made a note to myself that I'd remember to include it in my race report. Which I now have.
"You know," I told The Hammer, "We should try to win."
"You'd better go fast, then," The Hammer replied, not unreasonably. 
So I got in line — self-seeding myself into the second row — and began my pre-gun ritual: I began stuffing my face.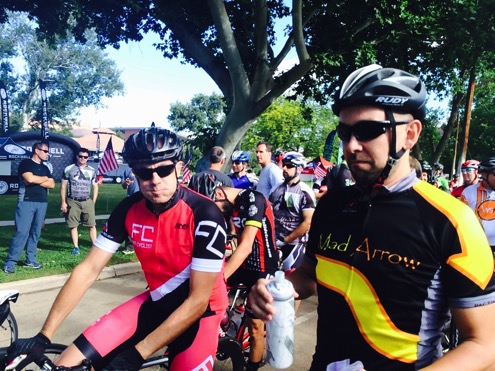 There's actually a lot of wisdom in eating at a starting line. You're not going to get such an easy opportunity to get calories into your system again until you cross the finish line. And especially right at the beginning of the race, you're probably not going to get the opportunity to eat at all. The race is too nervous.
"Remember," The Hammer told me, "Don't go attacking off the gun like you did in 2013."
"I promise," I said.
The race director counted down from ten — all of us counting along. The cop car escorting us out of town fired up his siren. The race began. 
I soft-pedaled for a moment 'til I was clipped in.
Then, unable to contain myself, I stood up and attacked.
And that seems like a good place to pick up in the next installment.