I'm a simple man, with a simple request. Which is, quite simply, for a Natural Century.
What is a "Natural Century," you ask?
Well, a Natural Century is a 100-mile bike ride that satisfies these (very simple) requirements:
It is 100 miles long. Not 101 miles. Not 99.5 miles. One hundred point zero miles. Though I'm probably willing to give or take a tenth of a mile due to the fact that no two Garmins (or even the same Garmin twice on the same route) have ever given the precisely same result.
It is either a loop or a point-to-point. No fifty-mile out-n-backs with turnarounds just because you hit a fifty-mile mark on your computer.
No silly miles. This is the big one. A Natural Century can't have you taking weird detours and snaking through neighborhoods in order to get to that 100 mile mark.
Am I really asking for too much here? It doesn't seem like I am, but the truth is, I've been in search of this elusive Natural Century for years. Without success.
The Leadville 100 is perhaps the most famous Unnatural Century, considering it has the "100" right in its name, but is  103.9 miles. And it's an out-n-back for crying out loud. 
There are like a thousand different routes you can now take when riding Levi's GranFondo, and not a single one of them forms a Natural Century (the version we always ride is 101.7 miles).
The Moab White Rim isn't a Natural Century…although it's astonishingly close (100.3 miles according to Strava, 99.83 miles according to my GPS display), considering that it's a loop on a dirt road.
My big local training rides aren't Natural Centuries, either.
The Gauntlet isn't a Natural Century.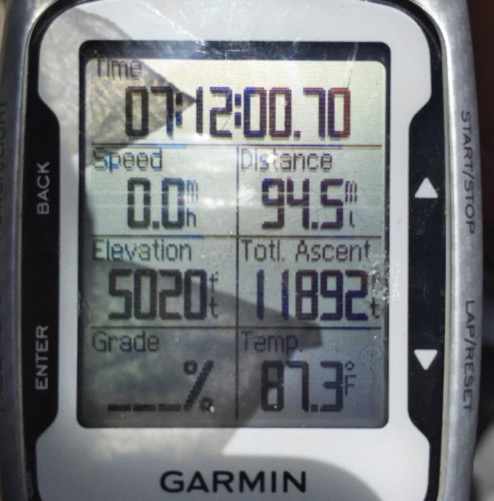 Riding around Utah Lake isn't. Well, the photo below looks like it qualifies, but that's only because it was that one time I took some detours that totally disqualified it.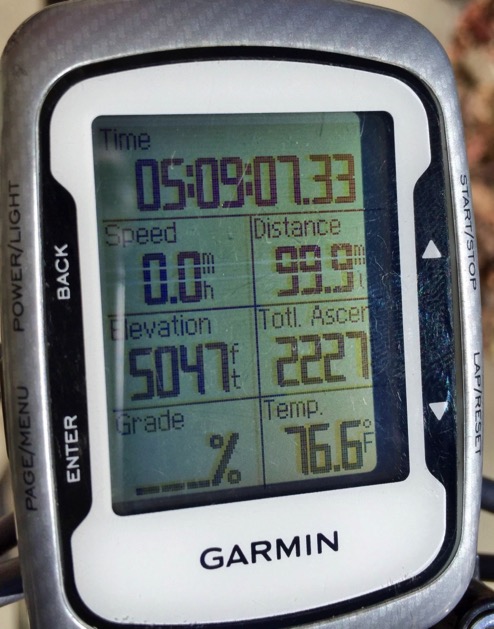 Or, sure, you can game the ride. Here's the result when we went around the lake and then added a couple of neighborhood blocks so we could claim a 100-mile ride in under five hours: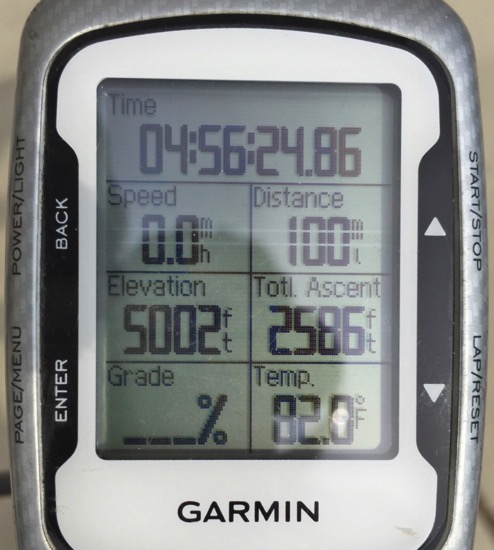 Awesome? Yes. Natural Century? No way.
Even an an out and back with a turnaround at exactly 50 miles…doesn't seem to net me a perfect 100 miles: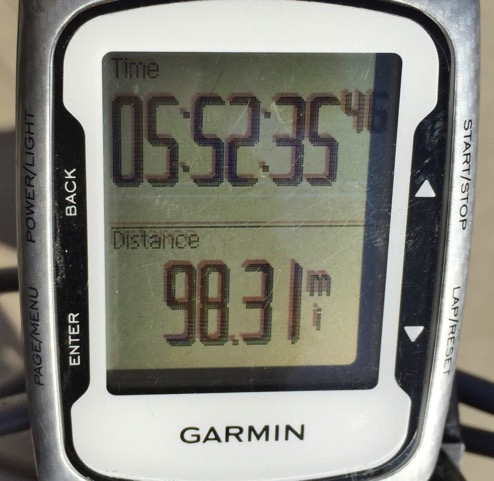 To be honest, I was beginning to believe the Natural Century just doesn't exist.
But it does. There is such a thing as a perfect Natural Century. Better yet, it's a point-to-point Natural Century. Even more better yet, it's from a park by one lake to a park at another lake. 
Best of all, it's a local ride, it's an awesome ride, and it's a local event.
It's the Interlaken 100: Pineview to Bear Lake. It was August 22. The Hammer and I rode it, and this is our report.
The Second Prologue
Okay, now that I've gotten the longest story leadup in the history of self-indulgent blogs out of the way, let's have just a little more leadup, in the form of context:
The day after racing the Leadville 100, The Hammer and I spent all day driving home to Utah. 
The day after that, I flew to Austin for work, and stayed there for most of a week. 
As I flew home on Friday, I started feeling tired and sore in a very unusual way. Like I was sick, and there was a large and painful sore on the back of my leg. I didn't realize it at the time of course, but I was just starting my MRSA journey (no idea where or when that will end, BTW).
The next day — exactly one week after we had raced the LT100 — was the Interlaken 100. Which we planned to ride as if it were a race (i.e., push ourselves and try for a fast time).
Seemed like a good idea at the time. Although I can't remember why we thought so.
Seriously, I'll Be Getting to the Ride Itself Eventually
Actually, I'm just kidding about not remembering why we wanted to join the Interlaken: The Hammer would be racing LoToJa in about a month, and so couldn't afford to let her fitness slip after Leadville. 
Also, we thought the idea of the ride was really great: ride 100 miles from one lake (Pine View Reservoir, near Ogden, Utah) to another (Bear Lake, in Bear Lake, Utah), on roads we haven't ever ridden before.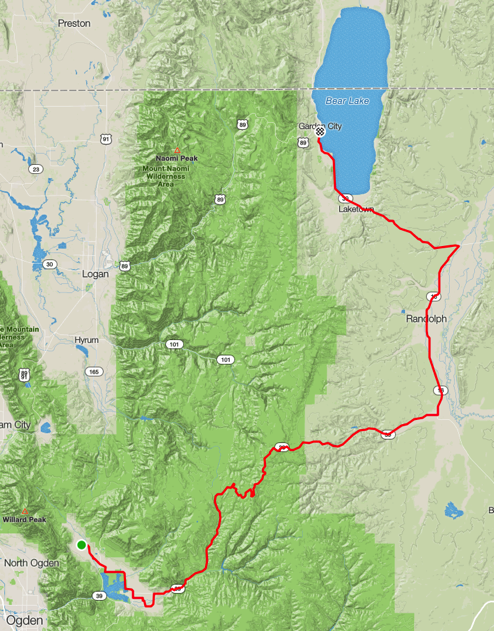 I was excited to be getting back on the bike; five days of forced "recovery" in a conference room had been plenty. 
So Saturday morning, we got up at four, ate, and made the ninety-minute drive out to Ogden. Sitting that long was uncomfortable for me, and the whole way up I worried that biking would hurt too. 
Our plan was simple: ride together, practice drafting, go at a solid pace for the hundred miles. 
There were free donuts for everyone at the packet pickup. This was my kind of ride.
We started in the second wave, at 8:30 am; the first wave had started at 6:30 am (waves were self-selected by riders based on how much time you thought you would need to ride the course).
Let's Race. I Mean Ride.
There were probably around 75 of us at the start. The Hammer and I sorted ourselves to the back third of the group, not knowing how this was going to go from the beginning.
As it turns out, it went really well. Like, absurdly well. You see, the elevation profile for the Interlaken 100 is really simple: 

Two climbs, lots of flat at the beginning and in between. 
And at least for the "at the beginning" flat section, we all rode together. Seriously, I am pretty sure that for the first ten miles, the entire group stuck together.
For those of us near the back, that equated out to darned near no work whatsoever for the first ten miles.
And for me in particular, it was even better than that. See, I'd — through blind luck — managed to get behind a big rider. And by "big," I mean "tall and incredibly strong." 
Riding behind him for may have been the easiest ten miles of my life. (For what it's worth, I did try to move forward and pull him for a moment; he laughed and came back around. I got the sense I was doing him no good whatsoever.
As a 5'7" guy, I sometimes feel bad about the big guy / little guy draft disparity issue. I typically address this issue by eating a lot, in order to make myself bigger.
Because I care, that's why.
A Farewell to the Pack
The first climb in the Interlaken 100 is a long one. Twenty-five miles long, really. That's a long time to be going up.
But that climb starts really gradually. So gradually that at first I didn't even realize that the road had turned up. Instead, I found myself wondering why this big guy I was behind was starting to fall off the pack.
I indicated to The Hammer to follow me and we swung around and in front of him.
"Grab on," I shouted as I pulled around him. "We'll bridge back to the group."
And he did. And we did.
But the next time I looked back, he was gone.
The group had splintered; we had bridged to the back of the leading group. And there was a problem with that. The people we were behind kept falling off what I now realized was the climbing group. Which meant that The Hammer and I kept having to swing around and re-bridge back up.
After a few times, that got pretty old.
Kerpow
I decided it was time for The Hammer and me to take charge of our ride…as well as anyone else's ride who wanted to come along.
"Grab on," I yelled at The Hammer, and we rode to the front, right around twenty miles into the race. Which, coincidentally, was more or less when the road turns seriously uphill. 
I stayed there, with The Hammer in third or fourth position, for a few miles. Applying as much pressure as the group was willing to take, backing off just a little whenever The Hammer yelled at me to cool it. 
The group of twenty people turned to ten pretty quickly. Then to eight. Then six.
The Hammer, me, and four more guys. 
At that point, three of the guys swung around and started applying even more pressure. The Hammer, one other guy, and I couldn't hang. 
The guy hanging on with The Hammer and me was struggling. Dropping back, then working hard to grab back on. And the thing is, he was a really nice guy, plus I figured if I could help him stay with us now, he'd be a valuable asset once we got down the other side of the mountain.
So a couple times, when he dropped back, I rode back and did my best to pull him up to The Hammer. 
But that kind of thing only works for a while, and we still had more than ten miles of climbing ahead of us. 
"I'll see you guys later," he said.
And now The Hammer and I were in fourth and fifth place, overall. 
Not that we were racing or anything. Because this was not a race.
And also, we didn't have a plan to catch the three guys ahead of us.
Because, as I just noted, this was not a race.
Which seems like a good place to break off for part 2.
PS: Part 2 will come out on Wednesday, because tomorrow (Tuesday) I'll be posting a new FattyCast episode. One which I am a thousand percent confident you will want to listen to.