If you want a good race report about 6 Hours in Frog Hollow, you ought to read the one I wrote a couple years ago, back in 2014 (parts 1, 2, 3, 4, 5, 6, 7). 
That was a good race report. With lots of action and excitement.
This race report, on the other hand, has distressing stories about  invisible barriers, resignation to inevitable (yet still tragically disappointing) realities, and a heartrending philosophical question that is far from hypothetical.
And with that incredible teaser, let's get started with this year's race report of the Six Hours in Frog Hollow.
With a poop story (of course).
And a near-death experience.
The Near-Death Experience
Of all the factors in the Six Hours in Frog Hollow race, I saw myself as the least interesting and important. Here is a small sample of the myriad more interesting things about this day:
The Swimmer would be participating in her second  bike race. Like her first, it would be at least fifty miles and five hours long. This would be the race where we decided her great result at True Grit was a fluke.
The Hammer would be racing single speed, racing against Heidi Volpe, a very strong racer from California.
The wind. Oh, the wind. It was predicted to gust to forty miles per hour. The direction it was blowing didn't really matter; since we were riding in a loop, it would be a headwind, crosswind, and tailwind at some point.
I was excited about items one and two. I was resolved to just cope with item three the best I could. 
But it was item three that just about killed me. Before the race even began.
Like many people do, I often improvise a "dressing room" out of my front and rear car doors, giving me at least three sides of privacy as I change into bibs and a jersey.
This went off without a hitch; I have years of practice (the trick is to already be wearing socks and point your toes as you put your feet through the legs). In under fifteen seconds I went from wearing jeans to being completely naked to wearing bibshorts.
I'm a public nudity ninja.
I then put my jersey on at a more leisurely pace, zipped it up, and then bent down to put my shoes on and lace them up.
And that's when I was nearly killed. Or at least sent to the hospital with stitches.
Because that's when an incredible gust of wind slammed the front door shut. 
The edge of the truck door missed my skull by…oh, let's say half an inch.
The Hammer gasped, then screamed. 
I continued tying my shoes.
The Poop Story
You would not be out of line to wonder whether I intentionally seek out pre-race outhouse poop stories.
I swear to you: I do not seek them out. I would be so much happier to not have to begin my race reports with pre-race poop stories.
And yet, for whatever reason, they seem to factor into my race reports. 
Here, for visual purposes, is the very outhouse in which my poop story occurs: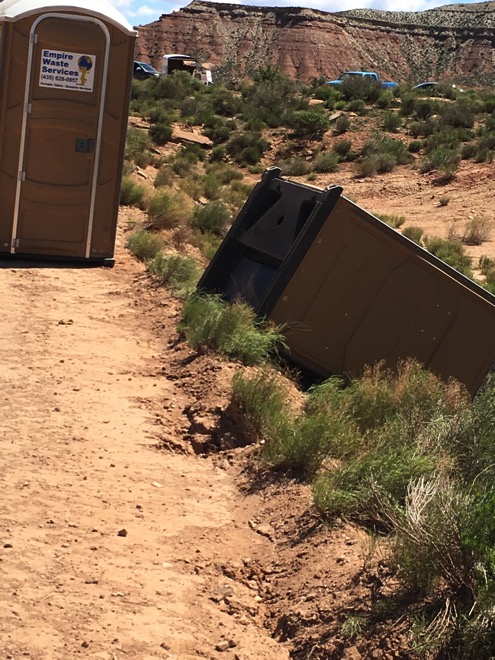 I am happy to report that the tipping over of this outhouse is not part of the story I am about to tell. 
Nor is this one: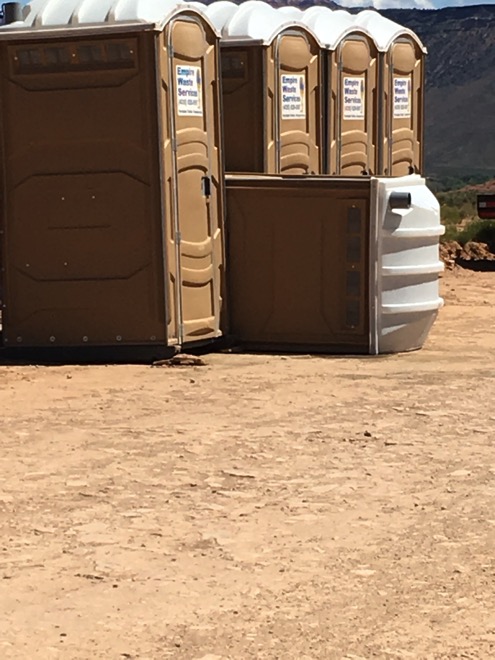 Rather, these are all just to give you a sense of exactly how big a part the wind will come to play in upcoming installments of this race report.
For this part of the story, let's just say that I went in to a portapotty and took care of my business.
And then discovered there was no toilet paper. None. Just two empty cardboard tubes.
Mocking me.
I reached for my phone, knowing that my truck has a roll of toilet paper stored in a storage compartment. 
But I didn't have my phone; I was suited up to ride and my phone was stored in the same compartment as the toilet paper.
Ironically, I suppose.
So I looked around and assessed my options. 
There were my FatCyclist logo socks. I didn't really want to lose them.
There was my Ironman beanie. I didn't really want to lose that.
And there were two toilet paper wrappers lying on the floor. You know, that really hard, stiff, waxy stuff they package toilet paper in, as if to convey, "Hey, this is not the part you should be wiping your butt with."
Unless, of course, your need is urgent. 
Which mine was.
The Beginning
With my near-death and near-gross experiences behind me, I finished getting my bike ready, set it down on the dirt road, and got to the starting line with one minute to spare.
I found The Hammer, The Swimmer, and Rabid Runner together — all three in FatCyclist kit, making them both easy to find and devastatingly attractive.
Of course they're all devastatingly attractive regardless of whether they're wearing FatCyclist kit. I mean devastatingly attractive-er.
Cimarron started the race at nine o'clock in the morning exactly (I love on-time starts!) and we all began the fifty-yard-ish run to our bikes.
The Hammer, Rabid, and the Swimmer all distanced me immediately. I was in last…and the race hadn't even begun yet.
By the time I got to my bike, The Hammer and Rabid were gone…but The Swimmer was chasing her Garmin 500 around in the dirt. Evidently it had popped off her mount when she tried to press Start.
Normally I would have picked it up and handed it to her.
But this wasn't normal. This was racing. And to be honest, I was just a smidgen nervous about her catching and beating me. (Yeah, she's fast.)
So I yelled "Good luck!" and rode away from her. Saved from being last by a weakly-mounted GPS.
Now I just had to catch my wife. Hopefully.
I know, I know: story of my life.
And we'll pick up with that story in the next installment of this race report.