A Note from Fatty: So here we are: the final post in my admittedly over-the-top Leadville series. Don't be sad, though: we won't run out of stories to tell. Since the Leadville race, I've raced (and been disqualified from) the Jordanelle Triathlon, raced Rebecca's Private Idaho, took the winner of The Hammer's WBR fundraising contest to the Gooseberry Yurt, and am now getting ready to race a half-iron-distance Tri, as well as  — the following week — an Xterra. And then there will be the 25 Hours in Frog Hollow.
And that doesn't even touch some of the other stuff I have to talk about.
My point being, I'll have stories to tell for a while.
OK. So that's what's coming up. Now, let's get to the conclusion of The Hammer's telling of her racing of the Leadville 100 with Rebecca Rusch.
Misery
If I was asked to sum up the Powerline climb in one word, I could do it. Easily.
"Misery."
This was my tenth racing of the Leadville 100. Which means it was my tenth time climbing Powerline during the race.
It has not gotten any easier.
In fact, I'm going to rank the difficulty of this racing of the Leadville 100 Powerline climb right up there with my first time climbing Powerline, back in 2000. My stomach was hurting so bad — it felt like it was bloated to the size of a basketball, and was pressing now on my diaphragm.
I could hardly breathe.
I was taking little tiny breaths, which I'm sure was making the problem worse.
I thought about how ridiculous it was that, just minutes ago, I had been looking forward to this part of the race. How had I thought pushing my bike would offer some relief? Of course it didn't. 
I could hardly walk and was stumbling and shuffling. Hardly moving at all. Meanwhile, Rebecca was taking huge steps, moving up the trail as fast as if she'd been riding.
Love Connection
Then I heard a man's voice. A familiar man's voice.
"Hey, can I get around you? That's my wife up there two bikes ahead and I'd like to walk with her for a minute."
I looked back in time to see a couple of racers step aside, probably grateful for the short break.
My sweet honey had caught back up to me.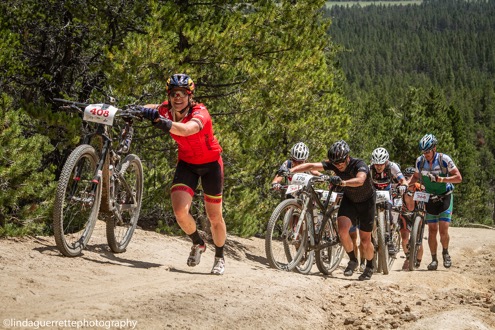 Photo by Linda Guerrette. Used with permission.
I think he began to profess his undying love for me, but honestly I was too far in the pain cave to hear or really appreciate it.
Rebecca was in no mood for his kind of talk, either. "This is no time for a love connection! Let's get moving!"
Later Rebecca would explain her reaction: She didn't want me getting emotional and weepy on the climb. And I have to agree: tears and racing do not go well together.
Elden stepped up his pace and quickly moved on by—He didn't want to upset the Queen of Pain.
Friend of Fatty
Rebecca could tell I was struggling. She came back, held up my bike, and told me to take some nice big breaths and try to relax.
I ate a Gu, had a drink, and we continued up the hill. Elden was no longer in sight. I was glad he at least was doing well — those electrolyte capsules must have done their job!
As I crested the first false summit — and the end of the hike a bike section — a guy ran up to me. "Hey Hammer! You're doing awesome! Fatty has just instructed me to pour this water over your head and give you a push!"
"Go for it!" I said. The water felt refreshing. He then did a wonderful thing. He had me climb on my bike, he balanced me while I clipped in (which I found very hard to do after walking uphill) and then gave me an incredible push! Wow! Just what I needed!
Later, after the race, as Elden and I were talking about the memorable moments of the day, Elden asked if a guy in a pizza costume had given me a push after the hike-a-bike section of the Powerline climb. "A pizza costume?" I replied.
"Yeah, a guy in a pair of shorts and a top that made him look like a slice of pepperoni pizza."
I guess it shows how delirious I was that it didn't even register in my mind that this Friend of Fatty was dressed as a slice of pizza!
(Or was it Elden who was delirious — imagining people in pizza costumes? I guess we'll never know.)
The Benefits of Sheer Exhaustion
I headed into the first small descent — a quick, short, rocky dip. I was too exhausted to even touch the brakes and just numbly rolled over everything.
Then, when we started climbing again, Rebecca caught up with me and complimented me on my great descent.
"I'm too tired to be scared anymore," I replied.
The Tipping Point
The climb continued, and I managed, somehow, to keep pedaling…s-l-o-w-l-y. I felt like I was moving through molassess. I have never felt so pooped.
Rebecca passed me.
"Goodbye Reba," I thought, too tired to tell her to wait up. "And goodbye sub-nine. I'm falling apart. My stomach will explode soon. Maybe then I will feel better."
And then I tipped over.
Just fell over.
I found myself laying on my side, in the bushes, with my feet still clipped into the pedals. It was nice to lie down.
A guy passed me. "Are you OK?" he asked.
"Yeah, I'm OK."
"Are you embarrassed?"
"Very!"
So I laid there and let a few more bikers pass. Then, slowly, I untangled myself from the bike and stood up.
I tried to remount my bike, but the pedals wouldn't turn. I thought maybe my chain had fallen off. It hadn't.
So I just stood and looked blankly at my bike…as if I had never seen a bike before. It's funny how your brain can stop working when you're completely beat.
Finally, I had a moment of clarity. I shifted the rear derailleur, the chain dropped onto a cog, and I was up and moving again.
Reset Button
I think that little wreck actually hit my reset button. I quickly passed the bikers that had passed while I was "resting." I caught up with Rebecca, who had pulled over to wait. I explained that I had tipped over, but now I was up…and feeling much better.
I finished off the Powerline climb with newfound energy. I was going to make it, I realized. I was almost to the top of the Powerline climb and I was going to finish this thing. We rolled over the top of the climb and started flying down the other side.
I have never been so grateful for a descent in my life.
My body relaxed, my breathing calmed down. I ate a delicious Root Beer Float GU and giggled. I was on a descent…and enjoying it! Rebecca pulled up beside me—looking amazed at how fast I was going.
I followed her lead, tearing down the mountain and bunnyhopping over rocks. Who was this person who had temporarily taken over my body?
I think this was my first — and possibly only — true rest since the start of the race. I had killed myself on the climbs, turned myself inside out on the flats and had been scared shitless on the descents.
It was so good to just coast!
Eventually all good things come to end and so did the SugarLoaf descent. We now embarked on the fast smooth dirt road leading to the paved road. Rebecca must have sensed I was feeling better and yelled back to me while smacking her butt.
"Don't relax now, You need to keep pedaling!"
I once again fell into my place behind her wheel, and we flew down the hill toward the pavement.
Hello Again
As we pulled onto the pavement, I was so happy to see that we had caught Elden again. I pulled alongside him and grabbed something to eat. I had just swallowed my GU and got my water bottle out for a fresh swig of water—I had hit my Roctane drink limit.
I was still holding on to the water bottle when Rebecca smacked her butt and began yelling at me again. "Pedal, pedal, pedal! I know you can pedal and eat at the same time!" she urged me on.
Well, maybe I could pedal and eat, but I didn't think I could descend at 30mph and put a water bottle away! I was in a true dilemma: I knew Elden was right behind me, and I didn't want to swerve into him or drop the bottle right into his path. So I clutched the bottle and my handlebar with my right hand and prayed I wouldn't need to brake!
I hit the corner and the road turned sharply up. I slowed down and was able to safely put my bottle away. Phew!
Love Connection, Part 2
The paved road climb is a welcome change from the slow progression up the Powerline climb. Sure, you're climbing about 1300 feet in four miles, but the road is smooth and when you pedal you actually feel like you're going somewhere.
As we settled into the climb, my Honey came cruising by me. He passed me like I was standing still! We exchanged "I love you's" and I watched him disappear up the road.
Then Greg — Reba's boyfriend — appeared on his motorcycle. I heard Rebecca sigh. Rebecca told me that Greg usually finds her on this climb and she looks forward to it every year. I heard them giggle–they must have been making a "love connection."
As the road continued to climb, a kind man appeared, handing out cold cans of Coke. Rebecca grabbed one, drank some and offered me the rest. My stomach was still feeling bad and I refused. She insisted, So I drank. My stomach gurgled…but within 5 minutes I started feeling the caffeine have its effect.
I love caffeine.
Math Problems
I had it in my brain that the Carter Summit aid station was located at mile ninety. In fact, I actually shared this nugget of information with my niece Lindsey, so she would know what to expect.
So as you'd expect, I was happy to see my Garmin reaching the ninety mile mark —  signifiying the top of the climb.
But something horrible happened: the road kept climbing. ninety miles came and went.
Then ninety-one came and went, too.
I was getting angry. In addition to wanting this stupid climb to end, I was feeling bad because I had told Lindsey wrong. She would be experiencing these same feelings in the very near future.
Finally, at mile 91.5, (making for the longest 1.5 miles of the race), we came to the Carter aid station. Reba said she was going to stop for a minute. I continued on, since I had been told that I can eat and pedal at the same time.
I thought about that I would probably only have to eat one more GU before I was finished.
Yes!
Directionally Challenged
When Rebecca caught me, she reminded me that I still needed to pedal on the flats! That was okay with me; I was feeling good. Knowing that the end was near gave me new strength.
As I hit the last steep climb, I reflected on how I felt on the same climb last year on my singlespeed…and I was again grateful for my gears as I cleaned the last real steep climb of the race.
Before I knew it, we were bombing down the back side of St Kevens. I was feeling great and actually leading out Rebecca. I came to a fork in the road, bore right, and heard Rebecca yell, "NOOOOOO!"
I slammed on my brakes and made a quick U-turn. How embarrassing! Even more embarrassingly, I have to admit I've made that same mistake before.
I think it shows my level of concentration and focus on the task at hand. Yeah, let's go with that.
Looking Good
As the St Kevens road leveled off, Rebecca pulled up alongside me and said, "If we can maintain six miles per hour, we will make it," she said.
I couldn't believe it: Rebecca had finally admitted that we might just make our sub-nine goal.
"But that doesn't mean you can stop pedaling," she reminded me, and then pulled ahead of me and started smacking her butt.
The Selene Train
As we pulled onto the pavement, I ate the last GU in my pocket and took a big drink of water. My stomach was still terribly bloated, but I didn't want to run out of energy on "The Boulevard" — the dirt road climb that seems like it was put in the race to break new racers' hearts and spirits.
The Pain/Hammer train eventually caught the Selene Train. Selene was cruising along, pulling her all-male caboose. So typical.I remembered last year, on my singlespeed, pulling two guys along this strip of road — who then promptly used their conserved energy to blow past me at the end of the Boulevard climb.
Men!
Selene's train combined with ours and we motored on. It wasn't too much longer until our train blew by my Elden, spun out on the flat road, unable to keep up with or latch onto any of the trains of racers going by.
"You're gonna do it Honey!" he shouted at me.
"Wahoo!" I yelled. "I love you! See you soon!"
Now Elden thought I could do this too, so it must be true! I was feeling great. No, I was unstoppable.
I hadn't even entertained the thought that I might beat Elden!
Blowup on the Boulevard
As we turned the corner and started up the rocky section of the Boulevard, Selene and Rebecca pulled ahead. My huge surge of energy from a moment ago was completely gone now. My legs suddenly didn't want to turn the pedals at all.
I was just so tired. My stomach was really hurting. Everyone seemed pretty confident that I was going to make sub-nine. Maybe I could back off just a little?
No.
I needed to keep moving.
I didn't think Rebecca had noticed I was falling off the back, so I stood up and started climbing. That didn't last long, so I sat and turned the cranks.
After that initial steep pitch, the Boulevard does level off and I caught back up to them. I had only two miles left. I needed to hold it together just a little longer. So I put my head down and pedaled.
"Just a little bit longer, just a little bit longer," I kept repeating to myself.
I wasn't having very much fun.
One Last Love Connection
At last I could see where the dirt meets pavement…and that's when I heard a familiar voice. It was my sweetheart — he had finally caught up to us. I don't think I have ever been so excited to see him.
I was feeling so terrible and I needed to unload on someone — someone who cared. And I knew Elden would be sympathetic, so I started to whine. "My stomach hurts so bad! I'm so tired!"
I knew my pace was slowing, but I didn't really care. Elden was here and he would take care of me. I started to "paper boy" (swerve from side to side) as we started up the last paved climb, by the high school.
But instead of giving me sympathy…he turned into another slave driver!
"Don't slow down now, Honey!" he urged me. "If we hurry we can cross the finish line in 8:39! Then you have bragging rights to an "eight-thirthish" Leadville! That sounds better than eight-forty!"
That actually made sense to me. Damnit! I had worked so hard today, I deserved an "eight-thirtyish" finish.
So I straightened out the bike, put my head down and pedaled.
Finish Line
I glanced up momentarily to see the "Slow" sign at the top of the hill. I had made it. The finish was in sight. I would have cried if I hadn't been so tired. I started to pedal down the hill — Rebecca didn't have to remind me to pedal this time!
Rebecca dropped back, pulling beside me. My head was still down as we approached the finish line. I was in a daze. I didn't know where Elden was; I didn't know where Rebecca was.
Then I felt someone grasp my hand and raise it high in the sky: my teammate Rebecca.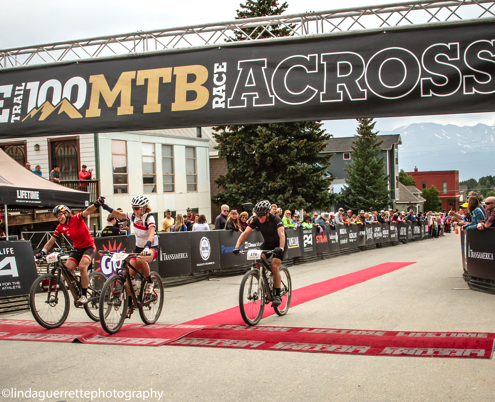 Photo by Linda Guerrette. Used with permission.
A smile spread across my face. My teammate was at my side celebrating our victory.
8:39:22!
We had done it.
Afterward
The next few minutes were a blur of pictures, hugs, dirty faces and flowers.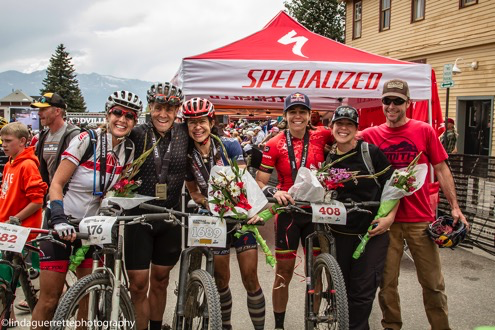 Photo by Linda Guerrette. Used with permission.
And then I looked over and saw my brother. The last time I had seen him I had been a monster!
I ran over to him and the tears burst out of me. "I'm so sorry, Scott! I can't believe how mean I was! I was out of my mind. Will you forgive me?"
Scott laughed and said, "It's no big deal, Lisa! I know how you get when you race!" (Scott has trained with me and crewed for me in the past and been my brother for 46 years!)
"I love you Scott! Thank you for putting up with me!"
There's a great quote in Reba's book:
There's a Moroccan proverb that advises you to "choose your companion before your road." It's something adventure racing hammers home. Being bone tired, hungry, scared, and potentially lost magnifies every aspect of your personality. Your true self is stripped bare, like the landscape here. This is why even in light of the physical nature of the event and the danger it presents, it's team dynamics that truly make or break the experience. You may like someone personally, but are they the right companion for the arduous journey? On the flip side, you might find someone with all the skills for the excursion, but can they operate and collaborate in a group setting? The whole must be stronger than the parts. You need to function as a single unit out there, so it's paramount that each member be on the same page. (page 67-68)
I had all the right teammates for my 2014 Leadville experience. It started with my loving husband and lifelong teammate Elden. We had trained hard every day leading up to the event. He knows me inside and out. He loves me no matter what.
I had my fantastic crew, made up of great friends and family. Even when I was freaked out and losing time, Scott and his group remained calm and did what they were supposed to. Scott knows that I only become possessed by evil demons on rare occasions.
And Rebecca. 
Well, a week before this event she didn't even know me. During the week leading up to the race, she had taken the opportunity to evaluate me. She assessed my strengths and my weaknesses.
Then, on race day, she figured out exactly how far she could push me. She can read a person's physical and emotional cues perfectly. She told me after the race that she fine-tuned that skill while adventure racing: push a teammate to the limit when you can, but know when to back off when they are struggling.
I hadn't realized it during the race, but as I'm writing this down, I realize that is exactly what she did. I couldn't have asked for a better teammate to push me to my limit.
Elden couldn't have — he would have backed off when he knew I was hurting.
I couldn't have pushed myself that hard. I would have rationalized a reason to have to slow down.
Rebecca pushed me to my limit…and beyond…but pulled me back when she could see I was cracking!
For this I will be forever grateful. 
PS from Fatty: Here are a few things to put The Hammer's race in context. First, here's a list of women winners at the Leadville 100 over the years, and their finishing times. The highlighted ones are the times that are slower than The Hammer's time this year: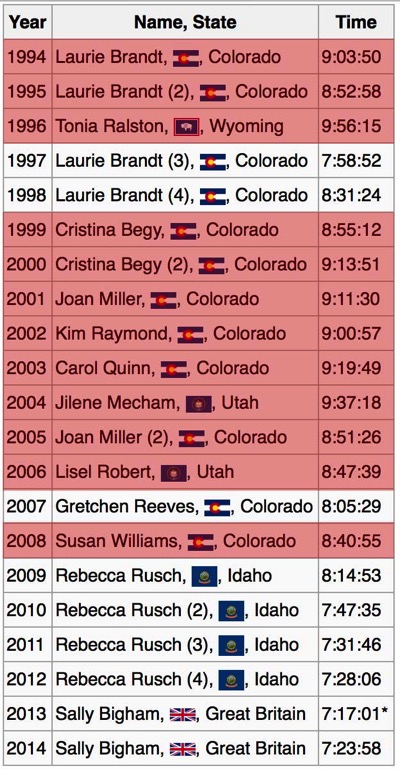 It's pretty clear that since 2009 the women's race has really gotten faster; what would have gotten The Hammer the win all but three times 'til 2009 now no longer gets her on her age group podium. 
That said, The Hammer was — as far as I can tell — the single fastest non-pro (i.e., is not and has never been a pro) woman in the race, and the only non-pro woman this year to finish in under nine hours.
Finally, for those of you who — like me — enjoy poring over numbers, here's The Hammer's race splits: