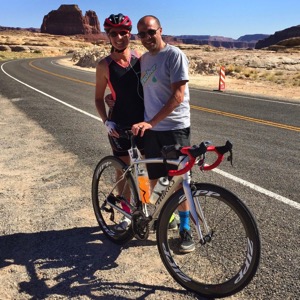 A Note from Fatty: We're now at a crucial point in the telling of my 2016 Rockwell Relay Race Report.
The story necessarily splits off in two directions here. Kind of like when Frodo and Sam break off from the rest of the Fellowship so they can head off to Mordor.
Luckily for me, I happen to be married to the person who can tell this part of the story — the part of the story I cannot tell. Because I was not there.
This is her story.
Abandoned: A Story of Riding Alone in the Desert
by The Hammer 
"Hey, are you the girl riding the fourth leg for your team?" the cute, bubbly blonde asked me.
"Yes, I'm the fourth leg rider," I replied, curtly.
"Maybe we could ride together?" She replied
Couldn't she see that I had the "eye of the tiger?" That I meant business? That I was here to win a race? I wasn't here to make friends.
Besides, I had Lindsey's words echoing in my head: "You need to put thirty minutes on the Beauties and the Beasts" (BatB) Team. Thirty minutes!"
I knew she wasn't joking, either. We knew how strong Nate from BatB is; I needed to give my husband the biggest buffer I could.
This was certainly no time for jibber jabber, but I replied, "Sure, we can ride together. But right now, I gotta go. I think this is my rider!"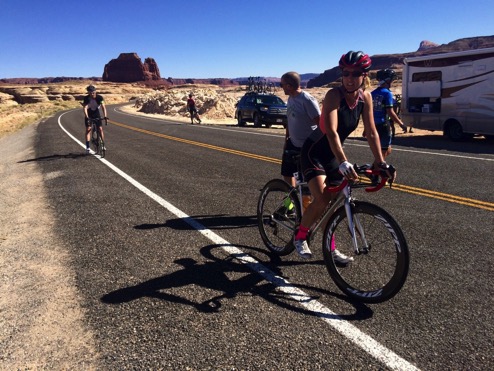 I was overjoyed to see a lone rider coming toward me on the road; Ben had successfully popped the other riders. I would be able to start the 20 +mile climb out of Lake Powell—solo. I work best solo, but don't really like to be the one being chased; I like to do the chasing.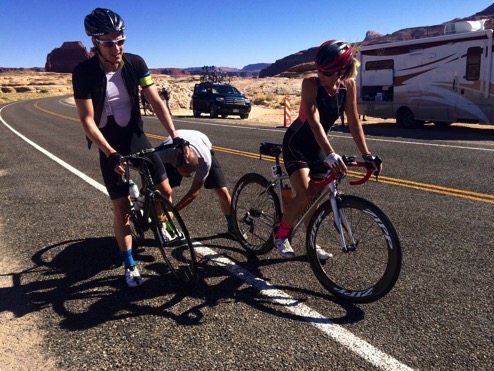 Oh well, I was amped, regardless. I had been waiting all day to get on my bike.
I've never been the fourth leg rider. I usually take my turn cheering and catering to the fourth leg rider. I was always so happy to be the one not on the bike. Climbing out of Lake powell in 100+-degree heat never looked like very much fun, with the "reward" for that climb being a hot headwind as you descend into Hanksville.
Well here I was, about to ride into Hell.
During the beginning of each leg of the Rockwell Relay, I like to play a little game. When I leave the transition area, I like to see how far I can get before the crew van passes me the first time. My objective in this case was to make it up the one-mile climb and be on the descent down the back side or — even better — starting up the next climb.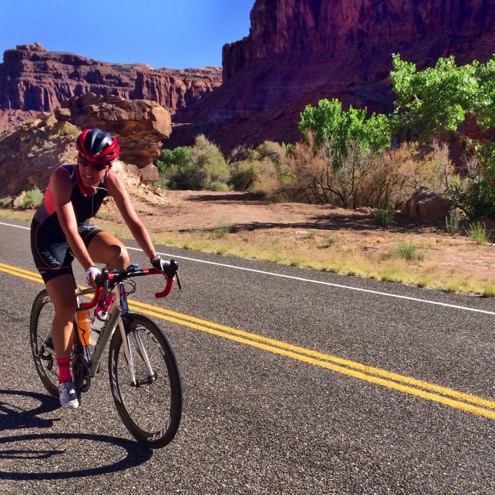 Mission accomplished.
First and Second Stops
I had just started the long twenty-mile climb, when I heard the familiar cowbells and cheers from my team / fan club! They always make me so happy. As they passed, they yelled encouragement and asked if I needed anything.
"No, I'm good!" I said. I still had most of my waterbottle and a full bottle of Gatorade. I also had a jersey pocket full of GU. The van shot on ahead. I knew that the next time I would see them they would be off on the side of the road—probably out of the van, cheering me on. That is how we roll and why I love the Rockwell Relay so much! The team building and love that I feel for my crew grows and grows as the miles tick by!
Within a mile or two, I saw the giant SBR van, parked on the side of the road, with my crew ringing the cowbells and cheering. As I rode by, they asked again if I needed anything. I looked down at my bottles-I still had plenty. I would probably want a cold water bottle the next go around, but I was currently fine! I gave them the thumbs up as I rode by.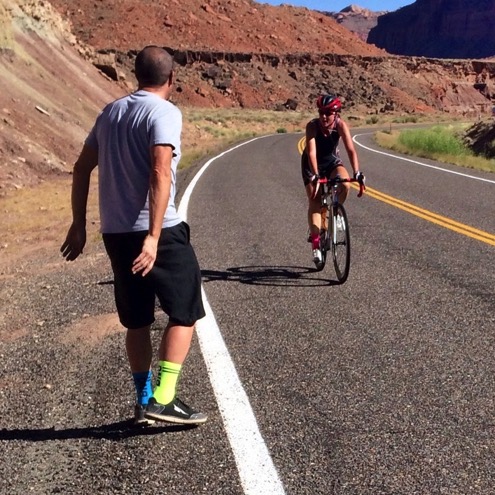 Riding Alone
For the temperature being around 100 degrees, I was feeling quite amazing. The road now turned into a mellow climb, some rollars, but no major climbing. I was moving fast enough the air wasn't stifling hot; the wind was manageable. It seemed to be coming at me from different sides — like a warm fan blowing at me from different angles. I was still riding solo, but knew that someone was closing in on me. You see, a car was consistently leap frogging me about every mile.
I was afraid to turn around…..so I didn't. I never knew how close he was. I recognized the driver of the car: I had talked briefly with him during Lindsey's leg. He was crewing for the Salty Dogs (50+) team, the Mike Nosco Memorial Team.
Should I hold up and wait for their rider? No, I thought. He can catch me if he can! I rode on.
Ten minutes went by….
Twenty minutes went by….
Thirty minutes ticked by, the other crew's car had leapfrogged me at least 3 times.
Where was my crew? Where was the van?
I picked up my water bottle…to find that I had about one swallow of (hot) water left. I grabbed my second bottle, which was full of Gatorade. I was shocked to find that the Gatorade was about 95 degrees. And hot Gatorade is about the most disgusting thing in the world. It practically burned my throat as I swallowed it.
SOMETHING IS WRONG, VERY, VERY WRONG
My crew would never leave me out on my own in hundred degree weather riding my bike unless something horrible had happened, I thought, repeatedly.
I played through every awful scenery you can think of, most revolving around an overheated van or an accident with a bike, car or pedestrian. You name it and I thought up a horrible graphic scenario. Believe me I have a very graphic imagination and these scenarios were not. One thing I did know was that every story involved that darn borrowed SBR van.
The other horrible scenario that was unfolding before my eyes was me, dying of heat exhaustion and dehydration on the side of the road……well not really, but the thought did cross my angry mind. I was starting to feel the discomfort of not having any water, hot or cold. My throat was dry and sore and my tongue was sticking to the sides of my mouth. My lips were cracked and drying up.
Well…I might be exaggering a bit. I knew if it came right down to it, I could drink the scalding hot Gatorade. Ugh. I wasn't positive I wouldn't rather die.
But lo and behold, a better option appeared! I had a crew car following me—not my crew car, but someone else's crew car: the 50+ team (Mike Nosco Memorial) crew car pulled ahead of me and parked on the side of the road.
SALVATION!
Of course, I didn't realize — and wouldn't have cared — that this was the same team that had a rider confront Elden and Ben a little earlier, or that this team's rider (who was supposed to be dropping me like a rock) was perpetually 200 yards behind me [It's very interesting to watch how evenly-matched these two were. The Hammer / Tod Strava flyby shows they remained almost exactly 100 seconds apart for forty-five miles. I wonder how much faster they would have completed this leg if they were working together! —Fatty]. I was just thirsty, and bet they had water. So I rode alongside the car and frantically waved my arms —I'm sure looking like a dehydrated madwoman. They quickly rolled down the window. I exclaimed that I was dying of thirst and could I please get a bottle of water!
The kind man said, "I got you covered, I'll do a bottle handup."
And I was saved….by the kind man in the Mike Nosco Team car and a ice-cold bottle of water.
Return of the Crew
Now that I wasn't going to die, my thoughts returned to my crew.
Car after car passed, I would wishfully look up to find that it was not my van.
Forty minutes had passed when I finally heard them. I looked up to see Lindsey hanging out of the window, but my eyes went passed her to my husband who was driving. Elden had a big ol' piece of pizza in his hand, eating while he was driving. Not a care in the world.
Elden was eating pizza, while I was dying of dehydration.
I was livid.
"Where the hell have you guys been?" I yelled.
I was actually a little surprised at how angry I sounded. I was super relieved to see all of them and the van in one piece. I wasn't going to die — my new friends had saved me. So why was I sounding so angry?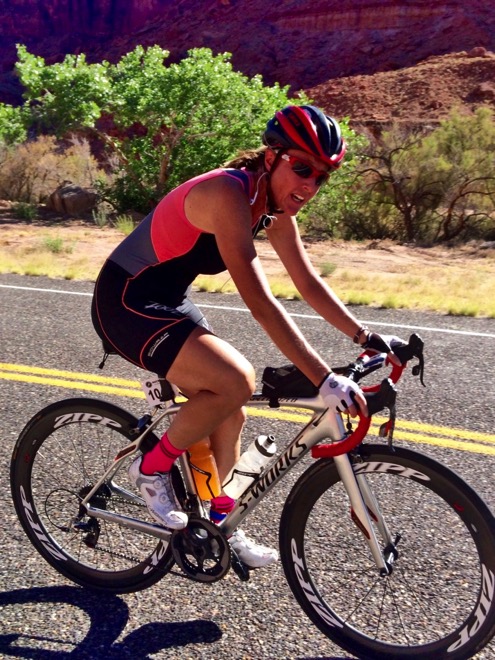 Trust me, this is The Hammer's "I'm really mad" face.
Lindsey was yelling something about, "We have a very good reason for not being here."
I didn't even respond.
I even asked myself this same question. I think maybe because I was so relieved that everyone was okay, the crew, the van and me…but I still had a lot of frustration built up inside. And I needed to take it out on someone!
I angrily told them I was fine. They then left me alone to my feelings.
As I pedaled on I started to feel bad at my reaction. I was anxious to hear about whatever this "reason" was. But…I was still angry.
Some good did come of this, though: my anger and my now-hydrated body turned this extra anxiety into energy. The next time I looked down, I was going over thirty miles per hour, and I had less than 20 miles to the transition. The next time I saw the van I had them load me up with two bottles of ice-cold water (no Gatorade, thanks) and told them to hurry to the transition area. I would be there before they knew it.
And I was. No one ever caught me. I had soloed the entire leg and arrived at the Hanksville transition ….to an empty timing mat! [Faster, significantly, than any woman has ever done this leg before. — Fatty]
Elden was nowhere to be found.
And I'll let him explain why in the next episode [To be honest, it's probably going to take a few episodes — Fatty] of this story.