Previously in This Series: This story makes more sense in context than out of context. So if you haven't read these yet, you should. In order and stuff.
Race Prediction: We Will Lose
Part 0: Generosity and Bratwurst
Part 1: Cold Fury
I am not the guy you'd want to be your team strategist. Really, I'm absolutely terrible at team tactics and strategy. 
Allow me to present an example.
In the first leg of the race, once I had been dropped, I could have sat up and pedaled easily for a minute or two while the chase group caught up with me, thus saving energy and ensuring that The Hammer, when she started her leg, would have a group of people to ride and work with.
Instead, I redoubled my efforts, giving my absolute all to get to the exchange point as quickly as possible.
This had the effect of getting me there in record time — yay, me — as well as leaving The Hammer in a true no-rider zone for the beginning of her leg.
She took off anyway, solo, knowing that our primary competition (Team Infinite Stamina + Domestiques) would be sending Marci out next.
And we were afraid of what Marci was going to do to our team.
Terror
If you ever see Marci ride, you'll understand our fear. Marci is a tiny little person who has, over the course of the past year or so, completely demolished The Hammer's Strava QOM list.  
Marci was going to be faster than The Hammer. There was no question about it, especially considering the race The Hammer had run the previous Saturday.
The only question was, how much time Marci would put on The Hammer, and whether our team would still be in the lead by the end of this leg.
As I changed and Cory loaded my bike into the van, we all watched the exchange, wondering how many minutes I had earned the team.
Twelve. The answer was twelve minutes.
"Marci will beat me on this leg by ten minutes," The Hammer had said before she started.
Now we'd find out how accurate her prediction would be.
Settling In
By the time we caught up to The Hammer, the weather looked ominous.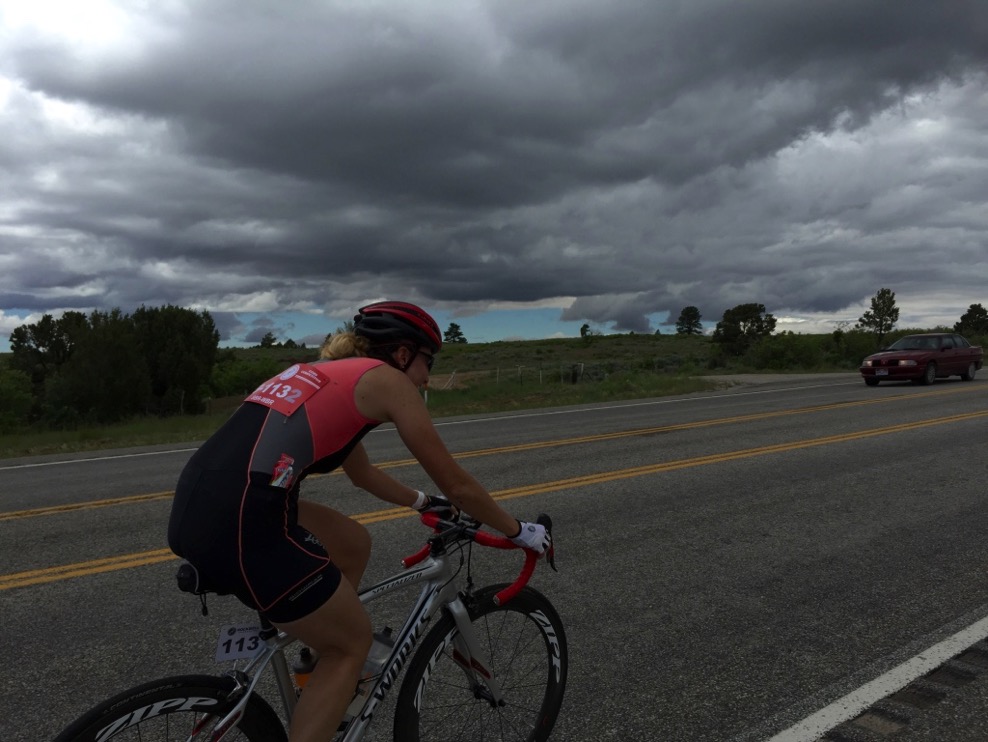 Was this going to be the year we got rained on? I asked myself 
As if in response, I felt the first rain drop.
But I never felt a second. 
Instead, these clouds provided fantastic shade and cool temperatures, not to mention a favorable wind.
Perfect racing weather. Perfect.
While it would no doubt have been faster to race in a group, The Hammer at least didn't have to battle a headwind by herself. 
We pulled over whenever we could find a place, ringing cowbells and cheering for her and everyone else.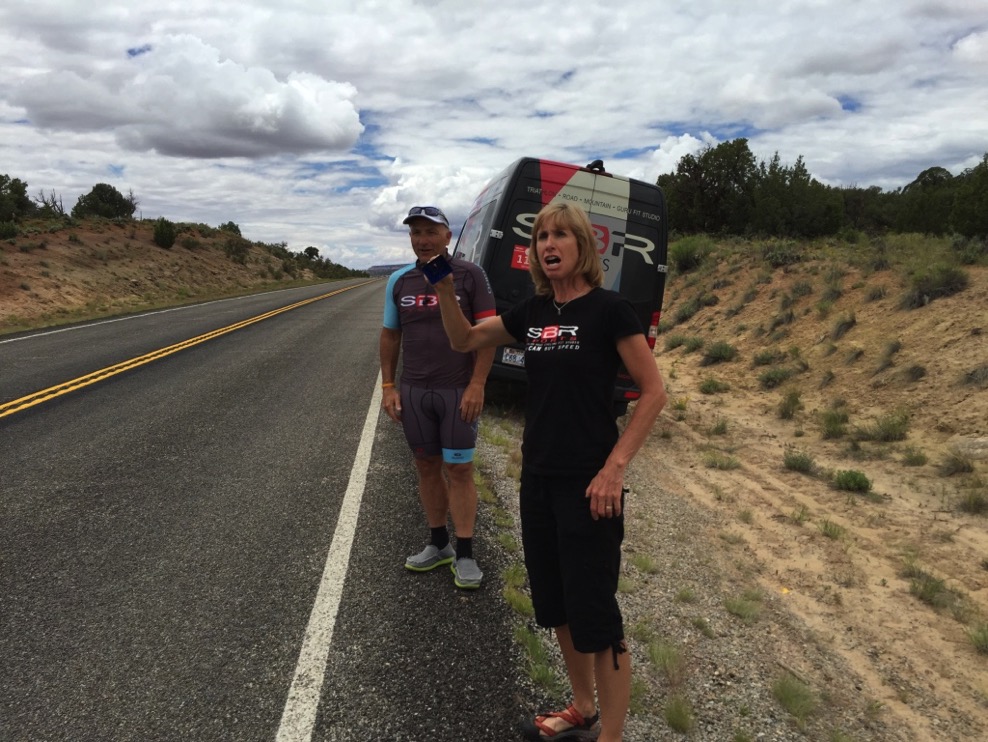 But we were small potatoes, nutty-racer-support-wise. Heath Thurston and his team were pulling their shirts up and sprinting down the road, cheering for everyone.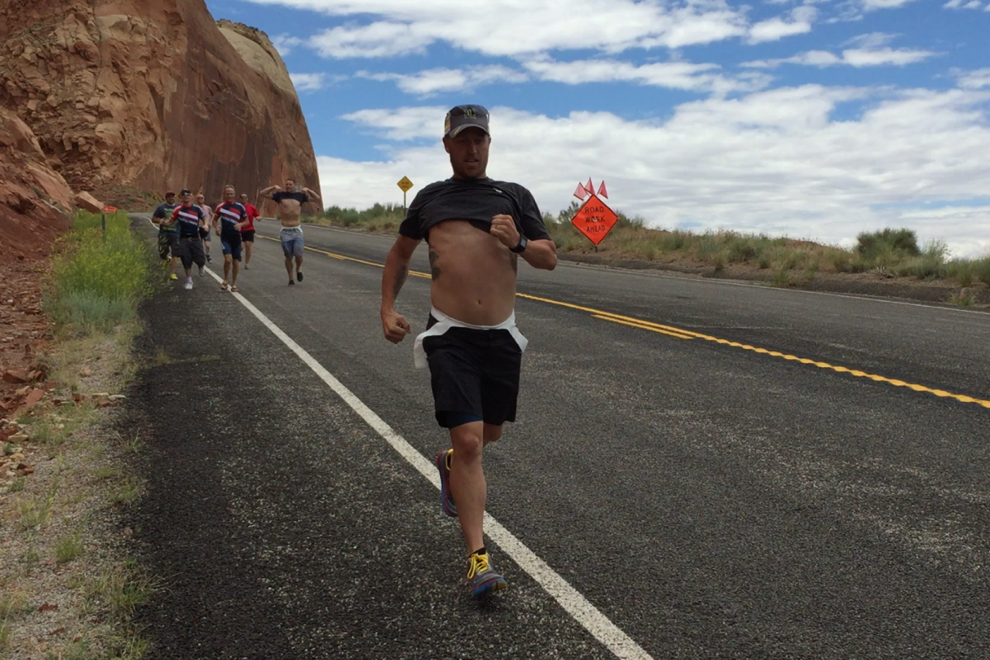 That guy is the coolest kind of weird.
Next Up
The Hammer more or less time-trialed the course, solo pretty much all of the time. She was relaxed, had fun, and gave a big thumbs-up as she got near the exchange: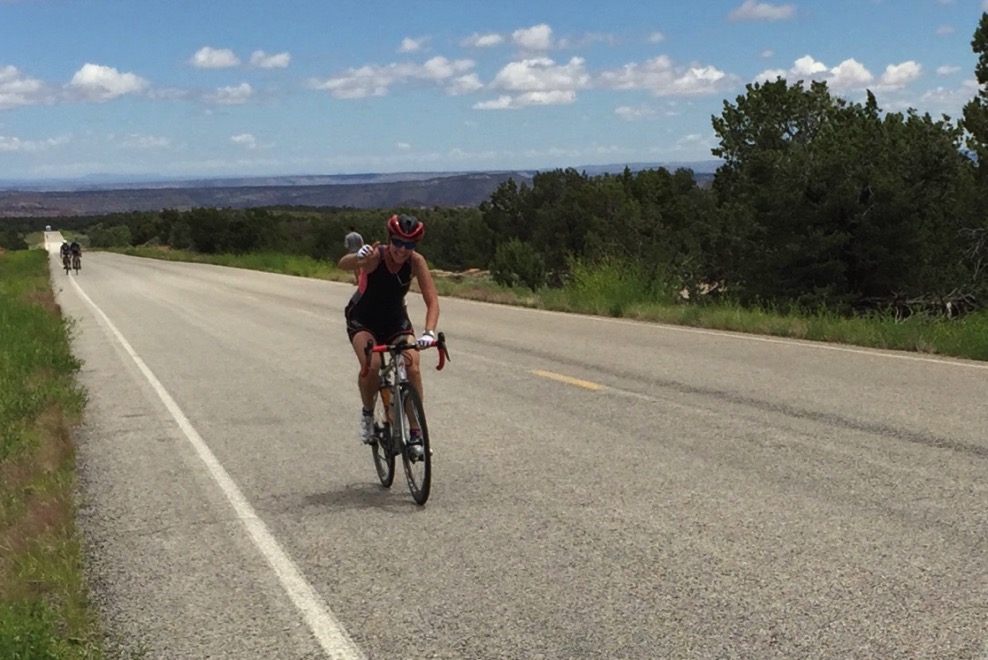 Amazingly, she finished this 44.7mi course (with 3058 feet of climbing) in 2:19 — twenty-nine minutes faster than she had in 2014.
So that big run six days ago didn't seem to be hurting her riding too much after all. (And a favorable wind helps, too.)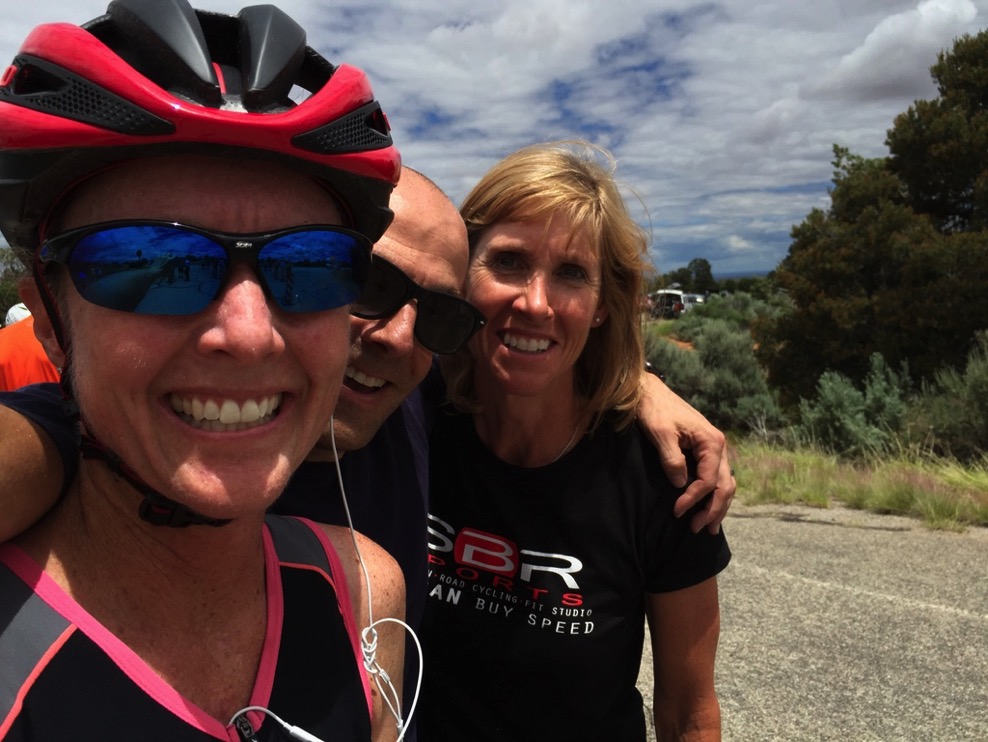 Hanging Out With The Frenemy
Cory was off next, and I looked down at my watch to see how much of a lead against Team Infinite Stamina + Domestiques we still had.
Three minutes later, Marci came in; The Hammer's prediction had been close to spot on. 
We hustled into the van and caught up with Cory, who had managed to keep in front of Troy and Dave (known to our team as "Big D," because "D" conveniently stands for both "Dave" and "Domestique") on the first big climb.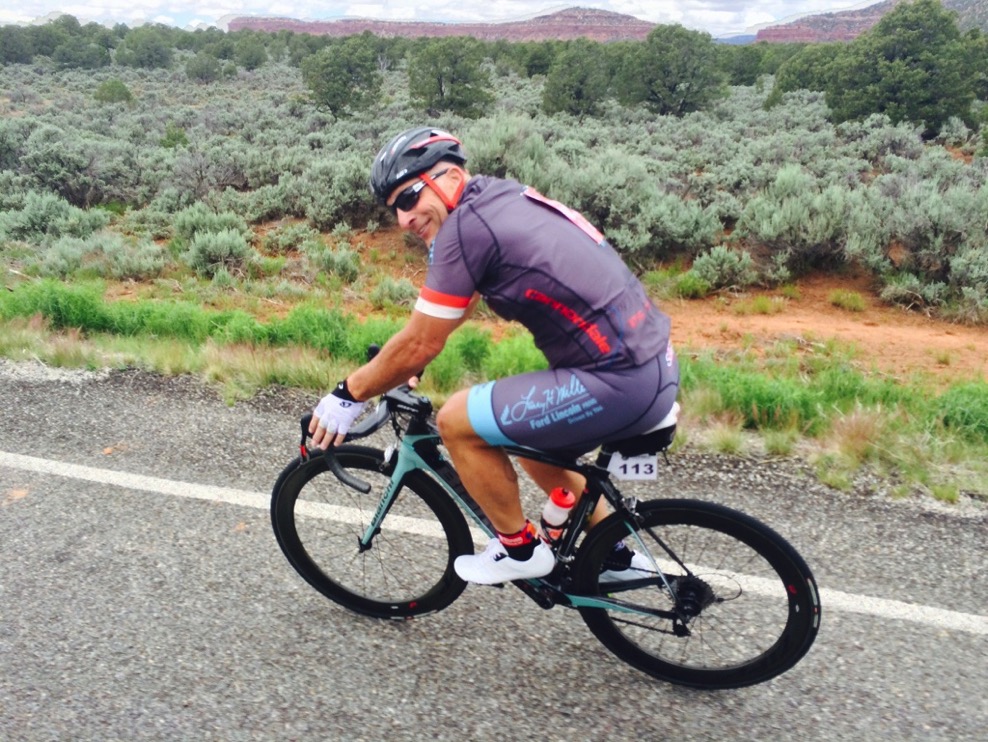 The power of a big strong rider like Big D can't be denied on a mostly-downhill leg of the race, though (net elevation loss of 2400 feet). Before long, Troy and Big D had swept up Cory.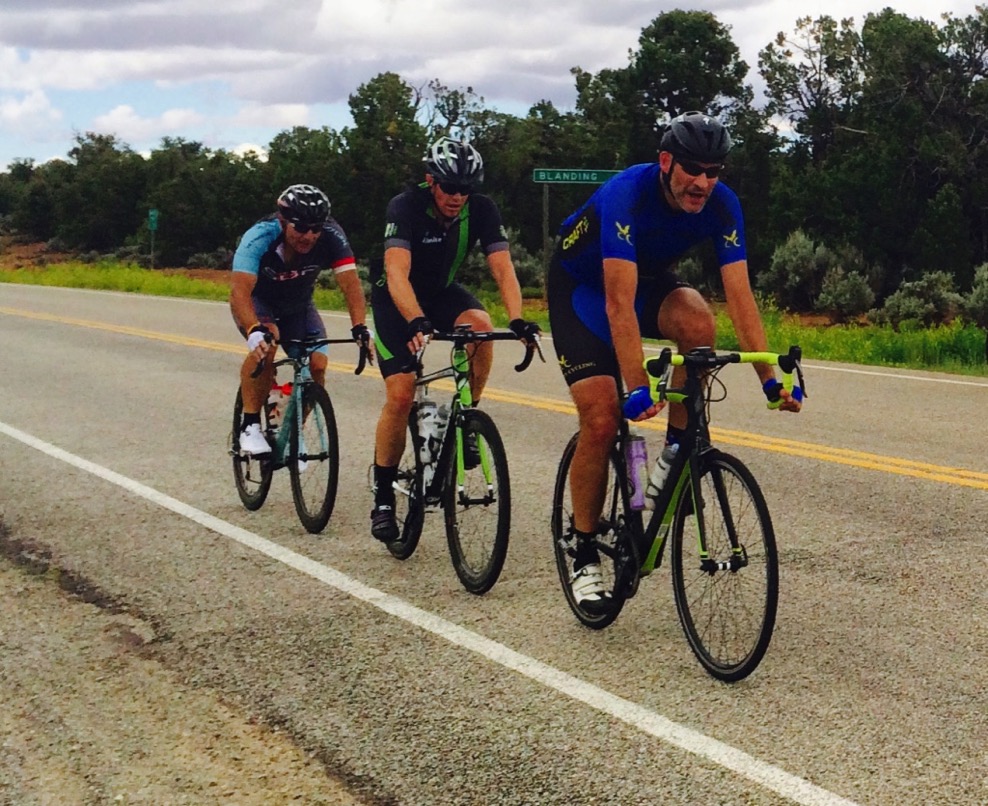 And then something weird happened. Really weird. As in, "I still have no explanation that makes sense" weird.
Troy stopped, in the middle of the leg, and had his race number affixed to his bike.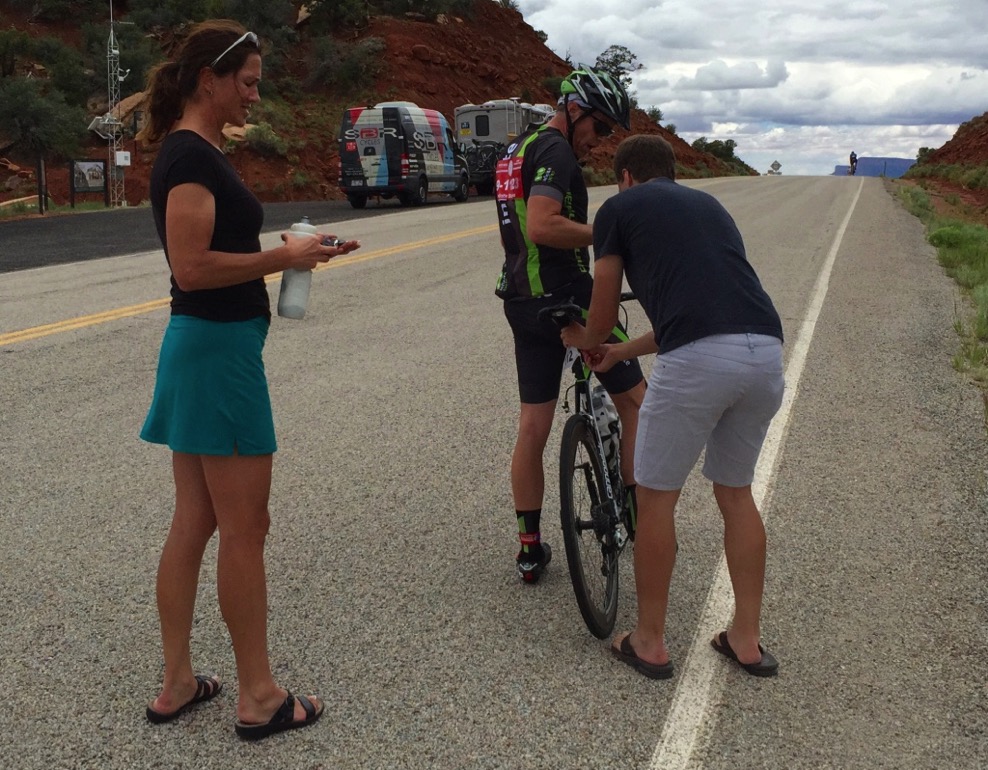 That's Mary, Racer 1 for Team Infinite Stamina, on the left. I'm not sure who the guy in the shorts is; I'm guessing he's one of the Domestiques. Maybe Mary's?
Why hadn't Troy put this number on earlier? Why stop and do it now?
And then things got weirder. Troy had Mary spray some kind of aerosol adhesive in a can onto the back of his race number affixed to his jersey.
Which prompts the question: How does a group of people forget to bring enough lights for everyone on the team, but remember to bring a can of aerosol adhesive?
"Smile for the camera, cuz this is so going in the blog," I said.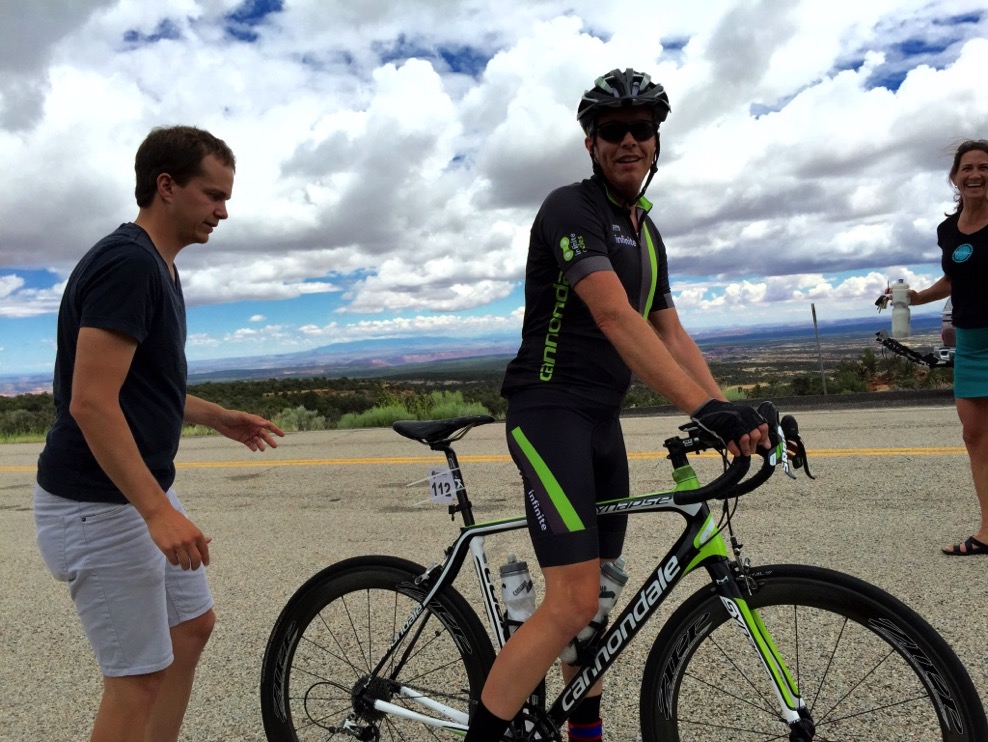 Can't say I didn't warn you, Troy.
This is How The Race Goes
As you might have noticed, the whole "Cold Fury" thing had kind of worn off (though I reserved the right to reignite it at need). The fact is, Team Infinite Stamina + Domestiques and Team SBR-WBR were pretty evenly-matched, and we were all having fun hanging out together and cheering for each other, as well as racing against and teasing each other. 
"Look, Troy's actually pulling!" The Hammer yelled out the window.
"Quick, get a picture as proof!" Troy yelled back.
Which I did.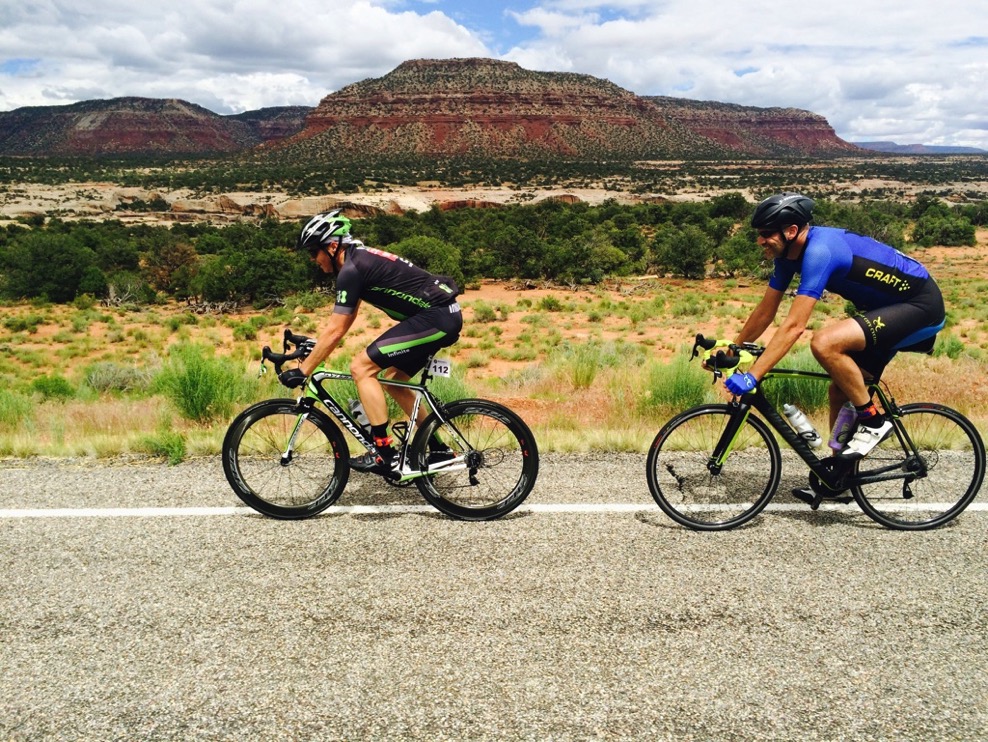 Cory hung with the group, which was joined up with three riders from the Fishbowl team: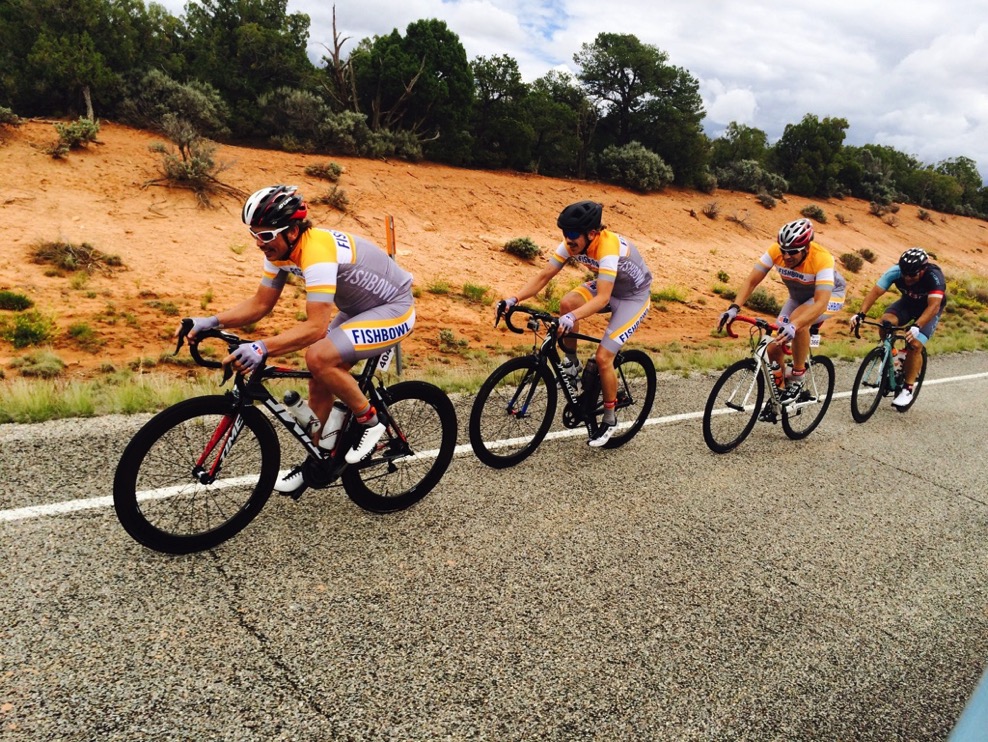 Between the favorable wind, a big group, and a generally downhill section of the race, these guys flew along, leaving me with little to do but eat the delicious banana-nutella burrito The Hammer had made for me.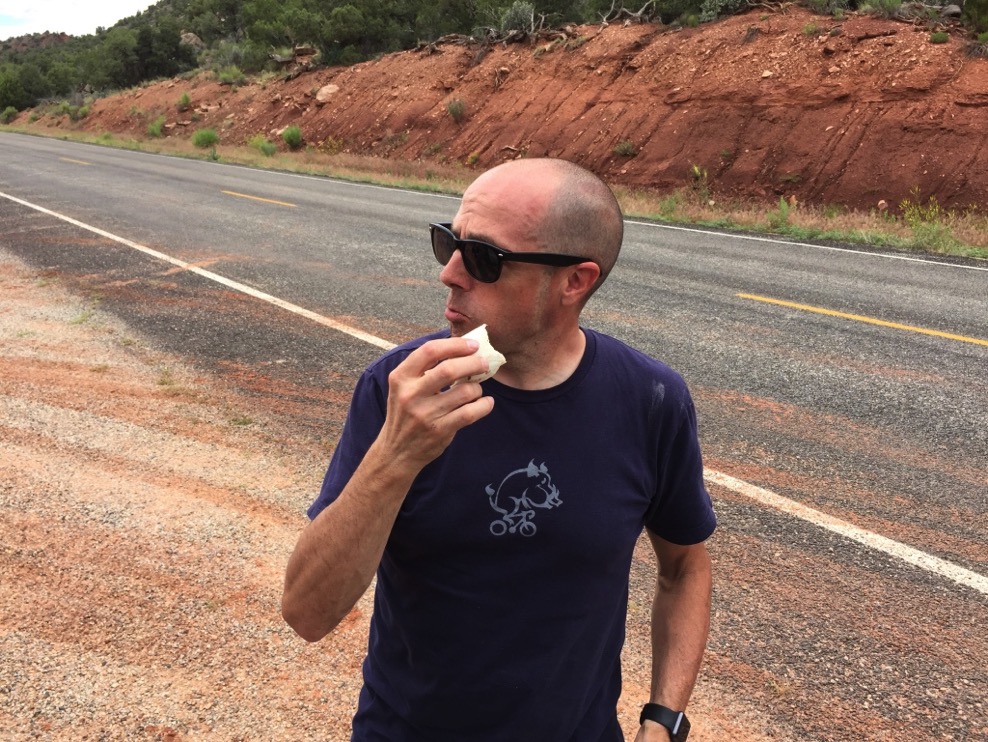 The trick to racing hard leg after leg, kids, is to never stop fueling. 
At least, that's what I like to tell myself.
Also, I got a picture of Mary and me.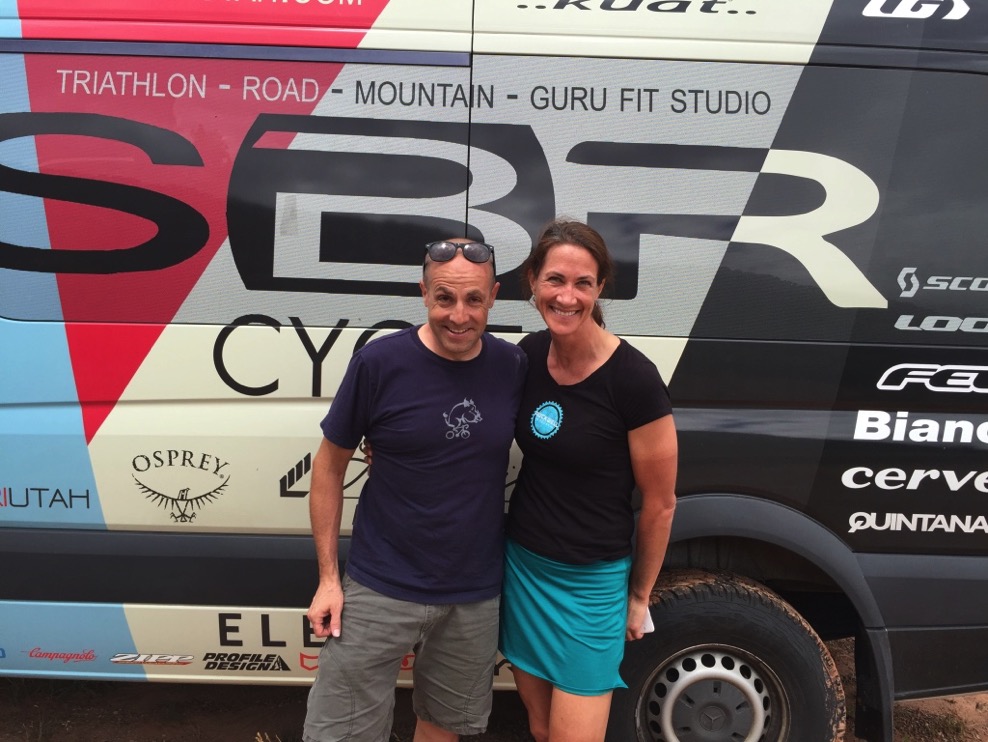 Hey, we'd be trying to clobber each other again on the bike soon enough, but for right now: BFFs. 
Exchange Rate
Troy and Big D eventually managed to get a gap on Cory, and Cory rolled in about five minutes behind them.
As close-fought as this race was, we weren't concerned at being a few minutes back.
No, that's a lie. We were concerned. Possibly a little freaked out, even.
But we had a lot of confidence in our Racer 4: Lynette. She has a ton of experience with endurance racing and would no doubt do us proud.
So as Cory rolled in, I sighted the timing chip wrapped around his ankle, reaching for it before he even had come to a complete stop.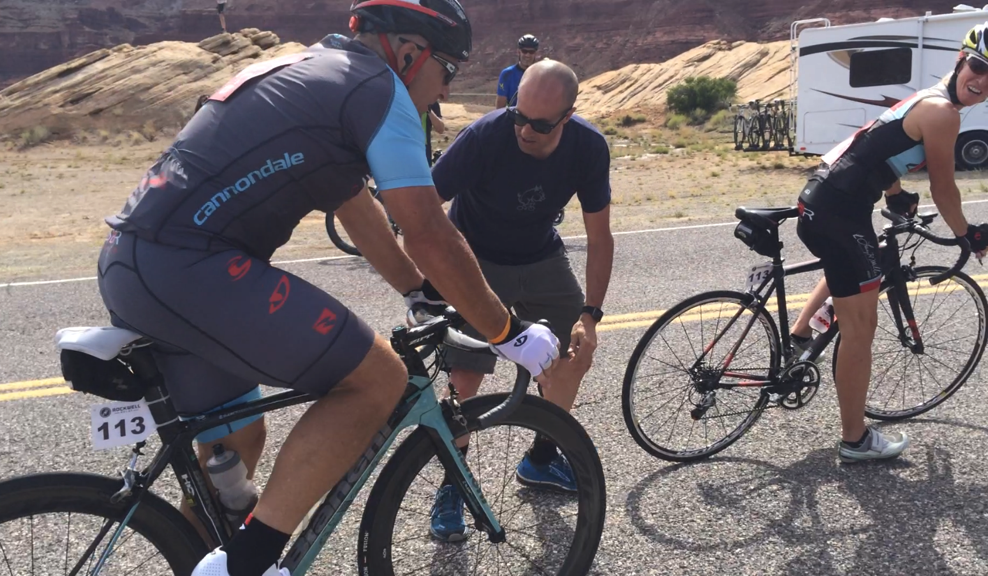 I pull off the chip as Cory wishes his wife good luck…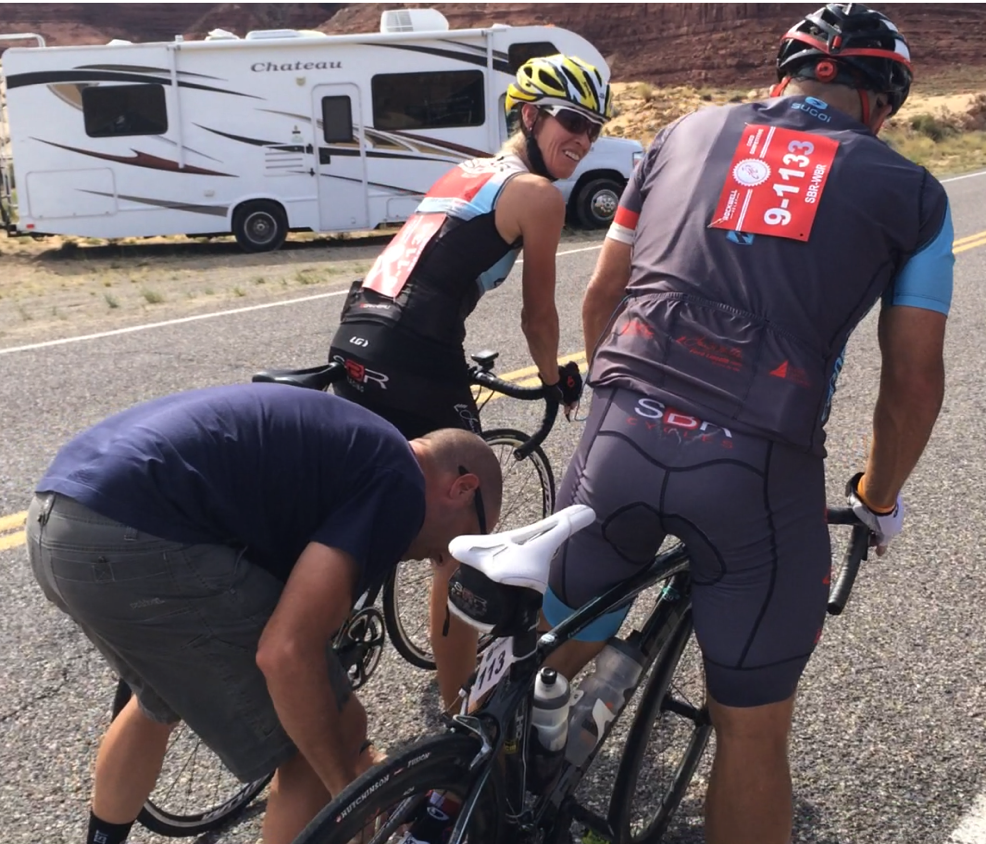 …then pivot around and wrap the anklet on Lynette: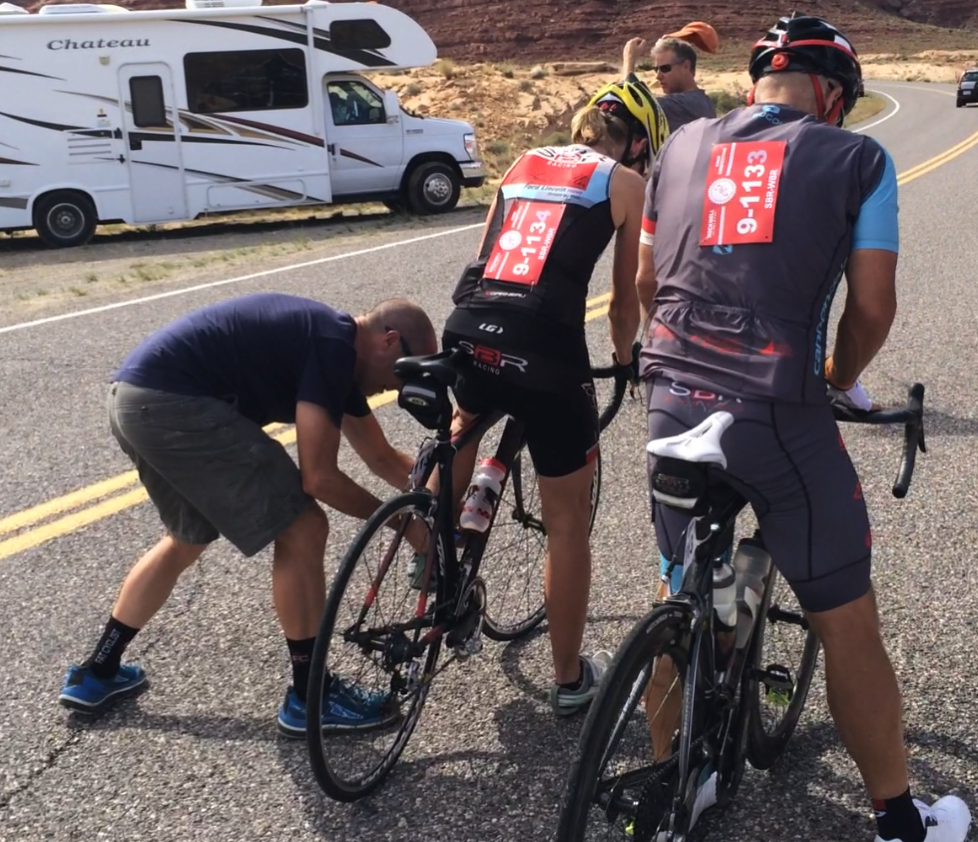 Then I send her off with a good hard push: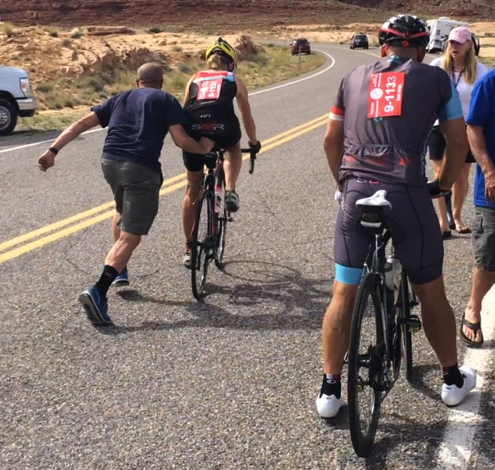 This whole process (including the push), I'm pleased to say, took less than eight seconds (I know because the above are actually stills from a video The Hammer took).
Racing. Cheering. Helping. Relaxing. Laughing. Eating.
This is what The Rockwell Relay is.