UPDATE: All the new t-shirts are on sale now. Here are quick links to the various shirts:
It has been rumored, from time to time, that I am a fan of pie. This, of course, is the least unlikely thing that has ever been said about me.
Of course I like pie. In particular, I like banana cream pie. And key lime pie. And cheesecake, which I hereby declare is  – the misleading "cake" part of its name not withstanding — definitely pie, seeing as how it's pie-shaped and has not one bit of flour in it.
I like pumpkin pie, every kind of berry pie, apple pie, pecan pie, and rhubarb pie.
Oh, and I like quiche, which is really just egg-and-bacon pie.
There is very little chance, when you get right down to it, that I will not like any given pie.
And I believe I am not the only member of Team Fatty who feels this way.
Which — incredibly enough — brings me to the first of a very exciting pair of announcements. 
The Most Awesome FatCyclist.Com T-Shirt, Ever, On Sale NOW 
Every month, on the sixth of the month, my good friends at Twin Six sell a very limited-edition t-shirt — their t-shirt of the month. 
These shirts always sell out fast. And then they're gone.
Well, for the first time ever, the Twin Six T-shirt of the Month (Women's sizes too) is this: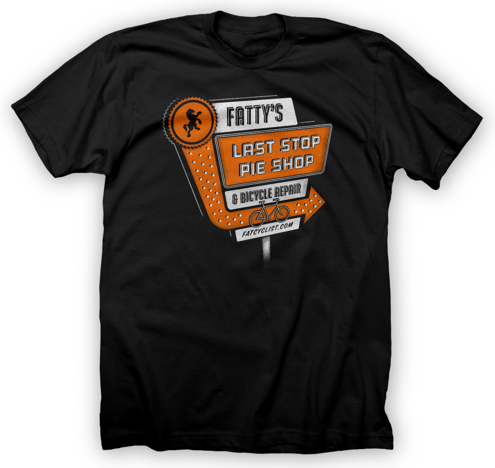 Here, have a closer look at the image that goes on that shirt: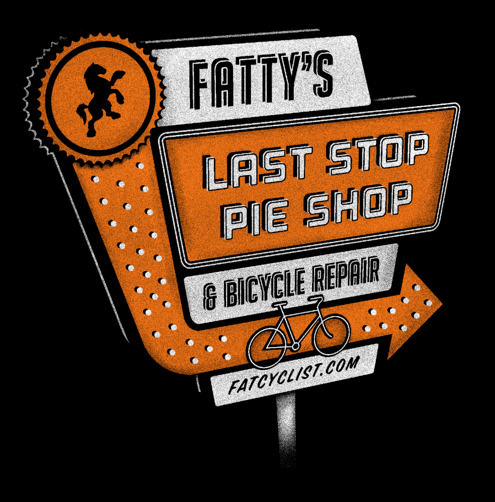 I love this. I just love it. I'm going to wear it every day for a week as soon as I get it.
Which brings up the very important and salient question: how and when can you get this shirt? Well, the thing is, it's a very limited-edition shirt, and once they're gone, they're gone forever. So you won't want to dilly-dally in your ordering.
Here's the when, how, and how much of procuring one of these fine shirts:
The Original FatCyclist.Com T-Shirt Is Back
The second announcement is that the original FatCyclist.com t-shirt — which hasn't been available for years and years and years, and of which only a couple hunnerd were ever made — will be available starting tomorrow, in both men's and women's sizing. Like the T-Shirt of the Month t-shirt, it costs $24. Check it out — back first: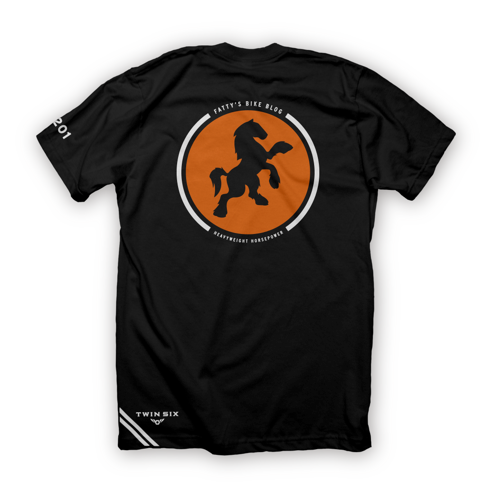 And here's the front: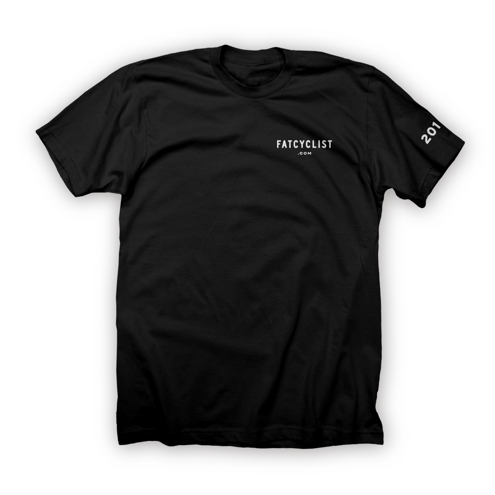 Bonus
The Original FatCyclist.Com t-shirt is the shirt I wear more often than any other. I am, for all you know, wearing one right now.
If you pick both of these shirts up, and you're one of the first 100 people to do so, you'll get a nice little bonus: a free 2012 100 Miles of Nowhere bottle — which is a super-nice Specialized Purist bottle, and a $10 value.
You'll suddenly have so much FatCyclist.Com stuff you'll have to be careful to not wear it on consecutive days, so people won't start thinking you've joined a cult.
And In Conclusion…
Head over to Twin Six to pick up your t-shirt of the month (men's sizing / women's sizing) and the original FatCyclist.com t-shirt (men's sizing / women's sizing).
And you will always be well-dressed and hydrated, for the rest of your life. Plus, you'll look slimmer too, what with the shirts being black and all.