Fzzzzzzzz.
Zzzzzrrooosssh.
Ssschrizzzz.
The above three paragraphs are my best attempts (my favorite is the third) at describing the sound I was hearing, more or less constantly, within one minute of the 2014 Leadville Trail 100 start.
That sound, for your information, was the sound of people passing me. By the hundreds.
And there was nothing I could do about it. When you're going steeply downhill on pavement on a singlespeed MTB, you're going to get passed. Lots. 
Lots and lots.
But you know what? It's not that big of a deal. You expect it. Accept it, even. Welcome it, saying to yourself, "Well, I knew this would happen, and I made this equipment choice knowing this would happen." And so you're fine with being passed on paved downhills. And on flats of any sort. 
Except you're not fine with it. Not really. Not if you're racing. Not if you're me.
Oh my, this introduction took a turn for the dark. Let's back up a bit to the really fun, nice, positive part. Which is, honestly, most of the story here.
And then I'll blindside you at the end of the post with the part of me crashing hard onto my side.
Obstacles and Near-Disaster
Starting the Leadville 100 is an amazing experience for most mountain bikers, because very few mountain bikers have ever started a group ride containing upwards of 2000 people. 
And each and every one of those people has either heard or figured out the advice to "get up front to get out of danger."
Which is definitely good advice. Unfortunately, it's not advice everyone can heed.
But everyone can sure try. Which they do.
And at the beginning of this year's Leadville 100, all those people trying to get up front were surprised — about 100 yards into the race — to find that the entire right half of the road had been cordoned off.
The announcer had explained that this was the case before the race began, and I had cleverly moved over to the left side of the starting area.
But still: you've got around 2000 people all wanting to get to the front of the line, and suddenly all 2000 of those people also want to be on one side of the road.
It's not a great situation.
Fortunately for me, only around 200 people had passed me by ten seconds into the race (I'm exaggerating; really only 175 had passed me), so it wasn't too bad of a mess when all of a sudden everyone in front of me essentially came to a stop.
I braked hard, skidded a little with my rear tire and didn't hit the guy in front of me. I mentally flinched, expecting that the guy behind me wouldn't be so lucky and would take me out.
Nope. He missed me. Everything was OK.
I Am Not The Star Here
With this little push through the hourglass complete, I was able to start riding in earnest again, people zipping by me constantly. Meanwhile I considered choices I had made leading up to this moment. 
"I'll see a lot of you guys again when we start climbing," I said to myself, by way of self-consolation.
Mostly, it worked. And no small number of people remarked on the sexiness of my new Ibis Tranny 29, outfitted with the belt drive. 
Then I saw this: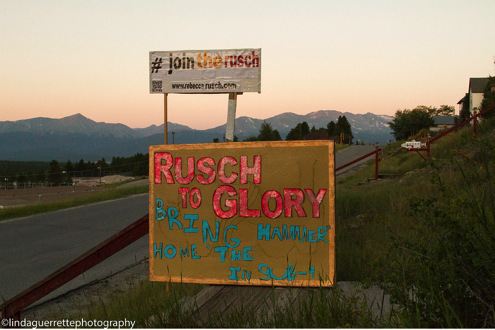 Photo borrowed with permission from Linda Guerrette's blog post, "Delivering the Goods."
Yep, as near as I could tell, a complete stranger had erected a sign wishing Rebecca and my wife good luck in finishing the race in under nine hours.
Hey. I thought I'm supposed to be the famous one in the family.
A Farewell to The Hammer and The Queen
As I zoomed down, going very fast but also being constantly passed by people with a mechanical advantage over me, I wondered how long it would be 'til I was passed by The Hammer and the Queen of Pain
But I didn't have to wonder very long. 
The Hammer passed me first. "I love you, baby!" she yelled as she flew by. Which is a huge improvement over what she had said the last time she passed me while racing. 
Then Rebecca Rusch — right behind The Hammer — flashed by. "Hi Reba," I said. 
"Hey Buddy," she said back.
Buddy? 
When did I become "Buddy?"
Now The Race Begins for Really and Truly
Here's a cycling-related axiom I just made up but am pretty darned sure is actually correct: Your perceived effort has no correlation to how fast you're going. Which is to say, the days I've felt like crap — like there is no power or pop or jam or juice in my legs at all — are some of the times I've gone the fastest. And some of the times I've really felt great are the times I've missed PRs by a lot.
Which I guess is my explanation for why, in this case, even though I hadn't been able to pedal, and had been passed constantly, I managed to get down the pavement onto the dirt, then to the base of the first climb, faster than I ever have before — including in 2011, when I rode with gears.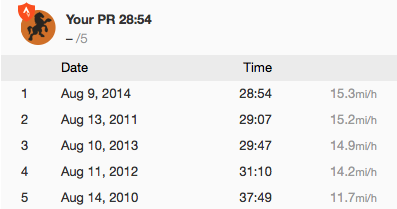 Also, what was my problem in 2010? I was nine minutes slower getting to the base of the first climb? Really? How was that even possible? (I just checked my race report from that year; it gives no clue as to why I  was so much slower)
Just before the left turn that signals that you're about to go uphill in a very big way for the next mile or so, took a slug of Lemonade Carborocket 333 (awesome new flavor) and sucked down a root beer-flavored Gu (awesome new flavor). 
I took a moment to reflect on the fact that energy food and drink (Honey Stinger Waffles! Awesome Gu flavors! Grape and Lemonade Carborocket 333!) has become so much better than it used to be (remember apple-flavored Cytomax, anyone? [shudder]).
Oh brave new world!
I began to climb, and that meant I began to pass people. Left and right, using the tried-and-true practice of being a nonstop, friendly chatterbox. ("Hey there racer, looking good. I'm looking for a line to pass, help me out when you can.")
Then I saw Reba. And Lisa. Climbing together, The Queen of Pain letting The Hammer set the pace.
"Ladies and gentlemen, it is The Hammer and the Queeeeeen Uuuuuvvvv Paaaaaaaaaaaiin!" I shouted, in my very best Dave Towle impression. Which, admittedly, is never very good, and is especially not that great when I'm riding my bike at race pace, uphill, at 10,500 feet. 
Still, credit for trying, right?
"I love you baby," The Hammer said as I went by, which pretty much made my day.
And this time, Reba remembered to call me by my name: "Fatty." ("Buddy." Sheesh. I'm still not sure what's up with that.)
The climbing was hard, but my Ibis Tranny 29 felt great — I've never felt at home and right  on a bike so quickly before. And the belt drive feels…well, it's hard to describe, but "instant" might be an OK word for it. You put your foot down and feel like all your power is going straight to the wheel. And so smoothly too.
Things End Badly
It's always astonishing to me to look back and see that the St Kevens climb to the left turn signifying you're about to get a break is only 1.1 miles. It's not a long distance. But by the time you get there, the race has thinned out a bit and you're unlikely to have to fight a crowd again for the rest of the day.
I hit a relatively flat place, sucked down another gel, and kept going. 
The trail was rolling along now, and I was feeling great. The day was mild, the trail — thanks to a lot of rain earlier in the month, followed by occasional showers and warm temperatures the preceding week — was as perfect as could be.
I wen past the place where Merilee — one of the founders of the race — traditionally stands. "I love you Merilee!" I shouted. 
Then I hit the next quick downhill, which intersects a different trail, making for a downhill left turn across an erosion rut.
I easily popped my front wheel across the rut and made my turn at speed.
Which, as you no doubt expect, is when I crashed. Good and hard.
Which seems like a good place to pick up the next installment of the story.