UPDATE FOR PEOPLE WHO WANT A GOOD DEAL: The cool folks at Jaybird sent me a code Friends of Fatty can use to get a great deal on their Jaybird Bluebuds X. Get 25% off MSRP by buying your Bluebuds at the Jaybird store and entering JBFCBBX25 in the "Coupon Code" box after you've entered your payment and shipping info (shipping, by the way, is free for purchases inside the US).
Is this a good deal? You bet it is. With this coupon, you'll actually be getting the Bluebuds for around $127, which is $10 cheaper than you can get them at the Amazon link I provided earlier. 
This code expires November 5, so make sure you use it before then!
A Note from Fatty: I normally don't do a lot of reviews in my blog, mostly because reviewing things requires that I think and take pictures and explain my reasoning. 
But every so often, I use something for a while and realize, "Hey, I really love this thing. It has actually made my life better. I should write a blog entry about it."
But then I don't, for the aforementioned reasons (work, thinking, explaining). As a result, the list of things I really love and use but have not yet talked about much at all has grown pretty long. 
Well, it's time to remedy that. For the next few days, I'm going to talk about some bike-related stuff that I just love. Stuff I use all the time and think you might like too. So, these aren't going to be reviews, per se, because reviews are generally about brand new things. Also, with reviews you generally expect some balance: a mix of what's good and bad. Since, however, I'm not going to bother talking about anything I haven't already said — up front — that I personally really love, you should expect the "what's bad" section to be short, or non-existent. Sure, if there's something I'd like to see different, I'll say what it is and why, but mostly just because I'm a malcontent who must find fault in order to make myself feel superior.
OK? OK.
Jaybird Bluebuds X
Whether I'm on a road bike or mountain bike, I sometimes ride with headphones on. Go ahead and judge me for that if you like. I can handle it, because no matter what you say, you won't be able to take away from the fact that attacking the Jacob's Ladder climb and then bombing the descent with Danger Days as your soundtrack is — quite frankly — pretty freaking fantastic.
And since I always carry my phone — which contains my entire library of music, divided conveniently into playlists for pretty much every riding mood — with me when I ride, Bluetooth headphones make good sense, because I don't have to thread cables down through my jersey and into a pocket.
I've tried other bluetooth headsets, and some of them are pretty good. 
But I love Jaybird Bluebuds X headphones.
And today I'm going to tell you why.
It Starts With the Packaging
This is going to come off as a little bit fanboi-ish, but I don't care. The packaging for these headphones is awesome. How awesome? Well, I've had these headphones for about eight months now and I still have the box.
Oh sure, it starts out as a normal box. But instead of tape and everything-resistant shrink-wrap that could quite possibly send you to the hospital when you try to wrestle it open, the box is held closed with…magnets.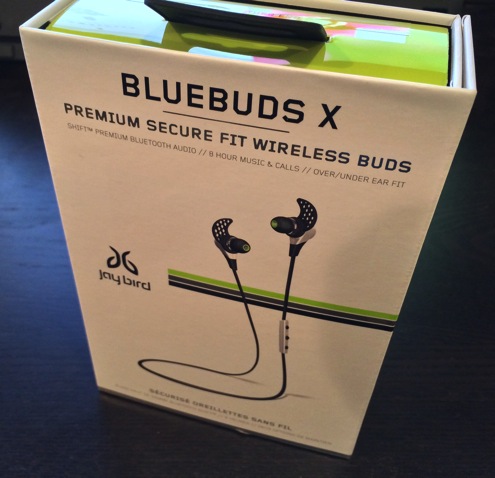 So you just take the green nylon tab at the right side, give it a gentle pull, and…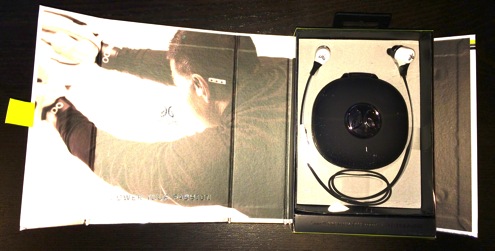 The only thing missing is a little "angel chorus" audio clip as you open it up.
So what do you get inside this package? Pretty much everything you need:
The Headphones themselves
USB-powered charging cable 
Lots of little parts to fit the headphones perfectly to you
Carrying Case 
It's worth noting that the carrying case snaps shut and stays closed thanks to…magnets.
Magnets are so cool.
Hyper-Customizable
You shouldn't think you're going to love your Jaybirds right out of the box. Because you aren't. In fact, you're not even going to be able to use them right when they come out of the box.
First, you're going to have to get the fit right. And that's going to require some time and maybe even a little bit of patience on your part. But think about it: your bike — the one you've taken the time to get fitted right is so much better than if you'd just ridden it stock, straight out of the shop, without bothering to make it yours.
So yeah: you're going to need to spend between ten and twenty minutes experimenting before you get the fit nailed on these.
After which, they're going to fit fantastic, and when you put them on, they're going to stay on 'til you take them off.
The Jaybirds come with all the parts you need to fit your ears, pretty much regardless of the size and shape of your ears: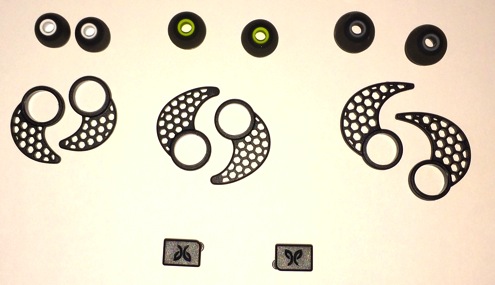 That first row is three sets of earbuds: small, medium and large. They're easy to match because their centers are different colors (a nice touch for people like me who are terrible at eyeballing sizes).
The second row are…well, I don't know what to call them, but they hook up into your ears and hold the Jaybirds in place, nice and secure.
And then the third row are little cable guides, to remove any slack you might have left over, once your headphones are set up.
You've got a decision to make on how you're going to wear these, too. If you're just going to wear them while walking around and maybe use the built-in mic for making/taking calls, the buds and control go down and can hang loose around the back of your neck.
If, however, you're going to use these as sport headphones — and I definitely recommend that this is what you should be using them for — you will want to set them up so they go over and behind your ears, with the controls just right over your left ear. 
Like this: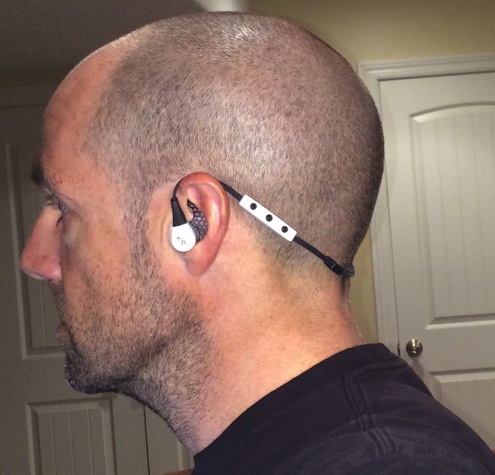 Photo courtesy of myself. Yep, a side-shot selfie. Not bad, eh?
Pretty nice and unobtrusive, right? And a helmet can go on just like it always does, without anything getting in the way of anything, either. 
Here's what it looks like from the rear side, so you can see the way the little cable guides work: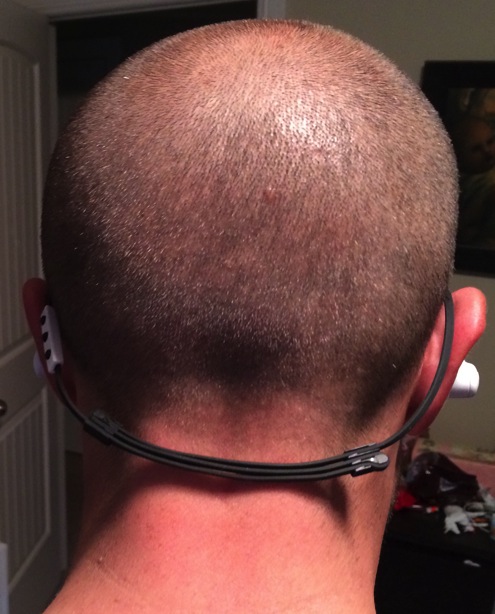 Photo courtesy of one of the twins before she went to school. Because my selfie-taking abilities have their limits.
See? No matter how big or small your head and neck, you can make these things fit you exactly how you like them. It'll take you a little while to figure out which sizes work best for you for the ear buds and those other things I don't know the names of, but you'll get them. And then you don't have to mess with them ever again.
OK, so now let's talk about why I like using these headphones.
The battery lasts for hours and hours
Back when I first got these headphones, I went on a weeklong trip to Chicago…and I forgot my charger. I was sure the headphones wouldn't last for the hour I planned to run (yeah, I was training for the half Ironman back then) every day, but figured I'd use them 'til they ran out.
But — even though I used them for an hour a day for five days straight, and then used them to watch a movie on my computer for most of the flight home — the battery didn't run out. Which meant it was good for at least seven hours of use between charges. Which is long enough for at least most of the bike rides you're likely to head out on.
They stay
Once you've gotten them fitted, the Jaybirds are easy to pop in your ears. And — unlike pretty much any other sport headphone I've ever had, they stay in. Comfortably and securely.
Easy controls
These headphones have controls built right in, and they stay right over your left ear. Three easy-to-feel (even through long-fingered gloves) buttons give you the ability to control volume, start and pause the music, and skip tracks (forward and backward). Which is all you need.
Sturdy
I've had my Jaybirds for about eight months now, and in spite of the fact that I sweat my corrosive man-sweat on them constantly, they work just fine. Just as well as when I got them, in fact.
It's almost as if the makers of these headphones anticipated that I would not be sitting quietly in a cool, dry room when I used these.
Biking and Running
I've run with these on for an hour (or very occasionally, more). I've biked with them for hours and hours. They're comfortable. They stay on. They stream music from your phone via Bluetooth very, very easily. And they don't short out just because you happen to sweat.
Seriously, I love these things.
Wish List
Are the Jaybird Bluebuds X perfect? Nope. There are a few things I wish they did better:
Signal: I put my phone in my jersey pocket when I use these, and it's really obvious that the Bluetooth antenna on the headphones is on the left side of my head, because if I put my phone in my center or right pocket, the sound breaks up. So I've had to get used to putting my phone in my left jersey pocket for these headphones to work great. [Update: Jaybird says this is not typical behavior and has sent me some remedies to try; I'll update this post if  these remedies work]
Social Mode: I never wear these when I'm out riding with someone else, because you can't really leave one earpiece just dangling so you can hear conversation, and if you put the earpiece in, you can't really hear very well. What I'd love to have would be a mode where the headphones sent both channels to the right ear, and used the mic on the left ear as a pass-through, letting me hear people and stuff around me. Then I'd be able to have music in the background, but not feel isolated.
Oh, the Name. I hate the name "Bluebuds." It's just really an unfortunate name (if you don't understand why, it's not my job to explain). So I never use it. I just call them Jaybirds. And I fully intend to continue to do so. 
And I sorta kinda was thinking about putting the price of these in my wish list, too. $137 is a lot of money for headphones — more than I've ever paid before. But here's the thing: they're that good. They're light, they fit, they work, they last a long time between charges, and they're designed for what we do. To me, that's worth a premium price.
And in short, I love my Jaybird Bluebuds X headphones.
PS: If you want product details, go to the Jaybird website. If you're ready to buy, let me recommend you use this link, and then enter JBFCBBX25 in the Coupon Code box after you've entered your payment and shipping info. This will get you 25% off the price (and shipping's free within the US), which makes it the screamingest deal around ($127 and change). Make sure you make this purchase before November 5, though, because the code expires then.