Pssst. C'mere. I've got this idea, but I'm going to need your help to make it happen. It's a little crazy, but I think you're going to like it.
Oh, and you've got to promise not to tell anyone about this. If other people find out, it will completely mess up the plan.
Promise? OK. Good. Here's how it goes.
First, I'm going to announce that as part of my Grand Slam for Kenya contest this month, I'm going to give away a fully-paid trip to Italy with InGamba.
Sounds good so far, doesn't it? Yeah, I thought you'd think so.
So, as the second stage in this plan, I want you to donate as much money as you can possibly afford in this contest. I'm going to recommend you donate in multiples of $147, because that's how much a Buffalo Bike costs. No matter how much you donate, though, that money is going to be matched, so your donation dollars go twice as far. 
I know, I know, this plan is so genius so far. But here's where it gets really good.
When Katie Bolling at World Bicycle Relief draws a winner and calls you to tell you that you get to go on an expenses paid, incredible cycling vacation in Southern Italy, October 13-25 (yeah, that's twelve days), with Eros Poli as your guide, you should politely say that you'd like me to go in your place.
Oh wait, sorry? I lost you on that part? 
Hmf.
Let's Talk About This Prize
Okay, I never really expected that to work, but I had to try, right? I mean, it's twelve days of biking, and eating, and hanging out and relaxing…in Southern Italy. While InGamba takes care of every single little thing for you.
Someone's going to win this prize — worth $9150 — and I am so incredibly desperately jealous of you, I had to at least try to get you to give it up.
But honestly, I am not surprised you would want to keep this prize for yourself. Hey, if I won it there's no way I'd give it to you.
So  let's talk about what happens if you choose this prize. And — I'm just being honest here — you would be absolutely insane to not choose this prize.
The riding is going to be twelve days of the best of what Italy has to offer. Enough to challenge experienced riders, but no seven-hour death marches. 
On your first day in Tuscany, you'll do the "Monti" ride — the quintessential glimpse into the Chianti region, rolling through small villages and past olive tree orchards.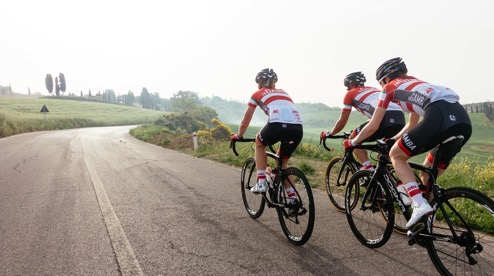 The next day, Pienza: into the heart of lesser-known Italy. 77Km of riding with one good climb takes you to the Relai Chiostro Di Pienza: an old Franciscan cloister from the 16th century.
And so it goes. On day three, into Lazio. Then toward rome on the fourth day. Then maybe a rest day, or maybe a lap around Lago di Canterno.
The days go on like this. Twelve days of the most perfect cycling adventure you could ever ask for.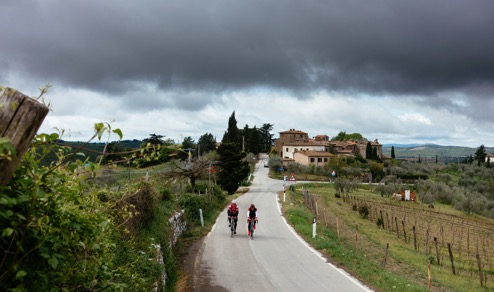 But what are you riding? Oh, good question. You don't have to bring your own bike across the ocean and build it up. No. Instead, InGamba will have either a Pinarello Dogma F8 or Rokh ready for you to ride during your stay: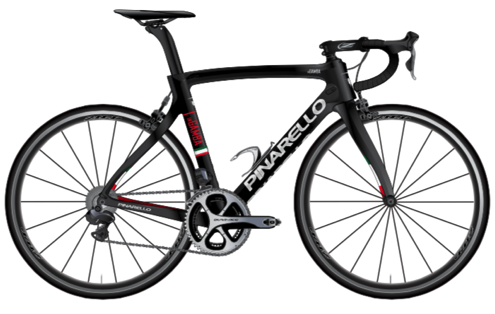 Fully loaded, too, with Shimano Dura-Ace Di2. And a Garmin 810, pre-loaded with the rides you'll be doing.
And who's going to take care of this bike while you're there? Not you. Nosir. After each day's ride, you'll just hand your bike to one of the InGamba mechanics, who'll wash and love your bike, ensuring it's perfect for you the following day.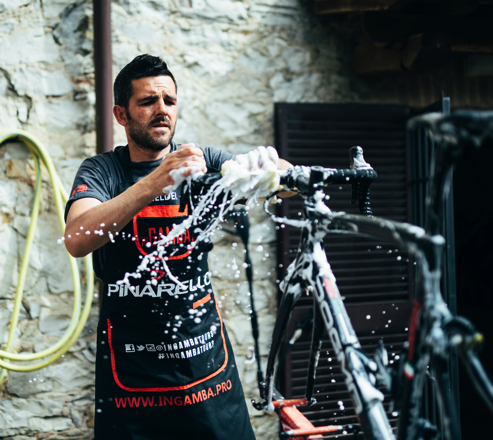 I swear, it is so not fair that I am giving this prize away. 

Looking good: InGamba will have a kit for you to wear during your trip: jersey, shorts (or bibs), gloves, hat, and socks. And they'll keep them clean during your ride. You know: so you'll look PRO.
Eating and Drinking
You're not going to be eating at tourist restaurants, you're going to be savoring local cuisine, prepared by the best chefs and restaurants not found in guide books. 
And the meals, beer, and wine are all included as part of your trip. 
Oh, did I mention that this is a luxury cycling trip to Southern Italy? 
The Guide
Eros Poli is a legend, a Mt. Ventoux stage winner in the Tour de France. And he's a great guy. And an amazing storyteller. 
You are going, in short, to be absolutely positively astonished at the amazingness of your vacation.
Right now I am crying I am so jealous of the winner of this prize.
Perhaps you'd like to have more details. Well, I don't blame you. Click here to download the PDF, detailing the trip, to get all the detail you need.
So, do you think the possibility of winning this prize is donation-worthy? Because I kind of think it is. So: Click here to donate now.
Let's Talk About InGamba
Ingamba is — obviously — being incredibly generous by supporting the Grand Slam for Zambia fundraiser. And it's not the first time they've done this.  
The thing is, InGamba isn't just doing this prize donation for this WBR fundraiser. In fact, the InGamba community has raised over $90,000 for World Bicycle Relief.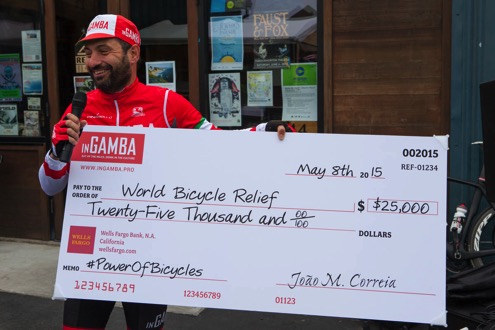 Here's what InGamba founder, Joao Correia, has to say about why they support WBR:
Bikes change people's lives.  For some of us it was a tool to make a living, for others a way to lose a little extra weight or simply blow off some stress.  But yet for a different group of people it's a way to get around, that allows you to get to a job or school.  It can be that little push you need to get over the poverty line and make a difference for you family.  At inGamba we believe in bikes.  We also believe in making a difference and making sure it's part of what we do.  Although our trips are about great food, wine and riding bikes our inspiration as a business is to make people's lives better.  It can be one of our guests or it can be a young person in Africa whom we'll never meet but along with our guests we will affect with our contribution that gives them the ability to get from point A to point B easier and therefore transform their lives.  Join the cause and make a difference.
This is a great guy, doing great things for the best reasons. I love seeing this. 
So: donate now to support WBR. You might win an unimaginably wonderful trip. Or you might win one of the two incredible dream bikes we've announced. 
Or you might win another grand prize from the Grand Slam for Kenya. Because there's more coming. Oh yes. Much more. You're going to love it.