A Note from Fatty: Be sure you stick around for the end of today's post; I'm dropping some serious hintage about the contest that launches tomorrow.
A Full Disclosure Note from Fatty: ENVE has provided me with some product at no cost, and some product at a discount.

Jake was not there. 
I had driven for nearly forty minutes to the beautiful ENVE World Headquarters in Ogden, Utah to meet with Jake — the marketing guy at ENVE Components — and Jake had gone on a ride instead.
Imagine: going on a ride, instead of hanging around the building, waiting for me to show up.
The nerve.
And yet, I maintained my composure, thanks to three things:
If given the choice to show me around my workplace or go on a ride, I would choose "go on a ride" every single time. How could I begrudge another person that exact same choice?
Jake was doing important R&D stuff. Jake's job at ENVE is technically to market stuff, but he's also a huge part of product development. See, Jake is a serious rider with the outrageously fine-tuned cycling sensibility that comes from having ridden all the best gear, pretty much all the time. And in short, Jake has a dream life.
As I stood in the lobby, my friend of 20ish years, Ryan, came out to see me and take on impromptu tour guide duty:

 
See, I met Ryan long ago, when I was just beginning to get bitten by the cycling bug. Ryan, meanwhile, was the genius mechanic at the bike shop I went to, as well as an incredibly gifted cyclist.
Nowadays, Ryan is a QA Engineer at ENVE, having recently left his former job doing the same thing at an aerospace firm. His job: try to break stuff,  understand how and why it breaks, then figure out how to make it harder to break in the future.
You can kind of see from the mad gleam in his eye that Ryan likes his job. (Maybe too much.) Which is peculiar, because the better he does that job, the harder it's gonna get to do it.
But enough about Ryan (for now). Let's talk about me and my visit to ENVE. 
And also, let's talk about something mind-bendingly awesome I'm going to be doing with ENVE. 
Dream Warehouse
Alison and Ryan took me around the ENVE offices, where employee bikes line the halls: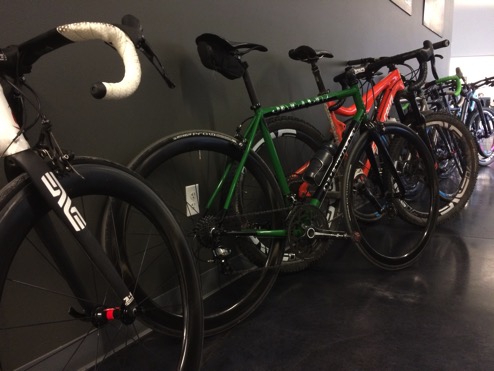 They also walked me through the manufacturing area, letting me take pictures in a few places, like where workers were cutting long sheets of carbon fiber before magically transforming them into wheels: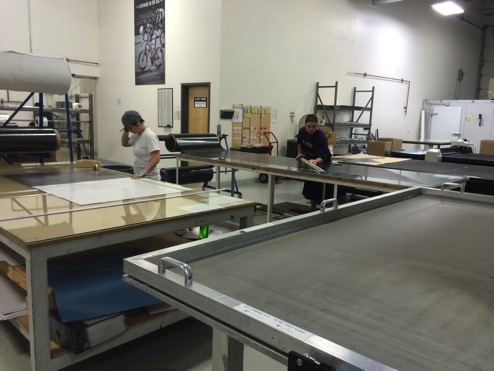 You know what looks really cool that I had never seen before? a sheet of carbon fiber: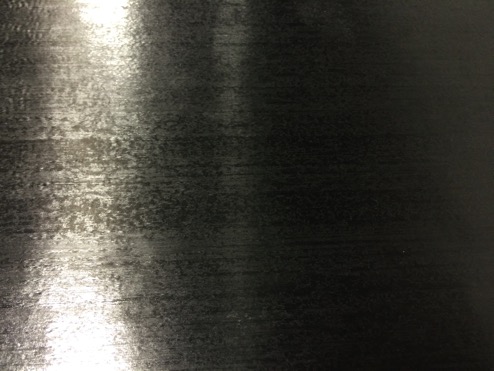 And then, on to the wheel-building machine, which I was not allowed to photograph, but which quickly does the preliminary work of turning spokes, a hub, and a rim…into a wheel: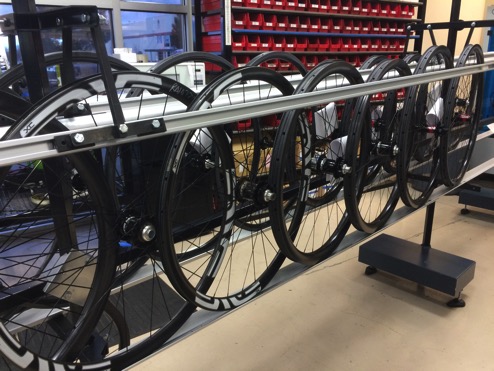 With the preliminary building done, each wheel gets personal old-skool TLC from human wheel builders: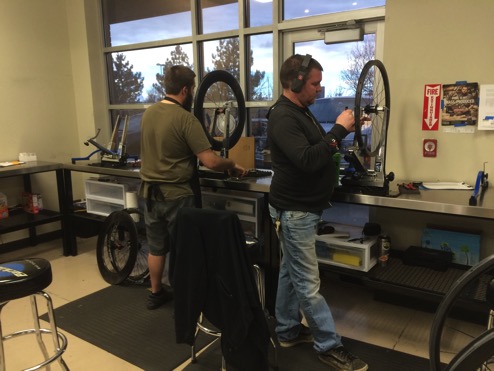 The truth is, though, ENVE walked me past more of their facility than they walked me through, saying, "Sorry, we can't let you see that."
Which is pretty unfortunate, because I'm exactly the kind of guy who would be able to recognize manufacturing secrets when I see them.
Still, I did get to see the Warehouse of Ten Thousand Dreams: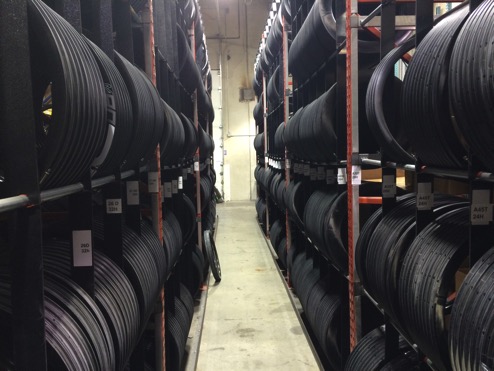 And the company president — Sarah — joined me, Ryan, and Alison for a post-tour selfie: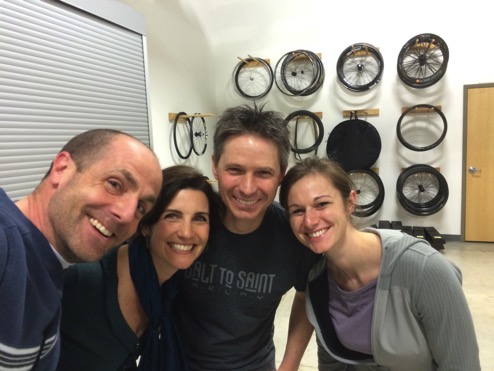 And then she stuck around and talked with me (by then, Jake was back, though I punished him by not letting him join in for the selfie) about ENVE for about an hour.
Stuff Fatty Loves
One of the really nice things about being a fake journalist is that when I really really really love something, I don't have to pretend to be objective. I can just say, flat out, that I love it. 
Not that I need to say anything, really. All you need to know about what I think of ENVE can be gathered by checking out a photo of the four bikes I am riding most often this year.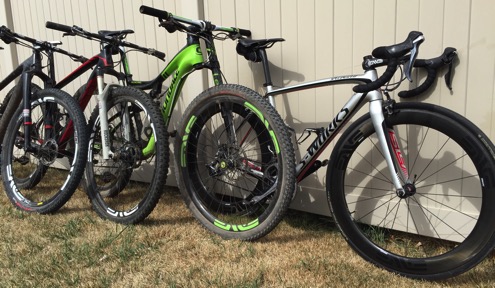 From left to right, in that photo you see:
As you can see, if there's such a thing as ENVE Kool-Aid, I've had a man-sized drink of it. And here's my verdict: that ENVE-flavored Kool-Aid is delicious. 
Here's the thing: one of the nice things about being a beloved, award-winning cycling blogger for tennish years is that while you don't make any actual money by writing, you do get bikes and parts at a pretty good price most of the time. Which is to say, I can ride whatever frame I want, with whatever parts I want.
So what am I picking when I get to pick what I want? Take a look at that photo up there. There is something special about the way ENVE wheels ride. If I were James Huang or Lennard Zinn or something, I'd probably be able to fool you into thinking I understand why ENVE has an incredible ride to it. But I'm not, so I'll have to go with, "ENVE wheels feel fast and light and strong and surefooted, to an unmatched degree." 
They're just crazy-good.
Where does that crazy-goodness come from? It comes from people who know bikes and love what they do to an almost unhealthy degree. Let me tell you a couple short little stories about some of the people there, to show you what I mean. 
Jake
A couple years ago, I was trying to decide what wheels I should get for the Tarmac I was going to be building up. I had looked long and hard at the ENVE site, and had settled on the SES 3.4 Clinchers. I called Jake and told him what I wanted to get. 
He listened, then asked me a few questions about how I'd be using the bike and how I ride. 
"I'm not going to send you the 3.4s," Jake said. "You should be riding with the 6.7s." 
Then he told me why they were the best wheel for me.
And he was right. These have been the most amazing road wheels I have ever ridden.
This year, as I was getting ready to build up my cross-country superweapon — my Felt Nine FRD — I told Jake I wanted to put ENVE XC wheels on it. 
"No," he said. "You don't put XC wheels on that bike. I'm sending you the M50 Fifties." 
And, once again, he was right.
This is what happens when your "marketing guy" is, in fact, a hardcore racer. A guy who actively contributes to the company R&D because he can sense tiny little differences in how a wheel is built. A guy who started at ENVE, in fact, as a wheel builder (and later admitted that, yes, he also has a marketing degree). 
Not a marketing guy who happens to currently be marketing wheels. A bike guy — a wheel guy, a racing guy — who is in charge of marketing. 
The distinction shows through.
Ryan
Ryan knows bikes. A lot about bikes. When I bought my first real mountain bike about twenty years ago, Ryan was the guy who built it up. He's also absurdly technically accomplished. And he's smart.
And when I saw him at ENVE, it was obvious that he's also incredibly happy. He's good at what he's doing, for one thing, but as we sat and talked about how he tests ENVE wheels and competitors' wheels and how he's always working toward making these wheels better and better…well, it kinda sounds like he has religion.
You hear companies talk about being "passionate" about whatever they're selling. It's annoying, really. But Ryan is the real deal. And I saw that a lot at ENVE. 
A Triangle of Awesome
When Jake, Sarah, Ryan and I were all chatting in the ENVE conference room, Jake mentioned that he had just gotten back from a training camp with the pro cycling team, Team MTN-Qhubeka. Why? Because ENVE is sponsoring Team MTN-Qhubeka this year.
Which is going to make for some pretty nice rides for this team: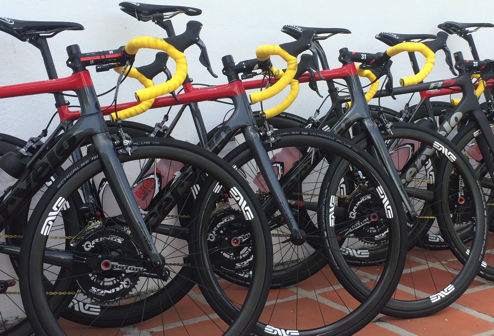 This is awesome for a slew of reasons, some of which may not be immediately obvious upfront.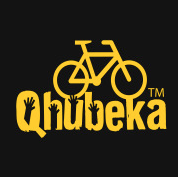 So. Allow me to enlighten you.
Team MTN-Qhubeka will be racing in this year's Tour de France
"Qhubeka" is actually part of World Bicycle Relief. Yep, same people, same mission, just a different name in South Africa.
As it turns out, as an athlete ambassador, I am fundraising for World Bicycle Relief
So, as a sponsor of MTN-Qhubeka, ENVE is excited to help with World Bicycle Relief's mission. 
And I…well, I have some experience with that. 
Hmmmm.
It seems like there might be something here worth exploring between ENVE, World Bicycle Relief, and Team Fatty.
And here's the part I've been leading up to: ENVE is going to partner up with me this year as I fundraise for World Bicycle Relief. 
What does this mean? It means that when I do my Grand Slam this July — not coincidentally, overlapping with the Tour — you can expect to see some magnificent wheels and components on some of the bikes. 
It also means that you might see a really cool Team MTN-Qhubeka replica bike as one of the prizes.
And it means that you ought to check back tomorrow, because ENVE and I (and some other very good Friends of Fatty) are going to be kicking off a season-opener contest you simply will not want to miss. Without giving away too much, let me just say that it involves a dream frame, dream components, dream wheels and cockpit from ENVE…and more.