I don't want to make this post about me. Not too much, anyway. I want to make it about Diane Lees, the incredibly engaging host of the radio show / podcast The Outspoken Cyclist. 
But first, I do want to say something about The FattyCast — my new podcast.
Specifically, I want to say that for the first time since I started this blog nearly eleven years ago, I'm completely and totally in love with a new way of communicating. 
When I started this blog, I always had a huge backlog of ideas I wanted to write about. I couldn't wait to write my next post. Sometimes I had multiple posts going at the same time, and I just desperately wanted the next day to come, so I could put the next one up and see what people think.
Of course, over the course of eleven years, I've become a lot more comfortable with this blog. Now it's an old friend. I enjoy writing it, but it's been a while since I felt like I was breaking new ground with it. 
With the FattyCast, though, I'm loving the fact that it's not about me. I'm loving thinking about all the people who do such cool things with or on or about or for bikes, and talking with them. Just having conversations with them, learning from them, and then sharing what I've learned. 
I'm also loving how much I'm learning, and how quickly. I can tell that I'm very much a beginner and make a lot of mistakes. But also that I'm learning quickly, and am already making fewer mistakes than I did at first.
And I love how generous people are being with their time. 
So. Whether you already listen to a lot of podcasts or to none at all, let me put in a plug here: try out The FattyCast (you can subscribe on iTunes). It's just me, talking with people who love bikes and biking. 
And let me know who else you think I ought to have as guests.
Diane Lees
One of the people who really inspired me to begin this podcast is Diane Lees, the host of the popular podcast and radio show, The OutSpoken Cyclist.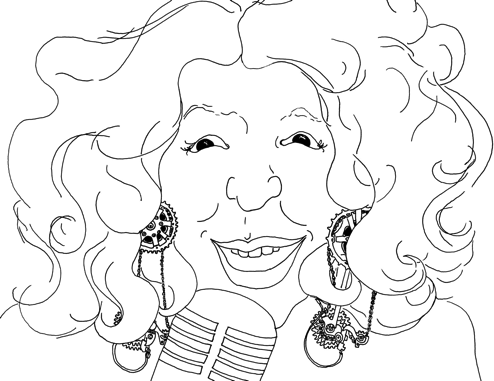 Diane has been doing this show for five years, with nearly 300 episodes and nearly double that number in guests.
But her experience in the world of cycling goes way deeper than that. She rides. She's been a bike shop owner. She's been a promoter. She's written a book on touring. 
She's 69 years old, but has the energy (and voice) of someone half that age. 
You can listen or download the podcast below, get it on iTunes, or find it on FattyCast.com. 
It's a great hour of conversation with an amazing woman. I'm a huge fan of Diane Lees.