A Note from Fatty: I'm very happy to be posting this story today, because it's proof that I'm a real thinker. See, this is by a couple long-time Friends of Fatty — Jeff Dieffenbach and Carlos Perea — who got together for their own wacky race / road trip. It's a longish post…which means you might want to read / watch (cuz this is a multimedia extravaganza) this in multiple chunks.
That's what weekends are for, right? 
Enjoy!
100 [mumbles] of Nowhere Race Report
by Jeff Dieffenbach and Carlos Perea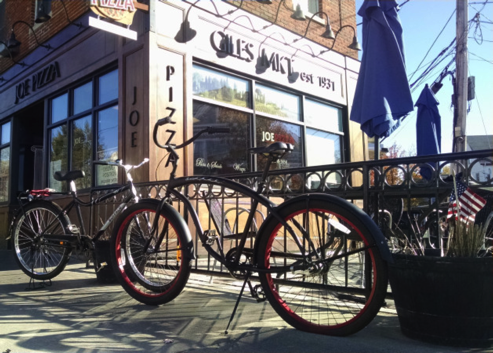 Buffalo and Bruiser midway through the pizza run
It all comes back to the power of bicycles. Through Fatty, the power of bicycles is powering the wonderful Camp Kesem. The Power of Bicycles is certainly World Bicycle Relief (ride report co-author Carlos Perea is a WBR Ambassador). Sometimes, though, the power of bicycles is made apparent a lot closer to home. But that's getting ahead of things a bit.
Jeff and Carlos have separately ridden the Fat Cyclist's 100 Miles of Nowhere several times each. This year, we decided to ride it together. We wanted to do something different this year, so rather than necessarily build our ride around all of the miles, we built it around all of our bikes.
As such, here's the back of Jeff's sport utility van. If you're keeping score at home, that's (from back to front) a hardtail 29er, a Bruiser beach cruiser, and a Buffalo.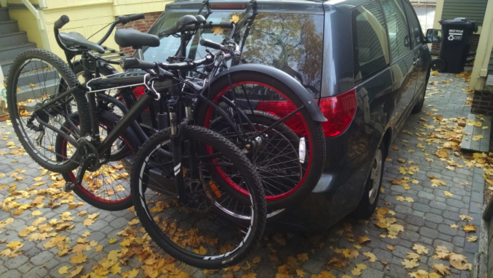 We know what you're thinking. "Jeff, that's not very many bikes. Not very many bikes at all." And you would be right in thinking that … unless you decided to look *inside* Jeff's SUV. From left to right: fBIKE folding bike, CX bike, fat bike, road bike, and another fBIKE.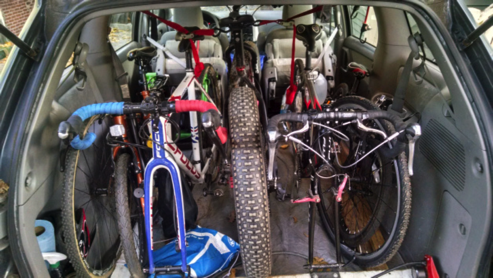 Jeff drove from his undisclosed location to Carlos' undisclosed location. After a bit of setup and other bicycle futzing, we set off on the first of our segments: the fat bike.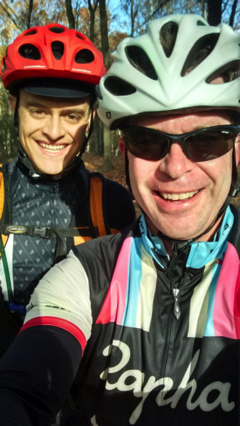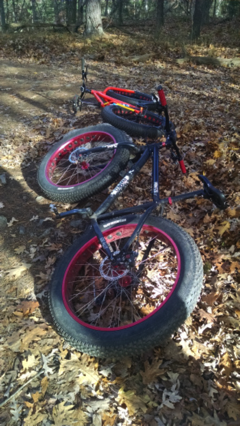 At the end of the loop, we had tallied 7.5 of what would eventually be the full [mumbles] miles.
Next up: MTBs.
In the first picture below, you can see Carlos' kit change–spreadin' the wealth! In the second picture below, you can see friend David W at left. If you could see David's face, you would see a look of inexplicability. You see, David has just watched Carlos plunge inexplicably off the trail for no apparent reason whatsoever. Fear not, neither Carlos nor Carlos' bike suffered any lasting ill effects.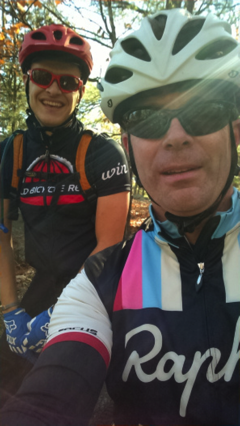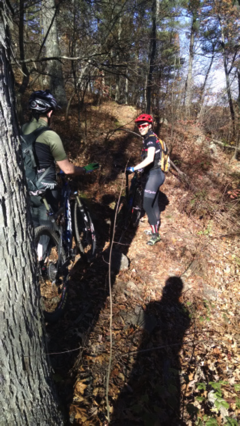 At the end of the MTB loop, we'd added another 8.4 miles. Grand total: 15.9.
Calling that something of a midway point, we decided that it would be irresponsible not to go get lunch. As any cyclist worth his or her salt knows, however, lunch does not transport all that well on a fat bike. Or an MTB. It was time to put the Buffalo (and it's 250 lb capacity rear rack) to good use.
Carlos took the Buffalo, Jeff took the Bruiser, and 1.1 miles later, we were at the pizza place pictured in the photo that leads off this ride report.
A careful eye might detect one small problem in this photo. The Bruiser has gone flat! We quickly formed a plan. Carlos would continue back to his house with the 250 lbs of pizza strapped to the back of the Buffalo. Jeff would start pushing the Bruiser. Carlos would then return with a car to pick up Jeff and the Bruiser.
Score: Buffalo 1, Bruiser 0. As Carlos pedaled away on the Bruiser, Jeff was left not just to contemplate but also to experience firsthand the power of bicycles (and of the lack thereof).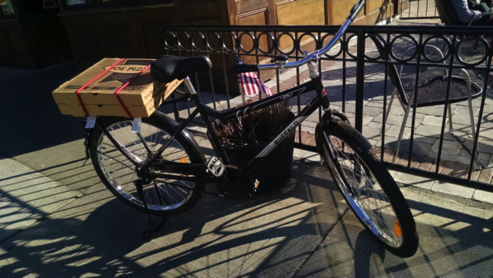 Back at Carlos' house, we consumed 125 lbs of pizza each while doing the math: 18.1 miles (choosing to ignore Jeff's failure to cover the 1.1 mile return trip).
Sure 18.1 miles was only a small fraction of the full [mumbles] miles that we would cover. But we weren't worried. We had more bikes to go.
The shortest loop of our plan was via folding bike. We set off, and by the time we were back at base, had added a whopping 0.7 miles to the score sheet.
18.8 for those of you keeping score at home, but on the folding bike lane, we came across a great omen: Century Street.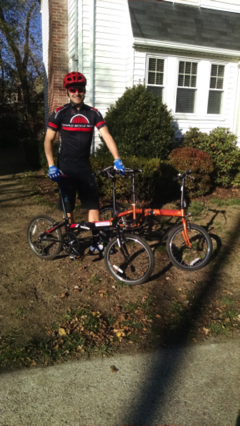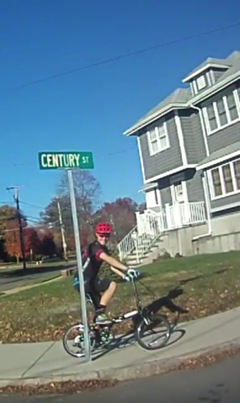 Segment 4 was via road bike. By this time, we had remembered to affix our race plates. And Jeff added his 2015 100MoN tool container as a good luck totem.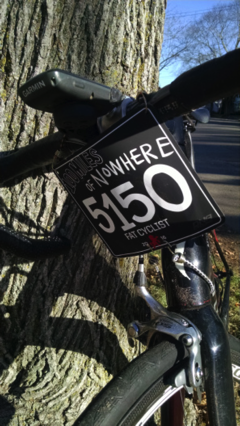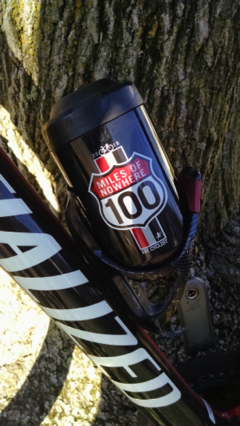 With road bikes under butt, we quickly added to our mileage in the way that only road bikes can. This time, the kit change was Jeff's.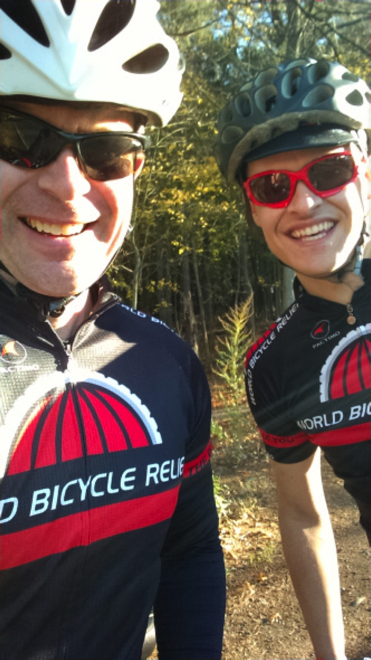 Another 10 miles brought the count to 28.8.
We were clearly on pace to hit our target of [mumbles] miles. That is, as long as we had enough bikes.
Bonus Velominati-styled quiz question: how many bikes is enough bikes?
Next up: cyclocross. This choice afforded us a chance to get back onto the trails that had served us so well on the fat bike and MTB segments.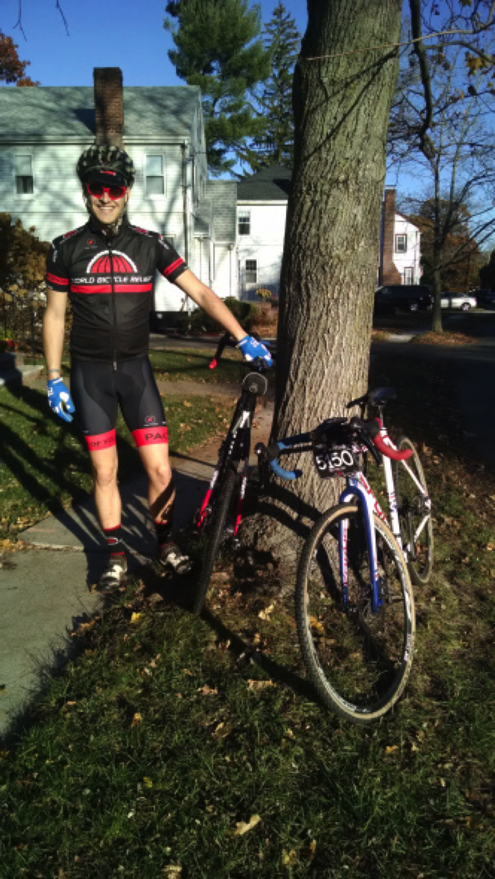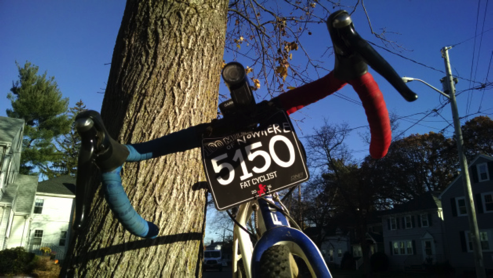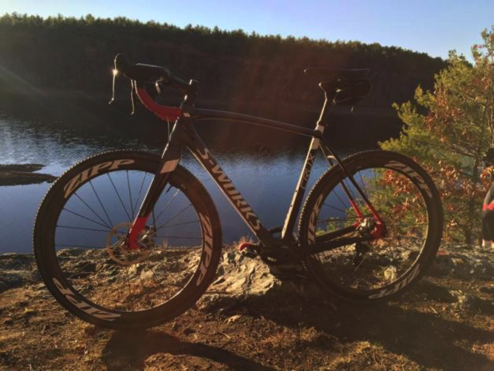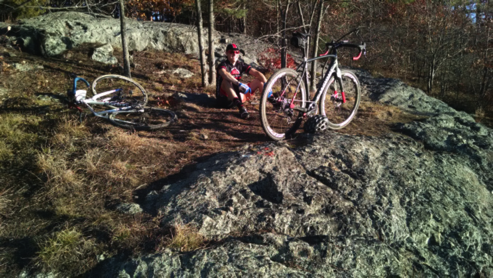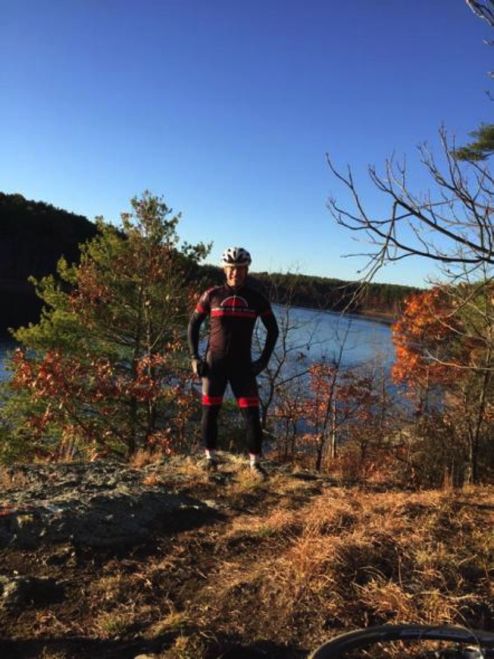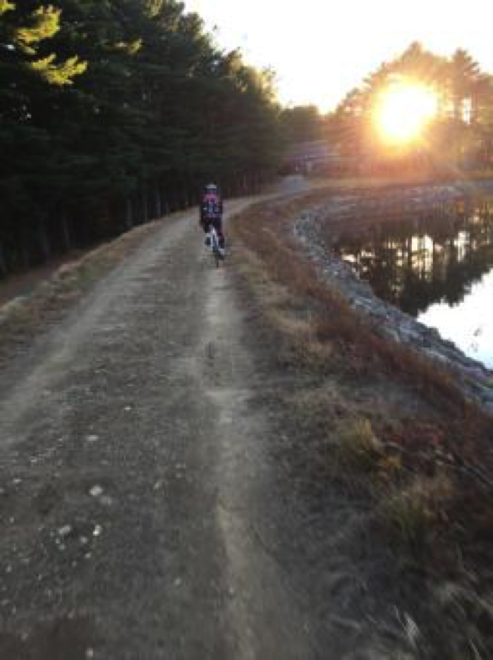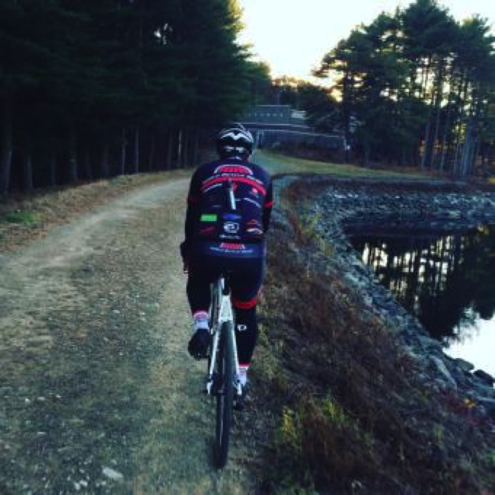 A wonderful (see photos and videos above) 8.3 miles later, we had reached pretty much the end of daylight. And of our pile of bikes.
We cleared our desks, sharpened our pencils, and added up the numbers. Hmm, 37.1 miles (Strava).
So, did we reach our objective of 100 [mumbles] of Nowhere?
Well, there was one more factor to take into account. That, of course, is the well-established dirt multiplier of 3.0:1. So, 37.1 x 3.0 = 111.3.
What a relief: over 11 miles to spare.