A "Real Life Seems to Have Gotten in the Way of My Blog Life" Note from Fatty: If I could have my way, I'd spend all my time blogging about biking and talking about biking and biking while talking about biking. However, it turns out that I have a job and responsibilities and stuff. Some of which, inconsiderately, have gotten in the way of my plans to do some live / recorded podcasty things. So:
The Rockwell Relay Chat: This was supposed to be today! In fact, it was supposed to be really, really soon today. But I've got something else going on right at that very moment. So we're moving this chat to Tuesday, February 17, at 7pm PT / 10pm ET. Register here! 
The Book Club: This was going to be this Tuesday, but it's not ready to go. I'll have a new date for this soon.
A Note About Racing Leadville with Fatty and WBR: If you've ever wanted to race the Leadville 100, this might be your best opportunity to do so, while making an awesome difference in the world. By raising $5K for World Bicycle Relief, you can be on Team WBR-Fatty-Queen of Pain. Which is my way of saying that by signing up, you can join Reba Rusch and me for training, talking, pre-race clinics, and otherwise hanging out.
Read details and apply here.
Sleeping with Your Bike is a Terrible Idea
I've made no secret that I want to be fast when I race this year. Really fast. I'm working hard to drop the holiday pudge before the season begins, while simultaneously improving my form and strength on the bike.
I have also been doing some research on what the best bike would be for an XC / endurance racer like me. Basically, I've noticed that a lot of the fast guys locally are on Cannondale Scalpels and F-Si's lately. And that they are incredibly innovative and light. 
And most importantly, I borrowed and rode one, and instantly obliterated my own personal record on a climb that had been vexing me the whole year.
And that's why I got ahold of the world's greatest Cannondale rep, Matt Ohran, who made a few calls on my behalf.
And a few weeks later, I got this SMS photo from my friend (and  soon-to-be Rockwell Relay teammate) Cory at SBR Cycles: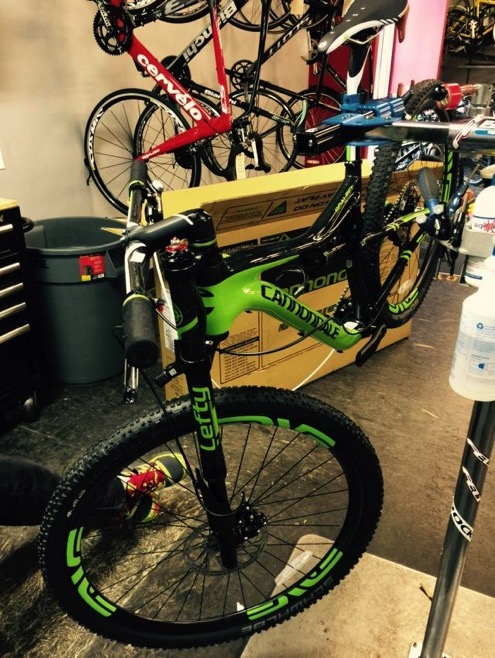 Yeah. A Scalpel 29 Carbon Team. Complete with ENVE 29XC wheels and SRAM XX1 drivetrain and brakes.
"I'll be right over," I texted back to Cory, and within an hour, I had this: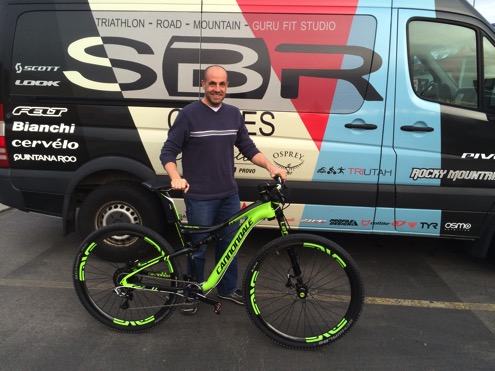 (Sprinter van not included) 
No, I don't get to keep the Scalpel forever. Yes, I'm still outrageously excited. 
As you would expect, I immediately started texting friends. You know, for gloating purposes. Here's an exchange I had with my friend DJ: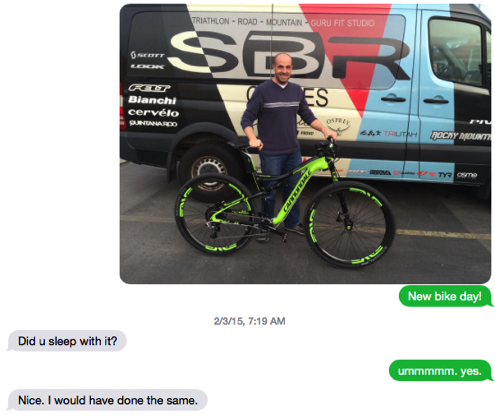 It's a common question, for some reason: Did you sleep with your new bike? Almost as if it's expected of us.
Few of us, however, actually follow through and sleep with our bikes. Which is, as it turns out, a good thing. 
As I shall now demonstrate, sleeping with your bike is a terrible idea.
Reason 1. Bikes Are Bigger Than You Think
When you're riding a good bike, it kind of just disappears from under you. This, unfortunately, doesn't apply at all when the bike is in bed with you.
As it turns out, bikes take up more room than you might imagine, quite literally forming a substantial wedge between you and your loved one.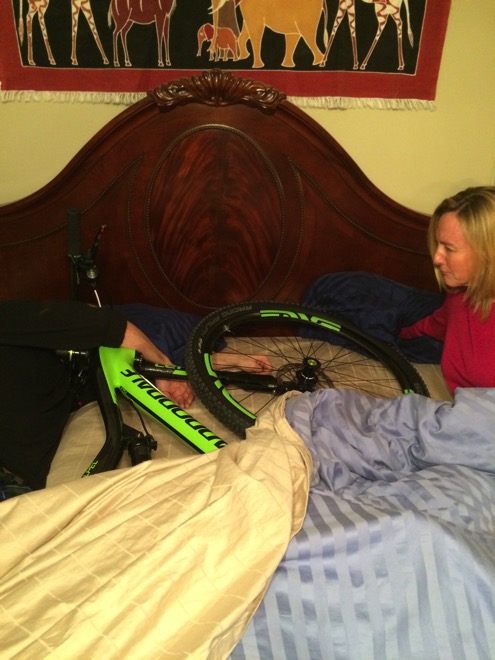 This, of course, assumes you have a loved one in your bed. Which, if you have a bike in your bed, will not be the case for very long.
2. Not Very Cuddly
While most bikes are, thankfully, lacking sharp edges, they nevertheless tend to be a little bit bony, with sharp angles and edges that verge on the serrated (I'm looking at you, 11-speed cassette).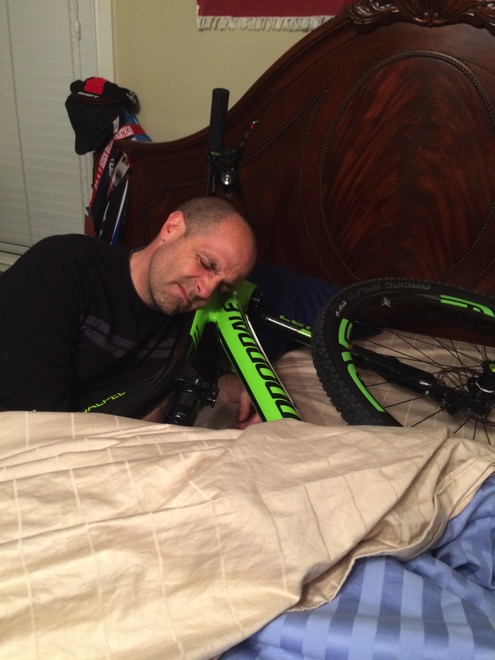 It's like it's giving me the cold shoulder. Or headset. Whatever. Frankly, this made sleeping very difficult. And when I finally did get to sleep, well that's when the bike finally decided it wanted to get close.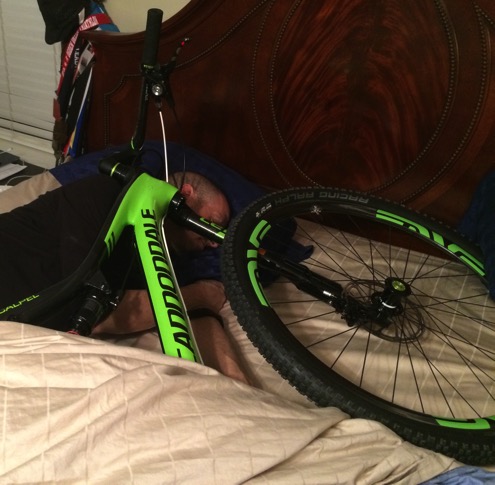 Have you ever wakened to find a handlebar in your ear? It's less pleasant than you might think.
3. Selfish Sleepers
Seeing as how it's made of carbon fiber and metal, you wouldn't think the Scalpel would require a lot of warmth when in bed.
But that doesn't prevent it from being a total covers hog.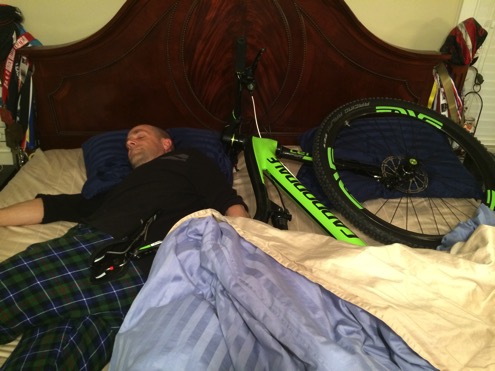 And the thing thrashes around and kicks in its sleep, too, taking more of the bed as the night goes on, completely oblivious to the fact that its saddle is in your face.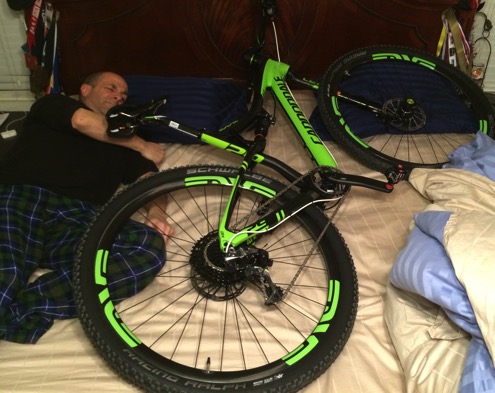 And even a new saddle doesn't smell great at 3:00am.  
But a well-worn saddle…well, that just smells nasty.
And don't even get me started on morning breath from a bike. 
Between the kicking and thrashing and poking and covers stealing, I promise you: sleeping with a bike is guaranteed to leave you completely exhausted when morning comes.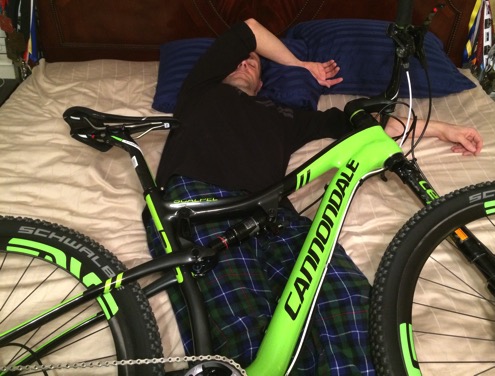 4. The Morning After
Great, you've slept with your bike. Now it's going to feel like it has the right to use your shower, where it will use up all the hot water and most of your soap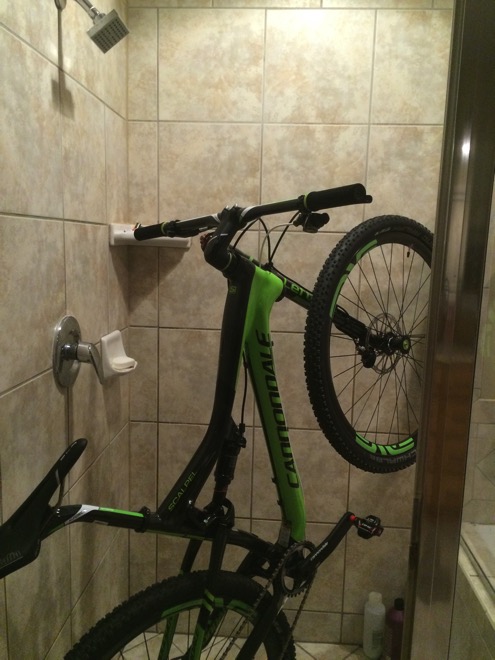 Then it's going to leave a greasy residue on the shower floor.  
And you think it's going to put the lid down after using the bathroom?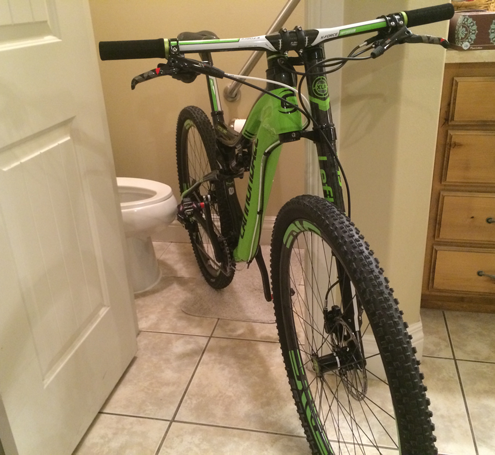 Yeah, right. Guess again.
But the real problem—the biggest problem—with sleeping with your new bike is that your other bikes are going to find out. 
And they're going to get all jealous and petulant, thinking that they should get to come in and sleep in the bed too.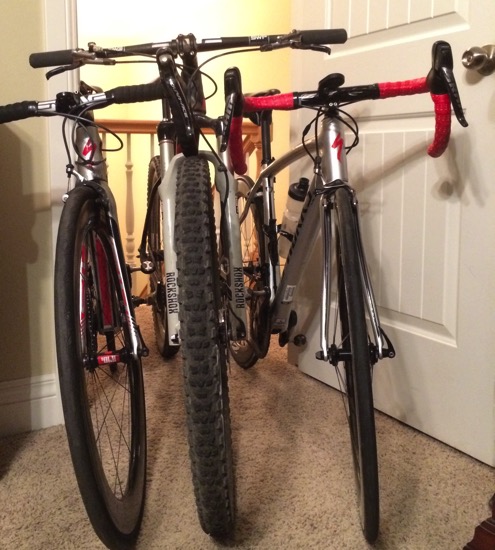 And if you think sleeping with one bike is uncomfortable, wait until all your bikes try to crowd in.
It's a nightmare.