A Note from Fatty: This is part 2 of my "The DQ-ing of Fatty" series. Part 1 is here.
In a triathalong, it's truly fascinating to be one of the really slow swimmers, but one of the really fast cyclists; you get to witness almost the entirety of the cycling field as you ride through it.
First, you ride through the happiest, most relaxed group of racers. They're there just to complete the race, to show themselves that they can do this. These people are riding the road on mountain bikes and townies. They are accomplishing something new. They are getting it done. They are the people I would be most interested in riding with and hearing their stories.
Next are the people who are riding road bikes, resting their hands on the hoods of their bars. They're fit and they're going hard, but this isn't the center of their lives. They signed up to do this triathlon to see whether they like it, or maybe to support a friend.
Then come the riders who are either on road bikes with clipped-on aero bars, or maybe even an actual tri-specific bike, but regular ol' road helmets. These are the people in transition. Unfortunately for them, they don't realize that an aero helmet will make a bigger difference than just about any other piece of equipment.
And then the field thins out and I'm riding with the people who look like…well, me. Full-on aero bike, full-on aero helmet, full-on aero suit. These are the people who are hoping for a podium spot, at least in their age group.
And once I've passed most of these people, I'm alone. Caught in a dead zone between the people who are fast at swimming and cycling, and pretty much everyone else.
And that can pose a real problem.
Let's Back Up A Little
When I left off in part 1 of this story, I had hit the turnaround point and was barreling toward what I assured you was the event that would disqualify (DQ) me from this race.
In order for you to really understand what happened, though, I need to back up a little bit. 
About a quarter of the way through the cycling part of the race — well before the turnaround — I came to an intersection that had a sign, indicating that people racing the olympic distance triathalong (me, for example) should continue on straight. People who were racing the sprint distance should make a sharp left turn. Like this: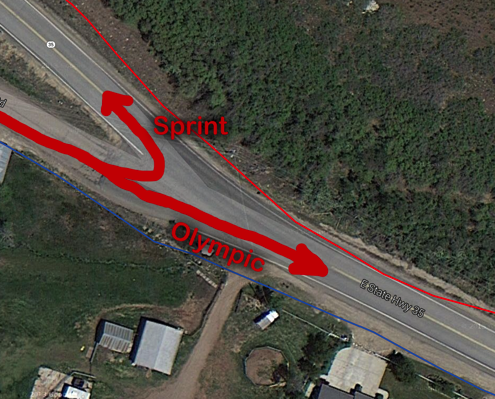 I slowed to interpret the sign, saw lots of other olympic-distance racers continuing on straight, then hammered on through. No problem.
But by the time I got back to that intersection, I had ridden through the field. There was nobody visibly in front of me. And  there were cars several deep along the right side of the road, either parked or waiting for a chance to get through the intersection, represented here with yellow rectangles.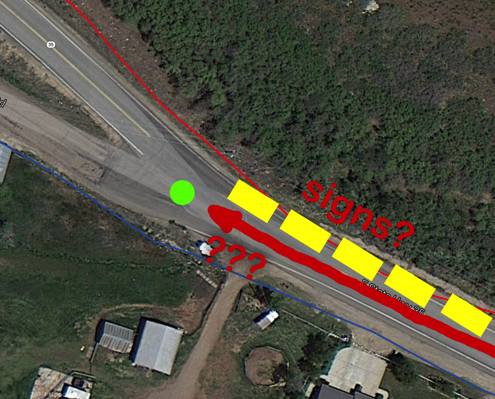 These cars blocked any signs that would have been on the right side of the road. 
There was a course marshal standing in the middle of the road (represented above with a green dot). I looked to her for guidance.
I received no guidance. The teenaged course marshal just stared at me blankly, her hands down at her side. I choose to believe that I was such a magnificent sight that she was swept up in the moment and simply forgot where she was and what she was doing.
There was no cyclist ahead of me to follow. I'd have to make this decision on my own.
So I made a guess. I would call it an educated guess, but really, I didn't have a lot of time for cogitating. "I saw before that the sprint distance racers go that way," I thought. "So olympic distance racers probably continue straight, the way we came. Besides, the course marshal would be waving me right if I was supposed to go right.
And so I went straight. 
Second Guessing is Awesome
Even as I went through the intersection, I was only 50.5% convinced I had made the right decision. Within a couple hundred yards, that conviction had dropped down to about 25%.
And it continued dropping from there. 
I slowed down. Should I turn around? No! There was nothing to indicate I had gone the wrong way; I was just letting self-doubt plague me.
I ramped up my speed again, though doubt made me lose my racing urgency.
Then I mentally pictured where this road was heading: to a T-intersection. I had turned right to get on this road, which meant a left turn to get back on the road that would lead me back to the transition area.
There had been no course marshal there when I had turned right, just a course marking. But maybe that was because nobody had yet come back, I reasoned to myself.
If there was no course marshal there to hold up traffic when I got to the intersection this time, I'd know for sure I had made a wrong turn. Or, more correctly, failed to make a right turn.
Game Over
Of course, there was nobody at the intersection. So I came to a stop as traffic went by, looking for an opening,  as people zoomed by, coming down the hill on my right side, me losing time.
Obviously, I had chosen incorrectly.
I found an opening and got back on the course, now riding mechanically, all the fierce joy of the race gone out of me.
What are my options? I thought to myself. Well, I could:
Keep it to myself. There were no intermediate timing mats. The fact that I had missed the turn wasn't my fault anyway. But the golden rule made this a non-starter: If I'd found out someone else hadn't ridden the exact correct course (regardless of whether my route shortened my ride, which is questionable), I'd be angry if he were on the podium in front of me. 
Quit. I could get to the transition area and then end my race, either telling the officials why or not — it wouldn't really matter.
Keep going and DQ myself afterward. I could keep going, do the running part of the race to see how well that went for me, with the new goal of trying to stay in front of The Hammer and the Borups. Then DQ myself at the finish line. 
I liked that third option. In fact, I liked it a lot. I'd do the rest of this race not so much as a pursuit of a podium spot, but as if I were being chased by The Hammer and her friends.
Game Not Over
I was going to finish this race, but I was going to do it just for fun. Which would be an actual new experience for me: racing for fun.
What I didn't expect — couldn't have expected — was the crazy, amazing, inspirational thing that would happen during the final leg of this race. 
Which is what I'll tell you about in tomorrow's post.