Dear Mr. Lew,
I very nearly did not write this letter. I thought to myself, "Hey, this is not some big megacorp; this is a wheelbuilding dude named Paul, who probably thought it was a good idea to take a photo of a model in a black dress along with his bike in the lobby of a Marriott and use that as an ad in VeloNews."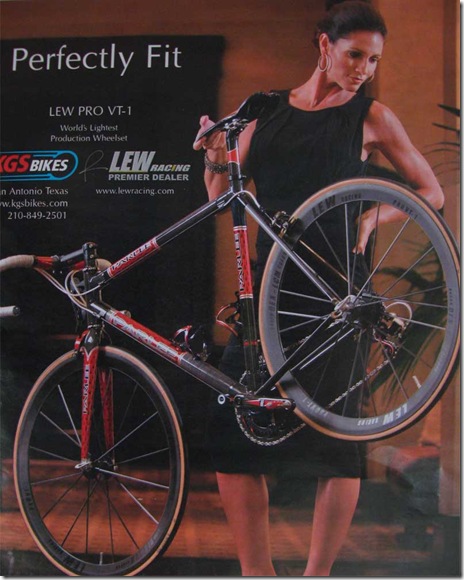 "I should just leave him be," I thought. "He's just a wheelbuilder chasing his dream. Why give him grief?"
And then I took a look at your website, Mr. Lew, where you sell wheelsets for up to $17,000 or so (the custom boron option alone is $7500), and now I don't feel quite so bad, because clearly I am not the only one with a sense of humor about what you're doing.
What Is This Ad About?
When I first looked at your ad, Mr. Lew, I saw the text "Perfectly Fit," noticed that the model in the dress is in fact very fit, and then I took a look at the bike.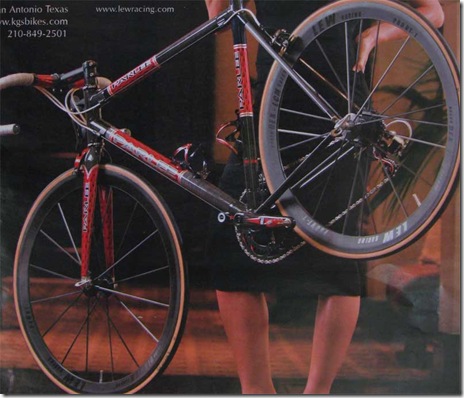 "Oh, cool," I thought. "Parlee's running full-page ads in VeloNews, advertising the fact that they custom-build their bikes so that they're a perfect fit for you. Good for them!"
It wasn't until the next issue of VeloNews that I took a look at the mouseprint of the ad (enlarged by 3000% here, so you don't have to get out a magnifying glass to read it):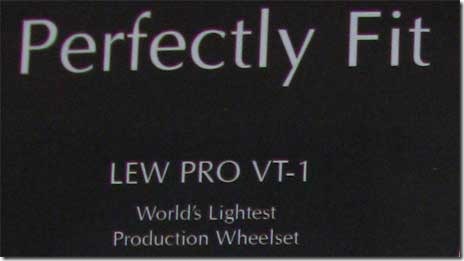 "Wha?" I said to myself. "Is this a joint ad between Parlee and Lew?" No. As it turns out, in spite of the fact that Parlee's logo is an order of magnitude more prevalent than the Lew logo all over the bike, this is in fact an ad just by Lew Racing. And if you pay extra-close attention, you can even tell that it's an ad for wheels.
Your Model Barely Tolerates You
But let's put aside your ad's efforts to sell Parlees instead of your wheels, as well as your considerable prowess in hiding your the name of your company and product in your ad.
Let's talk instead about the centerpiece of your ad: the model holding up the bike. For your convenience, I have below called out the main problems with the photo (image pops to larger version).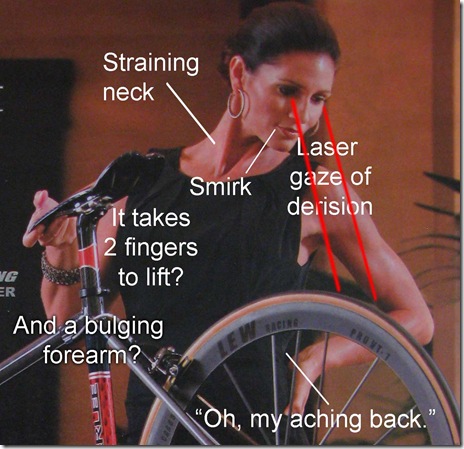 Let's dig a little deeper, shall we?
Models Can Lift Our Bikes! I think your intention is to show that even a waif of a model can lift a bike equipped with your wheels with just a couple of fingers. The thing is, though, any road cyclist knows that every manufacturer can build a bike that weighs less than fifteen pounds, so that's not exactly a great claim to exclusivity, is it?
MUSCLEBOUND Models Can Lift Our Bikes! You go and hurt your case even further by finding one of the most buff-looking models I have ever seen, and then take a photo of her straining away at holding the bike aloft, as if it were a full-suspension downhill mountain bike instead of a featherweight road machine. I mean, seriously. It's taking her two fingers to hold the bike in the air (it really should take just one), her forearms are bulging out, her neck is straining, and she's supporting her back with her other hand, as if otherwise the weight of your wheelset is going to topple her over.
Keep this thing away from me: Weight issues aside, your model would clearly prefer to be somewhere else. The look in her eyes and grimace on her face as she looks at your wheels are almost exactly the same as when I discover I have stepped, barefoot, in cat barf (happens more often than you might think). And she's holding the bike good and far away from her — not so much the way you carry an object of fine craftsmanship, but more like the way you take out the trash.
A Feel For the Surreal
After looking at all this, though, what really strikes me about your ad, Mr. Lew, is the strangeness of it. Apart from in a poorly-conceived ad, I'm trying to figure out, how would an event like the one pictured happen? I admit, I would be startled and amazed if I were to walk into a Marriott lobby (I'm not dead certain she's actually in a Marriott; it could be a DoubleTree) and see a woman in a black dress, hefting a road bike and looking at the back wheel with scorn.
I would walk up to the woman, I imagine, because I need to know more. "Why are you holding that bike in the air? I would ask.
"I am holding the bike in the air because I need to exercise my muscular upper body," she would reply.
"Seriously? How much does the bike weigh?" I would ask.
"82 pounds and change," she would reply. "I had the frame built out of solid Kryptonite, because Superman is my arch-enemy."
"That makes sense, I guess," would be my reply. "But why are you so angry at the back wheel?" I would ask.
"I have been asked," she would reply, "to hold this bike until someone can clean the cat barf off the back wheel."
I suppose, Mr. Lew, there are other possible explanations why this photograph might be taken, but none come to mind.
Here's a thought in closing, though: next time you want to run an ad in a bike magazine, consider taking a shot of a cyclist — maybe a cyclist on a punishing climb. You may even want to position the camera so at least one of your wheels is prominently featured in the photograph.
I know it's a crazy idea, but I think it just may work.
Kind Regards,
The Fat Cyclist