A Note from Fatty: Nick Abbott is a good friend of mine — a member of the Core Team, Seattle (via Australia) Division. Back when I lived in Seattle, Nick was the guy I always did the big rides with — 7 Hills of Kirkland, STP, RAMROD. And Nick's made the trip out to Leadville twice (and soon to be three times).
There's no better company for a long ride than Nick.
So, when Nick and his buddy Tony Meleg did the BC Bike Race last week — as Team Fat Cyclist — and I couldn't make it, I had to settle for photos and a race report. Reading it now, I'm even more envious.
Here's his report and photos. Enjoy!
Last week I took on the BC Bike Race with a Seattle buddy, Tony Meleg. Interesting race — dubbed 'The Ultimate Single Track Experience' – 550 Kms of racing – lots of Pros, International teams and hard core multi stage racer types. Tony and I were in the Men's 80+ category (me 40, him 42) along with about 44 other teams of two — Elden lent us the Fat Cyclist name. I wore Pink (orange on one day) – Tony wore Orange (his son's favourite colour).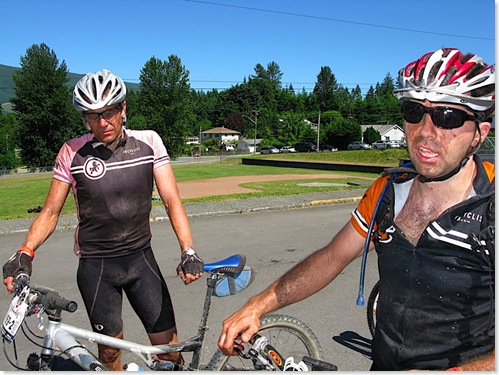 By the Numbers
Here are some rough stats for our team:
40 hrs of racing
20th in our class
2 flats
1 front derailleur destroyed
1 broken chain
1 rear cassette busted
It was a very cool race — very well supported. Sure, we had a few hiccups, mainly due to heat, but they were soon fixed up.
Logistics
Here are a few cool details about how a race like this works:
One bike shop (Obsession:bikes) brought a crew of mechanics and worked thru the night, every night repairing broken bikes. They charged MSRP for gear – plus some labor. They were moving thru the XTR and XO gear like it was Christmas – they sold out of 29er tyres on day one – they were very cool.
We slept in a tent city of 250 tents, put up and pulled down by the crew every day – these were 4 man tents, with 2 of us in each – very comfy
They had a mobile shower truck for us – little waiting – but we were camping at Hockey stadiums for the most part – so we used the locker rooms – very civilized
Food was catered by professionals – a film catering company on the Island (and they were the best) – and another company did the mainland food
Food was GREAT – dinner and breakfast – great, fresh, lots of it – see photo of menu below.

We got a wakeup call each day by a guy with a rubber chick and a megaphone – WAKE UP RACERS – SQUAWK – SQUARK
Kudos to my wife Sarah, for putting up with the training, the chatter and the commitment of the race – then driving five hrs, with the kids, and waiting another three to see us cross the line – and then waiting at each aid station on day seven.
Day Zero
we assembled at the Shawnigan Lake school about 45 mins out of Victoria on Vancouver Island. The school was like a cross between Bushwood Country club in Caddyshack and the Hogwarts school in Harry Potter. Great grounds and building – we registered – picked up our swag, dropped off our bikes and assembled for the pre-race briefing. We were told the rules (no rider rides alone - no more than 2 mins from your team mate at all times – what emergency gear was mandatory (bandages waterproof jackets, 2 liters of water, bandages and a whistle) – and what to do in an emergency. Off to bed (I had a nice B+B with the family, Tony was in the dorm) and an 8 am start on Day one.
Day One
91 K Shawnigan Lake – Cowichan Lake District – arrive back at school – usual assortment of shaved legs, expensive bikes, swagger and bravado that you find at any big MTB race. There were real pro's here as well – Tinker Juarez, Chris Eatough and Jeff Schalk – assorted Olympians and so on.
My kids had some great supporter signs.
8am approached and we were off.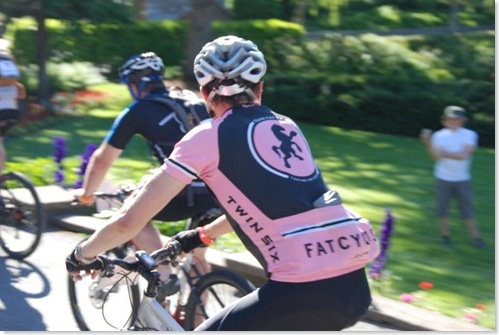 First, we did two or three quick laps of the school ground – including a hundred yards of recently mown, knee deep grass that tangled and ripped derailleurs from a number of bikes.
As usual in a race, everyone went out hard. In this race if you can't finish a stage both you and your partner get an NOR (Not Officially Ranked). I saw two teams NOR in the first 15 mins. A dislocated elbow and a piece of wood in the knee (the guy tried to do a Rambo – he pulled half of it out – but the rest required a trip to the hospital).
The day flew – we had hike a bike, some big steep hairy downhill, some new single track – it was the hardest day I had ridden up until then for a whole number of reasons. It was also one of the most fun. 91 kms, 100 + degrees.
It was some of the most technical sections I had ever ridden: cramps in quads, hamstrings and calves all at once. If there was anything else to cramp it would have. We did 6:38. I broke a derailleur and ripped the side wall on my tyre, had to replace some bearings on my rear wheel, and bent my cranks- I had one big trip over the handle bars where I think I did the most of the damage to the bike (except the bearings and tyre) – also had an issue with a rib that made an audible POP as I reached for something later that day. All this on day one.
The heat was really nasty – we pushed hard, and got through the day – Tony was really strong and was the main reason we got through it. Good thing we pushed as hard as we did – the heat caused more water consumption than the organizers planned – aid station two ran out of water just as we were leaving – that held up people for 30 mins while more came.
We pulled into camp dirty and hot – but glad to be there.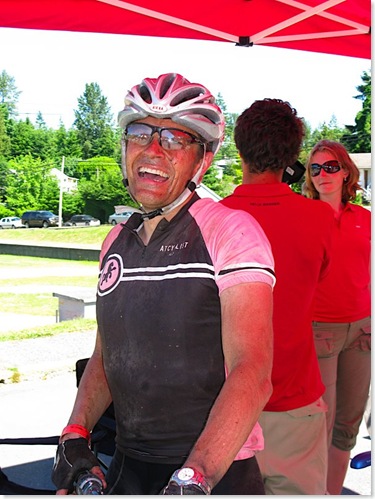 Day two
80K (Cowichan Lake District – Port Alberni) was nasty. 125 k of fire road in 100 degree heat. We went out way too hard, super fast pacelines – about 1 kph faster than I was comfortable with so I spent all my energy trying to stay on. We hit 60 k after 2 hrs, and things were looking good, then I cracked at about 5 hrs – I was really struggling with the heat and was typically hitting the wall at 5 hrs or so. Day two was pretty boring – not the ultimate single track experience.
Day three
(Port Alberni – Cumberland ) was supposed to have more single track and less fire road. Another 80 clicks, with about 25 single, pretty good day, we went out more slowly.
I had trouble keeping food down and eating. I think the two previous days had taken their toll. I was puking bananas when I tried to eat – all I had all day was a 'Salty peanut bar' and some water – I also think I made the mistake of having Cliff Shot blocks on an empty stomach – bad all around.
We were shooting for 5 hrs but got slowed at the end with some new freshly cut single track that was a little too new for 75 k into a hot day. Six hours was the final time. I was (again) so hot that that I had to get hosed down by the medics.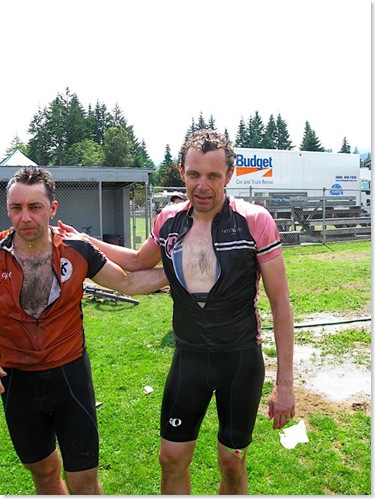 Highlight for me – 300 feet of ladder, 5 feet off the ground, with a 30 foot 4 inch wide log – cleaned it on first attempt.
Ate pizza, sausage roll, bag of chips, nachos, fries, a curry and even a few beer and ice cream to reload.
To bed early and up at 4:30 for two ferry rides to start day three – 60K and more single track.
Day four
65 K (Comox Valley – Powell River – Earls Cove – Sechelt) was the best so far – for this and the next few days we followed power lines, up and over ridges – great trails both up and down, minimal fire road. WE had started the day with two Ferry rides to get back to the 'mainland' – although this part of Canada is only accessible by boat or air. Ferry was great fun – late (11am) start and a good day – no injuries yet – a few scrapes on me, nothing on Tony. But the rest of the racers were starting to look pretty battered. Lots of blood, stitches, taping and so on. I even saw a guy ride with his arm in a splint (we had seen him walking the last 5 kms the day before with his arm in a sling – his partner pushing both bikes)
Each day was better than the one before it. Day 5 65K - (Sechelt Gibsons to Langdale Ferry) finished with had the best single track descent I have ridden – 10K or so of swooping downhill – barely pedaling – but really challenging with some ladders and technical downhills. The day was made up (like the others) with some brutal climbs and great downhill sections. Another Ferry at the end of this stage – with some very aggressive cut off times to make sure that we got on the boat. A lot of people missed this cut off (including our friends Volker and Alfredo) and were given NOR for the race.
Day six
was a loop in Squamish – one of the centres for biking in the North West. It was a combo loop of two races 'The Gear Jammer' and the 'Test of Metal'.
Amazing trails both up and down – by this stage I was having trouble keeping my head in the game. One minute I would be cleaning technical ascents or descents – the next I would be riding off the trail on a flat piece of easy stuff – starting to get really weary in the head and legs.
I had a couple of pretty sold falls early in the day which also played with my head a little. I rode some REALLY technical stuff early in the day – and I walked some technical stuff in the afternoon. Interestingly, the 29er showed some of its flaws – great on the technical climbs, and on the steep descents – but on the tight technical twisty stuff or the ever present switchbacks – the turning circle is just too big.
Our families came and met us at the finish in Squamish which was great – and we had booked a house in Whistler for a few days – so we had a good night's rest out of the tents and sleeping bags, and a great feed before the final day.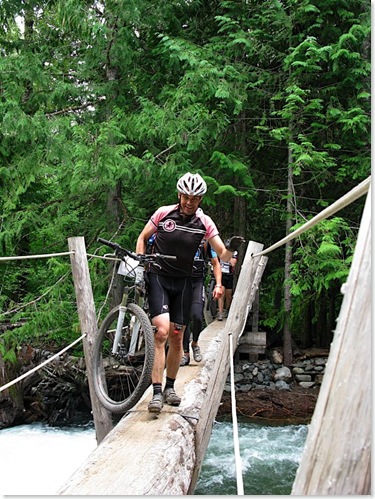 Day Seven
was a brutal ride from Creekside to Whistler, only 47K, but some of the nastiest climbs of the week – we were rewarded with (I think) some of the best downhills of the week as well. I had my head on right this day and rode 90% of the technical descents. One memorable trail was 'A River Runs Through It' a classic Whistler trail – We pushed pretty hard (I broke a chain and somehow a cassette) and finished right on five hours. All our kids were at the aid stops and the finish – they had a blast and it was great to have some moral support at the aid stations – we blew through the final aid without stopping, which was a bit rough given the kids had waited a few hours to see us – but we were so close to the end.
All in all a great ride – met some great folk on other team – lots knew the fat cyclist blog – lots knew Racer's store (when I was wearing a t-shirt) – lots recognized the Pink Jersey.
Will I do it again?
If I had the time I would – but it is a huge commitment both cash and timewise – and a big hit on family – so I think I am done – but let's see next year.