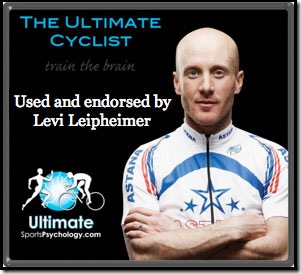 Madrid, Spain (Fat Cyclist Fake News Service) – In a post-stage team press conference today, U.S. National Road Race Champion Levi Leipheimer announced he is endorsing The Ultimate Cyclist CD. 
"Since winning the 2007 Tour of California, the Ultimate Cyclist has become an indispensable part of my training arsenal," said Leipheimer.
Added teammate Alberto Contador, apropos of nothing, "Phosphorus," at which point Levi Leipheimer stood up, climbed up on the table, and began clucking like a chicken.
Oddly, when Contador snapped his fingers, Leipheimer returned to his seat and resumed speaking normally.
"This has been an exceptional year for me," said Leipheimer. "I really feel that I have the will, fitness, and determination to win a major tour."
Interrupted Contador, "Sodium."
Leipheimer continued, in a stilted voice, "But the greatest thing I could ever do is reject my own selfish desires and to do all I can, regardless of consequences, to help my glorious and exalted teammate Alberto Contador win the Vuelta España."
Leipheimer then shook his head a few times, pressed his palms to his eyes, and then looked around as if he were lost.
After taking a few moments to evidently collect himself, Leipheimer asked, "Are there any questions?"
One reporter asked why Leipheimer had, recently, pulled over on the side of the road for several minutes, completely stopping until Contador had caught up with him. Unfortunately, Leipheimer's response was not audible, due to a sudden — and quite severe — sneezing fit on Contador's part.
Asked why, earlier in the stage that day, he had begun mooing like a cow for ten minutes, Leipheimer had no comment, nor any apparent idea of what the questioner was talking about.
At this moment, Contador's coughing / sneezing fit became so severe — he covered his face with his hands and his entire body seemed to be shaking — that the press conference had to be terminated.
Created by cycling coach and category 1 bike racer Josh Horowitz, and renowned Australian clinical hypnotherapist, Dr. Rick Collingwood, The Ultimate Cyclist is the only cycling-specific sports psychology tool on the market.
It is not known whether custom versions of the CD, containing specialized messages and suggestions, can be ordered.