Here is the story so far, as it developed yesterday:
Giddy and jet-lagged, I said some things about Levi Leipheimer's (well-documented) propensity to throw his weight around that some might call outrageous and libelous, if they were all cranky and were spoiling for a fight, I mean.
Levi hired a lawyer that seems perfectly happy to use decidedly unsavory tactics to quiet me.
We found ourselves at an impasse, staring at each other. Giving each other the stink-eye. Wondering who would blink first.
What would happen? Who would prevail? Neither party seemed willing to budge in this epic battle of wills.
The tension was simply too much to bear.
Luckily, a third party has stepped in, acting as a calming influence. A voice of reason. Specifically, the good folks in the staff at Bike Monkey / Levi's GranFondo sent this letter: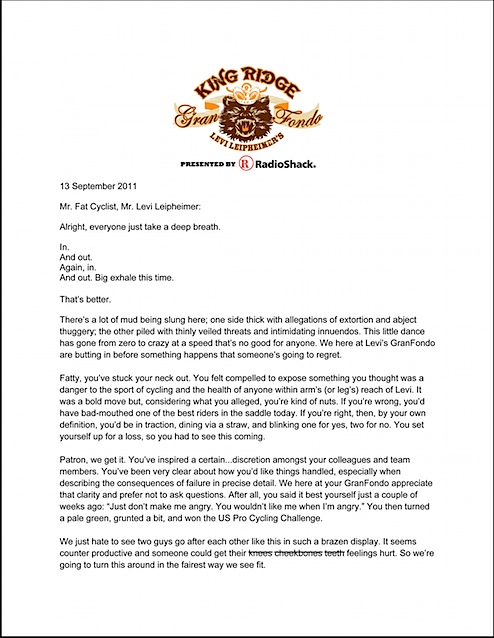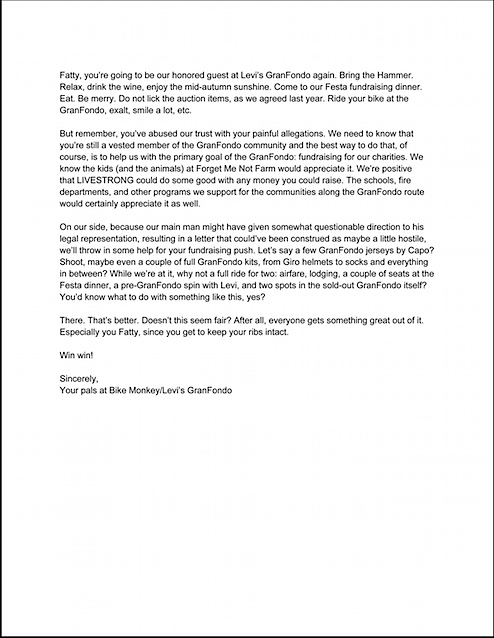 And for those of you who don't like reading the text in jpegs from scanned letters, here's the text of what they said.
13 September 2011

Mr. Fat Cyclist, Mr. Levi Leipheimer:

Alright, everyone just take a deep breath.

In.

And out.

Again, in.

And out. Big exhale this time.

That's better.

There's a lot of mud being slung here; one side thick with allegations of extortion and abject thuggery; the other piled with thinly veiled threats and intimidating innuendos. This little dance has gone from zero to crazy at a speed that's no good for anyone. We here at Levi's GranFondo are butting in before something happens that someone's going to regret.

Fatty, you've stuck your neck out. You felt compelled to expose something you thought was a danger to the sport of cycling and the health of anyone within arm's (or leg's) reach of Levi. It was a bold move but, considering what you alleged, you're kind of nuts. If you're wrong, you'd have bad-mouthed one of the best riders in the saddle today. If you're right, then, by your own definition, you'd be in traction, dining via a straw, and blinking one for yes, two for no. You set yourself up for a loss, so you had to see this coming.

Patron, we get it. You've inspired a certain…discretion amongst your colleagues and team members. You've been very clear about how you'd like things handled, especially when describing the consequences of failure in precise detail. We here at your GranFondo appreciate that clarity and prefer not to ask questions. After all, you said it best yourself just a couple of weeks ago: "Just don't make me angry. You wouldn't like me when I'm angry." You then turned a pale green, grunted a bit, and won the US Pro Cycling Challenge.

We just hate to see two guys go after each other like this in such a brazen display. It seems counter productive and someone could get their knees cheekbones teeth feelings hurt. So we're going to turn this around in the fairest way we see fit.

Fatty, you're going to be our honored guest at Levi's GranFondo again. Bring the Hammer. Relax, drink the wine, enjoy the mid-autumn sunshine. Come to our Festa fundraising dinner. Eat. Be merry. Do not lick the auction items, as we agreed last year. Ride your bike at the GranFondo, exalt, smile a lot, etc.

But remember, you've abused our trust with your painful allegations. We need to know that you're still a vested member of the GranFondo community and the best way to do that, of course, is to help us with the primary goal of the GranFondo: fundraising for our charities. We know the kids (and the animals) at Forget Me Not Farm would appreciate it. We're positive that LIVESTRONG could do some good with any money you could raise. The schools, fire departments, and other programs we support for the communities along the GranFondo route would certainly appreciate it as well.

On our side, because our main man might have given somewhat questionable direction to his legal representation, resulting in a letter that could've been construed as maybe a little hostile, we'll throw in some help for your fundraising push. Let's say a few GranFondo jerseys by Capo? Shoot, maybe even a couple of full GranFondo kits, from Giro helmets to socks and everything in between? While we're at it, why not a full ride for two: airfare, lodging, a couple of seats at the Festa dinner, a pre-GranFondo spin with Levi, and two spots in the sold-out GranFondo itself? You'd know what to do with something like this, yes?

There. That's better. Doesn't this seem fair? After all, everyone gets something great out of it. Especially you Fatty, since you get to keep your ribs intact.

Win win!

Sincerely,

Your pals at Bike Monkey/Levi's GranFondo
What This Means
So let me get this straight. If I be what passes for nice in these parts, as well as help fundraise for some really great charities, The Hammer and I get to come to the GranFondo? And bring a couple folks from Team Fatty along? And give away some awesome second prizes?
OK, I'm in. Let's do this.
What You Can Win
The prizes for this contest are pretty simple to explain, really. There's one first prize (for two people) and two second prizes.
First Place: A VIP Trip for Two to Levi's GranFondo
You and a guest (Sorry, US Only) get to enjoy all of the following:
Airfare to the GranFondo
Lodging
Tickets to the Festa del Fondo gala and auction (Sept 29)
Ride with Levi and a small group the day before the GranFondo (Sept 30)
Tickets to ride in the impossible-to-obtain, sold-out GranFondo itself
Second Place:
Two second-place winners will get the super-swank full 2011 GranFondo kit. That's about a $475 prize, and is guaranteed to make you look exactly like this: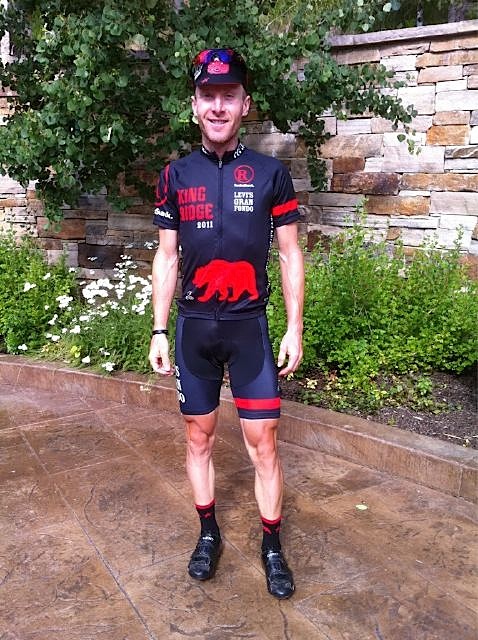 Specifically, you get all of the following:
The 2011 GranFondo / Giro Aeon Helmet (below image is the top-of-the-line, $250 Aeon helmet, but doesn't reflect custom GranFondo design):

The 2011 GranFondo Jersey (made by Capo):

The 2011 GranFondo Shorts / Bibshorts (made by Capo):

The 2011 GranFondo Arm Warmers (made by Capo):

The 2011 GranFondo Cycling Cap (made by Capo):

2011 GranFondo Socks (made by Capo):

How To Enter
Want a chance at winning a trip to ride in the GranFondo? I thought so. It's easy. Here's how:
Donate any amount, in increments of $5.00.
For every $5.00 you donate, you get a chance at winning either the first or a second prize.
The contest begins now, and ends Midnight (PT) Sunday, September 25. I'll notify winners on Monday.
Sorry, but all prizes are available in the US only. What with customs and the logistical issues of trying to fly someone here from Lithuania in time. You understand, right?
Why You Should Enter
There are a couple of really good reasons for you to enter this contest. The first, of course, is the possibility that you'll win a trip to Levi's GranFondo. Which is an amazing experience, with fancy food, and an incredible ride. With breathtaking scenery.
Apart from that, though, is the fact that Levi's GranFondo does a lot of good for a lot of people, and when you donate, you're doing a lot of good too. Your donation goes to benefit all of the following:
LiveStrong: What could I say about LiveStrong that I haven't said ten thousand times before?I've seen firsthand the good that it does, and I'm really pleased that Levi's GranFondo is supporting it too.
Forget Me Not Farm: Forget Me Not Farm helps thousands of at-risk children and youth break the cycle of abuse.
Local help: The GranFondo helps local schools, cycling programs, emergency services and community services.
So, whether you win or not, you're doing something good for someone who needs it. That's awesome.
So please, donate. Maybe you'll win something awesome, and for sure you'll be doing something good.
And you'll probably help me avoid having Levi punch me in the throat (again).
PS: Tomorrow I start up with the France trip storytelling. Honest.