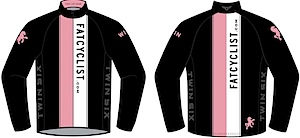 A "The Pre-Order Ends Tomorrow" Note from Fatty: After the rainy race I just did, the FatCyclist gear item I absolutely positively must highlight today is the windshell jacket. See, on the day of the race we were looking at 60% chance of rain, for the whole day. And in fact, when the race started, it was raining, and pretty windy too.
But I didn't want to wear a full-on waterproof rain jacket on a day that — even when rainy — was still going to be warm. So I went with my FatCyclist windshell jacket over short sleeves and arm warmers.
And it was the perfect combination.
I started the race wearing the jacket. About eight miles into the race, the rain stopped and — without having to stop or even slow down — I was able to strip the jacket off and stuff it into my jersey pocket.
Later in the day when the rain started again, the jacket went on. And then came off again.
So is this a rain jacket? No. It won't keep you dry in a full-on downpour. But it's definitely rain-resistant. I can vouch for that. And it's great for wind. And since it has a zipper that goes up as well as one that goes down, you can easily unzip from the bottom when you need to get to stuff in your jersey pockets.
If you don't have a wind jacket, you need one. And this is a great one to get.
2012 Crusher in the Tushar, The Movie
Evidently, I'm very susceptible to peer pressure. I say this because last year after Grizzly Adam and Ski Bike Junkie went on and on about how much they loved the Crusher in the Tushar, I decided I had to do it.
This in spite of the fact that this course — due to its unique mix of pavement and high-mountain dirt roads — is designed for a kind of riding I don't have a ton of experience in.
And by "riding I don't have a ton of experience in," I mean "no experience whatsoever."
But, gamely (and by "gamely," I mean "lamely"), I got a Specialized TriCross Elite Disc Apex Compact, knowing that I definitely defintely wanted disc brakes for the monstrous 4000+ foot washboarded descent that is the centerpiece of the race.
Unless it's the two 4000+ foot climbs that are the centerpieces of the race. I dunno. How many centerpieces can a race have?
Wanting to run at a lower pressure than tubes would allow, I asked Racer to swap out the stock rims with Stans Notubes 340s. He also put on some knobby Hutchinson tires, so I (hopefully!) wouldn't slide out all over the place.
So check out the bike, sitting warm and cozy in my hotel room, just an hour or so before the race begins: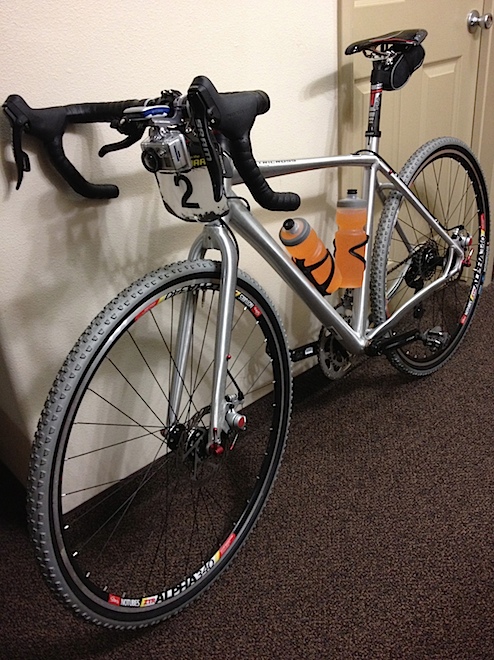 In particular, check out the cockpit of this bike: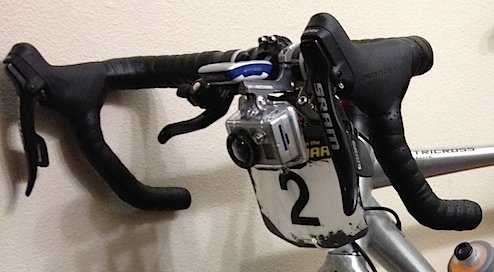 It looks a little busy, what with the race plate and the extra brake levers, but I'm actually showing off some pretty awesome stuff the good folks at AceCo Sport Group sent me. First, the K-Edge Computer Mount for Garmin Edge: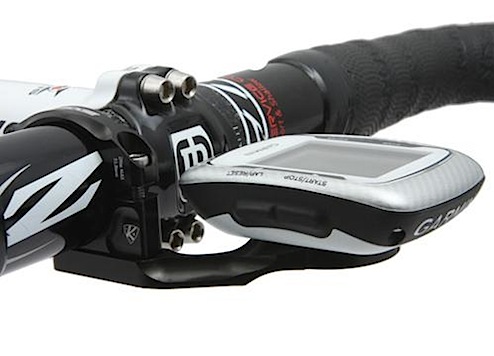 I loved how solid this mount locks the computer in place, and centers it just in front of the stem, so you don't have to look so far down to see the computer. In my case, this was a bad thing, because it meant that I had way too easy a time noticing that I was, once again, climbing at 2mph.
Really.
The thing I was really excited about, though, was that I just got a GoPro HD Hero2 as my new helmetcam. I didn't want the weight of a camera sitting on top of my helmet for the whole ride, though, so I mounted it with a K-Edge Go Big Pro Handlebar Mount: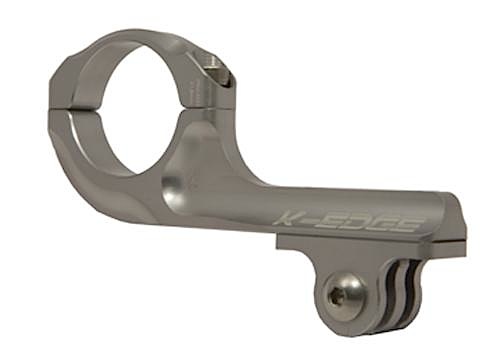 I then set up the GoPro to film upside down, as well as to do one-touch filming, where the camera begins filming as soon as you turn it on. That way I could conserve battery power during the ride, but not have to take extra steps when I wanted to film. Turn the camera on to start filming, turn the camera off to stop filming. Easy.
The Movie
Okay, with all that out of the way, how about I show you the movie? I'll embed it below, but really recommend you watch it over at the Vimeo site, where you can see it all not-shrunken-down-like. For the lazy among you, though, here it is:
I captioned the thing pretty much to death, so it doesn't just seem like a bunch of random bike-riding video sequences.
I love the image quality of the GoPro, and am really digging how easy it is to start/stop filming with the handlebar mount (especially when I run the resultant video through image stabilization); I'm going to start using this in combination with a lot of my rides.
So expect more video from me soon.
PS: Tomorrow, I'll begin telling the story of the race in excruciating detail.