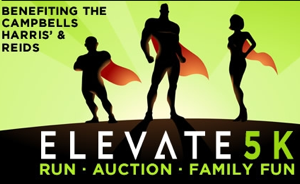 A Note from Fatty: If you're local to Utah County or SLC, you should come do the Elevate 5K this Saturday, April 20. Proceeds will go to benefit three local families engaged in serious battles against cancer. In addition to the run, there'll be giveaways for some pretty amazing prizes, as well as an auction with trips, tickets to games, bikes, and lots more.  Click here to sign up. 
Let's Get Practical
The swag box for the 100 Miles of Nowhere has some pretty excellent swag: Something awesome from Banjo Brothers. A free, exclusive viewing of Singletrack High. And there will be more. Oh yes indeed.
Today, though, I'd like to tell you about the stuff in the swag box that you'll more than likely want to use during the event itself. 
Let us check them out.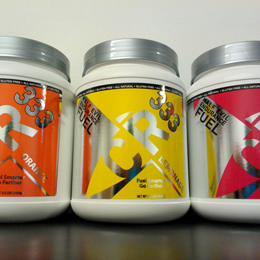 CarboRocket 333: Half Evil Endurance Fuel
333 is the most potent, complete and effective endurance fuel on the planet. Use it as your stand-alone race and training fuel. No need for messy gels, gooey gummies, expensive bars or clumsy food. Just drink and go and go and go.
It's available in 1 kilo containers of raspberry or lemonade (with caffeine) and orange (no caffeine). A third of you will get orange flavor, a third will get lemonade (my personal favorite), and a third of you will get raspberry.
And I believe you'll discover what a lot of hardcore cyclists have found out: my friend Brad — the inventor of CR 333 is — is a half-evil genius. If you've ever had gastric issues hot on the heels of drinking some other sports drink, you may well find the answer to your problem right here. 
100 Miles of Nowhere participants will each get a one-serving packet of CR333, which is enough to give you — you guessed it — 333 power-packed calories (about as many calories as you get in three gel packets) in an easy-to-drink bottle. 

Specialized HydroFlo Bottle
Little things make a big difference to me when I'm biking. And — for some reason — having a good water bottle makes a huge difference to me. 
For a long time, I maintained there was no such thing as a good water bottle, for the simple reason that for a long time there really wasn't a good water bottle out there. 
With the Specialized Purist HydroFlo bottle, though, I have found a bottle I really, genuinely, truly love. They're super easy to squeeze. Simple and intuitive to lock and unlock. They don't have the lousy plastic taste most bottles lend to whatever you're drinking. The caps don't leak.
And they're all clear and cool-looking, too. And in short, I just love this bottle (I even made a video about why).
Now, these are pretty expensive bottles — around $15.00, usually, and a really great deal at $12.00, but we'll be including one in your 100 Miles of Nowhere swag box for free. 
While it isn't shown here (because we're busy adapting art to the HydroFlo bottle's unorthodox screening requirements), your bottle will have a version of this year's 100 Miles of Nowhere logo on it. 
Believe me, after trying this bottle out, you're going to get all snobby and standoffish about all your other bottles. I apologize in advance.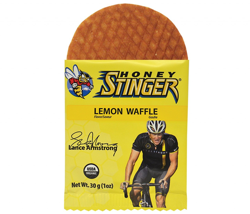 Honey Stinger Waffles and Bars
I believe it's no surprise that I'm a fan of Honey Stinger Waffles. Frankly, I'd be a fan of them even if they weren't a fantastic, easy-to-eat energy food that sits flat and cozy — like it's not even there — in your jersey pocket. 
Let's face it, if they wrapped them into a cone shape and put ice cream in them, I'd think they were pretty much the best part of the ice cream cone.
But they're energy food. Delicious, don't-get-sick-of-it energy food. And you're going to get a Lemon Organic Stinger Waffle in your 100 Miles of Nowhere swag box.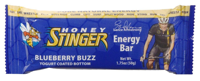 You're also going to get But that's not all. Nosirree.
You're also going to get a Blueberry Buzz Energy Bar. But "energy bar" is a bad name for what this is, because it conjures up images of other, inferior energy bars. 
And this thing is way too delicious to be thought of alongside those other energy bars. For one thing, the bar itself tastes good on its own merits. For another, it's coated on the underside with a sort of white-choclatey yogurt frostingish stuff that makes this taste more like a dessert than something you should be eating while you ride your bike. 
But you should be eating it while you ride your bike. Specifically, you should be eating it while you ride your bike 100 miles, to nowhere.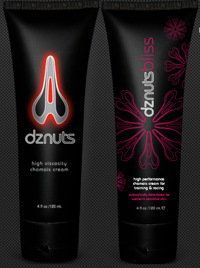 DZ Nuts / Bliss
If there's one product you are absolutely positively going to need when riding your 100 Miles of Nowhere race, it's DZ Nuts. Or, if you're a woman, DZ Bliss. (Although, honestly, both kinds work just fine for both genders.)
Because if you don't use it, you're likely to suffer from some chafing problems. And those get worse as the miles wear on. And once they start getting worse, they get a lot worse. And suddenly, your silly day of insane riding for a good cause has turned into a Slog of Pain.
And you don't want that. And I don't want that for you. And Dave Zabriskie doesn't want that for anyone.
So, in each 100 Miles of Nowhere swag box will be included a sample pack of DZ Nuts and DZ Bliss. Try them both, decide which you like best. And don't feel bad if your answer is surprising. It ships in a plain brown wrapper, from what I understand.
Get Ready to Register
Believe it or not, I still haven't revealed all the stuff you'll be getting as part of your 100 Miles of Nowhere Swag Box. But this will have to do 'til my Wednesday post, where I will unveil the registration link and everything else you'll be getting. 
Look for a post — and for registration to open — Wednesday, April 17, at 9:00am CT.