A few weeks ago, Dug and I went out on a lunch ride. "There's some new trail in Corner Canyon you should see," he said.
What he showed me was a two hour ride combining some of the greatest hits of Corner Canyon with some extraordinary new trail, first and foremost being a one-mile stretch of singletrack called "Mercer Hollow."
"I don't know how Draper (the city hosting the amazing Corner Canyon mountain bike trail network) does it," I said. "New trail, every single year. And it's so good: well-conceived, well-executed, incredibly fun. I can't believe how lucky I am to live near this."
"I feel a little bit like a freeloader just riding here for free," I admitted, "cuz this must cost someone something."
Dug's actually in the Corner Canyon trail-building steering committee or something like that, and told me, "Foundations underwrite most of it. And there's some fundraising dinner coming up."
"I should sign up for and go to that fundraising dinner," I said.
But of course, I didn't.
Partially it was because I already had plans for that evening. Mostly, though, it was because I could see it was set up to be a long evening of standing in buffet lines, then listening to speeches and a comedian I had never heard of, then a silent auction. I'm sure that's someone's idea of a good time, but not mine.
Meanwhile, though, I took The Hammer on what I called "Dug's New Loop." Fall had just begun, so the trail was extra-gorgeous.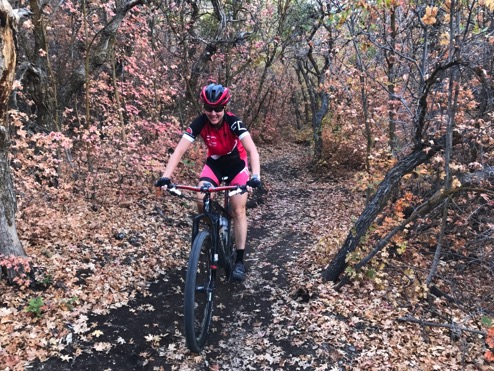 Then, the next day, we went again, this time bringing The Monster and a friend of hers: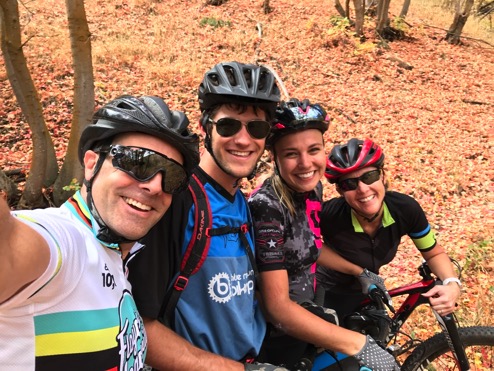 There was just no getting around it: Corner Canyon is just world-class singletrack, right in our backyard, and it just keeps getting better and better.
So this loop — variations of which make it anywhere between fifteen and nineteen miles of singletrack with between 2000 and 3000 feet of climbing, with the trailhead about two miles from our front door — has become our go-to ride. It's close, it's fun, it's great on a singlespeed. It's about two hours of ridiculously good singletrack, about five minutes from home.
It's so good. Maybe too good. I didn't deserve it. I haven't earned it. This sense of being a cycling freeloader kind of started gnawing at me a little bit. 
And then we ran into an old friend — Kris N — also riding this new trail. And he mentioned something along the same lines: he'd been thinking about that those of us who use things like this ought to contribute, in some way or another.
So — finally — I found the Corner Canyon Trails Foundation Donation page, and I donated some money. Not a lot (way less than I ought to, considering how many people in my family use these trails), but something.
Hey, it's a start.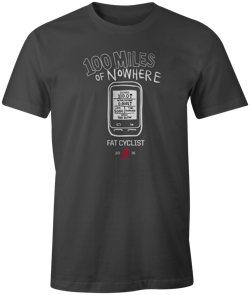 100 Miles of Nowhere
This brings me to the 100 Miles of Nowhere. We're down to the final week of registration for this event, which supports Camp Kesem, a foundation that proivdes amazing, silly, and fun camps to kids, supporting them through and beyond their parent's cancer. 
I figured that with this being only $39.95 (with no shipping charge), we'd hit the 500 registration cap right away. But we haven't even hit 300. So please: register now. Let's support this wonderful foundation. (And, while you're at it, allow me to recommend picking up your Fat Cyclist gear, which is now pretty deeply discounted at end-of-season pricing.)
The last day you can register is this <strong >Friday, October 21. 
Red Kite Prayer
One last thing here: I'd like to propose that if someone's working hard to provide you really great content, it's probably worth a few of your dollars to support that someone. I'm talking about, of course, my good friends at Red Kite Prayer. I've been podcasting with these guys on their podcast for thirty-seven episodes now. We've kind of got a thing going.
And now they're moving to a paid subscriber model.
I think this kind of subscriber model is awesome, and I think it should be supported. I also know that it's easy to say, "I'll get to that later." But don't. Go to Red Kite Prayer and subscribe. If you have a lot of money, give them a lot. But if you don't, set up a $3/mo subscription. That basically a dime per day, and it's worth way more than that.
Whether it's the trails you ride, the causes you believe in, or the stuff you read (or all three, in my case), we bike people have got it good. That's worth paying for.