There was a time when Superman was my least favorite comic book hero. His problem is that he has so many powers that it's difficult to even enumerate them all. Strength, speed, flight, a whole raft of vision-related powers, cold breath, and nearly invulnerable.
"I swear," I used to think, "his biggest challenge must be in deciding which combination of powers to use in a given situation."
But lately, I've come to identify with Superman more and more, as my own arsenal of superpowers continues to expand.
Namely, in addition to being able to eat prodigious amounts of food, in addition to being able to eat food right after a hard event while everyone else is clutching their stomachs and fighting nausea, in addition to being able to recall the complete song lyrics to any and every top-40 song from the 80's, I have yet another power:
I am a remarkably good giver of gifts. Seriously, if you ever get a gift from me, you can count on it being a good one. Better than you expect, and probably better than you deserve.
This power — like most superpowers, actually — comes with a caveat, however. In order for me to exercise this power on a person (i.e., in order for me to give someone a really great gift), I must have some kind of contextual similarity with that person. For example, because my Dad and I both love the outdoors, I have given him the extraordinary gift of excellent wool socks, and a GPS.
Similarly, since pretty much every one of my friends rides a bike, I have gifted them with Fat Cyclist apparel. Yes, sometimes my powers are rather self-serving, but I never vowed to use these powers for unselfish purposes.
Because of this caveat, until last week, any presents I have given The Runner have been bike-related. Bike clothing. Bike food. A bike.
But then — upon finding that I am going to be doing an Ironman in less than three months — I started swimming. By doing this, I quickly gained a new appreciation for this sport.
By "appreciation for this sport," I of course mean "an exquisitely painful insight into the remarkable tedium and soul-crushing isolation of this sport."
Magical Gift
And then, magically, I got a call from H2O Audio. Would I, they wanted to know, be interested in trying out their Interval Waterproof Headphone System?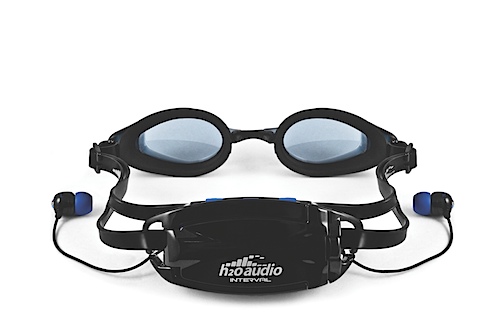 In other words, would I be interested having my swim time be less awful?
Why as a matter of fact, I would.
"You know what," I said. "What would be really great would be if I could get a couple of these, because my fiance is also punishing herself for no good reason getting ready for an Ironman."
"And it would be really, really helpful if you could overnight them, because, um…."
"Yes?" H2O Audio replied.
"Because Sunday's Valentine's Day, and I got nuthin."
This, evidently, was sufficient, though first the H2O Audio rep asked whether I had a Third-Generation iPod Shuffle, which is what the Interval 3G system is made to work with.
"Yeah, thanks to my middle-aged memory and a washing machine, I do."
"I beg your pardon," she asked, not unreasonably.
"Well, I had the previous generation iPod, but the battery went dead during one ride, so I put the iPod in my vest pocket, with a very stern mental note to myself to be sure to remove the iPod after the ride."
Kindly, she did not ask for additional details.
Big Improvement
So The Runner got the Interval Waterproof Headphone system for Valentine's Day, and my pride at giving this to her was not even remotely lessened by the fact that it had not been my idea, that I had not paid for it, and that I kinda got her a set as an afterthought to getting a set for myself.
The important thing is, The Runner — who, I might point out, rocks out quite a bit louder and harder and more often than I do — was basically being given a reprieve from her thrice-weekly sentence of solitary confinement.
And yesterday (Monday) morning, we tried them out. She was listening to Disturbed, Breaking Benjamin, and Three Days Grace. I was listening to Social Distortion, Alien Ant Farm, and Oingo Boingo.
The headphone system was easy to set up. Open up the little compartment, plug the iPod into the jack, then close the compartment and attach the thing to your goggles. There are three easy-to-find buttons to adjust volume, change tracks, and select a playlist.
The system comes with an enormous number of earplug inserts, in varying sizes. I'd be amazed if anyone couldn't find a set that fit well (as a perfectly average-sized person, the set that were on the earphones by default fit me just right).
The construction seems simple and solid: rigid plastic with a hinged door, a gasket sealing the iPod off from the water. And since the headphone system costs more than the iPod itself, I'm guessing it's well-enough built that it will do its job. I know, that logic makes no sense at all except inside my own head.
(Full Disclosure: H2O Audio sent both these sets of headphone systems to me at no charge.)
The most important thing, though, was that 40 laps went by like that. (Imagine me snapping my fingers as I say "like that.")
I brought a camera along to take photos of The Runner, and was told, in no uncertain terms, that I was not to take photos of her wearing a swim cap and goggles.
And — for some reason — I was reticent to include photos in this blog of me in nothing but a Speedo and goggles. Because you'd never be able to un-see it, that's why.
Anyway, I've only used this headset for one swim, so I can hardly call this post a review, but my impression is that this is going to be one of those things that I really rely on. And which prevents me from having pool-related nightmares and from breaking into a cold sweat whenever I get a whiff of chlorine.
If, for whatever reason, you — or someone whose sanity you care about — must swim for a long time (more than three minutes, for example), and with great frequency (more than twice per year, for example), I'm going to go out on a limb and recommend you get an H2O Audio Interval setup.
It could well save your sanity. Or — if you want to emulate my superpower and give one of these as a gift — your loved one's sanity, which may be even more important.
PS: For my next swim — acting on a commenter's suggestion from a couple days ago — I've added an audiobook to my iPod; it looks like I can switch from the book to music and back without losing my place in the book.
PPS: If you're looking to buy, the Interval 3G Waterproof Headphone System for the iPod Shuffle is available at the company site for $99.99. Or if you're a bargain hunter, they're also available for $86.63 at Amazon.com (standard shipping is free).
PPPS: Big thanks to Ben for pointing H2O Audio toward me! Ben's on a noble quest himself; check out his "Becoming Timberman" blog to see what he's up to.