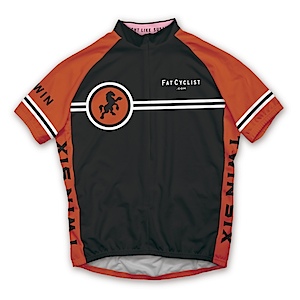 A "YOUR QUESTIONS, ANSWERED" UPDATE: If you've asked questions in the comments, got back and check to see if there's an answer. The Twin Six guys have been answering directly within comments here. Got another question? Ask it in the comments below.
A LIVESTRONG DONATION UPDATE: Twin Six just said they are going to double the percentage they originally planned to donate to LiveStrong from the 2011 Fat Cyclist Gear pre-order. Which is ridiculously cool of them, and maybe an extra-nice incentive for you to get yourself some Fat Cyclist gear.
You're riding your bike. People see your jersey, which says "Fat Cyclist" on it. And yet, paradoxically, this jersey actually bolsters your already overwhelmingly good looks, bringing you well into — and quite possibly beyond — the "smokin' hot" zone. You are now as irresistibly attractive as you are athletic.
You don't come across jerseys like that every day, my friend.
Way back in 2007, Twin Six and I met and they showed me a bunch of designs for jerseys. Among them was an orange, black and white beauty of a jersey with a clydesdale rearing up on its hind legs.
I had to have it.
Lacking confidence, we had only 300 or so of these jerseys made, and we had extensive chats about what we would do with the ones we couldn't sell. As it turns out, we shouldn't have worried. They sold out, fast.
So, when Twin Six and I started talking about the 2011 Fat Cyclist Gear collection, I threw out something that had been on my mind a lot: "What if we brought back the original design? But this time, with better fabric, better fit, and a full-length zipper?"
Which is what we've done. But now, instead of just a jersey, you can get this design on your shorts. On your jacket. A hoodie. Your running shirt. And more.
The 2011 Fat Cyclist gear collection identifies you as part of Team Fatty (you'll notice that the original design has been slightly tweaked to include the "Team Fatty" symbols), fits and looks great, and is in short very likely to be your very favorite jersey ever.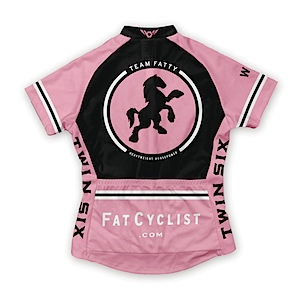 If You Just Want to Get Ordering
If you'd like to skip my sparkling, descriptive prose, well…frankly I'm a little hurt. But fine. Here's the bare bones list of items and prices, linking to the pages where you can buy them on the Twin Six site.
Men-Specific Stuff
Women-Specific Stuff
Everyone-Specific Stuff
And now, let's get on to the the part where I show you what everything looks like and use my extraordinary marketing prowess to make you want to buy three of everything.
Short-Sleeve Jerseys: Men's and Women's ($75)
At first glance, people won't be able to tell the difference between the 2011 jerseys and the 2007 jerseys. But they're a lot different if you look beyond the design. The Twin Six guys have really stepped up their game, fabric-wise, pattern-wise, and quality-wise. In other words, your Fat Cyclist jersey is not going to be your best-looking jersey, it also stands a good chance of being your best-fitting, most comfortable jersey, too. Check out the men's jersey. Here's the front: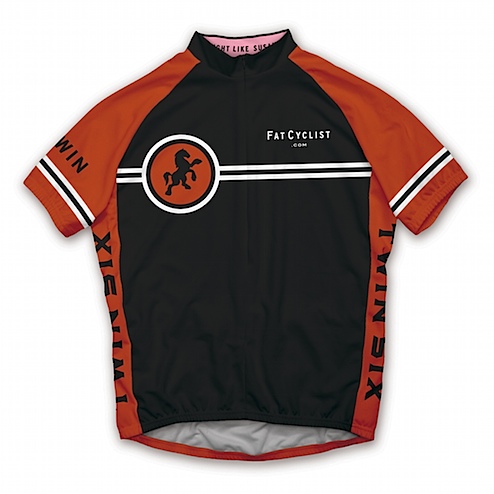 Yes, the inside collar really is pink and says "Fight Like Susan," so even the orange jerseys are still very much "Team Fatty."
Now check out the back: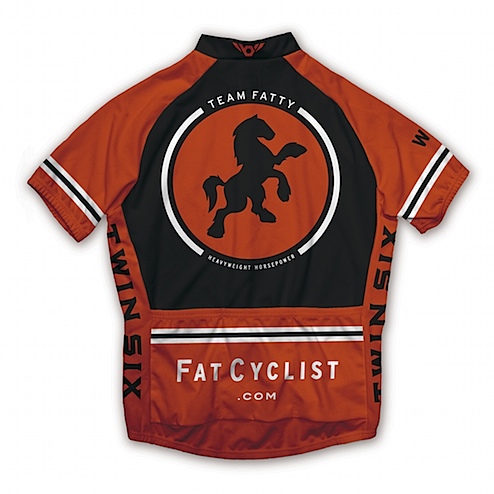 You'll also notice a few design changes from the first jersey. The "FatCyclist.com" on the back is easier to read. The "201″ has been replaced by "WIN." And on the circle around the clydesdale on the back, it says "Team Fatty" instead of "Fatty's Bike Blog."
And now, let's take a look at the women's version of the jersey. Here's the front: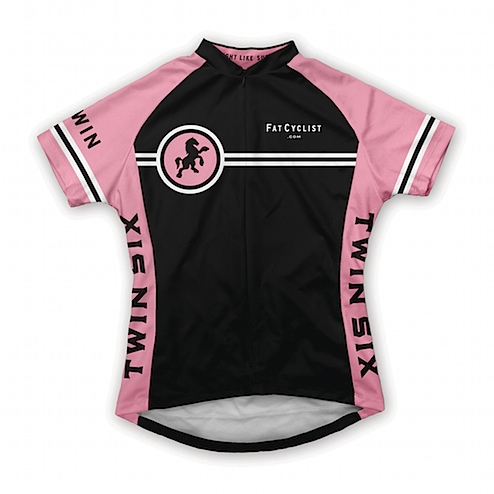 And here's the back: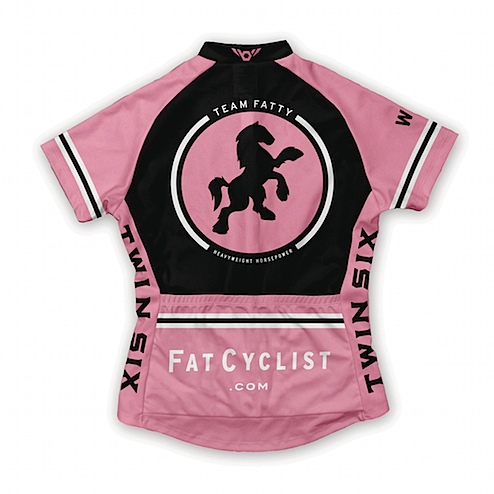 All the same good stuff from the men's jersey, but with a women's cut and the color pink. I went with the different color for women not because of some sexist thing, but because pink is the color generally associated with breast cancer awareness, and that seems like something women would like to be associated with, too.
Also, a lot of women commented they wanted pink jerseys last week. So I thought I'd go with it.
For men's jersey's, click here. For women's, click here.
Bib Shorts: Men's and Women's ($90)
I used to buy very expensive bib shorts. Like the $150 – $200 ones. Yeah, I know that's nowhere near the top end, but it's still a lot. For the past couple years, though, I've been wearing nothing but the Team Fatty (and other Twin Six) shorts, and I love them. They're comfortable, they're durable, they look great.
If you haven't tried bib shorts, you should. For one thing, you lose the elastic at the waist, which — even if you don't realize it — is uncomfortable when you're bent over your handlebars. For another thing, they keep the chamois where it ought to be. And for yet another thing, they hold your gut in and de-muffintop-ize you, at least somewhat.
Here's the men's bib shorts for 2011: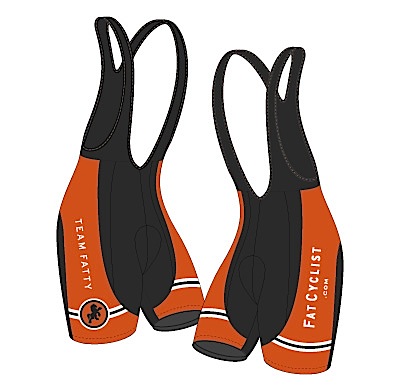 As for the women's shorts, I asked last Friday whether we should go with bibs or shorts. The response was overwhelming. Bib shorts it is. Check 'em out: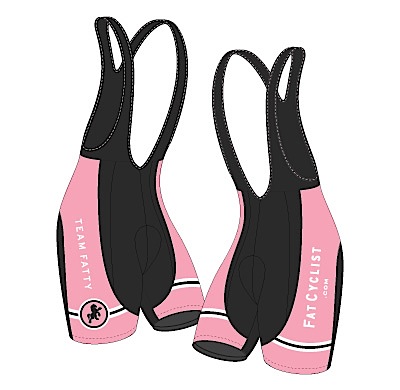 Try 'em. You'll like 'em. I mean it.
For men's bibs, click here. For women's, click here.
Long Sleeve Thermal Jersey: Men's and Women's ($90)
I have one long sleeve thermal jersey. Just one. And from October to March, I wear it pretty much every single ride. Arm warmers are fine if you know it's going to be warming up during the ride, but for the months where you know it's going to be cool the whole time, it's nice to have something that'll keep your arms and your chest and your back warm. This is a 100% super-soft micro thermal fabric, fleeced, yet breathable and durable.
If you live somewhere where it's cool outside several months out of the year, you'll be amazed at how often you'll be able to skip the base layer or jacket and just go with this instead. And you'll love how much freer you feel without the bulk and tightness of a base layer under your jersey. This jersey is going to be your new favorite.
Here's the men's version, front: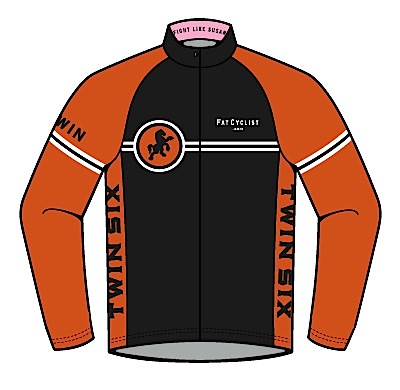 And back: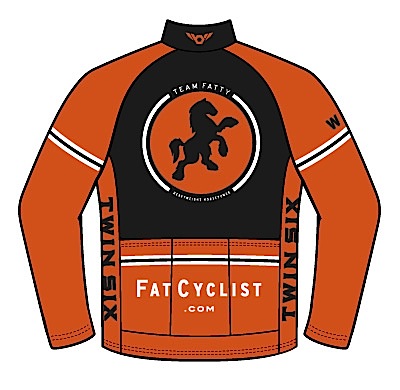 And here's the women's version, front: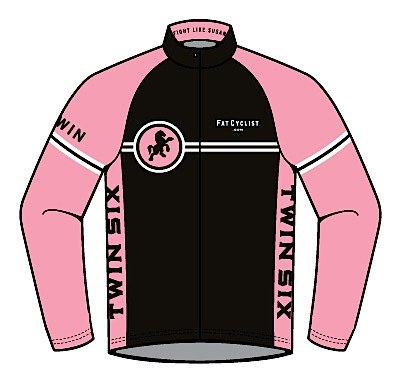 And back: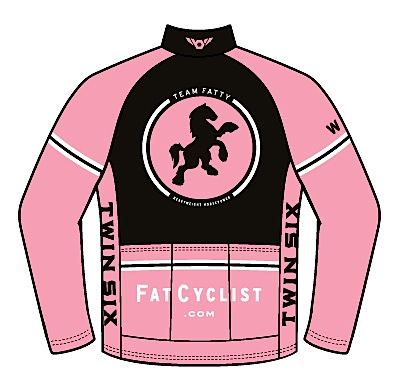 For men's long-sleeve jerseys, click here. For women's, click here.
The Hoodie: Men's and Women's ($30)
First of all, yes: the price is not a typo. This all-cotton hooded sweatshirt is really just $30. It's probably the screamingest deal of the whole 2011 Fat Cyclist gear lineup. It's got a full zipper, raglan sleeves, two front kangaroo pockets (just in case you carry a kangaroo around with you), and a hood.
The colors are the same for men's and women's hoodies: black, with white and orange art. The only thing that differentiates the men's and women's hoodies is the cut. Yeah, I didn't know there was such a thing as gender-specific hoodie cuts either. Turns out there is.
Check out the front: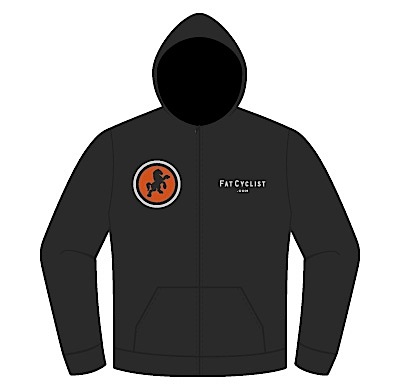 And the back: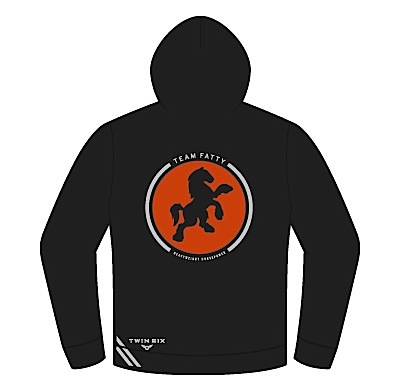 For men's hoodies, click here. For women's, click here.
Tech T's: Unisex ($45)
Well, when you marry The Runner, you've got to start having a Team Fatty shirt for runners, right? And I'll bet that more than a few of you do some running of your own. Or maybe you like to wear something a lot less jersey-looking when you mountain bike. Or maybe you are going to do the run in the LiveStrong Challenge. Or maybe you know a runner and have been wondering what to get her or him for Christmas.
There are probably other possibilities for this shirt. Regardless, you can bet I'll be wearing this at the NYC Marathon in November.
This is a 100% polyester microfiber fabric — lightweight, breathable, and durable. Fitting is the same as Twin Six men's cotton t-shirts.
Check out the front: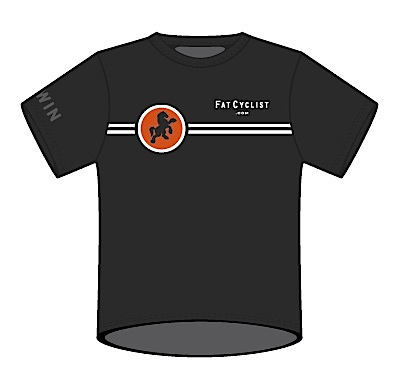 And the back: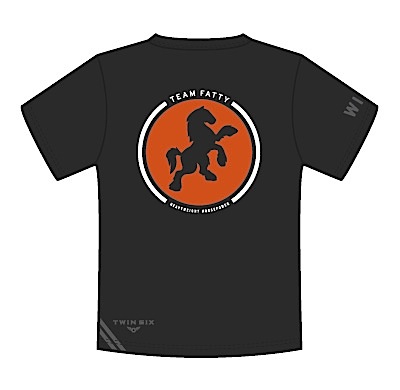 To order a Tech T, click here.
Wind Jackets: Unisex ($95)
What if it's windy outside? You don't want to put a garbage bag over your head when you're riding, do you?
No. No you do not. Because that makes you look like a rolling bag of trash, that's why.
Instead, wear this lightweight Vortex Rip-Stop jacket. It's windproof, water resistant, and very durable. It's got a dual directional full zipper and vented side panels. No back pockets, and the sizing skews more toward men's, so women: be sure to calculate accordingly.
Check out the front: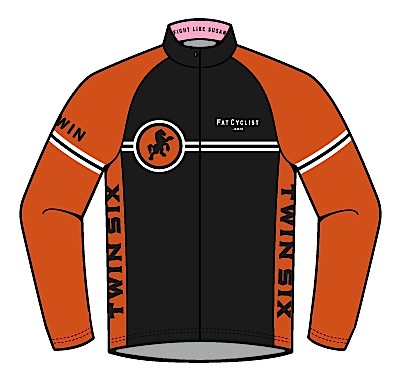 And the back: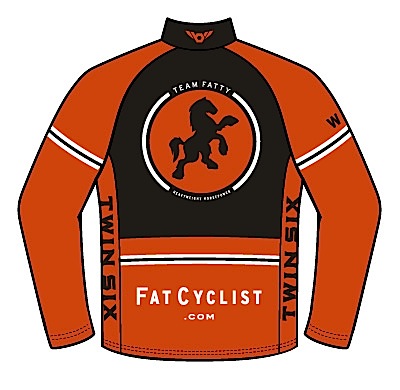 To order a wind jacket, click here.
Camelbak 24oz Bottles ($10)
I don't use any non-Cambelbak-made bottles anymore. I just don't. In fact, you may remember I found alternative uses for all my old bottles.
So check out the new 24oz Team Fatty Camelbak bottles: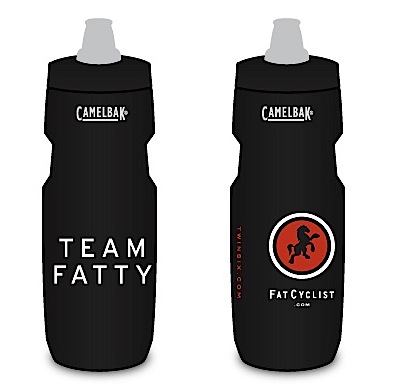 Black is the new black.
Wool Socks ($12)
I love wool socks. Well, actually I love wool everything. No, wait. I don't love wool cereal bowls. Cereal bowls should be made of a completely different material.
But for socks, especially, wool is the best. In warm weather or cold. There's nothing better. And nothing as good.
These 5″ wool socks are made of soft performance wool. You will love them. Check out the front: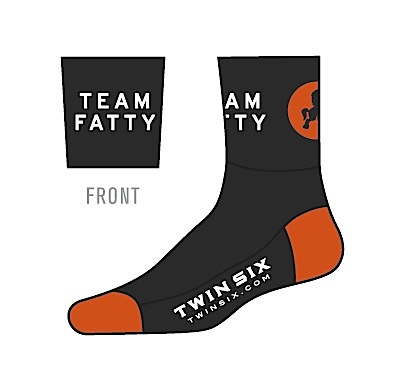 And back: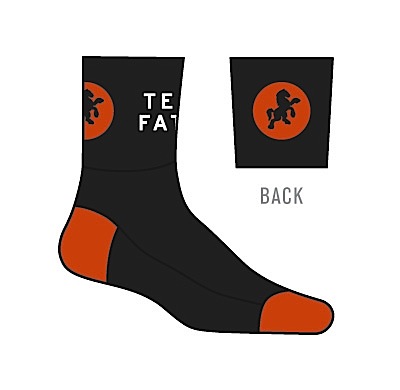 By the way, there is no pink version of the socks this year. Pink goes great with orange anyway, right?
Be Stylish, Fight Cancer
Every Fat Cyclist clothing item you buy — whether pink or orange — has a big cut for LiveStrong built right into it. I donate 20% of my cut, and Twin Six matches.
Which means a lot of money goes into the fight against cancer, and I still get to put some money into my kids' college funds and put off applying for that job at Taco Time. Thank you.
When Will Your Gear Arrive?
Everything should start shipping the week of September 27, and will be landing on U.S. doorsteps October 4th or so. For international orders, add another week or so.
So, for those of you joining Team Fatty in Austin on October 22 – 24, you have the option of sporting your 2011 gear in 2010. You trendsetter, you.
Regardless, all of this will arrive well before Christmas. Before Thanksgiving, even. And even before Halloween. (Oh, consider the Halloween possibilities the new Fat Cyclist gear creates!)
Questions and Answers
Got questions? Here are some answers to common ones.
If you have questions I haven't preemptively answered, ask in the comments or via email. I'll either update this post, answer in comments, or reply directly by email, whichever makes the most sense to me at the moment.
Thanks for supporting LiveStrong, Twin Six, and me. Seriously.
And you are going to love your new gear. I know I can hardly wait for mine.