Kenny is big on tradition. Every Spring, for example, he puts on the famous (and very, very law-abiding) Ride Around White Rim in One Day (RAWROD).
And every New Year's Day, he puts on a New Year's Day Ride.
Of course, in order to survive, most traditions have to adapt to changing times. Like this Spring, due to a mudslide that destroyed a section of the Horse Thief climb, RAWROD is going to have to have a somewhat different route.
And last year, due to bad road conditions on the traditional route (up Squaw Peak Road), Kenny changed the ride to be up a snowy road and then packed snow single track in Diamond Fork to the "Hot Pots" — a hot spring where we could soak, eat, and get the smell of sulphur deep into our skin.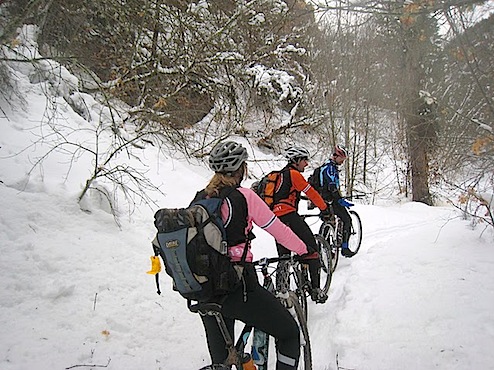 We all liked the new route so much we decided that we should do it that way every year.
Seven Degrees Fahrenheit Is Not Warm
On New Years' morning this year, The Runner looked out the window and didn't like what she saw. So she fired up the computer and confirmed the bad news: it was seven degrees fahrenheit outside. Which is quite chilly.
And according to the forecast, it wasn't going to get a lot warmer that day. In fact, seven degrees was the projected high temperature for the day.
Being a man, I did the manly thing: I called Kenny (a lesser man would have merely texted) and said, "There is no way in the world The Runner and I are going biking in this temperature."
Kenny assured us that seven degrees isn't really that bad, and that the ride was going to go on as scheduled.
I wished him good fortune and went back to setting up my rollers.
Later, when I asked how the ride went, Kenny admitted that nobody but he and Heather showed up. And that their eyeballs froze solid. And that because it had been so cold and snowy, no snowmobiles had packed the single track down and they had to abandon the ride at the trailhead.
Hearing this, I reflected upon an amazing fact: for the first time in my life, I was elated to have missed a ride.
Two Weeks Later
Two weeks went by. The Runner and I, having checked the forecast for Saturday and finding a projected high of 40+ degrees, called Kenny and said, "Hey, how about that Hot Pots ride we were going to do?"
True fact: Kenny never ever ever (ever ever ever) turns down an offer to go on a ride.
So, starting at about 11am, a complete change of clothes in our backpacks (we learned that lesson last year) and our tires inflated to 10psi (we learned that lesson last year too), we headed out toward the hot pots.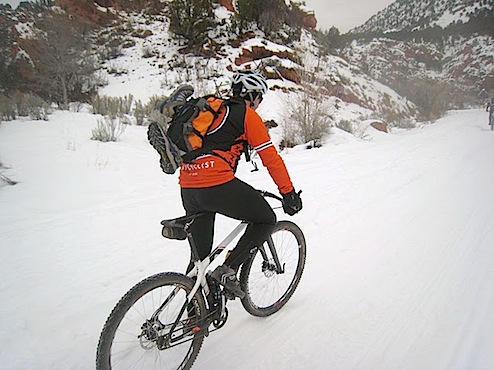 The first few miles are on road. Or, more correctly, the first few miles are on snow that has covered the road. These miles went by fast — the road had been packed by snowmobiles. It was hard but not icy, and the line was clear.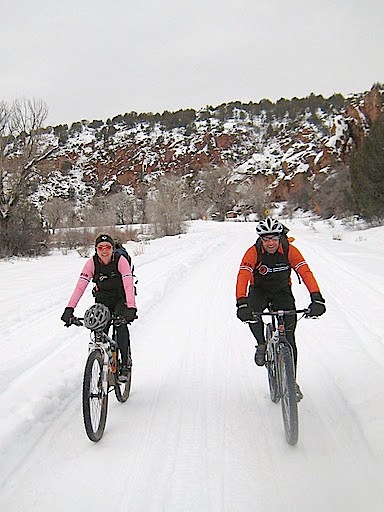 Then there were a couple of miles of snow-packed single track, which is a very different experience from riding on dirt single track. For one thing, if you drift off the trail by even an inch, your front wheel disappears in the soft snow and you get dumped, suddenly and softly, into the powder.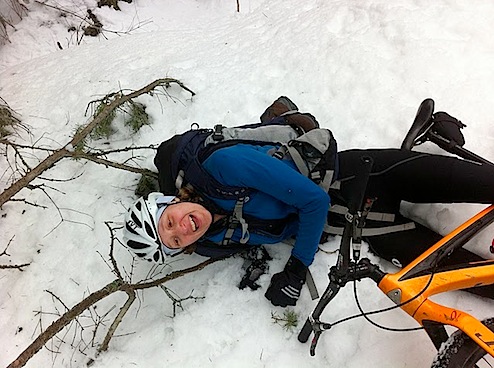 I never get over how awesome it is to fall off your bike and not be hurt at all. I assure you, it's much, much better than crashing onto sharp, embedded stones. In short, if given the option, I highly recommend falling onto soft snow.
Even though digging yourself out takes a while.
As with the road, the single track was packed and in good condition; we got to the hot pots in hardly any time at all.
A Sulphurous Feast
The Runner and I had prepared well for lounging in the hot pots. We had brought several PRO Bars, two bags of Chex party mix, and some Gatorade.
Kenny and Heather, on the other hand, had brought the following:
Brownies
Two kinds of cookies
Cashews
Grapes
Chips
Triscuits
Cheez Wiz (Kenny attributed bringing these to simply being obedient to Beck's exhortation to "get crazy with the Cheez Wiz." "How shall I get crazy with the Cheez Wiz if I have no Cheez Wiz with which to get crazy?" Kenny asked. I could not deny that he had a point.
Every kind of beer in the world, and some Tequila too.
This brings up an important question: with the way he eats, how is it possible that Kenny doesn't have a gut at least as big as mine? That question is rhetorical, by the way because I know the answer: "Because life isn't fair."
We ate. And soaked. And rinsed and repeated.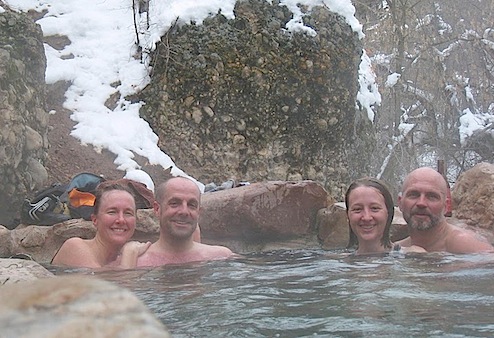 When we got too hot, we'd jump out of the hot pool into the adjoining stream, which was exactly as warm as it needed to be to not be ice.
Of course by "we" in the above paragraph, I actually mean "everyone except me," because unlike everyone else, I put a foot in the cold water and declined to put anything else in.
This decision was not met with what I had hoped for. Specifically, nobody expressed admiration for my independent thinking.
"I already know I'm the wimpiest person here," I said. "This merely reinforces what everyone knew anyway."
Nobody argued. How could they?
The "Ride" Back
Eventually — nowhere near the 9-hour record Kenny and Heather hold — we got out of the hot water, back into tights and wool, and began riding back toward the trailhead.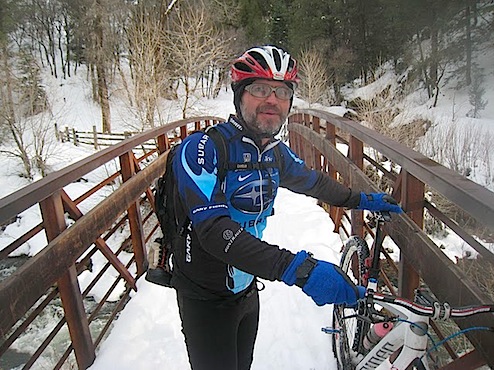 Meanwhile, the day had warmed up.
And the snow had softened.
The result of this was that, every few feet, or or another (or more often: one and another) of us would get off the dead-center of the trail, at which point he or she would endo into deep, wet snow.
Seriously, I think our cumulative crash count must be near 100, 60 of which I can claim as my own. And mostly, these crashes didn't hurt at all.
There was, however, one searingly painful exception.
I had just veered — for the umpteenth time — off the trail. Unlike most times, I hadn't tipped completely over. Instead, my right foot came unclipped and — simultaneously — the crank, driven by the weight of my left leg — spun around backward and whacked me in the right shin as I crashed crotchfirst onto the top tube.
If you'd like to simulate the pain I experienced, simply go find a ball peen hammer and a professional kick boxer, then, on the count of three, hit your shin with the hammer while the kick boxer delivers a good hard kick to your groin.
So yes, you could say — quite accurately — that I groaned with pain.
You could also say — equally accurately — that I screamed like a little girl and very nearly threw up from the wave of nausea.
"You OK back there?" The Runner called back, unaware of my acute misery.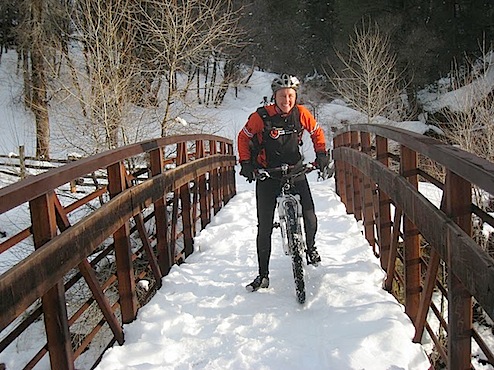 "Yes," I managed to shout, in a high voice. "Go on, I'll be with you in a while."
Some kinds of pain must be dealt with alone.
Afterward
It turns out that Life Flight was not necessary, and in fact later, when I peeled off my tights, I was disappointed to note that the horrible gash I was certain my pedal had given my shin was in fact a nick, about as bad as you might get when shaving.
But I bet you there'll be an awesome bruise. It's just taking a while to show.
And — my very serious injury notwithstanding — we agreed that we really ought to do this again before next New Year's day.
As long as the weather's good.