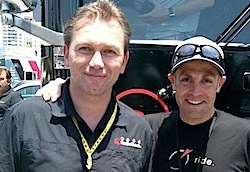 A Big Thank You from Fatty, Johan Bruyneel, and WBR : A couple of days ago, Johan and I ambushed all of you with a surprise registration period for the 100 Miles of Nowhere, with the proceeds to benefit World Bicycle Relief. Well, we raised just over $4000, which is enough to buy 30 bicycles for people in Africa. That's a whole classroom-full of kids' lives changed for the better, because a bunch of you were willing to do something simultaneously silly and noble.
It's at times like this that I really love doing this blog, and love the people who read it and get involved even more.
Group hug, everyone.
A couple of weeks ago, I — along with a big group of friends — went to Moab to ride around the White Rim. It's a tradition. An annual wake-up call to those of us who have somehow fooled ourselves into thinking that we've made it through the winter in pretty good shape.
As I have mentioned, I didn't do so great at the ride. As in, I hardly got started.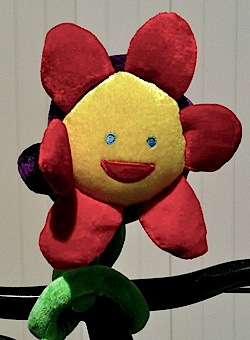 So tomorrow — along with a much smaller group of people — I'm going to do it again. And since the forecast has the day pegged as sunny and warm (though windy), I'm determined to do the whole ride this time, with a smile on my face, a song on my face and — if needed — a daisy on my handlebars (the talisman carried by the person riding sweep for our group rides around the White Rim).
And you know what? I'm perfectly happy to ride with the daisy on my handlebars. I am. I've got nothing to prove, after all.
But I don't think it'll come to that. Not for the whole day, anyway.
The Strength (and Naivete?) of Youth
Tomorrow, the group riding around the White Rim will consist of The Runner and I — both of us have done countless rides of this difficulty and duration — and The Runner's sons (ages 21 and 23), neither of which have done any one-day rides of this distance or duration.
And yet, they seem remarkably unconcerned.
Their arguments are compelling, amounting to things like this: "Well, if Mom can do it, it can't be that hard."
Or the equally compelling argument: "We're young and stubborn. We'll get through just fine."
They sound so confident. So self-assured. So young. They almost have me convinced.
Almost.
What they have neglected, in their calculations, is the fact that their mom is not exactly an ordinary mom. No, she is The Runner, not to mention a certifiable hardcore cycling badass who eats century bike rides for breakfast.
Furthermore, they might have forgotten that their mom has earned aforementioned badassery by doing countless endurance rides and runs for more than a decade.
So tomorrow should be interesting.
Will youth and determination win the day? Or will mom get a really awesome early Mother's Day present in the form of her two prime-of-their-lives sons confessing (in whimpering, exhausted, and contrite voices) that she — at approximately twice their age — is stronger, tougher, and faster than they?
I have my suspicions (and, let's face it, biases) but intend to be as objective as possible. I'll be interested in reporting my findings of the days events, with both words and photos.
And I have made sure to pack the daisy.
PS: Yes, this is my way of talking trash.